10 Ways the Pittsburgh Steelers Can Fix Their Offense in 2013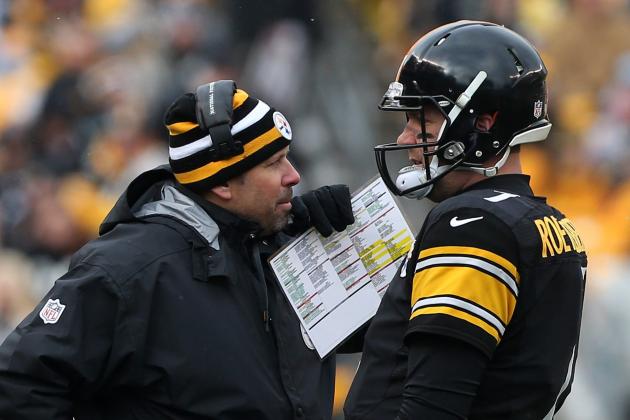 Karl Walter/Getty Images

When the Pittsburgh Steelers made the change from Bruce Arians to Todd Haley at offensive coordinator in 2012, the belief was that the latter would revive the Pittsburgh attack with creativity and new ideas and lift it from the mediocre position it was in during the 2011 season.
A year later, the Pittsburgh offense has actually taken a step backward in almost every respect. Much more will be expected in 2013.
Here's a look at ways Todd Haley and the players can fix the Steelers offense.
Begin Slideshow

»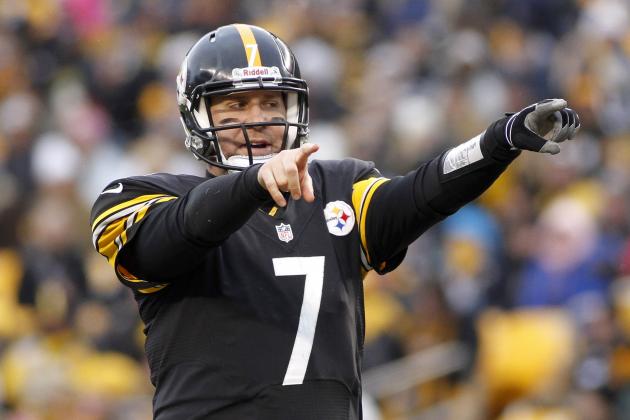 Justin K. Aller/Getty Images

When Todd Haley arrived, many believed that he would bring a more powerful attack to Pittsburgh, complete with the no-huddle offense that Ben Roethlisberger enjoys great success running.
The no-huddle, however, became an afterthought once again and was used exclusively in emergencies when the Steelers needed points to come back from a deficit late in a half or in the fourth quarter.
During the bulk of games, Pittsburgh's offense was a slow, plodding unit that leaned heavily on the rushing attack.
In 2013, Haley needs to allow the offense to open up. A big part of that will be using the no-huddle the way teams like Denver and Washington have done. Those two units kept teams back on their heels this season by running the no-huddle early and often. Defenses wore down and couldn't slow or stop them.
This is a deficiency in the Steelers offense that was carried over from the Bruce Arians regime. It is high time it was corrected.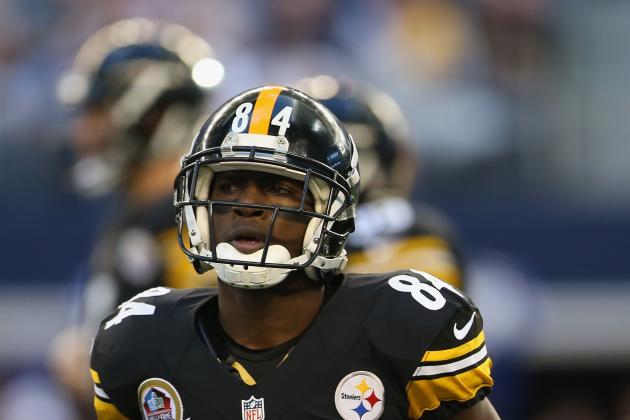 Ronald Martinez/Getty Images

A chief complaint among many fans when Bruce Arians called the plays was that the offense lacked imagination or creativity, both hallmarks of Ken Whisenhunt's system in the mid-2000's.
When Todd Haley was the offensive coordinator in Arizona, his offense was built upon creativity and helped compensate for the lack of a consistent rushing attack by being unpredictable at all times.
His Pittsburgh system, however, has done none of those things. It has proven to be a very vanilla scheme that relies a lot on short passes and rushing plays to move the ball a handful of yards per play.
In 2013, the Steelers must become more unpredictable by injecting some new tricks into their offense. Wide receiver passes, halfback passes, the read option and other popular ideas are all in play.
The read option is the most interesting to consider. It has become the latest fad in the NFL, but Pittsburgh could really utilize it given the talents of quarterback Ben Roethlisberger and the struggles of the running game in 2012 and earlier.
A read option system, inserted at various points in a game, would keep defenses from effectively spying the running backs and would make Ben Roethlisberger an even bigger threat under center than he currently is.
Roethlisberger ran the pistol formation during his injury-filled stretch run in 2011 and could do so again with success as a healthy passer.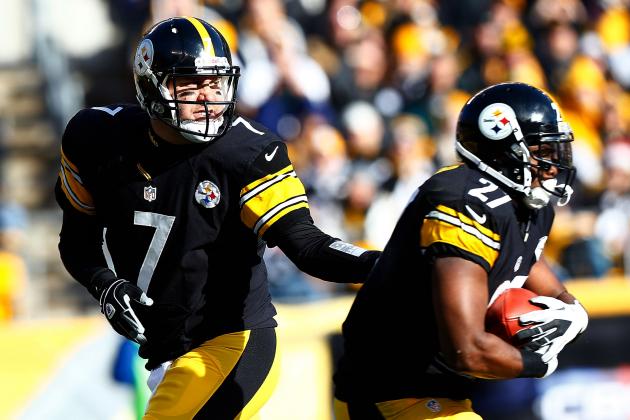 Jared Wickerham/Getty Images

A heavy emphasis on the rushing attack came to fruition during Pittsburgh's 2012 season. The Steelers unsuccessfully returned to a smashmouth style the relied on a stable of running backs to move the football on the ground.
It was the 1940s all over again, and it ended with a resounding thud.
Some things are better left in the past. Pittsburgh's run-heavy heritage is one of them.
The NFL is a passing league. Rushing attacks have become secondary in most cases. Teams running the read option are the exception, but even they have more balance than Todd Haley's offense last season.
The biggest problems in 2012 were that the Steelers could find no rhythm on the ground, which infected their air attack as well, and that the offense was so unbalanced that it chaotically weaved from extreme to extreme at various points.
In 2013, the team has to settle on some middle ground. A more creative backfield, as we've already discussed, will be helpful. A better run-blocking scheme along the line will also be essential. Balance between throwing and running must be the goal.
A balanced offense, like what Denver runs, gives plenty of snaps to both attacks. It also allows for deep passes (something Pittsburgh rarely used this season despite having one of the league's strongest quarterbacks), play action and a host of other important conventions.
Until the Steelers can balance the attack and use both parts of it consistently to create rhythm, the offense will continue to sputter and stall at random.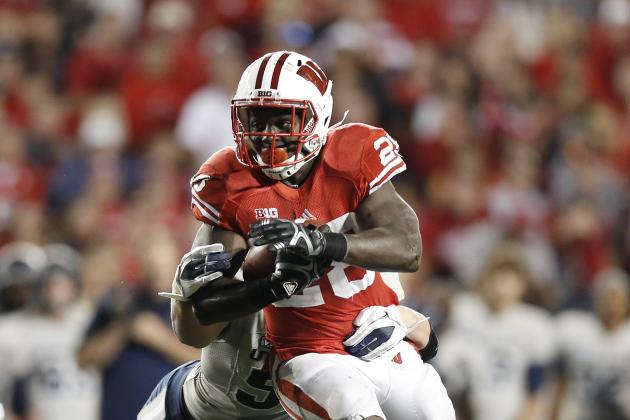 Tom Lynn/Getty Images

One of the tasks that must be accomplished in the draft and free agency is to rebuild the team's backfield. Only Jonathan Dwyer seems a sure bet to return, and his position as the starter is far from secure.
Isaac Redman could come back, but the team can spend the money his tender would cost somewhere different.
Rashard Mendenhall and Chris Rainey are gone. There's no need to even entertain the thought of bringing them back.
Baron Batch is there as well, but consecutive campaigns ended by injury aren't a good sign for him. He'll likely be in camp, but he must prove he can get and stay healthy, as well as prove he can be a productive piece of the puzzle.
The draft is the best place to find running backs. Free agent backs that are affordable tend to either be broken down or ineffective.
This draft boasts two runners who would definitely fit well in Pittsburgh. Pitt's Ray Graham and Wisconsin's Montee Ball are both excellent options that could fare very well in this offense. Both are tough runners that can work behind lines that aren't as successful at blocking.
Graham is particularly interesting because he brings a goal-line presence that the team has lacked for years in short yardage situations. Jerome Bettis was the team's last running back who could bring that kind of punch to the table.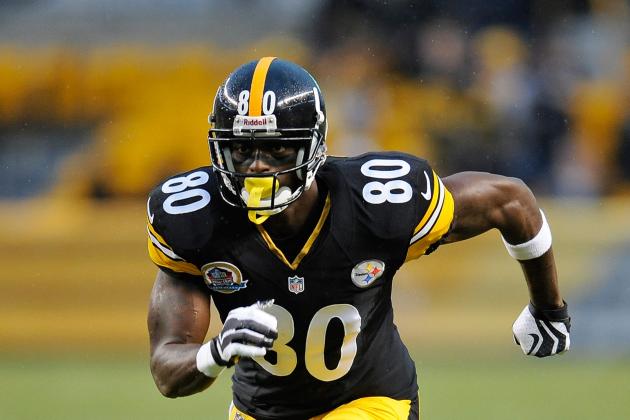 Joe Sargent/Getty Images

Pittsburgh will be starting over again in some ways at wide receiver. The money to spend will be very limited, which means that signing Emmanuel Sanders to something more than a tender offer will be difficult.
Assuming he returns, the team is set at both starting spots with Sanders and Antonio Brown. Jerricho Cotchery should be back as well to give the team a veteran presence.
One free agent that could be added back in is Plaxico Burress, whose return to Pittsburgh in 2012 was marred by long stretches of bench duty for reasons that cannot be fathomed. Burress is a necessary ingredient because of his size and ability to work in traffic.
Considering that injured tight end Heath Miller may not be ready to open the season, having a red zone target like Burress is going to be even more important for the Steelers.
In the draft, the Steelers would be wise to make a selection or two late to shore up the position as well. If not, giving practice squad players like Derek Moye a shot would be a great way to see if another hidden gem can be unearthed.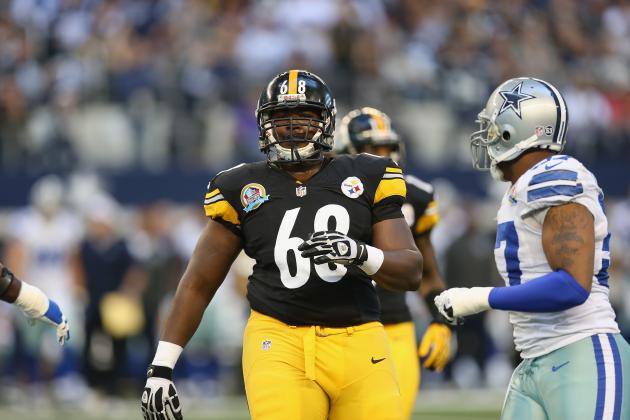 Ronald Martinez/Getty Images

Turnover along the offensive line is virtually a foregone conclusion. Ramon Foster, Doug Legursky and Max Starks are free agents. Willie Colon is signed, but he's making way too much money for a fringe player with a long history of injuries.
In other words, four of the line's oldest contributors will likely be in different uniforms next season.
Given the struggles Pittsburgh has had in run blocking and the success they had with young players like Kelvin Beachum, David DeCastro and Mike Adams at various points during the season, that's a good thing.
It's time for a change in Pittsburgh.
Starks is a good player, but he should be seeking a real contract now that he's healthy, rather than just a one-year pact to bail out the Steelers again.
Legursky and Foster have had success in various places, but neither player has been a consistent starter. The same goes for Colon, whose price tag of over $6 million is ridiculous given his performance and health last season.
The draft holds a lot of offensive linemen that could help this team. The Steelers would be wise to go here once again in the third round and grab a player that can sit and learn or can come in and push a starter.
They also need to settle on a true starting five. Maurkice Pouncey and David DeCastro are set as center and right guard. From among Beachum, Adams and Marcus Gilbert, they must slot the players where it makes the most sense.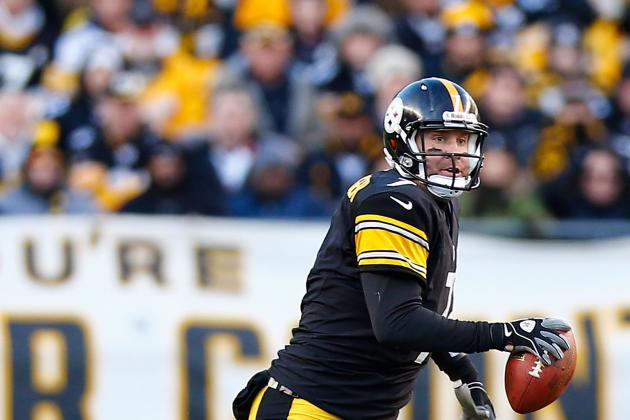 Jared Wickerham/Getty Images

Ben Roethlisberger was a force to be reckoned with during the first half of the 2012 season. He was accurate and unstoppable in Todd Haley's quick-passing, run-oriented system. He adapted his game slightly to get rid of the ball quickly and worked in screen passes and other short routes.
But the second half of the season was a mess. Roethlisberger was hurt on a freak hit by Kansas City linebacker Tamba Hali. After he missed three weeks and exposed the team's epic lack of depth behind him, Roethlisberger returned still injured and almost entirely ineffective.
Two games were decided by Roethlisberger interceptions in the closing moments. That's the complete opposite of his career.
There were also rampant rumors of a rift with Haley, something that needs to be addressed immediately this offseason. While Roethlisberger's complaints about play-calling were accurate, having a rift with his immediate boss is not a good way to show leadership.
In 2013, Roethlisberger needs to embrace whatever Haley chooses to do with the offense (hopefully implementing some of the suggestions discussed earlier) and execute it to the best of his ability.
If he is injured, he also needs to be smart and get healthy before returning. Playing injured the way he did this year and last does nothing for this team's chances of success.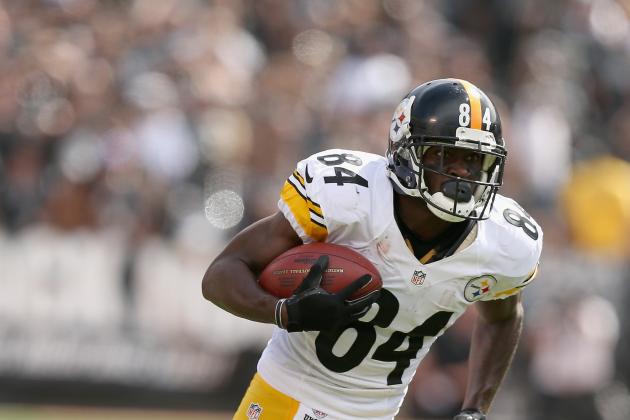 Ezra Shaw/Getty Images

When Antonio Brown received a big contract extension in 2012, it was supposed to signal the beginning of the end for Mike Wallace in Pittsburgh. Brown would become the team's go-to receiver, and Wallace would play one more season and leave.
It almost worked out that way, too.
The problem was that Brown couldn't quite replicate his excellent 2011 season. He became prone to dropping passes. He couldn't break big kick returns. He looked indecisive at times.
That needs to stop with the end of the season. With Wallace now departing for whichever team decides to come closest to his (likely ridiculous) contract demands, Brown needs to be the star in Pittsburgh.
The drops and fumbles need to go away. At first, it seemed like a bad day or two. Now it looks like a trend. Trends can be reversed. Whether it requires more practice in the system or more attention on each play, he needs to make it happen.
If he doesn't step up, the passing game will be doomed.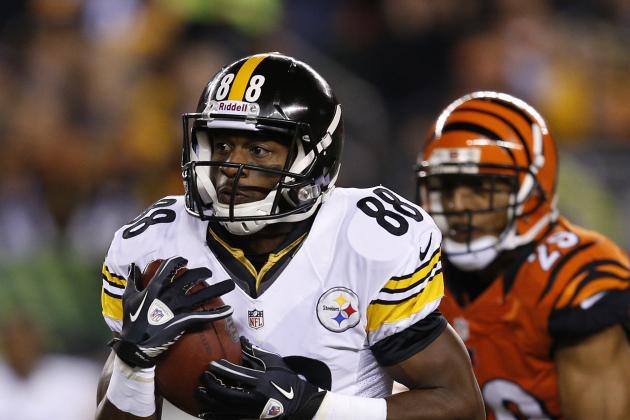 Joe Robbins/Getty Images

The big task for Emmanuel Sanders coming into the 2012 season was to prove his health. He'd had two consecutive campaigns ended by injury.
He proved he could stay healthy. He didn't prove he had a good grasp of the offense in which he was working.
This was an unexpected development. As a rookie, Sanders seemed to know every route for every receiver on the field on every play. It was amazing, and he seemed like a guy Pittsburgh would always be able to rely on.
Now, in a different system, things are more muddled.
Sanders needs to take time this offseason to put in the film study to make sure he can execute the routes he's assigned. He will likely be the full-time starter opposite Antonio Brown in 2013. He has to approach that as a challenge, not an inevitable outcome of the offseason.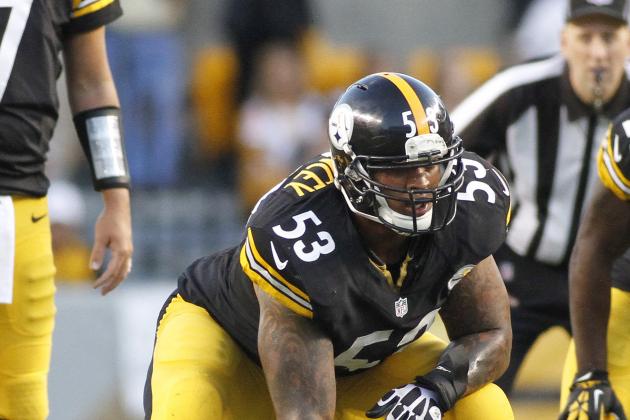 Justin K. Aller/Getty Images

While it is likely that 60 percent of the starting offensive linemen in 2013 will be in just their second professional seasons, that doesn't mean each player has nothing to prove. It means quite the opposite.
Every man who's projected right now to start on that offensive line has a specific challenge.
Kelvin Beachum, who was an abject disaster at guard in the preseason and early in the regular season, must either prove he can play that position or win the starting tackle spot. He was excellent at right tackle when placed there. If that's his position for the future, he must take it.
For Mike Adams, the goal will be to stay healthy and gain consistency in his second season. Adams missed a lot of time hurt in 2012. When he was on the field, he sometimes needed tight end and guard help to hold his own. Other times he was great. He needs to figure out what went wrong and make sure it doesn't happen again.
The key for Maurkice Pouncey is to prove he can continue to play at a high level. He's been a Pro Bowl selection for three straight years. No other Pittsburgh center can say that. That's some serious history. He needs to keep playing that way and stay healthy.
For David DeCastro, this will be his first full campaign as a starter. He needs to prove that the flashes of brilliance we saw at various points last season were not a fluke, and that he can grow into the starting job while learning at the same time. He also must stay healthy.
Marcus Gilbert must get healthy and then prove that he can handle the job of being the left tackle. No other player on the roster is a good bet at that position. Gilbert has the stuff to be great there. He just has to be healthy and effective. Until his injury sidelined him in 2012, he was good. He needs to get back to what he did at the end of 2011, when he was a rising star.