Dana White on Meniere's Disease 'Personal Fight Every Day with This F**king Ear'
Use your ← → (arrow) keys to browse more stories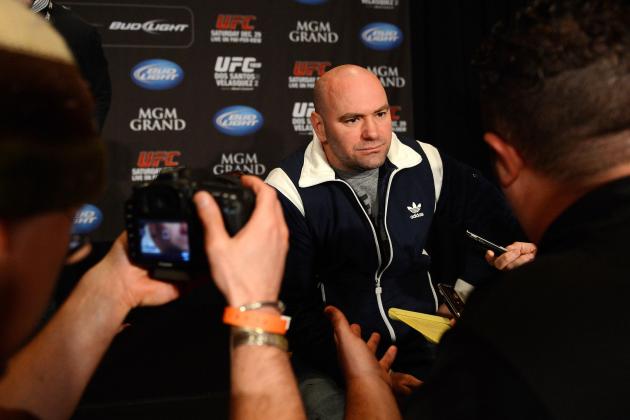 Jake Roth-USA TODAY Sports

One of the things that people often talk about when it comes to UFC president Dana White is his tireless work ethic. In fact, between 2001 and mid-2012, White never missed a UFC event. That streak was broken on May 12, 2012, when he missed the UFC on Fuel card from the Patriot Center in Fairfax, Va. The reason for White's absence was revealed to be Meniere's disease.
White battled the condition—which according to MayoClinic.com, "causes spontaneous episodes of vertigo along with fluctuating hearing loss, ringing in the ear and sometimes a feeling of fullness or pressure in your ear"—until last week when he underwent surgery.
If you thought the surgery, which White documented on a recent video blog, would keep White away from work, you would be wrong. The UFC boss flew from Las Vegas to Montreal on Tuesday to attend the UFC 158 press conference and then traveled to Chicago for the UFC on Fox 6 pre-fight press conference.
White held court with media members after the presser and spoke about the surgery and what effect it would have on his life. "Everybody was bitching at me and telling me not to fly this week, 'You just had the surgery last Tuesday, you can't fly,' and this and that. This thing isn't going to dictate what I do."
If you know anything about White, you know that he's always up for a good fight, and this disease and the subsequent surgery are part of just another battle that he intends to win. "It's like me and my ear are two different people now," White said. "My ear's trying to make me do something that I don't want to do and my ear is going to do what I want to f**king do. I'm in a personal fight every day with this f**king ear and I'm going to win, that's how I look at it."
Right now, it seems as if White has won Round 1 of that battle, but it's a battle he will fight for the rest of his life, so the final results have yet to be read.
All quotes obtained first hand by BR MMA.