Bellator 86: Askren vs. Amoussou Live Results and Play-by-Play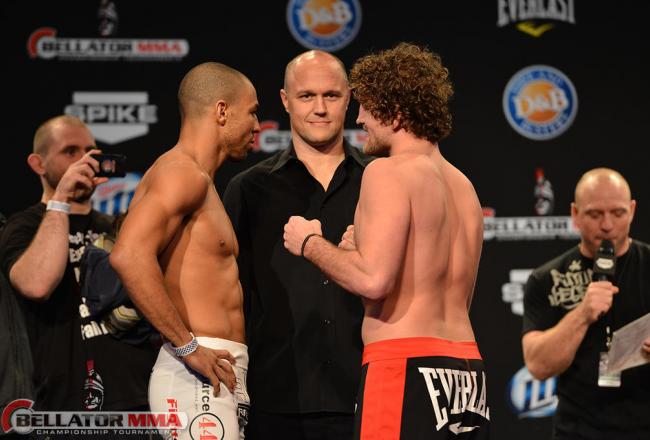 Photo Credit: Bellator MMA

Bellator MMA has a great event on SPIKE tonight, and we're here at Bleacher Report MMA to give you the live results of each fight on the card.
In the headliner for Bellator 86, the promotion's 170-pound champion Ben Askren will put his Olympic wrestling skills to the test against Season 6 welterweight tournament winner Karl Amoussou.
This card also features the return of former Strikeforce light heavyweight Muhammed Lawal, who will be fighting European underdog Przemyslaw Mysiala in the co-main event.
Bellator's Season 8 welterweight tournament also rolls on, with Marius Zaromskis, Ben Saunders, Douglas Lima, Michail Tsarev and Brent Weedman vying for a shot up the ladder, attempting to win their way into title contention against the next champion.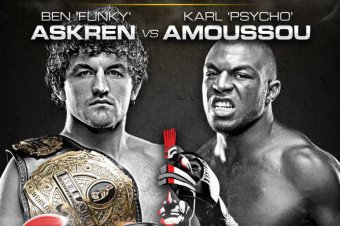 Well, that's all she wrote!
Thanks for joining us at Bleacher Report MMA—tip your waitresses, folks.
Bellator 86 Main Card
• Ben Askren (11-0) def. Karl Amoussou (16-5-2) via TKO, Round 3 (Doctor's Stoppage), Retains Bellator Welterweight Championship
• Przemyslaw Mysiala (16-7) vs. Muhammed Lawal (8-1-1)
• Douglas Lima (23-5) def. Michail Tsarev (24-4) via TKO (Injury), Round 2
• Ben Saunders (15-5-2) def. Koffie Adzitso (18-10) via Unanimous Decision
Bellator 86 Preliminary Card
• Jason Sampson (10-1) def. Chris Pham (3-1) via Submission (Armbar), Round 3 (4:55)
• Brent Weedman (22-8-1) def. Marius Zaromskis (19-8) via Unanimous Decision
• Raul Amaya (11-1) def. Jose Gomes (32-9) via TKO, Round 1 (3:12)
• Damon Jackson (4-0) def. Zach Church (1-2) via Submission (Rear-Naked Choke), Round 2 (2:43)
• Cortez Coleman (9-3) def. Matt Jones (4-4) via Unanimous Decision
Ben Askren cheesing it up in the post-fight interview.
Calls out Douglas Lima and Ben Saunders as the biggest threats in the Bellator Season 8 Welterweight Tournament.
Heh.
Ben Askren says to his next challengers: "I will break youuuuuuuuu."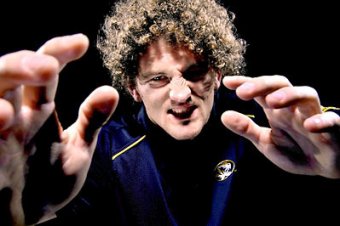 Welterweight Title Fight:
Result: Ben Askren (11-0) def. Karl Amoussou (16-5-2) via TKO, Round 3 (Doctor's Stoppage), Retains Bellator Welterweight Championship.
Thankfully, doctors and referee stopped the fight.
There was no way Amoussou could continue. His face looks like spaghetti.
Welterweight Title Fight:
Ben Askren (10-0) vs. Karl Amoussou (16-4-2)
Round 3 - Askren should be up 20-17 on the scorecards here. Doctor and cageside officials take a LONG look at Amoussou, who says he can still see.
Askren dives on a takedown right at the start, meets some resistance and puts Amoussou on his back.
More utter domination. Askren is sitting in Amoussou's half guard and pretty much just landing punches at will against his helpless challenger. Referee is taking a look and he looks ready to stop it. Amoussou isn't even throwing up submission, but punching weakly from his back.
Amoussou's face is smearing the Miller Lite logo with blood as he continues to eat punishment. Amoussou just rolling with Askren's punches and trying to throw elbows upwards to no avail.
Askren is slowing down a bit and he's looking frustrated that Amoussou is still here. Askren turns up the heat a little and starts to smother Amoussou as he steps into full mount.
Referee tells Amoussou to fight back and defend himself, but Askren is just BEATING poor Amoussou into the ground. Oh my GOD, the referee doesn't stop it and the bell rings. Good Grief. That's a 10-6 round if I ever saw one, putting Askren up 30-23.
Welterweight Title Fight:
Ben Askren (10-0) vs. Karl Amoussou (16-4-2)
Round 2 - Brief sequence where Askren is on his back, but he snatches an armbar. OH! It looks good! No, Amoussou works out of it.
OH! Amoussou grabs a heel hook and it's deep!
Wowww. Askren masterfully rolls right out of it and takes top position. Askren now focusing on Amoussou's cut and Amoussou is bleeding badly. TONS of blood as Askren works from the top with punches and elbows.
Never seen Askren like this. He's working for a finish and Amoussou looks lost. His face is a mess. Askren literally sitting on Amoussou's waist and raining down punches.
Last three minutes have been nothing but punishment and Amoussou is still trying to fight back.
Why hasn't the referee stopped this?! Oh man, Amoussou is looking like a murder victim here, and the bell ends with Askren just POURING on the punishment.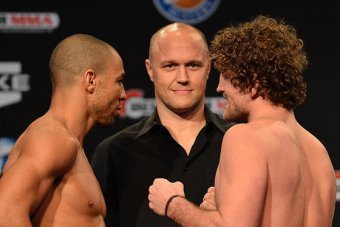 Welterweight Title Fight:
Ben Askren (10-0) vs. Karl Amoussou (16-4-2)
Round 1 - Ben Askren gets wobbled by punches as he reaches out for a takedown. Amoussou being VERY savvy and keeping his distance.
It doesn't last, and Askren gets him on the mat and tries to stack Amoussou. Both guys struggling for position and Askren is sitting in Amoussou's guard while landing elbows. Amoussou pops Askren with the occasional jab, but he's getting controlled. Askren eats another punch and fires a few shot into Amoussou's ribs as an answer.
Amoussou fighting gamely from his back and lands a couple of hard elbows. Askren seems content to stay in guard, and Amoussou has a cut over his left eye.
Amoussou tries to snatch an armbar, but Askren sits right back down into his guard and foils the attempt. Amoussou tries to strike from his back, but the round closes out with Askren dropping occasional punches and elbows from the top, taking it with a 10-9 lead at the start.
Alright guys, title fight is up next!
Let's see if Ben Asken can stay undefeated and call out GSP for no reason (again).
Best video package of the night so far.
Karl Amoussou calls Askren a "pussy" while Askren says Amoussou needs to "wake up" and "face reality."
When King Mo fights the champion Chiristian M'Pumbu, he'll be at least -1000, will that be highest odds for a challenger vs champion? — Aaron Bronsteter (@aarbron) January 25, 2013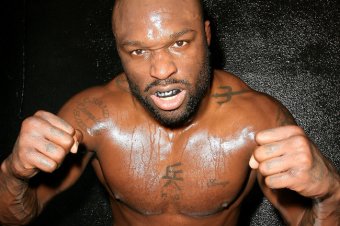 Light Heavyweight Bout:
Result: Muhammed Lawal (9-1-0-1) def. Przemyslaw Mysiala (16-8) via KO, Round 1 (3:52)
Light Heavyweight Bout:
Muhammed Lawal (8-1-1) vs. Przemyslaw Mysiala (16-7)
Round 1 - Short feeling out process ends as Mysiala lands a combination and misses a kick. Lawal cocking his left hand and timing punches.
Mysiala looks like his nose is broken and he eats a BIG left jab from Lawal. There's a distinct reach advantage at play here as Lawal is throwing longer punches.
Not much is landing for Mysiala as he's whiffing haymakers, and Lawal is staying right in his face while landing punches. Those jabs are WRECKING poor Mysiala's face.
Lawal landing at will here and Mysiala is still missing baseball-pitch haymakers. Each time Lawal sees a punch coming, he just leans back and counter-jabs.
Daaaaaaaaamn!
Lawal knocked Mysiala clean OUT. With a right hook. While off-balance. He didn't try to finish, just stood over Mysiala and walked off.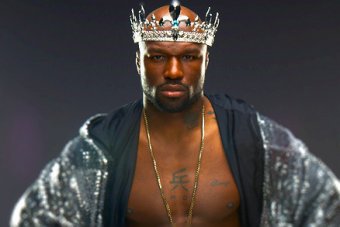 There is no way I can say this enough.
King Mo is a brilliant mind and stellar fighter, but he looks like an idiot wearing that silly crown.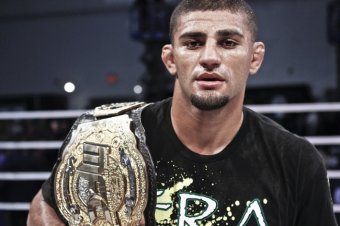 Welterweight Bout:
Result: Douglas Lima (23-5) def. Michail Tsarev (24-4) via TKO (Injury), Round 2
Michail Tsarev's corner should be ashamed. What is the purpose of him getting kicked for another 2 minutes? — Jonathan Snowden (@mmaencyclopedia) January 25, 2013
Corner should've stopped the fight when the dude couldn't stand. That's what a fighter's corner is there for—to protect the fighter. — Matt Saccaro (@MattSaccaro) January 25, 2013
Welterweight Bout:
Douglas Lima (22-5) vs. Michail Tsarev (24-3)
Round 2 - Wow! Replay shows that Lima hit a HUGE kick to the knee at the bell, but the camera didn't catch it.
Lima hits Tsarev in the knee again and he crumbles like paper. Lima eats a punch and falls back, but hits Tsarev right back.
Damn, that knee is bad. Tsarev is literally dragging himself around the mat and he can barely stand up.
Lima drops Tsarev again and he can't stand up, despite being given plenty of time to do so. Lima wins as the referee waves off the fight. That was amazing. What a knee kick from Lima.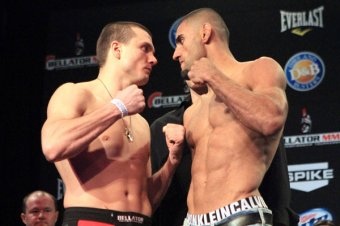 Welterweight Bout:
Douglas Lima (22-5) vs. Michail Tsarev (24-3)
Round 1 - Ugh, I can't wait until "Movie 43" is over so I can never hear about it again. Good God.
Lima and Tsarev circle each other cautiously and Lima takes the middle of the cage. Lima tries a body kick and Tsarev presses a takedown. Lima trying to hand little punches on Tsarev's head, but Tsarev has a big grip on Lima's left leg.
Things pretty much stall against the cage as Lima goes nowhere, but Tsarev eventually drags Lima to the mat. Lima gets up on top in a mini-scramble and he starts landing punches. Tsarev ties him up in guard and the referee is already in their faces telling them to work. Tsarev trying to control Lima's wrists, and the fighters get stood-up.
Lima feints with knees and lunges, patiently waiting for a target. Tsarev throws a kick that does little damage. Lima misses a big kick, then hits a kick to the shin. Tsarev throws a high kick, and they scuffle a bit as the round ends with Lima up 10-9 in the first.
In the last year Russians in Bellator and UFC have a crazy combined record of like 20-6. RusFighters is one of the fast-rising teams in MMA. — smoogy (@smoogymma) January 25, 2013
Something to keep in mind as we wait for Douglas Lima vs. Michail Tsarev, which should start soon.
Huh. I just saw a WWE Royal Rumble commercial on SPIKE.
That's SPIKE, the current home of TNA Impact Wrestling. That was weird.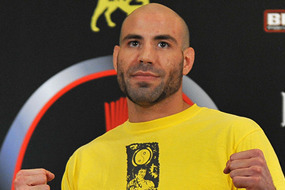 Welterweight Bout:
Result: Ben Saunders (15-5-2) def. Koffie Adzitso (18-10) via Unanimous Decision
Every time I see that "Movie 43" trailer, I hate each person in it a little more.
That includes Hallie Berry and Emma Stone.
Based on this Saunders-Adzitso fight, I suspect that a few hundred thousand TNA viewers have turned off Bellator at this point. — Robert Sargent (@MMARising) January 25, 2013
Welterweight Bout:
Ben Saunders (14-5-2) vs. Koffie Adzitso (18-9)
Round 3 - Saunders gets Adzitso to the mat and starts working from inside his guard. Saunders peppering Adzitso with punches to the body and torso, with referee Kerry Hatley lurking like a goon.
Saunders has been punching away for a good two minutes, and it's obvious that the referee is DYING to stand them up.
Saunders gets to his feet and stacks Adzitso, who's still on his back. Saunders drops back down in Adzitso's guard and keeps punching away on the ground. Adzitso tries working a butterfly guard to no avail, but takes Saunders' back. He tries a suplex!
Wow. Adzitso tries to slam Saunders flops halfway, landing on his head with Saunders on top of him.
Saunders winds up in top position and stretches out Adzitso while punching away for everything he's worth. Not finishing punches, but he's controlling this firmly.
Round ends with Saunders punching away on top and that's a wrap. He tries a last-minute armbar, but the bell rings and saves Adzitso's limbs.
kerry hatley thinkin this shootboxin rules or somethin tho god. the fuck. — GFKonMMA (@GFKonMMA) January 25, 2013
Am told by @jeremybotter this fight is in Oklahoma, not California. That means he's close enough to drive over and slap this ref in the face — Jonathan Snowden (@mmaencyclopedia) January 25, 2013
Welterweight Bout:
Ben Saunders (14-5-2) vs. Koffie Adzitso (18-9)
Round 2 - Saunders immediately grabs a Thai clinch, hits Adzitso with a punch of knees and drops him to the mat in the exchange. Adzitso lands on his back and Saunders wades right into his guard, punching away from the top once again.
UGH. Referee stands them up while Saunders is actively landing punches in Adzitso's guard.
What an idiot.
Saunders and Adzitso grapple against the cage, and Saunders is fending off a long takedown attempt. Adzitso gets the takedown and Saunders hits a triangle on the way down. He switches to an omoplata, but Adzitso flips over and gets into side control. Good sequence.
Adzitso trying to work from the top, but Saunders is trying him up. WTF! Referee stands them up AGAIN as they're working. He's actively ruining the fight.
Adzitso pushes Saunders into the fence and Saunders reverses, taking Adzitso's back before grabbing a clinch. Both men punch and grapple to the bell, and that's a draw for my card with Saunders now up 20-19 on points.
This article is
What is the duplicate article?
Why is this article offensive?
Where is this article plagiarized from?
Why is this article poorly edited?