Oklahoma Football: The 5 Biggest X-Factors for the Sooners in 2013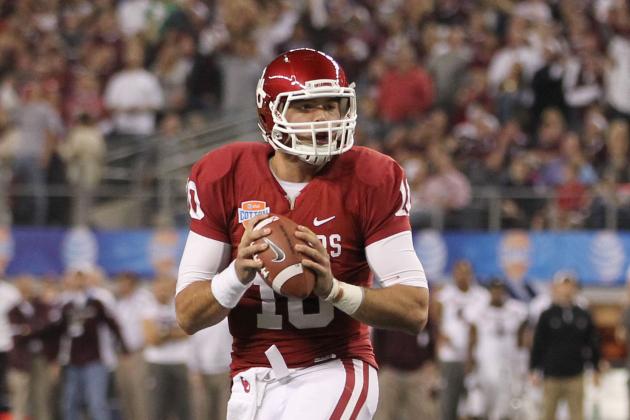 USA TODAY Sports
Can Blake Bell fill the shoes of Landry Jones?
The 2013-14 Oklahoma football team will rely on several key players to deliver on a weekly basis.
Amid the numerous personnel losses, the Sooners may even be pinning their collective hopes on these select players.
Offensively, the greatest uncertainty is at quarterback. Blake Bell, the heir apparent to Landry Jones, needs to make Sooner fans forget about his inexperience by adapting quickly.
Defensively, linebacker Frank Shannon is tasked with resurrecting the linebacker corps and infusing the defense with tenacity.
These are two Sooners who figure to be major X-factors next season. Their success is certainly possible, but uncertain. Additionally, they will be counted on as leaders and play key roles in Oklahoma's success as a team.
The combination of the uncertainty of their success and their importance to the team warrants their inclusion on this list.
Bell and Shannon are just two of OU's X-factors for next season. Read on to find who joins them on the list.
Begin Slideshow

»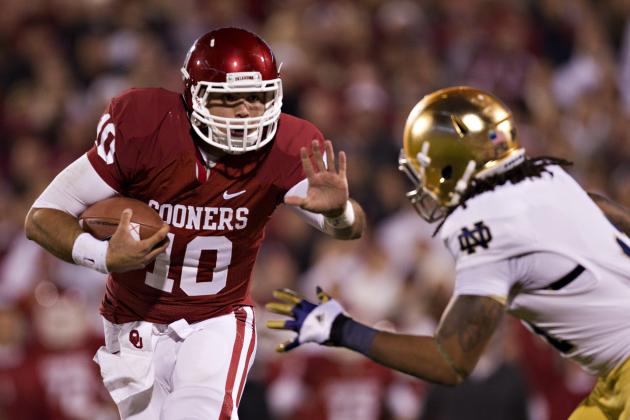 Wesley Hitt/Getty Images
If Blake Bell can pass as well as he can run, watch out.
Assuming Blake Bell wins the starting quarterback job, he'll be the Sooners' biggest question mark next season.
Bell (6'6", 254 pounds) is clearly an effective and dynamic runner. He scored 24 rushing touchdowns over the past two seasons, executing the "Belldozer" formation to near perfection.
What remains to be seen are whether he can pass effectively and handle the starting quarterback role. In two seasons, Bell has only made 20 pass attempts in games.
Without a doubt, much of the Sooners' success in 2013 will depend on Bell. He will need to adapt quickly to the fast-paced offense and continue Oklahoma's recent trend of prolific quarterbacks. With a defense full of uncertainty, the offense will need to put plenty of points on the board.
There is reason to be optimistic. The Sooners figure to have a talented receiving corps with the likes of Sterling Shepard, Trey Metoyer and others. Top rushers Damien Williams and Brennan Clay are back, and the O-line returns four starters.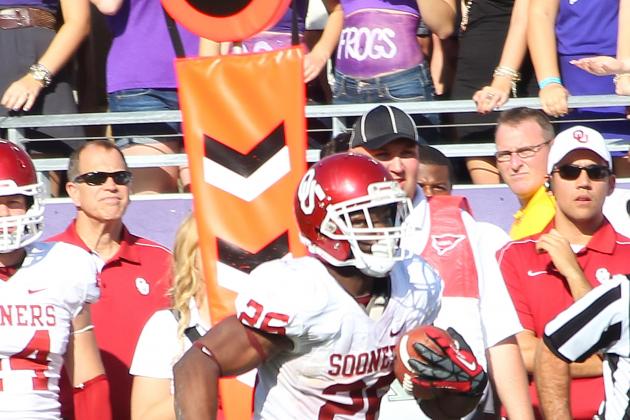 R. Yeatts/Getty Images
Damien Williams' speed and elusiveness are key assets for OU.
JUCO transfer Damien Williams enjoyed a successful debut season at OU. He led the team in rushing attempts (176) and yards (976). He also caught 34 passes for 320 yards and a score.
Despite Williams' success, the Sooners run game hasn't been very robust recently. The team finished no better than 47th nationally in total rush yards the last three seasons.
A more balanced offensive attack will be important next season. Not only will it make the offensive more potent, it will ease Blake Bell's transition to quarterback.
Brennan Clay, Trey Millard and others will also need to step up. But Williams, the team's most effective tailback last season, has to spearhead the effort. If he doesn't, the offense will struggle.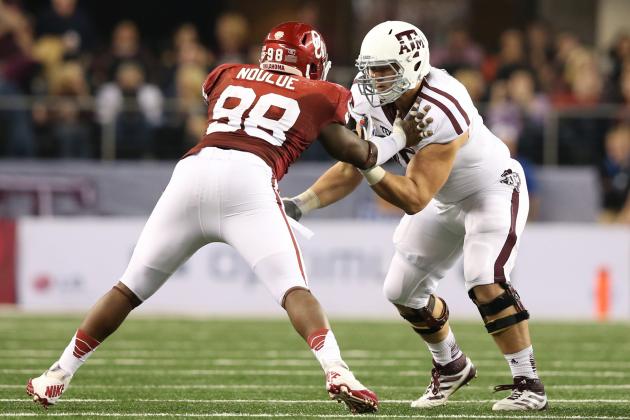 USA TODAY Sports
Chuka Ndulue needs to follow up his sophomore season with a solid 2013.
A key concern for the Sooners next season is the defensive line. The unit struggled last season and loses several key seniors, notably David King and Jamarkus McFarland.
Luckily, OU returns end Chuka Ndulue, who tallied 45 tackles and led the team in sacks last season. The junior will be the most experienced returning D-lineman. He must continue to play at a high level as new players adjust to the rotation.
The only thing we know for sure about the unit at this point is it will feature new faces. The addition of JUCO transfer Quincy Russell, D.J. Ward and other recruits will help create depth.
Amid this uncertainty, the pressure will be on Chuka Ndulue to be just as good at defensive end as he was last season, if not better.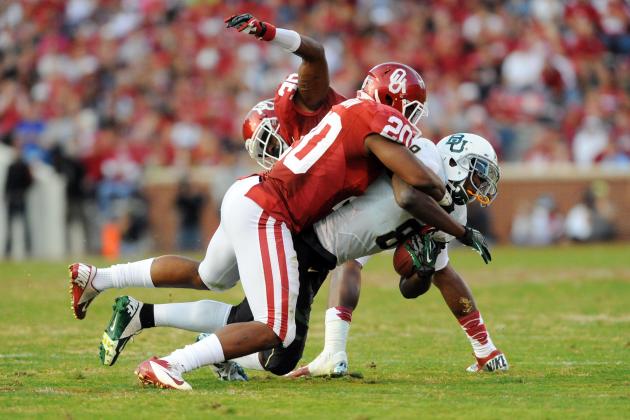 Denny Medley-USA TODAY Sports
Will Frank Shannon ameliorate the problems at linebacker?
If there's one area in dire need of improvement for next season, it's linebacker.
Despite the presence of Tom Wort and Corey Nelson, the 'backers were oddly absent throughout the season. Tavon Austin (344 rushing yards) and Johnny Manziel (229 rushing yards) were the clearest examples of this.
Granted, at least some of the problem seemed to be in scheme. The Sooners favored defensive back-heavy formations in light of their pass-happy competition.
Regardless, this unit must improve.
The key player to watch is middle linebacker Frank Shannon. As a freshman, he played in every game last season (making two starts) and totaled 40 tackles and two sacks.
Shannon's contributions were promising. But can he transition to full-time starter and be successful immediately?
His ability to do these things will be a critical factor. OU needs to defend the run better next season, and a solid middle linebacker is essential in that task.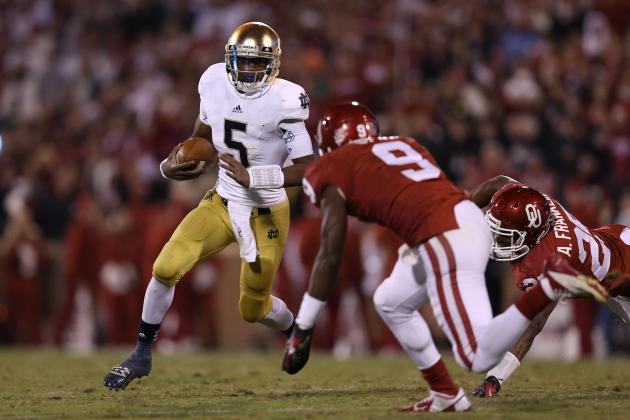 Matthew Emmons-USA TODAY Sports
Gabe Lynn is poised to have a breakout senior season.
The Sooner secondary also takes a hit with the departures of Tony Jefferson, Demontre Hurst and Javon Harris. Luckily for OU fans, All-Big 12 cornerback Aaron Colvin will return for his senior season.
As long as he stays healthy, Colvin should have another great campaign. The more interesting player to consider is nickelback Gabe Lynn. His success is not a guarantee, making him an X-factor.
Lynn has shown steady improvement in his three years in Norman (Okla.). He ended his junior season with 37 tackles and three passes broken up.
Considering his experience, defensive coordinator Mike Stoops may move Lynn to cornerback so he sees the field more. Regardless, Lynn will be counted on to play at a high level amid a youthful secondary.
Senior leadership from Lynn and Colvin will also be critical. Raw talent will inevitably be a part of the rotation. It's possible that multiple freshmen will start at safety.
In the Big 12, good pass defense is a priority. If Lynn can step up and continue to progress, Oklahoma's defense will get a much-needed boost.