UFC president Dana White has always been reluctant to discuss fights that are not beyond the preliminary stages. On Thursday, while speaking to the media following the UFC on Fox 6 pre-fight press conference, he revealed some big-name fights that may come to fruition in the future.
The first fight that was mentioned was for Vitor Belfort. Belfort is coming off a second-round TKO win over Michael Bisping in the main event of UFC on FX 7.
It should come as no surprise that the fight being considered for Belfort is not against the man he called out following the win over Bisping, UFC light heavyweight champion Jon Jones.
White said, "We have a fight for Vitor; I think it's (Luke) Rockhold. That's what we're talking about."
Rockhold comes to the UFC as the Strikeforce middleweight champion, carrying a record of 10-1, with his only loss coming in his second professional bout.
Rockhold has not fought since July 14, 2012, when he defeated Tim Kennedy via unanimous decision. Since that victory, Rockhold has been hampered by injuries, causing him to bow out of a potential title defense against Lorenz Larkin on two separate occasions.
The other fight that White mentioned would go to Dan Henderson if he is able to get past former UFC light heavyweight champion Lyoto Machida at UFC 157. Talking of Henderson's future, White said, "Obviously, if Henderson beats Machida, Henderson will get the next shot," facing the winner of Jon Jones vs. Chael Sonnen, which will headline UFC 159.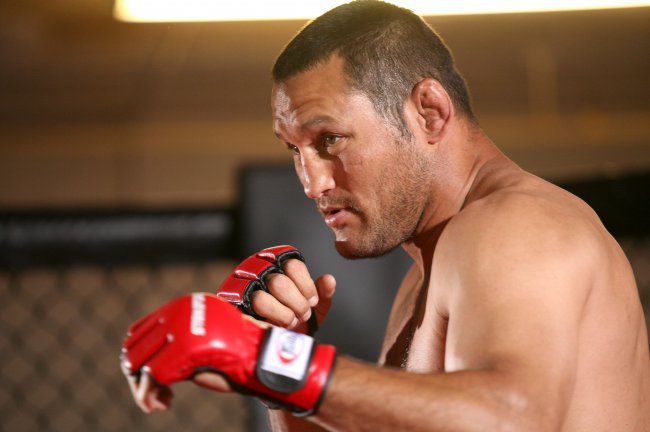 Valerie Macon/Getty Images
If Machida defeats Henderson, White said the UFC would then have to consider the outcome of the upcoming Alexander Gustafsson vs. Gegard Mousasi fight before deciding who gets the next shot at the UFC light heavyweight crown.
During this talk of potential bouts, White was quick to point out that he hated talking about these things before adding, "There you go, so I gave you your fight that isn't done yet that we're talking about, because every time I do and you guys go out and tell everybody, it f**ks the whole deal up. But there you go, you got your one fight that I didn't want to tell you, but I did."
Now we all have to wait and see if the UFC president is correct—will the talk of these potential bouts "f**k the whole deal up"?
All quotes obtained firsthand by Bleacher Report MMA.