NBA All-Star Roster 2013: Biggest Snubs and Surprises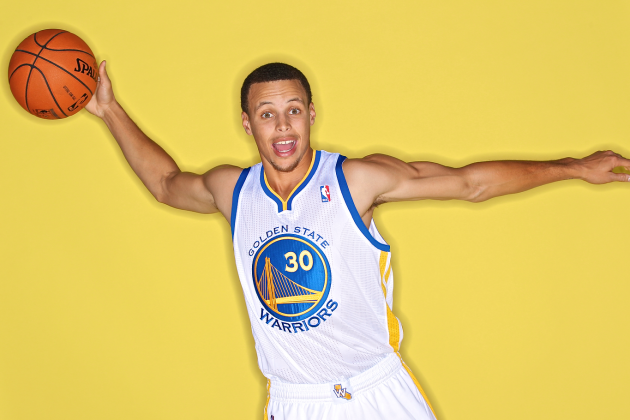 Jerome Miron-USA TODAY Sports

The 2013 NBA All-Star reserves have been announced, thus filling out the full rosters for the Eastern and Western Conferences.
As always, some inclusions and some exclusions have created some buzz among NBA fans and experts. It's impossible for the fans and coaches to make everybody happy; otherwise, each All-Star team would have 40 players.
All in all, both rosters are pretty solid and without too many issues. Thank goodness the league was spared from having Jeremy Lin earn a starting spot.
That is not to say that the coaches were 100 percent right with whom they selected and omitted.
This is by no means a comprehensive list. Rather, it provides some of the biggest surprises and snubs regarding the 2013 NBA All-Star roster.
Eastern Conference Starters
G Rajon Rondo (Celtics), G Dwyane Wade (Heat), F LeBron James (Heat), F Carmelo Anthony (Knicks), C Kevin Garnett (Celtics)
Eastern Conference Reserves
G Jrue Holiday (76ers), G Kyrie Irving (Cavaliers), F Chris Bosh (Heat), F Paul George (Pacers), F Luol Deng (Bulls), C Tyson Chandler (Knicks), C Joakim Noah (Bulls)
Western Conference Starters
G Chris Paul (Clippers), G Kobe Bryant (Lakers), F Kevin Durant (Thunder), F Blake Griffin (Clippers), C Dwight Howard (Lakers)
Western Conference Reserves
G Tony Parker (Spurs), G Russell Westbrook (Thunder), G James Harden (Rockets), F Tim Duncan (Spurs), F Zach Randolph (Grizzlies), F LaMarcus Aldridge (Trail Blazers), F David Lee (Warriors)
Begin Slideshow

»
If you tuned into TNT for the reserves announcement, you heard quite a rant from Charles Barkley regarding the omission of Stephen Curry. The West's roster is absolutely loaded, so it probably would have caused just as much of an outcry should he have replaced a player who did make it.
Curry has been a huge reason for the Golden State Warriors' success. You just knew that if he could stay healthy, he would be a serious force in the league this year, and that is exactly what has happened.
It's not a surprise to see how much of an offensive monster he's been in 2012-13.
Curry is averaging 20.9 points, which is second among the West's point guards, and 6.6 assists a game. His shooting percentage from three-point range (45.1) is third in the league and is even more impressive when you consider he's taking about seven three-pointers a game.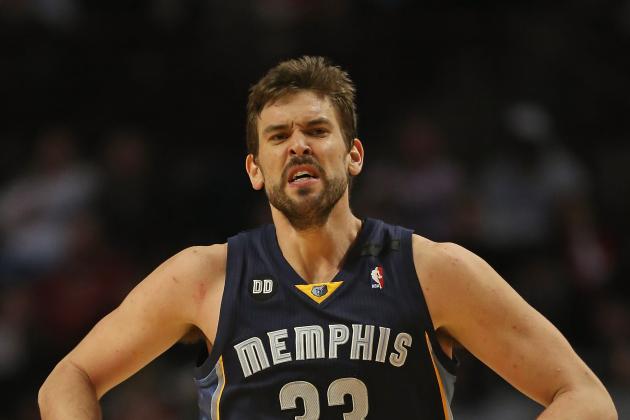 Jonathan Daniel/Getty Images

Marc Gasol is the anchor of the second-ranked defense in the NBA.
He's also one of the most dynamic offensive players, having averaged 13.2 points and 3.5 assists to date.
In contrast to 2012, Gasol was left off of the All-Star Roster this season. Even as he facilitates and anchors the fourth team in the West, Gasol was left out of the All-Star conversation.
Per Basketball-Reference, Gasol is one of two players in the NBA to average at least 13.0 points, 7.0 rebounds, 3.5 assists, 1.5 blocks and 1.0 steal simultaneously.
The other player is the next on our list.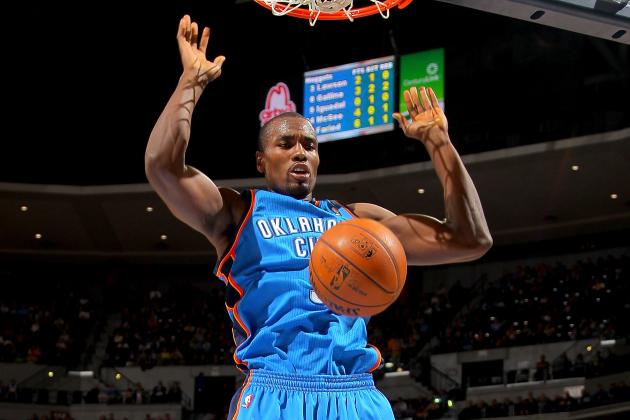 Doug Pensinger/Getty Images

Serge Ibaka is proving Oklahoma City management right for choosing him over James Harden this past offseason.
Prior to this season, he was simply a defensive stopper while contributing much less on the offensive end of the court. This year, though, he has been a much more complete player.
He's averaging 14.0 points a game, which is almost five points more than his career average, and his 8.3 rebounds are the highest of his career.
Ibaka's game has evolved to include more mid-range jumpers as well. Zach Randolph is doing well, but it's hard to see how Ibaka didn't have a place on the All-Star team.
Brook Lopez was likely hindered by the way former Nets coach Avery Johnson was running things. Yet unlike Deron Williams, Lopez is having an All-Star season.
He's leading all centers in scoring with 18.6 points a game. Lopez is only averaging 7.4 rebounds, so that hurt his case. His offensive numbers, though, should have made up for that. Lopez's 2.1 blocks are seventh in the league and fourth among all centers.
His PER of 25.4 illustrates just how good he has been this year.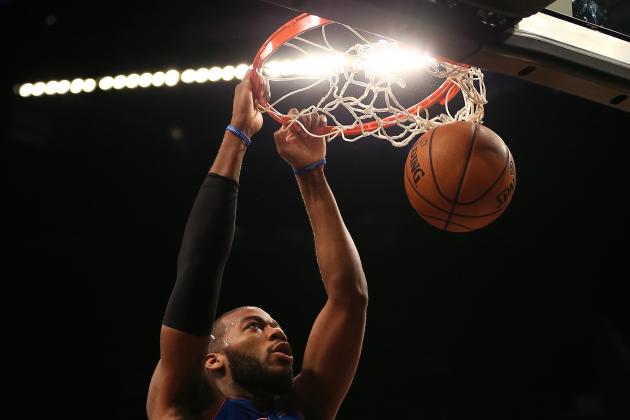 Elsa/Getty Images

If Jrue Holiday and Kyrie Irving can make it in as the best players on bad teams, why not Greg Monroe of the Detroit Pistons?
Monroe is presently averaging 15.3 points, 9.1 rebounds, 3.3 assists and 1.3 steals per game. Monroe also has 16 double-doubles.
In fact, Monroe has eight double-doubles in his past 11 games.
Unfortunately, Monroe is the best player on one of the NBA's worst teams from a win-loss perspective.
This young man should receive many nominations in future years.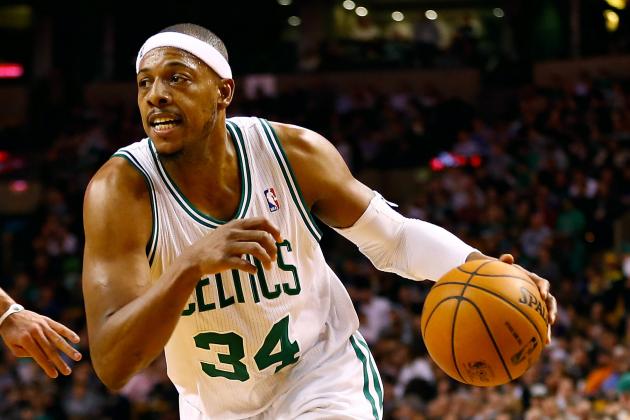 Jared Wickerham/Getty Images

Paul Pierce hasn't been as good as he has in past years, but that doesn't mean he isn't an All-Star this season. Pierce is the type of player who doesn't rely heavily on athleticism, so his play hasn't dropped off with age and tired legs. He's still hitting pull-up jumpers, craftily drawing fouls and picking the perfect time to penetrate to the rack.
The Boston Celtics are struggling this year, but you can't blame the trio of Pierce, Kevin Garnett and Rajon Rondo.
Pierce is averaging 18.9 points and 3.9 assists a game while adding 5.7 rebounds.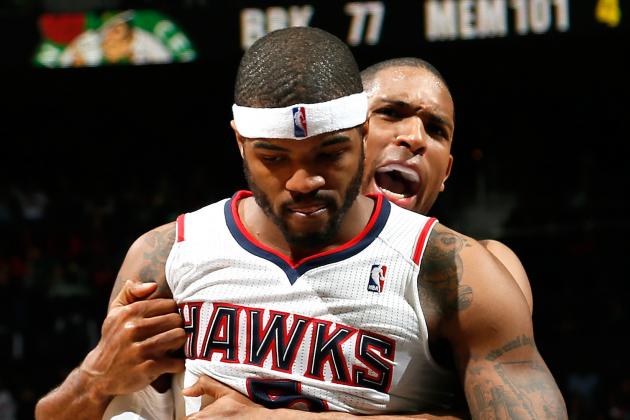 Kevin C. Cox/Getty Images

As previously stated, Josh Smith joins Marc Gasol as one of the only players in the NBA to average 13.0 points, 7.0 rebounds, 3.5 assists, 1.5 blocks and 1.0 steals simultaneously.
Smith is the only player in the league to average at least 16.5 points, 8.0 boards, 3.9 dimes, 2.0 blocks and 1.0 steal.
For the season, Smith rests at 16.7 points, 8.3 rebounds, 3.9 assists, 2.3 blocks and 1.3 steals.
With all of this being established, Smith's unparalleled statistical balance is not even the reason he's such a snub.
Smith is a snub because he is the best player on a 25-18 Atlanta Hawks team who many expected to be helpless without Joe Johnson.
As we seem to say every season, Josh Smith was an All-Star snub.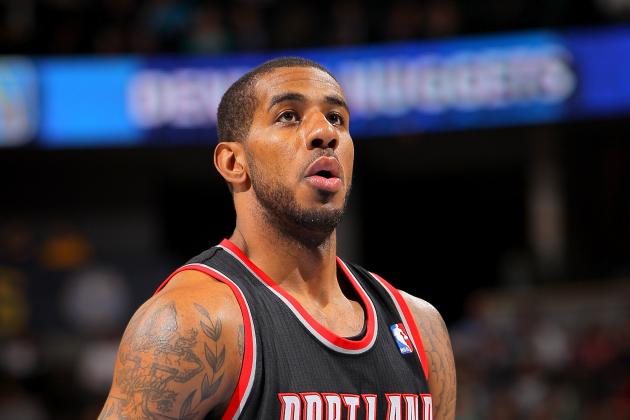 Doug Pensinger/Getty Images

There is absolutely no question that LaMarcus Aldridge deserves this nomination.
He has led the Portland Trail Blazers in an improbable run to a 21-21 record. Aldridge is also averaging 20.7 points, 8.8 rebounds, 2.5 assists, 1.3 blocks and 1.0 steals per game.
Unfortunately, Aldridge is considered to be the player who kept Stephen Curry out of the All-Star Game.
For that reason, we can't help but express our shock in this selection.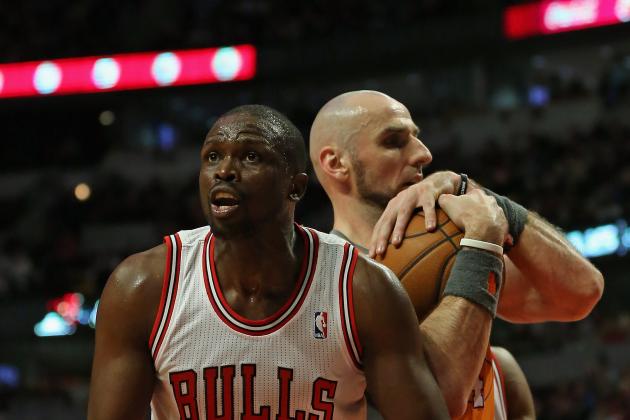 Jonathan Daniel/Getty Images

Luol Deng is having a good season, but it might not necessarily be an All-Star season.
His defensive ability is very solid, and that likely was a major factor in the minds of coaches. And he's an absolute workhorse. Deng leads the NBA in minutes played at 39.8.
Paul Pierce is scoring more points and dishing out more assists while playing about six minutes fewer than Deng. It likely came down to a choice between the two, and it's apparent the coaches favored Deng.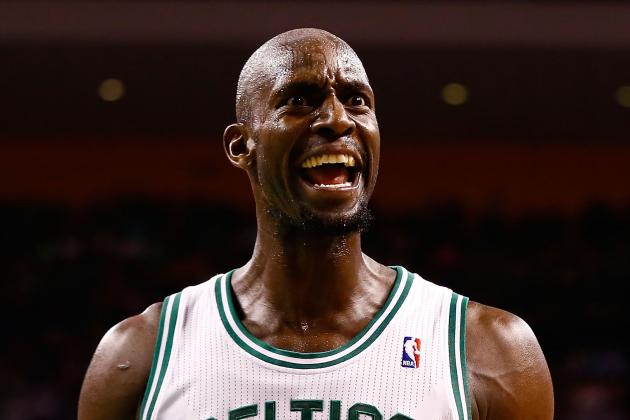 Jared Wickerham/Getty Images

We, as an NBA nation, have come to accept the fan vote for its skewed and often fraudulent ways.
With that being said, we cannot overlook travesties.
Kevin Garnett is one of the greatest players in NBA history. With that being said, he may be the third-best player on a 20-23 Boston Celtics team.
If you aren't shocked by KG's selection, what would take you by surprise?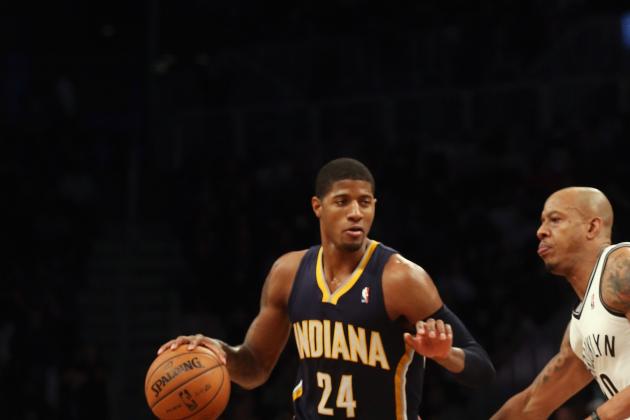 Bruce Bennett/Getty Images

For die-hard NBA fans, this should come as no surprise.
Paul George has been one of the best all-around players in the NBA. More specifically, he has been a defensive dynamo for the league's top scoring defense.
Providing the Pacers offensive spark at 17.3 points and 7.8 rebounds doesn't hurt either.
Even still, George's selection does come as a surprise. He was selected over proven veteran Paul Pierce, who is having an equally as spectacular season.
We at B/R are pleased to see George receive this honor, but again, quite the surprise.