Midseason NBA Awards Odds: Handing out Hardware at Season's Midpoint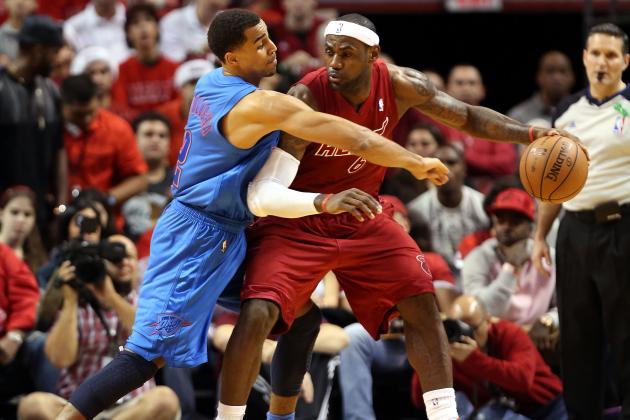 Marc Serota/Getty Images

The season is roughly halfway done, and we're starting to get a sense of how it will shake out. There's a fairly good chance that the leading players in these categories will win their awards in the end.
It's been a season of immense change in a league that often stays stagnant. Though the San Antonio Spurs are still the Spurs, and the Miami Heat and Oklahoma City Thunder look primed for another Finals rematch, much else is different.
For one, the Lakers are terrible. Their center, the game's once unquestionably best big man, has fallen far in terms of reputation and production.
Also, the Golden State Warriors are good and the Houston Rockets have a new superstar. A guy out of Weber State University is gaining ROY momentum. So far, the season has surprised.
Begin Slideshow

»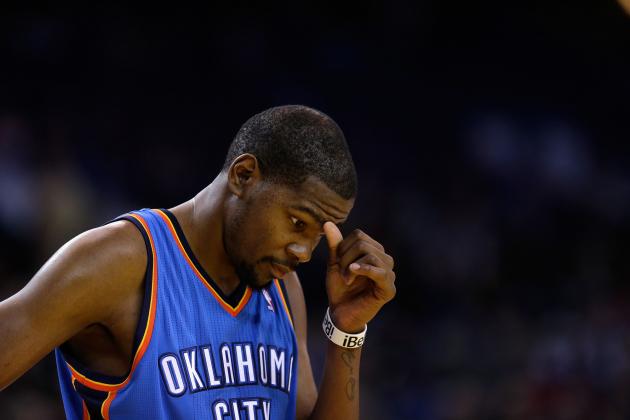 Ezra Shaw/Getty Images

Kevin Durant
MVP voters favor the new, so if Durant and James have equal seasons, KD is almost certain to come away with the victory. While most, including myself, would still call LeBron James the game's best player, no one has surpassed Durant's season.
Durant is claiming an absurd .657 true shooting percentage while taking 18.5 shots per game. He's averaging a career high in assists, as he's become adept at passing to shooters and off the dribble into the interior.
As I'll mention later, Durant has a fair case for Most Improved, as well as for MVP. Somehow, greatness just got greater.
MVP Odds: 50 Percent
LeBron James
While Kevin Durant's season might be second to no man's, it very well could be equal to what LeBron James is doing on Miami. Though the Heat have struggled on defense, they've been an offensive juggernaut.
James has optimized all there is to optimize with the Ray Allen addition. He's burning defenses with cross-court passes to Ray in the corner.
From the outside, LeBron is also having a career shooting season. His 39 percent mark from three-point range would qualify as his best.
MVP Odds: 25 Percent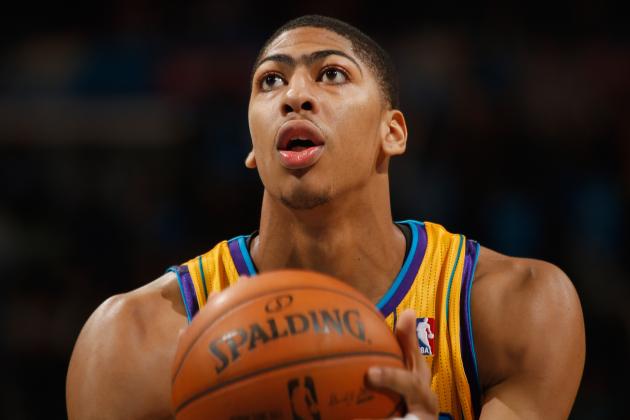 Chris Graythen/Getty Images

Anthony Davis
He is not the leader in the clubhouse for Rookie of the Year, but I believe he should be. Davis has been better, nearly objectively, than Damian Lillard per minute.
But, we are enamored with ball-dominant point guards who score in bunches. Anthony Davis isn't that, and his raw numbers of 13 points and nearly eight rebounds won't garner that much attention.
If you go beyond that, you will see that Davis is claiming these figures in only 29 minutes per outing while making over half of his shots. The Brow draws roughly as many free throws as Lillard, though Damian averages more than 38 minutes per night.
ROY Chances: 20 percent
Andre Drummond
Andre Drummond is second on my ROY leader board, though, again, Damian Lillard is likely to win. Drummond plays just 20 minutes per game, but he's already ahead of Lillard in Hollinger's Estimated Wins Added.
Drummond also leads all rookies in PER. Not bad for a prospect who was supposed to only help on the defensive end.
ROY Chances: 5 percent
Damian Lillard
This is not meant to be a slight to Lillard. The kid is having a great season, and the offense he runs just might make the playoffs.
Though I can gripe about his efficiency, averaging more than 18 points and six assists is no joke for a rookie. I might prefer some other candidates, but he's having a fantastic season.
ROY Chances: 70 percent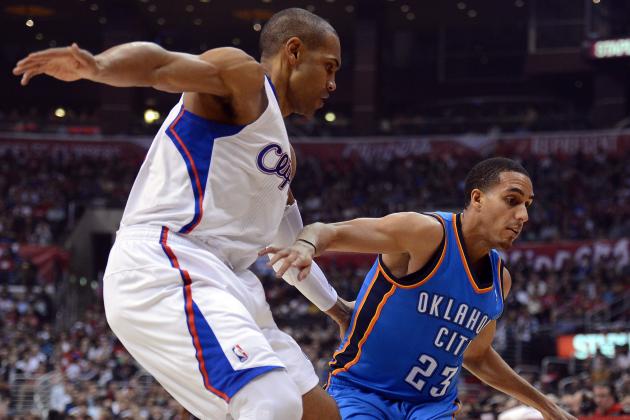 Harry How/Getty Images

Kevin Martin
To be the Sixth Man of the Year, it helps to score a lot of points on a well-known team. Kevin Martin has that covered and also has the added virtue of scoring those points efficiently.
Martin is hitting nearly 44 percent of his three-point attempts and only shooting while open for the most part. This helps fill the Harden void nicely because Oklahoma City already has enough shot creation in the form of Kevin Durant and Russell Westbrook.
Sixth Man Odds: 20 percent
Jamal Crawford
You're talking to the wrong guy here. I don't understand the Jamal Crawford obsession, especially when it gave way to All-Star buzz.
Don't get me wrong, Jamal's been good. I'm just not blown away by the (adequate) 54 percent true shooting, especially when it comes with some horrendous defense.
He scores, though, and he's on a good team. Voters like scorers and winners.
Sixth Man Odds: 30 percent
Jarrett Jack
With apologies to Manu Ginobili, I'm leaving him off this list. Manu may very well be deserving, but there's no way that voters will give him another Sixth Man award.
Jack, on the other hand, is a fresh new story. He serves perfectly as the bridge between Stephen Curry's point guard and off-guard duties, often running the offense in crunch time.
Jack's playing near 30 minutes and he's averaging 5.6 assists. He's also scoring at an efficient clip, with better than 56 percent true shooting.
Sixth Man Odds: 15 percent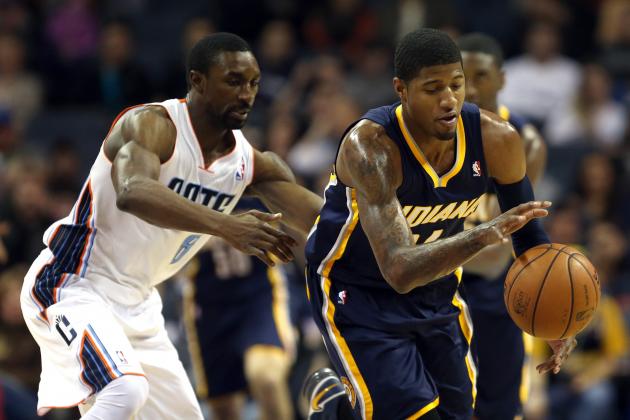 Streeter Lecka/Getty Images

Paul George
Here's the fun award, especially if Paul George takes it. George is seeing more playing time, and his production hasn't suffered.
Due to George's talent, people are quick to herald his arrival. He thrilled fans these past two months, averaging more than 18 points in both December and January.
The athletic young wing is averaging 17.3 points and 7.8 rebounds on the year while shooting better than 38 percent from three-point land. His recent All-Star berth likely gives him the huge edge in this category.
MIP Chances: 30 percent
Jrue Holiday
Jrue's the other younger player and is headed to his first All Star game. In typical MIP fashion, he's received a big boost in minutes.
Though his shooting efficiency has stayed the same with that minutes boost, Holiday has improved as a passer. He's averaging nine assists per evening and happens to be his team's best player.
MIP Chances: 30 percent
Brook Lopez
Brook Lopez is an All-Star snub, but he might be the MIP sympathy vote. The Brooklyn Nets big man has claimed a 25.42 PER, better than anyone in the East, save for LeBron James.
You would think such offensive production would be enough for an ASG spot, but his reputation lags behind his numbers. That might change between now and then, and Brook just might receive an accolade at the end.
MIP Chances: 30 percent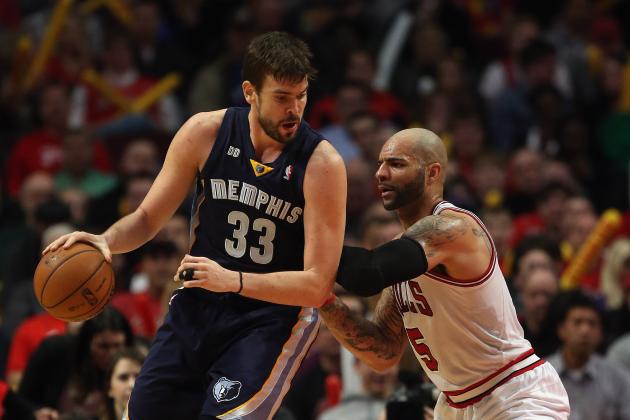 Jonathan Daniel/Getty Images

Marc Gasol
Gasol is the clear winner right now in my eyes, though you could argue for some other candidates. The Memphis Grizzlies have the league's second-best defense behind the Indiana Pacers.
Memphis plays in a tougher conference, and Gasol's defensive mastery is more all-encompassing than anyone I've watched on the Pacers. He's the conductor, pointing out assignments to teammates while bumping the opposition off-route and off the ball.
Gasol might not win DPOY because he blocks too few shots, but he deserves the distinction right now.
DPOY Chances: 20 percent
Tim Duncan
Hey, remember Tim Duncan? All-time great? He's blocking 2.7 shots per game and his team is top five in defensive efficiency.
Timmy might bore some folks, but at least they know his name, and at least he blocks shots. The latter is all too important in determining who wins this. Also, he happens to be having an awesome defensive season.
DPOY Chances: 20 percent
Serge Ibaka
Serge Ibaka finished second in DPOY voting last year despite not deserving it. He falls for too many pump fakes and gets driven by too often.
All of this is true this season, but the Thunder are improved on the defensive end. Expect voters to reward the team effort by giving Ibaka DPOY.
DPOY Chances: 40 percent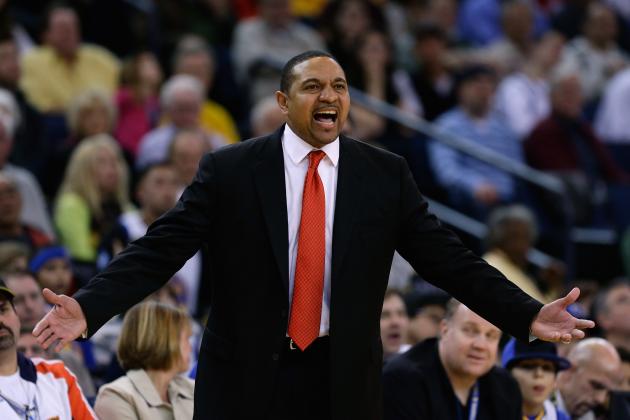 Ezra Shaw/Getty Images

Mark Jackson
Mark Jackson is popular around the league, announced on television and, most importantly, helped the Golden State Warriors actually be good for once. The latter seems like a miracle, and so much of these awards are determined according to what expectations were.
The Warriors would qualify for the fifth seed if it was decided today. Not bad for a team many felt would miss the playoffs. Jackson has become quite the tactician on the sidelines as he's grown into his role.
COY chances: 45 percent
Tom Thibodeau
How are the Bulls this good without Derrick Rose and much of their bench from last season? Chicago is virtually assured a playoff spot, thanks in large part to Tom Thibodeau's defensive-minded coaching.
This team has no above-average guards at the moment. None. They're getting major production from junior college product Jimmy Butler.
Thibodeau's already taken this award, and it's unlikely he repeats. Still, he's quite worthy of consideration.
COY chances: 15 percent
Mike Woodson
The Knicks have had their ups and downs this season, but they should finish as a top seed in the Eastern Conference. Mike Woodson has fomented an explosive offense by convincing Carmelo Anthony to move to the 4 spot.
Though Woodson has preached isolation basketball, he practices a more exciting drive-and-kick approach. If the Knicks can cinch up their defense, he can clinch this award.
COY chances: 25 percent