Matt Hughes Talks Not Wanting to Retire and New Vice President Position with UFC
Use your ← → (arrow) keys to browse more stories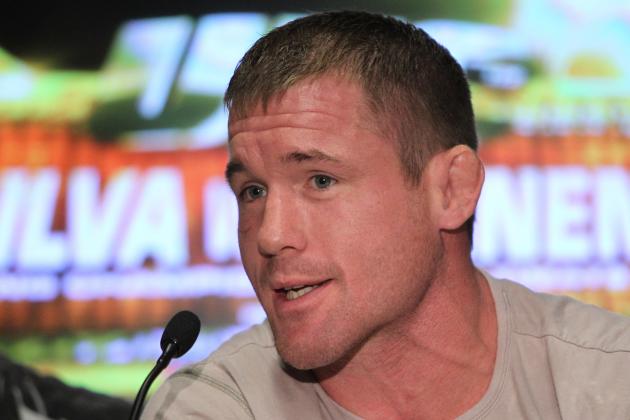 Josh Hedges/Zuffa LLC UFC via Getty Images
When UFC president Dana White stepped to the podium to begin the UFC on Fox 6 pre-fight press conference, he was not joined by any of Saturday's main card fighters, he stood alone. The reason for this became quite clear when he greeted the assembled media and announced that UFC Hall of Famer Matt Hughes was retiring (mmafighting.com).
White then made it clear that while Hughes was retiring from competition, he wasn't leaving the UFC family, announcing Hughes had taken on new role with the promotion and would now be Matt Hughes "Vice President of Athlete Development and Government Relations," and not Matt Hughes former UFC welterweight champion.
White had nothing but kind words for his new vice president, saying, "There were always a few guys that I knew that I could count on and Matt Hughes was one of those guys. There's a laundry list of things, he was a guy that I always knew that if I picked up the phone and I needed something, Matt Hughes never said no."
After the presser, Bleacher Report caught up with Hughes to ask him about his retirement and new position with the UFC.
When asked about stepping away from the sport, Hughes plainly stated, "I didn't want to, but when the boss tells you he doesn't have to twist your arm very hard."
Hughes described the new position as such, "I see it as, I'm not a policeman and I don't want to be considered a policeman. If somebody does something that makes headlines in the wrong way, yes I could be called in to talk to them, but for the most part I see it as being a liaison between the UFC and the fighter."
"If there's a disagreement between the UFC and the fighter, whether it's taking a fight or doing this or doing that, I'll step in and digest what's going on and talk to both parties. Sometimes I can go to the UFC and say hey, this guy has a good point here and if I was him, I'd be where he's at or I could go to the fighter and say, the UFC has your best interest at heart and if I was you I would strongly recommend listening to what the UFC is telling you."
As far as the Government Relations part of the position, Hughes said, "most of my regulatory is going to be with state legislatures, New York, California, whoever's doing something that's trying to pass a bill that's not helping out any promoter, I'll probably be there."
Hughes also stressed that he would like to help out with one of the most often criticized aspects of not just the UFC, but mixed martial arts in general: the judging. "The weakest part of this sport, I believe, is the judges right now. I'd love to get my hands on the judging aspect and find a way to have a parent board that would get these judges really qualified."
For those that think that Hughes the family man is going to relocate from his farm in Illinois to Las Vegas, that's not going to happen; something that Hughes said makes his wife a very happy woman. "She didn't want me to fight (Josh) Koscheck, she didn't want me to fight (B.J.) Penn, so she's very happy because this is security and she has that and she's happy and happy wife is a happy life."
The transition from elite athlete to UFC VP will be a big step for Hughes. He's aware of that and sees some potentially trying times ahead, but overall he feels that he is ready to deal with what his new role brings him, "It'll be a little bit trying to me, but the code of conduct, the good thing about that is, it's pretty common sense, it's down to earth. I can deal with common sense pretty easy."
**all quotes obtained first hand