Oregon Football: Mark Helfrich's to-Do List for 2013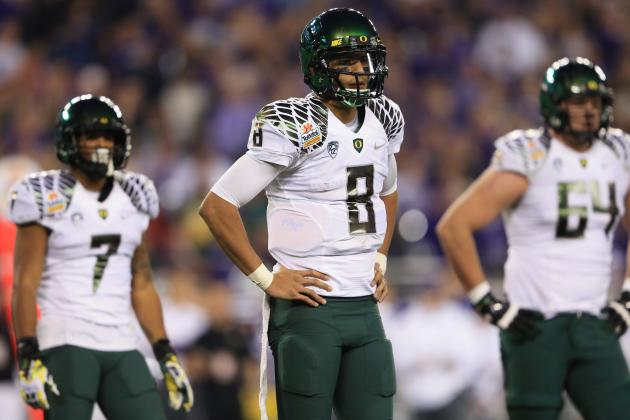 Doug Pensinger/Getty Images
Marcus Mariota is a product of Helfrich's QB teachings
Mark Helfrich has reached what he calls the "pinnacle" of his coaching career.
He's the head man of the Oregon Ducks, and he takes over a team that has played in four consecutive BCS bowl games. His office is surrounded by some of the best athletic facilities in the country, and his team has a reputation of greatness.
But don't let that smile hang around for too long, Mark. Following up Chip Kelly is not an easy task, and fans will be second-guessing Helrich's every move.
The program is at a point where bland, 30-10 victories over middling opponents aren't good enough. Those who bleed green and yellow want 63-7 victories and scoreboards that burst halfway through the fourth quarter.
Suffice it to say, 2013 will be a major year in coach Helfrich's life. Here are the five most important things on his to-do list for the next 11 months.
Begin Slideshow

»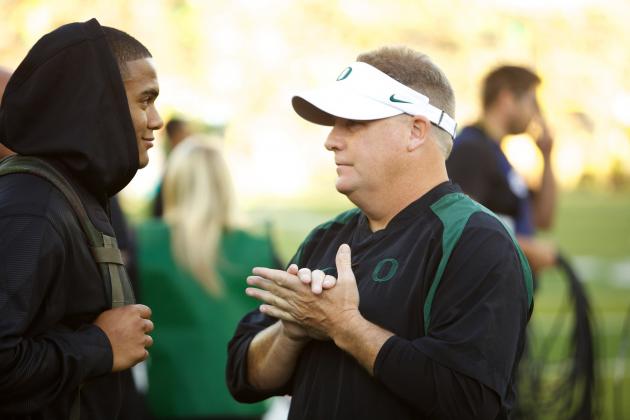 Craig Mitchelldyer/Getty Images
Keeping Thomas Tyner on board despite the loss of Kelly is crucial for the Ducks
Whenever there's a coaching change at a major program, it becomes standard for committed recruits to think about taking their talents elsewhere.
When the coach leaving is Chip Kelly, who carries the reputation of an offensive genius and has an "icon" status all to his own, convincing recruits to keep their pledges becomes more difficult.
This is a look at the current recruiting class for the Ducks, and though small, it's packed with top-end talent.
First on Mark Helrich's to-do list is not only build ties with the commits, but convince the undecided players that Oregon is still the best possible destination for them to display their talent.
Helfrich has a warm demeanor, which should serve him well when meeting parents. But he'll need to sell the program to recruits, and let them know that success won't be halted even for a moment.
If he can seal up the current class and mix in several other recruits for a strong finish before national signing day, Helfrich will be off to a great start at his new gig.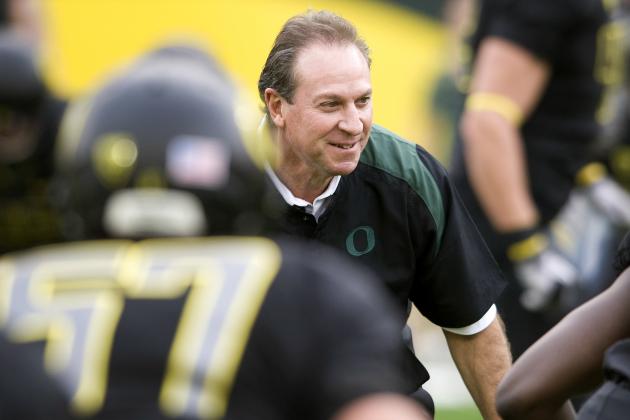 Steve Dykes/Getty Images
Defensive Coordinator Nick Aliotti will continue to play a major role
Having a tight coaching staff goes hand in hand with recruiting, and it's another major item on Helfrich's to-do list.
The only major loss thus far has been defensive line coach Jerry Azzinaro, who left for the Philadelphia Eagles alongside Chip Kelly.
Still, the Ducks need to get the entire coaching staff in place and prepared for spring practices. That means not only replacing Azzinaro, but getting everybody on the same page about goals. It means making sure that everybody understands how things are going to be run, no matter how subtle the changes may be from the previous regime.
Subsequently, a tight-knit coaching staff looks good to recruits. This was one of the more appealing aspects of Oregon's program in recent years because coaching turnover had been practically non-existent. Recruits could expect that the coaches who recruited them would be in place to coach them throughout their careers as well.
If Helfrich can tie up any loose ends on the coaching staff before national signing day, he can check off another important box on his to-do list.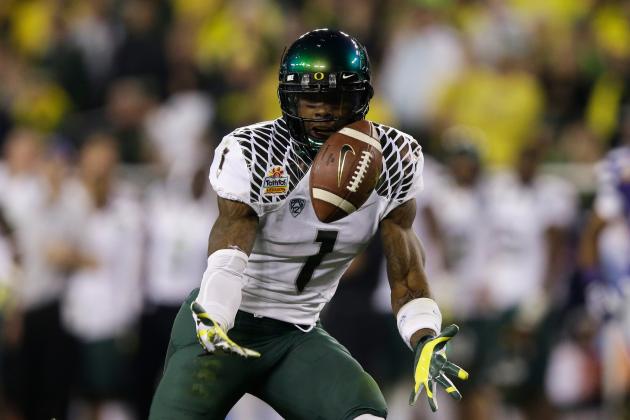 Ezra Shaw/Getty Images
Will Oregon pass more in 2013?
The true measure of success for Helfrich's tenure won't come until the leaves change color and the games mean something.
But he needs to put his own stamp on the program as the new head coach. Continuity was obviously a driving factor in his hiring, but that doesn't mean he can't do a few things his own way.
This involves everything from dealing with offseason incidents to how he'll handle a 3rd-and-7 from midfield. Will he open up practices to media? If sanctions are handed out, what will his message be?
Perhaps most importantly, how will he handle an offense currently equipped to produce fireworks unseen in the history of the game?
All of these questions will need to be answered by Helfrich. In doing so he'll be able to put his image on a program that, despite so many moving parts, works well with a defined leader making important decisions.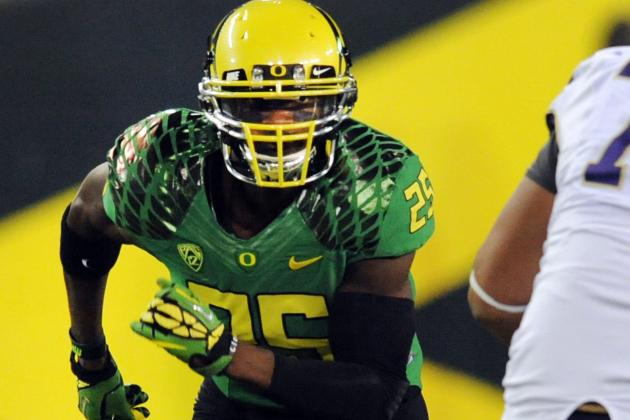 Steve Dykes/Getty Images
Boseko Lokombo will assume a leadership role as a veteran on defense
Spring practice will be the first chance that Helfrich gets to do what he was hired mainly to do—coach.
The hype surrounding the 2013 Ducks will be enormous and they'll have the attention of fans around the country.
Therefore it's important for Helfrich to set the tone when the team first takes the field. We all remember how Chip Kelly did things. How every minute of every practice was used in a productive manner, and how the team rarely showed up sluggish to work.
In order for positive results to continue, this is one aspect of the program that absolutely cannot change. The Ducks' preparation was arguably their biggest strength over the past four years.
It's up to Helfrich to make sure it stays that way, and it starts with how the team commits itself to getting better during the spring.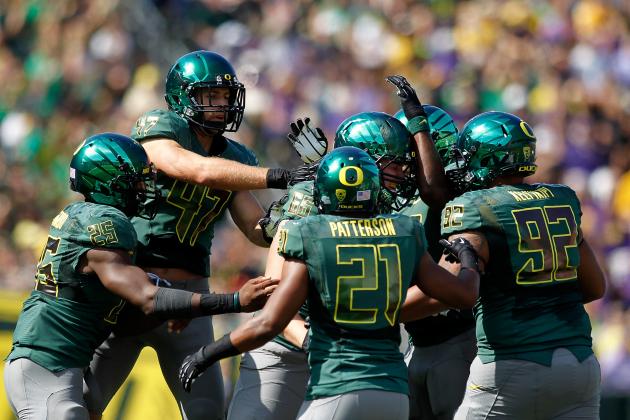 Jonathan Ferrey/Getty Images
The Ducks' defense celebrates a big play
"Win The Day" isn't about Chip Kelly. It's about the Oregon Ducks as an entire program.
It's about making each moment count, from the stretches in practice to the game-winning drive of a BCS bowl game.
While Kelly is sure to take the mantra to Philadelphia, "Win The Day" fortunately can be two places at once. And though the message is simple, it has defined the Oregon Ducks over the past four seasons. Helfrich needs to make sure it continues to revolve around everything the team does.
Every coach likes to "take it one day at a time" and "focus on the present" to use some of the more headache-inducing, overused phrases in sports. But "Win The Day" actually means something. It's an attitude that has separated Oregon from everyone else.
If Mark Helfrich can continue to win each day, the Oregon Ducks can continue on as an elite program in college football.