MLB Prospects Who Could Be the Next Giancarlo Stanton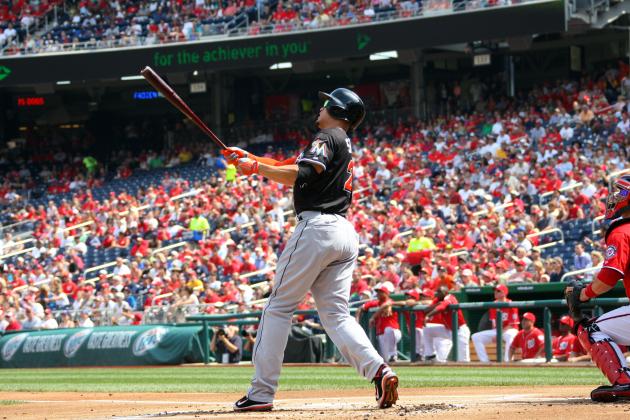 Ned Dishman/Getty Images

Giancarlo Stanton boasts the most power of any hitter in the game. That, my friends, is a fact.
On the 20-to-80 scouting scale, his raw power grades as an easy 80. If you don't believe me, I encourage you to watch this footage of his legendary home run during batting practice at AT&T Park in San Francisco.
Since reaching the major leagues as a 20-year-old in 2010, the 6'5" right-handed hitter has amassed 93 home runs in 373 career games over the last three seasons. In 2012, Stanton led the major leagues with a .608 slugging percentage but played in only 123 games.
More importantly, with each new season, the 23-year-old has improved the utility of said power. It's only a matter of time—and health—until he reaches the 50-home run plateau.
But as we shift our focus to the minor leagues, is there a prospect with the raw power to be the next Giancarlo Stanton?
Here's a look at five prospects with enough pop to warrant consideration.
*All stats courtesy of BaseballReference.com
Begin Slideshow

»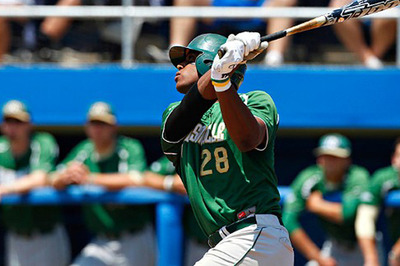 Courtesy of ESPN.com
A third-round draft pick out of Jacksonville last June, Walker has always showcased plus raw power—especially to his pull-side. However, it's come at the cost of a relatively low batting average and high strikeout rate. In his professional debut last season, the 6'4" right-handed hitter batted .250/.310/.496 with 25 extra-base hits (14 home runs) and 76/19 K/BB in 58 games for rookie-level Elizabethton in the Appalachian League.
Entering his age-21 season, Walker still has time to improve his plate discipline and pitch recognition, which should come with experience. If he can steadily eliminate some of the swing-and-miss to his game, he could post monster power numbers.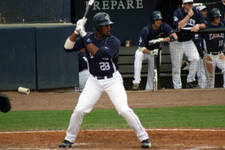 Courtesy of soconsports.com
After missing essentially the entire 2012 season due to a broken wrist and subsequent surgery, Roache was a major wild card headed into the draft. However, after dropping 30 bombs as a college sophomore in 2011 with BBCOR bats, followed by a strong showing in the Cape Cod League, the Brewers saw enough to pop him with the 28th-overall pick last June. However, the injury did prevent him from making his professional debut.
This 6'1", 225-pound outfielder has easy plus raw power to all fields, as he gets all the weight off his backside and drives through the ball with authority. Considering that he's been held out of action for nearly an entire year, it'll be interesting to see how the wrist injury and major surgery impacts his bat speed and swing mechanics.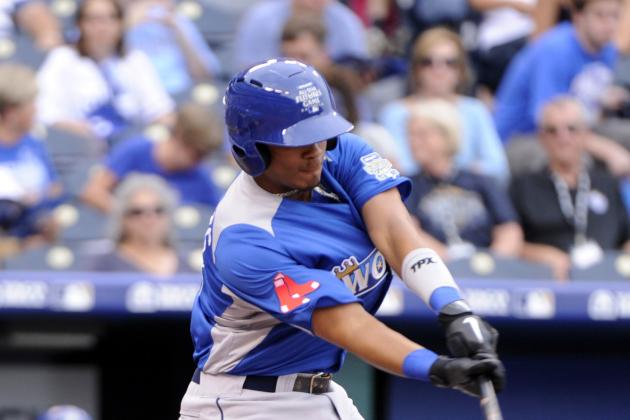 H. Darr Beiser-USA TODAY

At 6'3", 175 pounds, Bogaerts is physically mature for his age and should only add more strength as he matures. As a 19-year-old last season, he batted .307/.373/.523 with 60 extra-base hits (20 home runs) and 106/44 K/BB in 127 games between High-A Salem and Double-A Portland.
A right-handed hitter, Bogaerts employs an upright stance with a big leg lift that allows him to explode through the ball. He possesses plus bat speed with plus raw power to all fields, while his vicious swing results in loud contact to all fields. Bogaerts' hit tool has exceeded expectations despite his aggressive, free-swinging approach, though he'll have to cut down on strikeouts and chase fewer breaking balls out of the zone.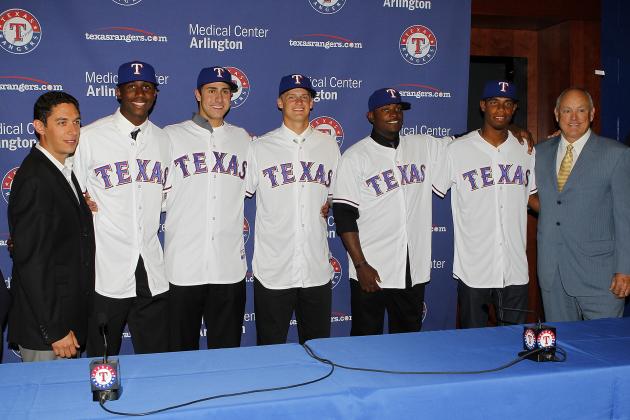 Rick Yeatts/Getty Images

A supplemental-first round draft pick in 2012, Gallo is a physical specimen at 6'5", 205 pounds. And given his size and strength, it should come as no surprise that the left-handed hitter possesses prodigious, 80-grade power. He offered a taste of his potential last season by setting the rookie-level Arizona League home run record with 18 in 43 games. Gallo added four more bombs following a promotion to Short-Season Spokane, and finished his debut with a .272/.412/.660 slash line with 78/48 K/BB.
The 19-year-old's quick wrists and explosive bat speed give him effortless raw power to all fields. Although he's comfortable working counts and coaxing walks, Gallo's a streaky hitter whose swing can get long at times. However, if the power he exhibited last season translates at higher levels, his high strikeout rate will be more than tolerable.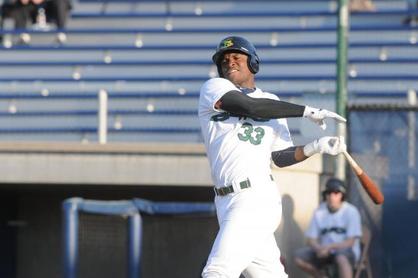 Courtesy of startribune.com
In his full-season debut at Low-A Beloit, Sano batted .258/.373/.521 in 129 games as a 19-year-old. Of his 118 hits, 60 were for extra bases, including 28 home runs. But like most young sluggers, he also struck out 144 times.
In my opinion, Sano has the most projectable raw power in the minor leagues, with present power frequency that suggests the potential for 40-50 home runs in his peak seasons. The right-handed hitter's bat speed and physical strength result in a powerful swing that generates backspin carry to all fields. He may never showcase as good of a hit tool as Stanton, but the power is legit.