Minnesota Timberwolves: 5 Keys to Make Playoff Push in Season's 2nd Half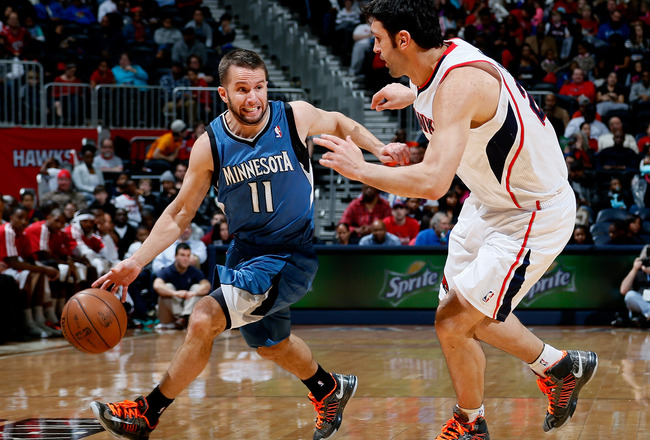 Kevin C. Cox/Getty Images
While the media has been dramatizing and anatomizing the train wreck that is the Los Angeles Lakers season, some of their fellow Western Conference playoff-brink teams have been swept under the radar.
Notably, the Minnesota Timberwolves, who stand 1.5 games above those scandalous Lakers with a 17-22 record. They are only 2.5 games short of the Houston Rockets, who currently hold the eighth playoff spot in the west.
Such dismissal is to be expected. The Timberwolves hardly gain notoriety at full strength.
With their star player expected to be out until at least mid-March, according to the Twin Cities Pioneer Press, it would be silly to expect the Wolves to become a media darling. Regardless of the teams' media coverage—or rather lack thereof—Minnesota has many interesting matters to keep an eye on as they make a second-half playoff push.
1. Kevin Love's Right Hand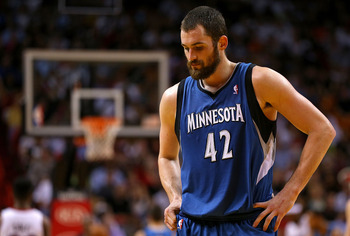 Kevin Love's hand injury could cost the Wolves a playoff spot
Mike Ehrmann/Getty Images
Yes, the aforementioned injury to all-world power forward Kevin Love is the biggest concern as the season progresses.
The Timberwolves dropped eight of their last 10 games since Love reinjured his hand on January 3. Minnesota needs to find a way to win without Love—and fast. Love will likely return for the final 20-or-so games of the regular season. If the Wolves keep up their dreadful pace, they'll be too far out of contention for him to make a difference.
However, if Minnesota is able to perform at the level they showed when they Love-lessly debuted 5-4, they may be able to hold serve over the next 20 games and make a strong push once their star comes back.
2. Ricky Rubio's Left Knee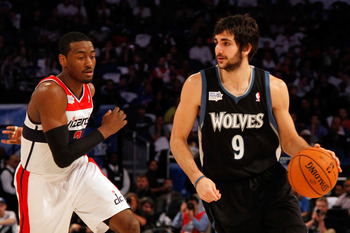 Mike Ehrmann/Getty Images
Again, a star player's health is a big variable for the Timberwolves in the second half of the season. The second-year point guard burst onto the scene last season, flashing his brilliant ball-handling skills and great defense for the first 41 games of the season, before torn ligaments in his left knee ended his year.
The 22-year-old rehabbed hard and returned to action December 15, but has played limited minutes since. While many feel he has regressed this year, his assist and steal numbers per 36 minutes are nearly identical to the ones he posted last year.
The difference is his scoring, which is reduced from 11.2 points per 36 minutes to just 6.9. A lot of that could come from the rust of missing so much time, so it will be interesting to monitor his production heading forward. If Rubio is given more minutes, he will be able to shake off that rust and flourish as he did last season. The Timberwolves will him need down the stretch.
3. Defensive Play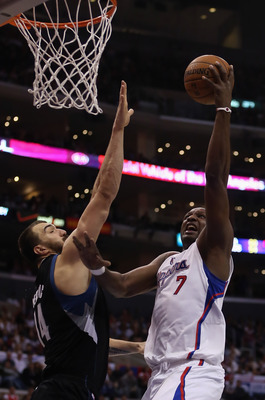 Jeff Gross/Getty Images
The Timberwolves are not a great offensive team, averaging only 94.4 points per game, which puts them at 24th in the league.
Defense is another story: They allow 96.3 points per game, which is 10th best in the league. So the way they are going to win games is by playing solid defense and keeping the score low. That formula has worked for them this season, as they have posted a 12-7 record when they hold their opponent under 100 points.
During their recent 4-9 skid, the Wolves have allowed opponents 100 or more points in 10 of the 13 games. This poor defense takes Minnesota out of their element, and forces them to win a shootout—which they are simply not built to do. How they manage their defense is crucial in the second half of the season.
4. Better Play on the Road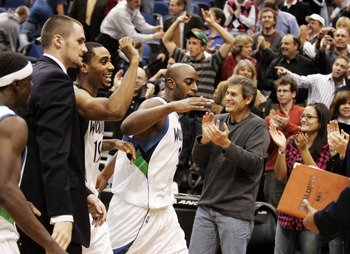 Genevieve Ross/Getty Images
At the Target Center, the Timberwolves have treated their fans to good basketball, winning 11 of their 18 home games.
They have also treated other teams' fans well, as they have posted an atrocious 6-15 mark on the road. Of course it is to be expected that a team plays worse away from home, but that kind of discrepancy is ridiculous. Unless the Timberwolves can figure out how to win games outside of Minnesota, it is unlikely they will live to play in the playoffs.
5. Andrei Kirilenko Needs to Keep Playing Well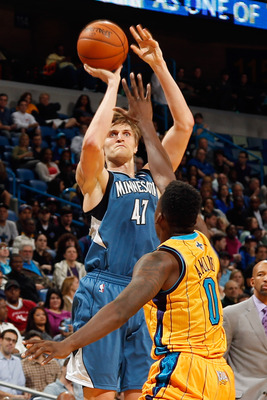 Chris Graythen/Getty Images
A big part of the Timberwolves' solid defense has been former All-Defense first teamer Andrei Kirilenko, who has enjoyed an outstanding first season in Minnesota. The former Utah Jazz star has posted great numbers in almost every statistical category—averaging 13.7 points , 6.9 rebounds, 3.1 assists, 1.2 blocks, and 1.6 steals per game—yet it remains to be seen whether he can keep up that pace.
At 31, Kirilenko might begin to show some signs of age over the second half of the season. This year, his 35.2 minutes per game is the most he has played in any season since 2005-06.
With a slew of injuries, the Timberwolves can hardly afford for him to rest his legs, so the second half will be very trying on him. If he is able to continue his production, then the Wolves will have their best chance at winning, and perhaps they snag a low playoff seed before the season is done.
Keep Reading

Minnesota Timberwolves: Like this team?