UCLA Upsets Arizona, 84-73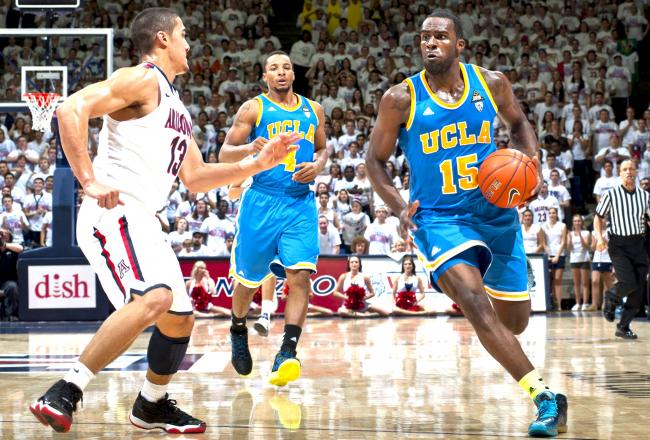 UCLA 84, Arizona 73
In a game that was supposed to be a showcase for the Arizona Wildcats (16-2, 4-2), they fell flat and could never recover from a disastrous start against the UCLA Bruins (16-4, 6-1).
The first half saw plenty of turnovers and missed lay ups by the Wildcats, which was something that eventually came back to haunt Sean Miller's team.
The second half saw much of the same for the home team as their star Mark Lyons could barely find a rhythm all night, the senior ended with 16 points but more importantly he did record an assist.
UCLA freshman Shabazz Muhammad exploded to begin the first half with seven points.
Muhammad was the star of the game and ended with 22 points.
What was even more impressive about the performance of the Bruins was that they played without forward Travis Wear, who was out for the entire second half with concussion-like symptoms.
In place of his brother, David Wear stepped up to the plate and scored 15 points to catapult the Bruins to the 16th victory of the season.
Next up for both teams are conference games on Saturday with UCLA visiting Arizona State and Arizona hosting USC.
Follow me on Twitter, @JTansey90.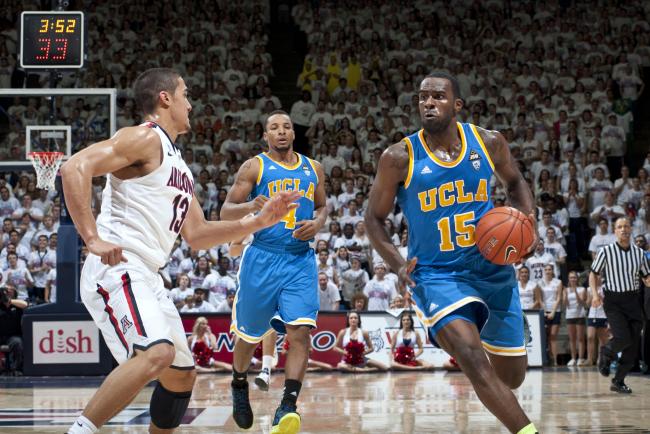 UCLA 84, Arizona 73, Final
Great performance by the Bruins, the Wildcats played uninspired basketball tonight.
UCLA 78, Arizona 70 (1:12 Second Half)
Mark Lyons just fouled out of the game and Bill Walton really hates every timeout that has been taken in the second half, he is right too many timeouts in college basketball.
A very telling statistic brought to you by CBS' Jeff Goodman.
Mark Lyons with zero assists. Says it all for Arizona.

— Jeff Goodman (@GoodmanCBS) January 25, 2013
UCLA 78, Arizona 68 (1:34 Second Half)
UCLA is showing that they can play with the big boys while Arizona is having their worst performance of the season.
Here is a tweet from the Arizona Athletic Department regarding free throws.
UCLA, 10-17 from the line, going to be spening 3:25 doing it. Cats trail by 7.

— Arizona Athletics (@AZATHLETICS) January 25, 2013
UCLA 72, Arizona 66 (3:25 Second Half)
Brandon Ashley just picked up his fourth personal foul putting Arizona in the double bonus.
UCLA will shoot two free throws for the rest of the game.
CBS analyst Doug Gottlieb has some insight on Shabazz Muhammad.
What Bazz lacks as a ball handler and passer--he makes up as a competitor--

— Doug Gottlieb (@GottliebShow) January 25, 2013
Pat Forde is thinking the same thing I am about Arizona.
Still think there is a bit of drama left in this game, given Arizona's penchant for last-minute comebacks. Down six w 3:47 left.

— Pat Forde (@YahooForde) January 25, 2013
UCLA 70, Arizona 62 (3:55 Second Half)
Arizona down to just one timeout after Sean Miller calls one after a Mark Lyons layup.
Every time Arizona creeps back into the game, UCLA answers with a big shot from either Muhammad or David Wear.
UCLA 66, Arizona 58 (5:25 Second Half)
Shabazz Muhammad answers a small run by the Wildcats with a three from the left wing,
UCLA 62, Arizona 55 (6:48 Second Half)
Just as the Arizona crowd gets back into the game, Tony Parker drains a fadeaway shot before the media timeout.
Parker was also fouled on the shot and will go to the free throw line after the timeout.
UCLA 57, Arizona 51 (9:02 Second Half)
UCLA does not want to make a layup in the second half.
There must be something about that end of the court, Arizona had trouble with layups in first half.
Here is some brutal analysis on Shabazz Muhammad from ESPN's Dana O'Neil.
Shabazz Muhammad does not have flu but is allergic to defense.

— Dana O'Neil (@ESPNDanaOneil) January 25, 2013
UCLA 55, Arizona 51 (10:44 Second Half)
Kaleb Tarczewski and Kevin Parrom both with blocks on the last UCLA possession.
However, the possession ends with a foul on Tarczewski.
David Wear misses both free throws.
This is where we stand right now.
Now a 10-0 Arizona run, and yes, the crowd is WAY back into it. Adams back from locker room and on floor.

— Pat Forde (@YahooForde) January 25, 2013
UCLA 55, Arizona 49 (11:27 Second Half)
Well, hello there Mark Lyons, nice of you to join the game finally.
Lyons drains a three-pointer and we have a ball game, McKale Center has come alive.
More on Jordan Adams.
Cramps is the word for Jordan Adams. Not sure whether he will return. Bruins running out of bodies.

— Pat Forde (@YahooForde) January 25, 2013
More trouble for UCLA.
Now Jordan Adams has left the UCLA bench. Had stomach flu earlier this week.

— Pat Forde (@YahooForde) January 25, 2013
Greg Anthony believes UCLA can be better than they are tonight.
#UCLA very impressive on the road at #Zona, this team has such a high ceiling!

— Greg Anthony (@GregAnthony50) January 25, 2013
UCLA 55, Arizona 41 (12:55 Second Half)
Sean Miller is down to two timeouts after UCLA once again extends their lead back to 14.
The Wildcats last possession saw Solomon Hill grab an offensive rebound and show plenty of effort.
If only Arizona had five Solomon Hills on the floor right now.
UCLA 49, Arizona 39 (14:56 Second Half)
Solomon Hill brings the Wildcats within 10 points with a three but on the other end Mark Lyons picks up his third foul.
If Lyons continues to play poorly and pick up fouls, the Wildcats will have no shot at a comeback.
UCLA 49, Arizona 34 (16:07 Second Half)
Jordan Adams carves through the Arizona defense to put the Bruins up by 15.
Arizona showing no heart at all tonight.
CBS' Jeff Goodman gives us something to watch for as the game progresses.
Watch Mark Lyons in adversity. Has struggled with it in the past. Will be interesting to see if he has matured.

— Jeff Goodman (@GoodmanCBS) January 25, 2013
UCLA 44, Arizona 32 (17:27 Second Half)
Neither team knows how to make a layup tonight, Arizona could be down just a few points if they made their shots from close range.
Arizona once again starting the half flat.
Arizona starting this half like it started first half. Poorly.

— Pat Forde (@YahooForde) January 25, 2013
This article is
What is the duplicate article?
Why is this article offensive?
Where is this article plagiarized from?
Why is this article poorly edited?

Arizona Wildcats Basketball: Like this team?