5 More UFC Fighters Using Nasty Knees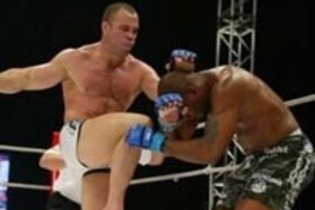 UFC fighters have a variety of weapons at their disposal.
They use punches, kicks and elbows along with wrestling and dangerous grappling and submissions to assert their dominance over their opponent.
One weapon that is grossly underestimated by MMA fighters is the knee.
The knee is a strike that is typically used in Muay Thai. It is devastating and powerful if delivered properly.
One list has already been put together about the use of knees by UFC fighters.
Let's take a closer look at five other UFC fighters who have used knees to end their fights.
Begin Slideshow

»
Photo courtesy of culturebully.com
Rashad Evans and Tito Ortiz met for the second time at UFC 133.
Their first fight ended in a draw between the two men, but this time around Evans was determined not to let that happen.
Evans backed Ortiz up to the fence, where Ortiz began throwing uppercuts.
Evans maintained his composure, and as Ortiz threw an uppercut, he left his midsection exposed.
Evans quickly pounced and threw a well-placed knee right into the ribcage of Ortiz. Ortiz crumpled and "Suga" swarmed with punches to secure the victory.
It was just a taste of how useful a knee can really be in a fight.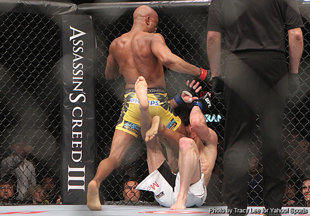 Photo courtesy of sports.yahoo.com
Anderson Silva has a bevy of impressive knee finishes.
He took out Chris Leben, Rich Franklin and Stephan Bonnar with them.
I would like to focus on his rematch with rival Chael Sonnen.
After a solid first round, Sonnen came out for the second hoping to duplicate his success. Instead, Silva was able to stuff his takedown attempts and dodge his strikes.
Sonnen then threw a wild spinning backfist which left him stumbling on the ground. That is when Silva went to work.
He threw a leaping knee that put his rival down and finished up with punches.
It was another display of the power that Silva holds in his knees.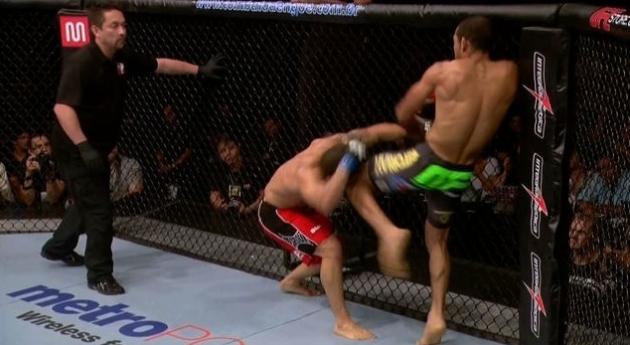 Photo courtesy of 101thefoxrocks.com
Mendes had Aldo's back near the end of the first round.
Mendes is a strong wrestler and many thought a takedown was coming.
Aldo then exploded out of the control of Mendes, turned around and threw a massive knee that caught Mendes flush on the forehead.
Mendes crumpled to the canvas and Aldo finished the fight with some punches.
The knockout came out of the blue and also produced one of the more boisterous UFC winning celebrations.
Aldo jumped into a crowd of his fellow countrymen to celebrate his nasty win due to one big knee.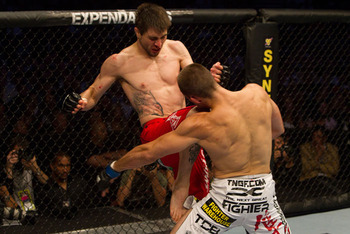 Carlos Condit has long been known as a dangerous fighter.
He is unorthodox and always comes ready to fight.
Condit met Dong Hyun Kim back at UFC 132.
Condit had Kim backed up against the fence. He threw a high front kick to gauge the distance and keep Kim on his toes.
Then came the unexpected.
Condit leaped forward and delivered a flying knee straight to the chin of Kim.
Kim fell down to the canvas and was unable to defend himself from the follow-up strikes of Condit.
The knockout was made doubly impressive because Condit delivered it with a rarely used flying knee.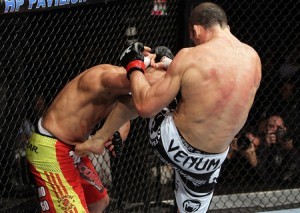 Photo courtesy of talk.onevietnam.com
Wanderlei Silva has been known for his nasty knees since his days in Pride.
He has finished multiple opponents with his battering rams, including Tony Petarra, Todd Medina, Kazushi Sakuraba and Quinton "Rampage" Jackson.
Silva has stopped one opponent in his UFC career thus far.
When he met with Cung Le at UFC 139, the sparks were expected to fly as the two fighters had dangerous striking ability.
They delivered. Le had Silva hurt in the first round with his powerful kicks and punches.
In the second round, it was much the same until Silva went into beast mode. He stunned Le with some punches and then began dropping hard knees into Le's midsection and face.
The result was a Silva win, largely because of his devastating knees.
Tweet me @FuscoNation16.