The Chicago Bulls have won five of six, and they'll have a chance to continue that hot streak when the Golden State Warriors visit the United Center.
Despite their overall youth, the Warriors could prove to be quite the challenge to the defensive-minded Bulls.
Though this is a clash of both offense vs. defense and youth vs. experience, it's more about whether or not Golden State can extend its winning streak to four games. The team just pulled off a stunning upset of the Oklahoma City Thunder on Jan. 23, and will be out to slay another giant in the Bulls.
Of course, that won't at be easy. Golden State may rank ninth in points scored, but the Bulls are third in points allowed.
It should also be noted that the Warriors are only just starting to win again. Prior to this season, they were a fairly mediocre team with a hot offense, but no defense.
The Warriors are a much-improved team defensively, and they rank fourth in the NBA in rebounding. But that does not take away from the fact that Golden State must now face a Chicago team that posted the best regular season records in each of the last two seasons and has performed remarkably well this year without star point guard Derrick Rose.
It's going to be a lot of fun to see how this game plays out, and especially if offense will trump defense.
Time: Friday, Jan. 25th, 8 p.m. EST
TV: CSN Chicago, CSN Bay HD
Records: Golden State Warriors (26-15) vs. Chicago Bulls (25-16)
Betting Line: Not available as of Thursday, Jan. 24, 5:10 p.m. EST
Injuries: Derrick Rose (knee, out), Luol Deng (hamstring, day-to-day), Brandon Rush (knee, out), Andrew Bogut (ankle, out)
Key Storyline: Can Blue-Collar Bulls Slow Down Hot-Shooting Warriors?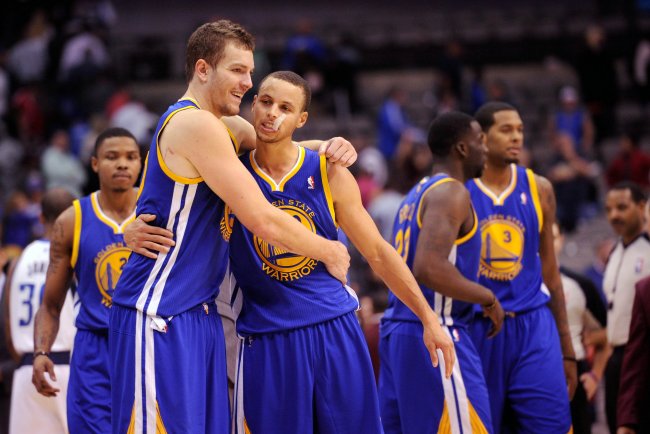 Jerome Miron-USA TODAY Sports
Youth and experience aside, this is a game that is a clash of offense and defense. The Warriors are a team that likes to shoot the ball, whereas the Bulls play a slower game focused on defense and toughness.
Defense does win championships, but do not be so quick to count out the Warriors just yet. This is a team that has taken everyone by surprise this season, ranking fifth in the ultra-tough Western Conference after being a lottery squad last season. Their win over Oklahoma City is just more proof that they are not to be taken lightly.
This means that Chicago must employ head coach Tom Thibodeau's signature defensive intensity from start to finish. A run-and-gun tempo cannot be played at any point, no matter how much Mark Jackson's team tries to induce Chicago into playing it. Stephen Curry and second-year guard Klay Thompson cannot be allowed run wild.
Unfortunately, regardless of the effort Chicago puts forth, Golden State could still find a way to get past the defense.
Key Matchup: David Lee vs. Carlos Boozer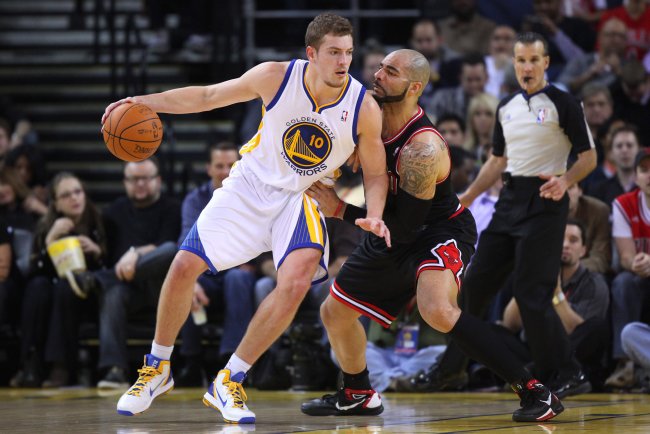 Phil Carter-USA TODAY Sports
One of the reasons that the Warriors have done so well this season is the improvement in the team's rebounding, most of which is done by power forward David Lee. The former Florida Gator has built a great on-court relationship with Stephen Curry this season, becoming a primary go-to guy in Mark Jackson's fast-paced offense.
On the season, Lee is averaging 19.6 points and 10.8 rebounds per game. He has also shot 52 percent from the floor, utilizing both his jump shot and an extremely effective low-post game.
Lee is going to be in for a tough battle on defense against Chicago, as he will be trying to stop veteran Carlos Boozer. Both men are 6'9", but Boozer outweighs Lee by 26 pounds.
But wait a minute, Boozer has been a general disappointment since joining the Bulls in 2010, averaging just 16.2 points and 9.2 rebounds in the Windy City. After averaging 19.3 points and 10.5 rebounds in six seasons with the Utah Jazz, many Chicago fans expected the former Blue Devil to put up bigger numbers.
Boozer's supposed decline can be attributed to transitioning from Jerry Sloan's "flex" offense to the slower isolation game of Thibodeau, but he has performed much better than his 16.1 points and 9.9 rebounds this season indicate.
And he has really picked up his play over his last five games, posting 20.4 points and 11.6 rebounds per contest. In the month of January, Boozer is averaging 21.5 points and 11 rebounds.
In facing Lee, Boozer just has to play excellent defense and force the dynamic rebounder into the low post. He has the size to do it, and it is just a matter of executing the plan.
On offense, Boozer must exploit Lee's issues as a low-post defender. If he can do that and maybe control the rebounding game too, then the Bulls' chances of winning automatically increase.
X-Factor: Klay Thompson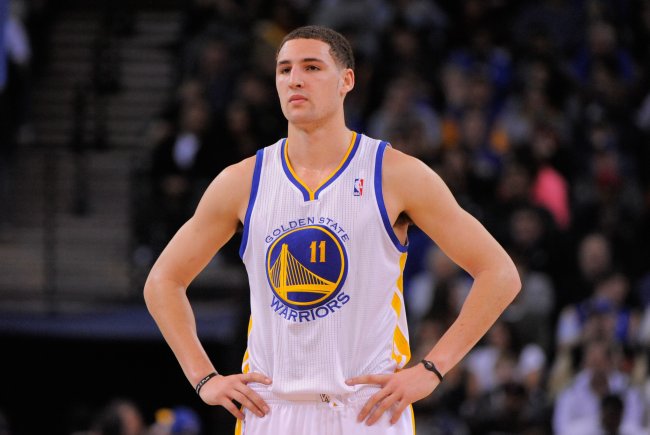 Kyle Terada-USA TODAY Sports
Though the Bulls play great defense, their offense without Rose has been subpar. The team ranks just 25th in points scored at 93.6 per game, so the Warriors approach should be simple. No matter what the circumstances, just have more points than Chicago by the final buzzer.
This means that second-year scoring guard Klay Thompson will need to have a solid performance. He is averaging 16 points per game on the season and has proven to be a prolific three-point shooter, making 39 percent of his attempts from downtown. As a whole, Thompson is still learning how to pick and choose his shots, and shot selection has been an issue for him, as evidenced by the fact that he is shooting just 41 percent from the field.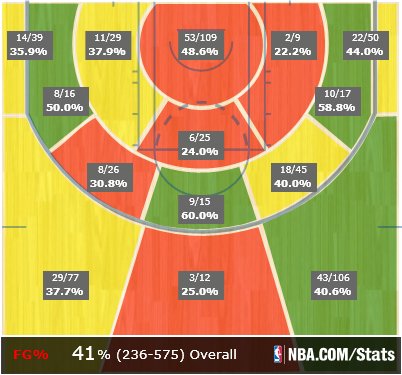 However, if his performance over his last five games is any indication, Thompson is in for a long and successful NBA career. Through that stretch, Thompson averaged 17.8 points and shot 46 percent from the field, including 42 percent from long range.
For the upcoming game against Chicago, the former Washington State Cougar has the fortune of being guarded by a fairly weak defender in Rip Hamilton, so Thompson should have no problem unleashing the fury of his offense. He'll sink threes and incorporate his developing mid-range game.
It may take the man time to find his groove but expect him to have posted respectable numbers by game's end. Teams are beginning to learn not to take Thompson lightly as an offensive force.
Depth Charts
Warriors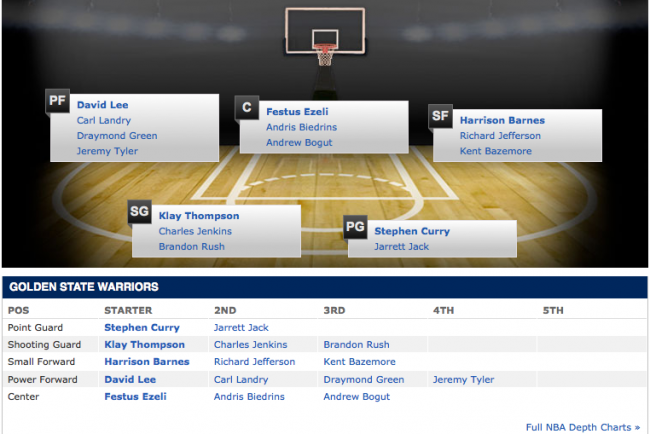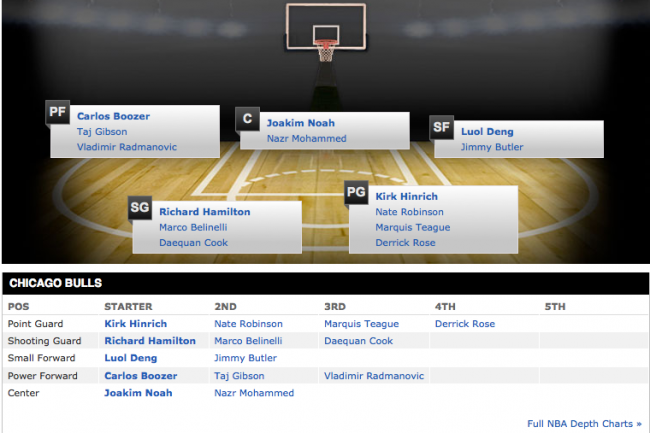 Prediction
I'm a big fan of teams that play defense, so I love watching the Chicago Bulls. Sadly, their defensive efforts will prove futile against the Golden State Warriors.
The Warriors have a ton of momentum after defeating a dangerous squad in the Oklahoma City Thunder. As talented as Chicago is, the lack of a solidly consistent scorer will damn them in their quest to slow down this young and feisty team.
Stephen Curry and his teammates will absolutely dominate the offensive end, sinking key shots and dishing off pretty passes en route to another high-scoring performance. Klay Thompson will make clutch threes, and David Lee will fight past Carlos Boozer's defense to have a double-double.
The only truly solid performance on Chicago's end will come from Joakim Noah, who will do an excellent job at the 5. He will do all he can to keep the Bulls in the game. Unfortunately for him, his fellow Gator, Lee, will dominate the paint and help carry Golden State to victory.
The Warriors will have won their fourth straight game, and the stunned Bulls will just be able to watch and wonder how it happened.