For North Carolina, being one of the two top teams in the ACC is the norm. That's where the program expects to be on a year-in, year-out basis.
However, despite the ACC titles and Final Four appearances, despite the national championships and No. 1 rankings, the Heels are in danger of sliding to the back burner in the world of college basketball.
Sure, North Carolina (13-5, 3-2) bounced back from a loss to the Miami Hurricanes with three straight wins, but it's the Hurricanes garnering attention and praise, not the Heels.
After Wednesday's 90-63 blowout victory over the top-ranked Duke Blue Devils, Miami is now considered as one of the ACC's hotshots. The Heels, on the other hand, struggle against foes that they'd normally beat.
North Carolina State sits in second place behind Miami and one step ahead of Duke. The Wolfpack present a strong case for being the league's best—a title that North Carolina is used to having.
Will North Carolina fade behind other ACC programs?
How can this be? How can Roy Williams' Heels—while not completely out of the mix for an ACC championship—be shuffled aside while programs like North Carolina State and Miami make headlines on a weekly basis.
Are the times changing in Chapel Hill, a one-time mecca of college hoops?
Not necessarily.
A down North Carolina team isn't good for the ACC or NCAA basketball. The world of college hoops needs North Carolina to be a force, and the ACC's credibility hinges on the success of teams like North Carolina.
The landscape of the game just isn't the same if North Carolina isn't a favorite.
What Is Going on with North Carolina?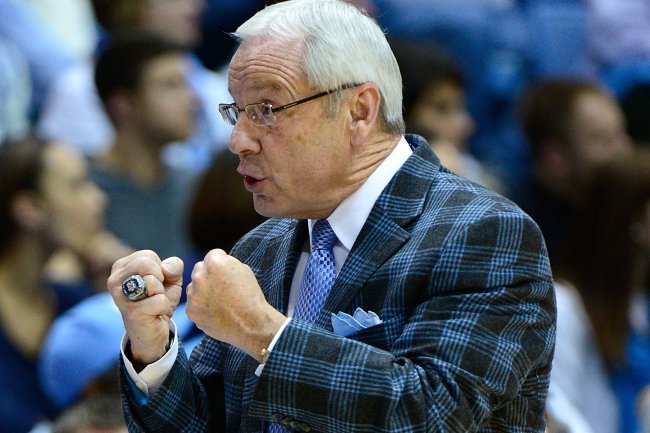 Grant Halverson/Getty Images
Simply put, North Carolina has trouble finishing.
Strong play in the first half has been followed by mediocre and sloppy play in the second. That's not a winning formula, nor is that the method that Roy Williams preaches to his players.
"Second half Saturday (against Maryland) we were that Thriller video from Michael Jackson," Williams said after his team's 79-63 victory over Georgia Tech (via The Charlotte Observer).
"Looked like we were all dead walking around out there."
Luckily for the Heels, such wasn't the case against the Yellow Jackets. North Carolina finally showed that it could command and dictate the pace for a full 40 minutes.
"I think North Carolina's starting to kind of come into its own," Georgia Tech coach Brian Gregory said(via The Charlotte Observer).
But Consistency will be the key for the Tar Heels.
Up then down, down and back up—that's the way the Heels have operated this season, but Williams—being the caliber of coach he is—will surely devise a recipe to build on what his players did well Wednesday against Georgia Tech, and it'd probably help if North Carolina forgot what it did wrong in previous contests.
Living in the past won't move the Heels toward their goal of making a splash come March.
UNC Fans Hope for Adjustments and Soon
North Carolina's loss was indicative of its inconsistent play.
Let's brush away the doom and gloom for a bit and focus on the positives.
North Carolina won't ever be an irrelevant team in college basketball, that's a given. There is too much history, too sturdy of a track record to dismiss the Heels all together.
North Carolina has the ACC's second-leading scoring offense (78.7 points per game), but its defense allows 68.1 points each go-around, and that's the second-worst average in the league.
The Heels should probably have a wider margin of victory, especially when looking back at how they have pounced on opponents early. However, as mentioned above, the second half of games have been detrimental to their design for success.
Winning by 10.6 points per night is relatively impressive, as it's the fourth-best clip in the ACC. Duke leads the league with a 14.7-point average margin of victory.
What's an easy remedy?
Free throws.
Any team worth its weight in gold is capable of making their freebies from the stripe. But not this year's North Carolina team—no, this group has one of the worst averages from the line of any team in the country.
But let's stay local and look at the ACC. North Carolina is at the bottom of the free-throw list, converting a paltry 63.4 percent of attempts.
Ouch.
Ouch again.
That's just embarrassing.
North Carolina is one of college basketball's proudest programs—a high-end, 5-star phenom's dream destination. The allure of the Carolina Blue tradition is enough to draw in anyone—even a kid like Andrew Wiggins.
Every team has a down year every now and then. It's a natural cycle in sports.
If you're a Heels fan, consider yourself lucky that a 13-5 start—3-2 in ACC play—constitutes a rough start.
Follow Bleacher Report's Adam Biggers on Twitter @AdamBiggers81