The NHL's 29 Best Pure Athletes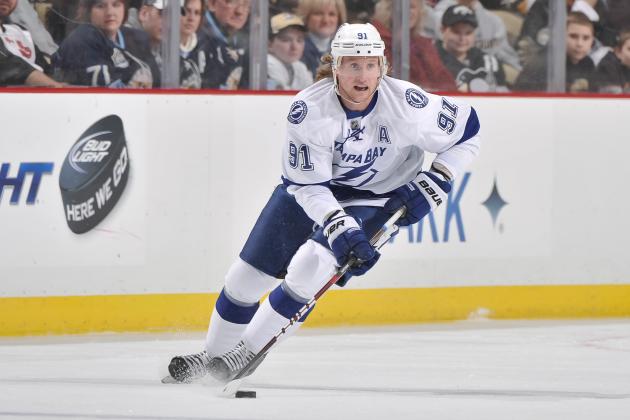 Jamie Sabau/Getty Images

The sport of hockey is one of the most challenging in the world, and Brendan Shanahan has a memorable quote that suggests players like Sidney Crosby, Steven Stamkos and many others are some of the greatest athletes in the NHL:
Is hockey hard? I don't know, you tell me. We need to have the strength and power of a football player, the stamina of a marathon runner, and the concentration of a brain surgeon. But we need to put all this together while moving at high speeds on a cold and slippery surface while five other guys use clubs to try and kill us, oh yeah did I mention that this whole time we're standing on blades 1/8 of an inch thick? Is ice hockey hard? I don't know, you tell me. Next question.
Now there are many good players in the NHL today, but there are only few who have the unique balance of traits that Shanahan alludes to in his quote.
While Zdeno Chara is a great defenseman, he is a very slow skater who uses his size and stick to help him cover a lot of ice. By the same token, Chara is still one of the league's top defenders, but he isn't very athletic. Additionally, there are players who may have offensive skills but can't play physical and are small and weak on the puck.
NHL players are among the best conditioned in professional sports, and they play one of the most challenging games. There are not many players in the NHL who have the combination of speed, size and skill along with the ability to play at a high level, but this list will recognize many of those players.
Here are the NHL's 29 best pure athletes in the league today.
Begin Slideshow

»
Steven Stamkos is one of the NHL's purest athletes, and he really takes care of himself on and off the ice. Stamkos has amazing strength, speed and a scoring acumen that makes him the league's deadliest scorer.
In the offseason, he keeps his body in prime condition by training with Gary Roberts and his BioSteel program.
Stamkos is an impressive physical specimen and an amazing athlete.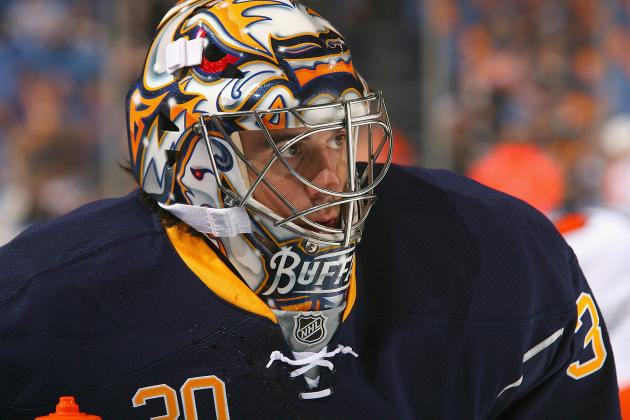 Rick Stewart/Getty Images

Ryan Miller, the Buffalo Sabres' franchise goaltender, is very agile and quick in net. His agility, conditioning, flexibility and size allow him to cover the bulk of the net at all times.
The Sabres netminder is known for his ability to make sprawling saves, and he is one of the most athletic goalies in the league today.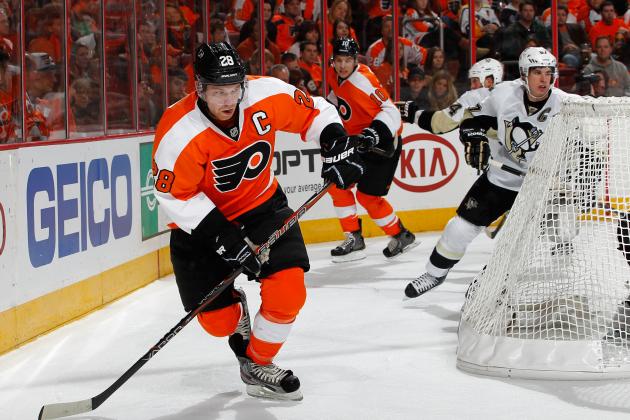 Jeff Zelevansky/Getty Images

The Philadelphia Flyers' newest captain is a player who took the league by storm in 2011-12 and is one who has a nice complement of skills.
Claude Giroux is a forward who is a great passer, scorer and sound skater. It is Giroux's ability to weave up and down the ice which allows him to create space for him and his linemates.
He is also a solid defensive player.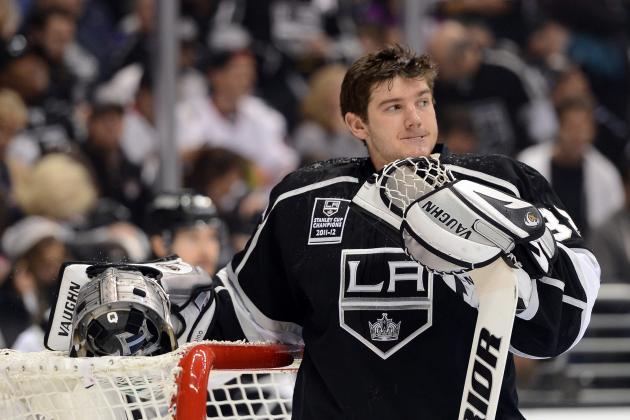 Harry How/Getty Images

Jonathan Quick is an acrobatic goaltender who is one of the most athletic netminders in the NHL. Quick is seldom in a position where he can't sprawl to make an amazing save, and his conditioning allows him to start in almost every game during the season.
The Los Angeles Kings have one of the league's top goalies, and his youth and conditioning will allow him to be with the team for a very long time.
Dave Sandford/Getty Images

Alex Pietrangelo is a young defenseman on the rise in the NHL, and he is going to become one of the league's best in a few years.
Pietrangelo is a smart hockey player with amazing physicality, conditioning, positional play and overall instincts.
Each year Pietrangelo has improved his play for the St.Louis Blues.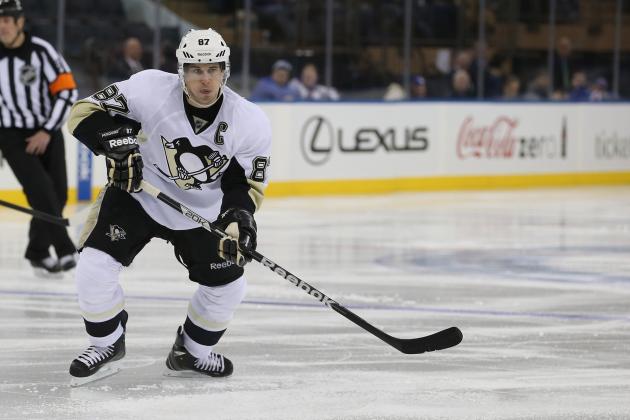 Bruce Bennett/Getty Images

Sidney Crosby is one of the league's most talented players, and he uses his skills and physique to his advantage.
Crosby is a speedy skater who maneuvers with ease up and down the ice, and he is a player who is strong on the puck.
Crosby's ability to remain at the top of his game despite missing parts of multiple seasons because of injury speaks to his conditioning and his competitiveness as an athlete.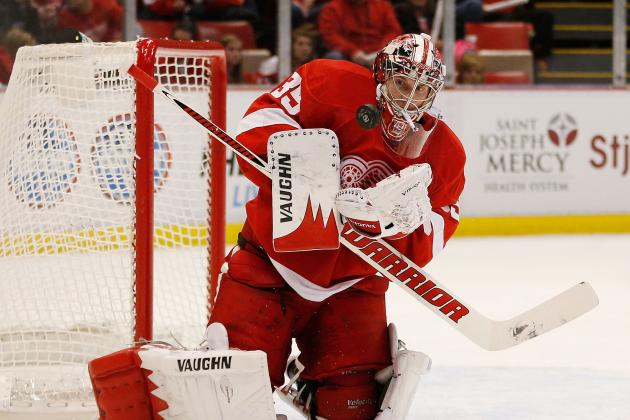 Gregory Shamus/Getty Images

Jimmy Howard is one of the NHL's most acrobatic goaltenders, and he is a workhorse netminder who is a crucial contributor for the Detroit Red Wings.
Howard's size allows him to remain flexible and agile, and he has made many big saves so far in his young NHL career.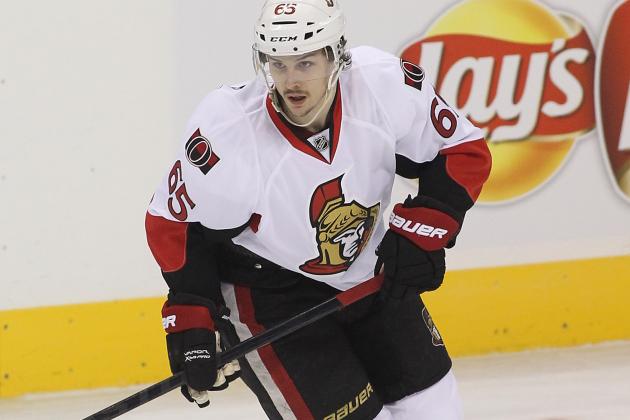 Marianne Helm/Getty Images

Erik Karlsson is the reigning Norris Trophy winner and is coming off an amazing season with the Ottawa Senators.
Karlsson is a tremendous skater and passer, and he has a solid point shot that makes him one of the league's top offensive defenders.
Although Karlsson is still developing his ability to play physical, he is an impressive specimen.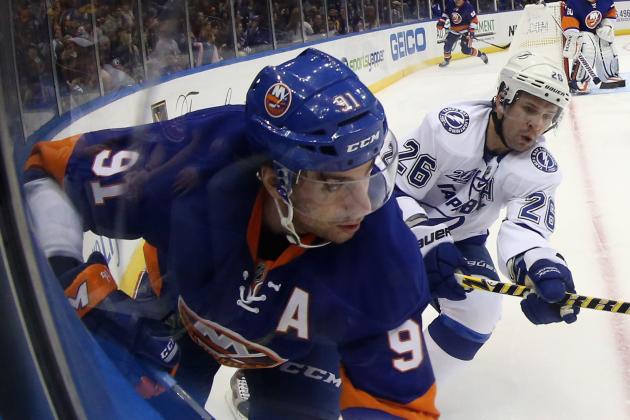 Bruce Bennett/Getty Images

John Tavares is a rising star for the New York Islanders, and a is young center who has the potential to become a superstar.
Tavares uses his skills, speed and overall two-way play to help make a difference in every game he plays in. He is also one of the best conditioned athletes in the NHL.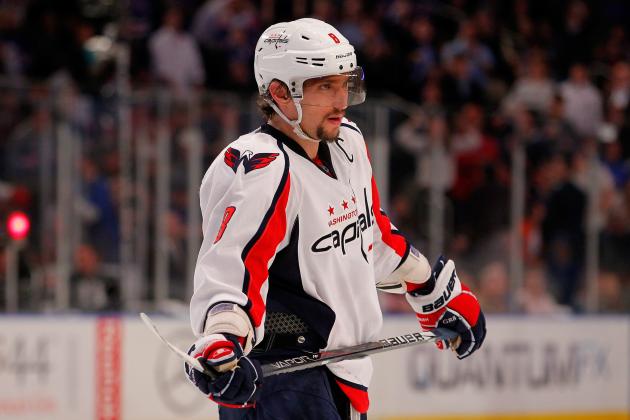 Paul Bereswill/Getty Images

Alex Ovechkin is one of the NHL's most feared players.
The Caps forward is a speedy skater, an elite goal-scoring winger and a very physical player who uses his body at all times.
Although Ovechkin has been in a down-swing over the last few years, he is an impressive player who has a big impact on the game for the Washington Capitals.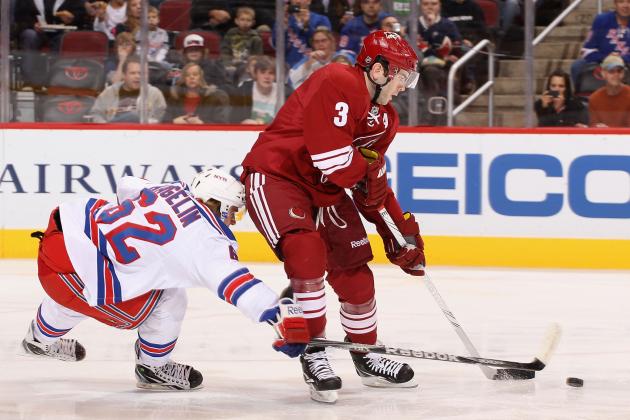 Christian Petersen/Getty Images

Keith Yandle is a great offensive defenseman for the Phoenix Coyotes and is one of the league's budding stars on the blue line.
Yandle uses his mobility to his advantage, and by covering a ton of ice he is seldom out of position—resulting in a lot of scoring chances for his team.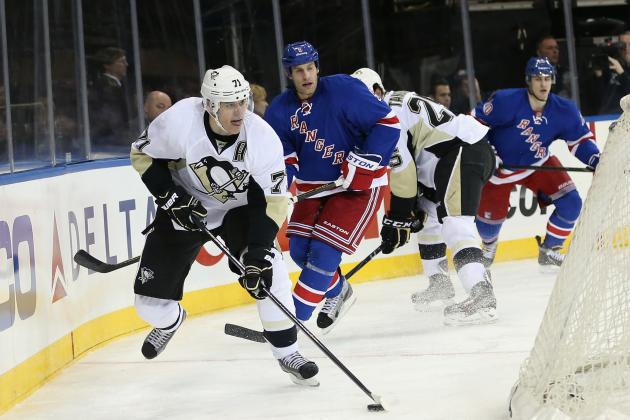 Bruce Bennett/Getty Images

Evgeni Malkin is one of the NHL's most impressive athletes because he has a great combination of size, speed and skill.
Malkin is a player who you can't knock off the puck—the forward uses his body to drive to the net which allows him to score many of his goals.
The Penguins certainly have one of the league's toughest rosters, and "Geno" is one of their most complete players.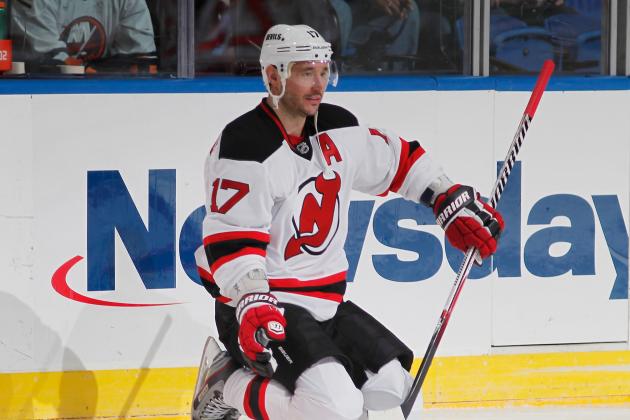 Andy Marlin/Getty Images

Ilya Kovalchuk is the New Jersey Devils' top offensive player and is a forward who is one of the league's top goal scorers.
Kovy is an elite skater and shooter, and he has one of the league's top one-timers.
Throughout his career, Kovalchuk has been an impressive performer, and he has constantly gotten better throughout his tenure in the NHL.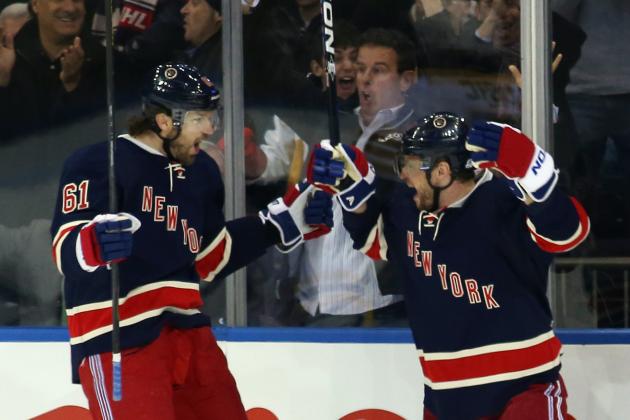 Bruce Bennett/Getty Images

Rick Nash is a 6'4", 220-pound power forward who has a great combination of size, skill and speed.
Nash uses his body well to protect the puck; he can shoot up the ice on a breakaway and plays in all situations.
Now a member of the New York Rangers, the former Blue Jacket is off to a good start with a team that is full of players that complement his skill set.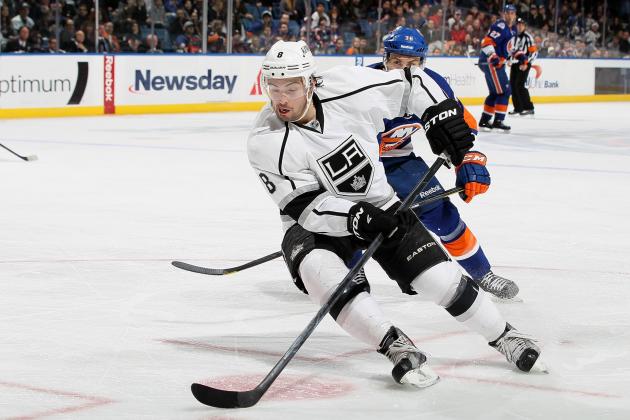 Jim McIsaac/Getty Images

Drew Doughty really impressed for the Los Angeles Kings in the Stanley Cup playoffs, and the defenseman used the offseason to his advantage by improving his conditioning and strength.
Doughty is an excellent skater, passer and one of the Kings' most consistent defenders, and that allows the team to lean on him in various situations.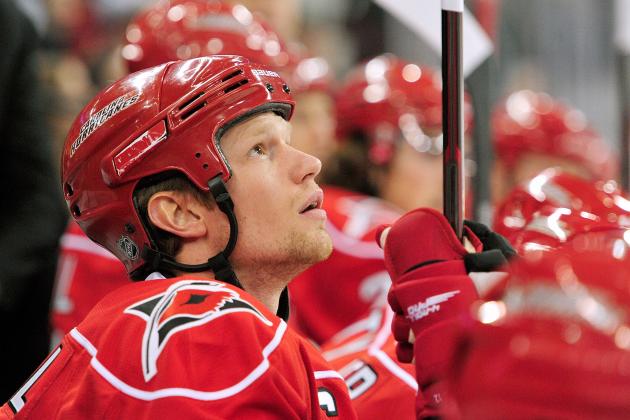 Grant Halverson/Getty Images

Eric Staal is the captain of the Carolina Hurricanes and is a player who has flown under the radar the past few years.
Staal is a physical player at 6'4" and 205 pounds, and he uses his size to protect the puck and muscle opponents off it.
Staal is a great skater, passer and scorer who is often the team's top offensive contributor. He is also an exceptional two-way player who has a great, competitive attitude.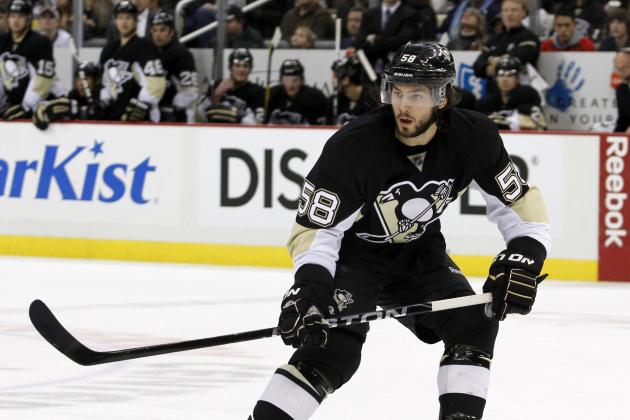 Justin K. Aller/Getty Images

Kris Letang is one of the NHL's top defenders, and his entire skill set allows him to be one of the league's most athletic players.
Letang is known for being a strong defender, but his speed and offensive abilities allow him to join the rush on offense and turn it around once the play moves the other way.
The Pittsburgh Penguins may have one of the most complete defenders in Letang, and he should compete for the Norris Trophy in 2013.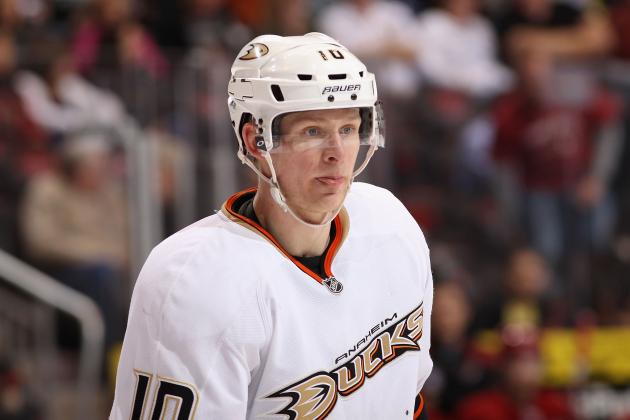 Christian Petersen/Getty Images

Corey Perry is another top-end winger who has a nice balance of skill, speed, size and physicality.
Perry uses his size to his advantage, whether it is powering to the net or checking an opponent while on defense.
He has a lot of snarl and drops the gloves on occasion, and Perry's overall package makes him a great player who stands to make a lot of money in the offseason as he is set to hit free agency this summer.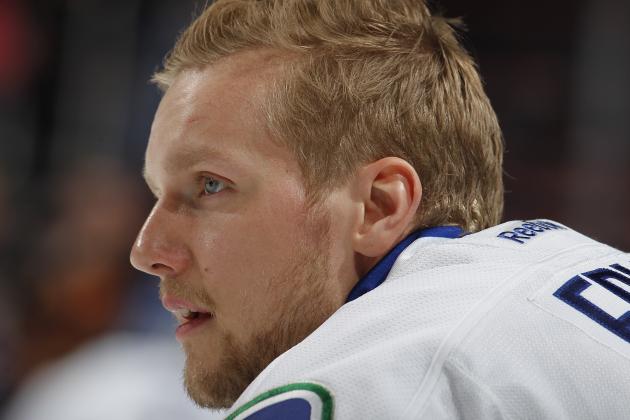 Joel Auerbach/Getty Images

Alexander Edler was re-signed by the Vancouver Canucks before his contract expired after this season, and it was a very smart move considering how important Edler is to the franchise.
Edler is a skilled skater, a solid two-way defender and someone who logs a ton of minutes for the Canucks.
He is a top-pairing defenseman and he is a huge asset to the team's blue line.
Henrik Lundqvist is one of the NHL's top netminders and is a player who makes a living by making athletic and impressive saves.
Lundqvist has been one of the NHL's most consistent goalies since entering the league, and his lack of significant injuries have allowed him to be in net night after night for the New York Rangers.
He has now entered his 30s, but Lundqvist has many good years ahead of him.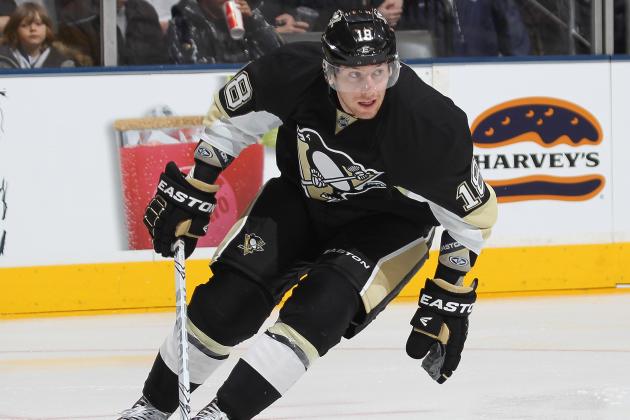 Claus Andersen/Getty Images

James Neal is an impressive forward for the Pittsburgh Penguins, and his overall game has improved since joining the team via a trade from the Dallas Stars.
Neal is a fluid skater, a strong puck-handler and he has one of the best wrist shots in the NHL today.
There are not many players who have a skill set like James Neal, and that makes him one of the league's top young scorers.
Pavel Datsyuk may only be 5'11" and under 200 pounds, but that doesn't stop him from being one of the NHL's top centers and most aggressive players.
Datsyuk isn't aggressive in the sense that he will lay out a player with a tough body check, but he is tenacious on the forecheck and he is an amazing skater.
When you factor in his offensive abilities, Datsyuk is a pure athlete who is one of the best players in the world.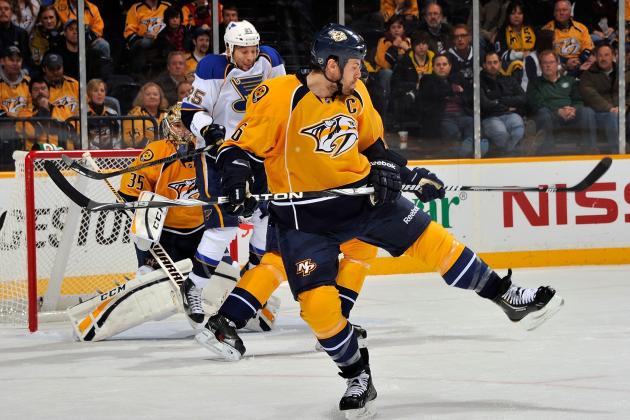 Frederick Breedon/Getty Images

Shea Weber is one of the league's top defenders and was a runner-up for the Norris Trophy in 2011-12.
He is a big-bodied defender who possesses a howitzer of a point shot, is a great skater and has tremendous reach for a big defenseman.
Weber lost his partner Ryan Suter over the summer, but he has been able to manage the loss thus far in 2013.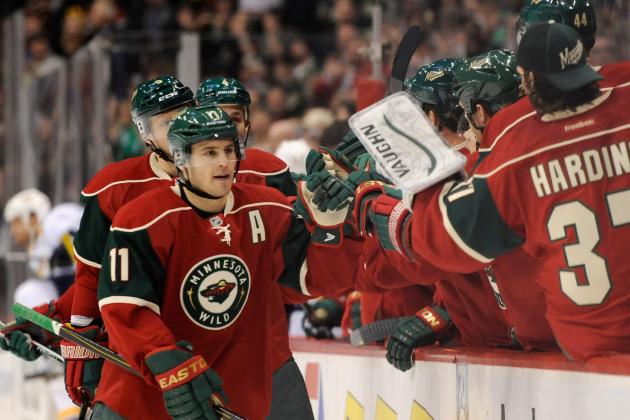 Hannah Foslien/Getty Images

Zach Parise made headlines when he signed with the Minnesota Wild over the offseason. In Parise, the Wild not only added an offensive threat, but they added a dedicated athlete who plays a complete game.
Parise is an aggressive forechecker, a skilled two-way forward and strong skater who covers a lot of ground on the ice. While Parise will be expected to contribute offensively for the Wild, the team added a very solid all-around player who will help the team in every facet in 2013.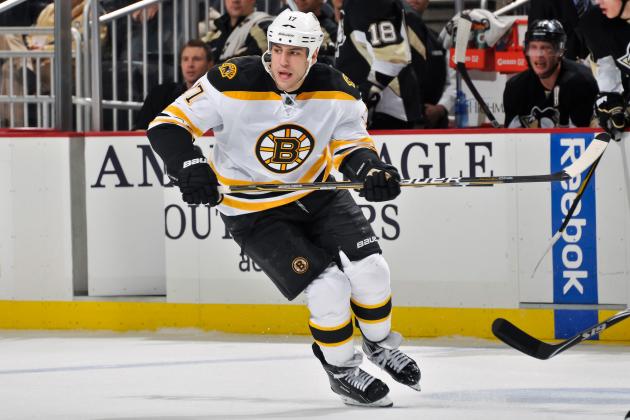 Jamie Sabau/Getty Images

Milan Lucic is one of the league's most dominating power forwards and is a player who loves to use his size in all areas of the ice.
For a large power forward, Lucic moves well around the ice and can play in multiple situations for the Bruins. Lucic is an underrated offensive contributor whose best days are ahead of him in Boston.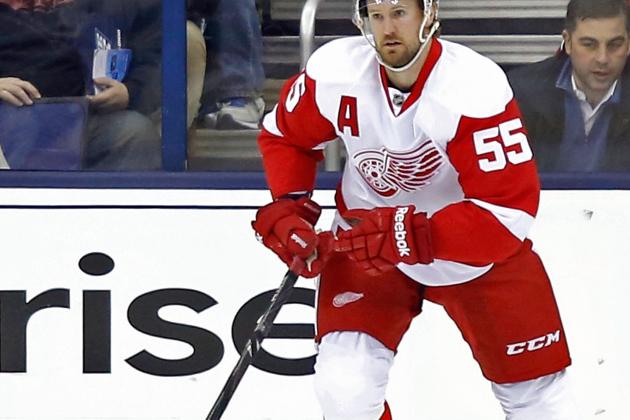 Kirk Irwin/Getty Images

Niklas Kronwall is a fluid-skating, big-hitting defenseman for the Detroit Red Wings who has made a name for himself around the NHL.
Kronwall learned under the tutelage of the great Nicklas Lidstrom, and is a very solid all-around defenseman.
His ability to hit, forecheck and skate up and down the ice makes him a mobile defenseman who can be leaned on heavily in many situations.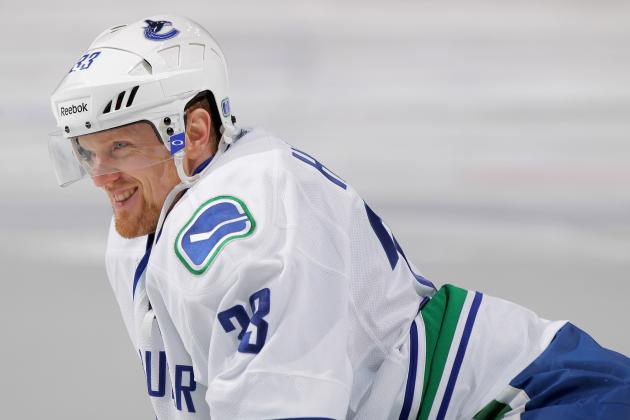 Doug Pensinger/Getty Images

Of the two Sedin brothers, Henrik, in my opinion, is the more athletic of the two. Not only is Henrik a solid two-way player, he can forecheck, is more physical than his brother and is tougher to move off the puck.
Henrik is a skilled athlete and that is why he is one of the Vancouver Canucks' most trusted forwards.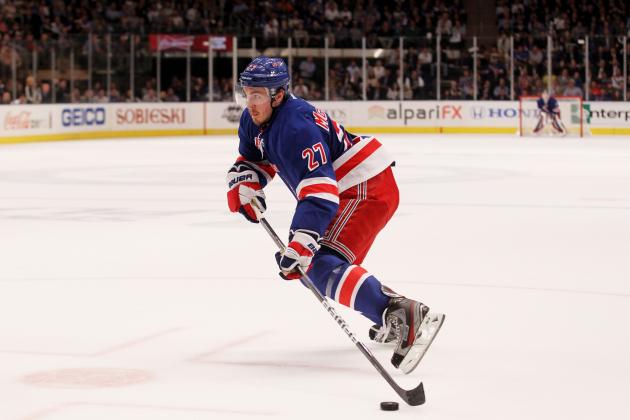 Bruce Bennett/Getty Images

Ryan McDonagh is a young defender for the New York Rangers who started to flourish with the team last season when he capitalized on a top pairing spot.
McDonagh is a speedy, mobile defenseman, an aggressive shot-blocker and a tenacious forechecker who covers a ton of ice.
2013 will be McDonagh's second full season and he is one of the league's budding young stars on the blue line.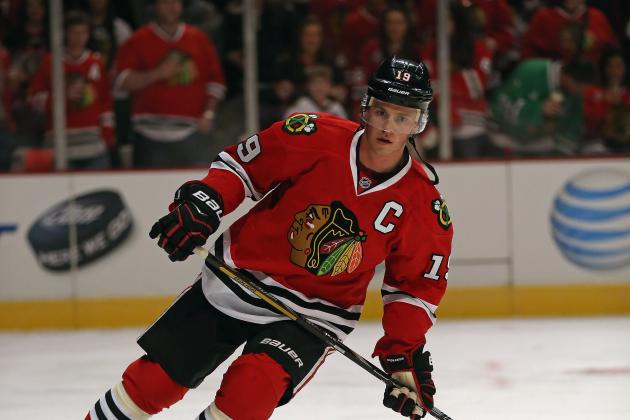 Jonathan Daniel/Getty Images

Jonathan Toews is one of the NHL's most complete players and is an excellent two-way forward who can contribute offensively.
Toews is a skilled penalty-killer, skater, forechecker and he brings tenacity and aggressiveness to all facets of his game.
He is the ultimate hockey player and one of the top athletes in the sport.