2013 NFL Mock Draft: First-Round Projections After Super Bowl XLVII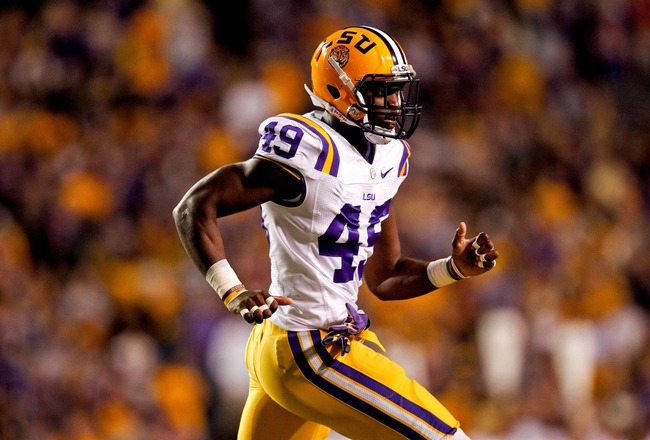 Derick E. Hingle-USA TODAY Sports
With Super Bowl XLVII now behind us, the 2013 NFL Draft is creeping up on the horizon.
And along with the draft comes a number of questions.
Who will Kansas City take with the top overall selection? How many quarterbacks will be snatched up in round one? And which defensive difference makers will find new homes on the first day of the draft?
All of these questions and more are answered in my first round mock of the 2013 draft.
1. Kansas City Chiefs: Geno Smith, QB, West Virginia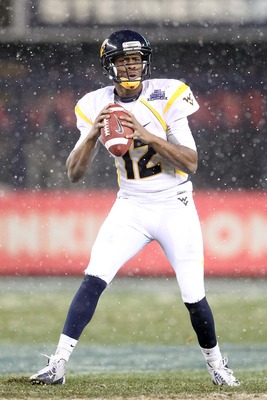 USA TODAY Sports
New Kansas City general manager John Dorsey recently claimed that the team will be selecting the best available player at No. 1, regardless of need. And being that no team is ahead of them, the Chiefs should have nothing to hide.
Geno Smith, however, could serve as an exception.
Throughout his impressive 2012 campaign, Smith has shown some signs of franchise quarterback-type ability. He has exhibited incredible arm strength, great accuracy and often remains very poised in the pocket. Smith isn't much of a threat on the ground, but he is a solid athlete nonetheless.
The Chiefs franchise and its fan base has suffered from poor quarterback play for much too long. If head coach Andy Reid believes that he can develop Smith, then this is a gamble that the organization must consider.
2. Jacksonville Jaguars: Damontre Moore, DE, Texas A&M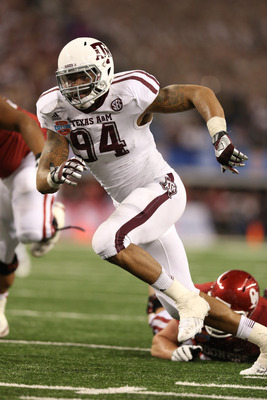 USA TODAY Sports
Jacksonville just brought in Gus Bradley, the now-former defensive coordinator for the Seahawks, as their new head coach. Under Bradley, Seattle's defense alternated between 4-3 and 3-4 schemes.
Texas A&M's Damontre Moore, a hybrid defensive end/outside linebacker, should be a prime candidate for the Jaguars in the first round.
Moore, 6'4" and 250 pounds, has been climbing up many draft boards as of late. He's been extremely productive in the SEC, finishing off with two very impressive seasons in the nation's top conference.
His intelligence, versatility and knack for getting to the quarterback will be extremely useful for a defense that has fallen off significantly in recent years.
3. Oakland Raiders: Star Lotulelei, DT, Utah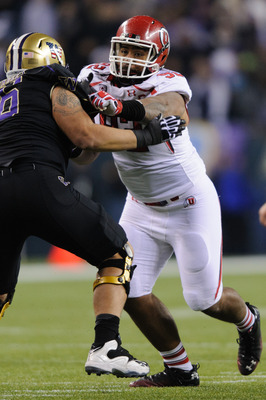 Steven Bisig-USA TODAY Sports
Oakland will have the luxury of picking up the best available defensive talent with the third overall pick.
Star Lotulelei possesses ridiculous physical attributes. He's huge, powerful and stunningly quick for a man of his size. The Utah product is extremely explosive off the snap and creates nothing but havoc when penetrating past opposing offensive lines.
He's not a pass-rushing threat, per se, but he will shore up a depleted defensive line. Lotulelei's presence would patch up the run defense and free up Oakland's pass-rushers by drawing double teams.
Lotulelei is the top defensive player on my board and possesses the highest ceiling of any prospect in the first round.
4. Philadelphia Eagles: Luke Joeckel, OT, Texas A&M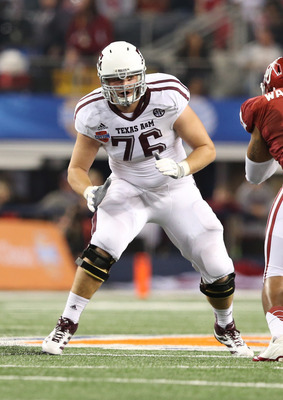 USA TODAY Sports
Luke Joeckel of Texas A&M is at the very top of a considerably thin class of offensive linemen. Joeckel, 6'6" and 310 pounds, will most likely end up as someone's franchise left tackle.
He's quick, light on his feet and possesses the agility to evolve into a top-notch pass protector. The tackle is also very solid in the run game.
Joeckel has to be the primary target for Philadelphia in this draft. Whether it's Nick Foles or somebody else in Chip Kelly's new regime, the Eagles must bulk up their pass protection. This offensive line is a mess and could really use the best tackle in the class.
5. Detroit Lions: Bjoern Werner, DE, Florida State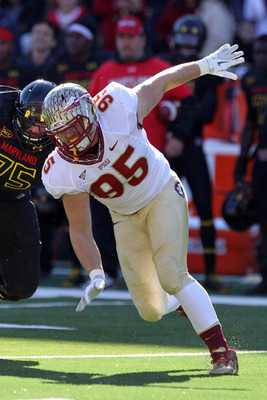 Mitch Stringer-USA TODAY Sports
With Kyle Vanden Bosch underperforming and Cliff Avril possibly leaving via free agency, Detroit should be in the market for a new defensive end.
Bjoern Werner is now considered the top defensive end in this class.
Werner, 6'4" and 273 pounds, is an incredibly promising prospect. For one, he's very explosive off the snap, and Werner uses his great combination of speed and physicality to burst through opposing lines.
The Florida State Seminole also possesses nice closing speed, which has him disrupting teams' backfields on a constant basis.
6. Cleveland Browns: Barkevious Mingo, OLB, LSU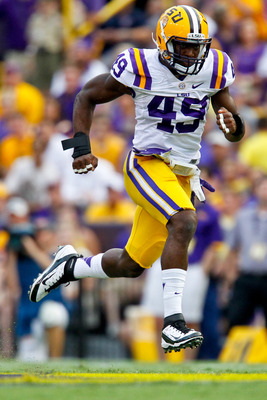 Derick E. Hingle-USA TODAY Sports
The Browns' front office has done a solid job bringing in some efficient young talent. Now they need to add a defensive playmaker.
Barkevious Mingo, who has seen his stock fluctuate of late, is once again an option for Cleveland.
He has ridiculous size, incredible speed and great athleticism. He utilizes that speed to burst off the line and close in on the offense.
There's no doubting the upside of this outside linebacker. Mingo has the physicality and skill set to become a top-flight pass-rusher in the NFL.
7. Arizona Cardinals: Eric Fisher, OT, Central Michigan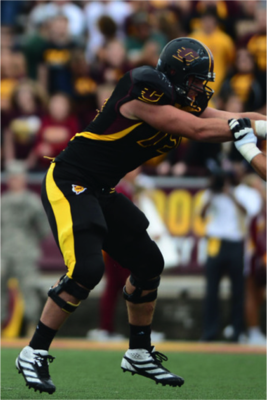 Eric Fisher is a hot name of late. In addition to being a monster at 6'7" and 305 pounds, Fisher is a relatively polished talent. He has long arms, quick feet and active hands. The Central Michigan product is very disciplined in the run game and could climb up draft boards very quickly.
Arizona could opt for Tyler Wilson, Ryan Nassib or Mike Glennon to fill that quarterback need. Fisher, however, is the best available option for the Cards given their long history of weak offensive line play.
8. Buffalo Bills: Tyler Wilson, QB, Arkansas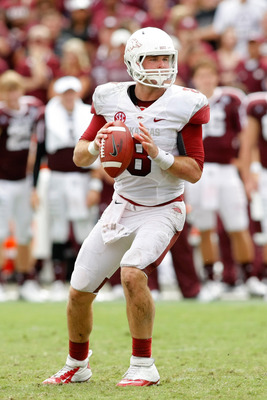 Brett Davis-USA TODAY Sports
Buddy Nix is out for a quarterback this offseason.
Despite throwing wads of cash at their current quarterback, the Bills should be intelligent enough to realize that Ryan Fitzpatrick is far too inconsistent to lead them anywhere.
Tyler Wilson has flown a tad under the radar this year, as has the rest of the Arkansas squad.
But, to his credit, he has been missing his top three receivers as well as his head coach. Regardless, he appears to possess that next-level ability.
He is a good decision-maker, he reads defenses well and often exhibits a professional-style intellect. Wilson also has a strong and accurate arm to add alongside his scout-friendly physical attributes.
9. New York Jets: Ezekiel Ansah, DE, BYU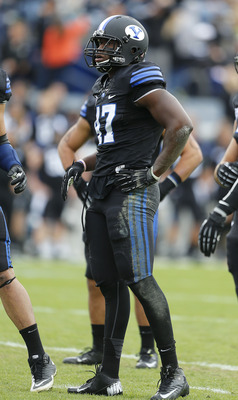 George Frey/Getty Images
In order to jump back into contention, the Jets must retool on defense. A pass rushing presence should be a huge boost for Rex Ryan and company.
Given his size and overall athletic ability, Ezekiel Ansah out of BYU should have some teams salivating come April. Ansah is explosive out of his stance, can change directions very effectively and has a non-stop motor.
His size, more specifically his long arms, will obviously work in his favor in the NFL. Ansah, however, is a raw talent and may need to bulk up to hang around in the trenches.
10. Tennessee Titans: Dee Milliner, CB, Alabama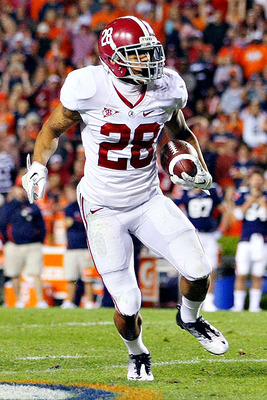 Tennessee may very well find their replacement for the recently departed Cortland Finnegan, who signed with St. Louis prior to last season. As a result of his departure, the Titans defense struggled mightily in 2012 and could use a top defensive talent in the first round.
Milliner, 6'1", has the skill set to become one of the league's top corners. He's physical, he's aggressive and he's very adept at recognizing opposing routes. Milliner isn't an interception machine but he does use his lengthy frame to break up passes.
11. San Diego Chargers: Lane Johnson, OT, Oklahoma
Matthew Emmons-USA TODAY Sports
San Diego has done a poor job of protecting Philip Rivers. The front office has to bulk up their offensive line to get their franchise guy back on track.
Lane Johnson—a former quarterback, tight end and defensive end—is certainly an option. Johnson's agility, physicality and overall frame has made him one of the big risers in this class.
This may appear as a small reach at the moment. Keeping Rivers on his feet, however, is a task this team must complete to get back into the playoff picture.
12. Miami Dolphins: Cordarrelle Patterson, WR, Tennessee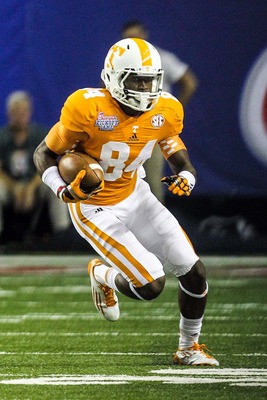 Daniel Shirey-USA TODAY Sports
When you know you have your franchise quarterback, you must bring in a No. 1 target to grow with him. Miami has to be looking down that venue for Ryan Tannehill.
Given his size and raw ability, Cordarrelle Patterson is gradually becoming the top receiver in this class. Patterson's speed and ability to separate makes him a deep threat for any team from day one.
With a solid combine showing, Patterson should solidify his status as a Top 12 pick in April.
13. Tampa Bay Buccaneers: Johnthan Banks, CB, Mississippi State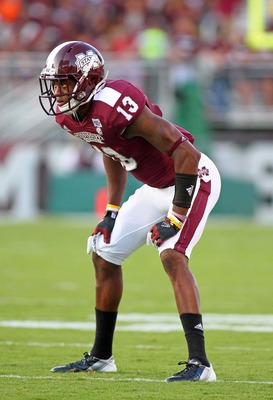 Spruce Derden-USA TODAY Sports
Most fans will tell you that Greg Schiano and the Bucs have something sweet brewing down in Tampa Bay. They have drafted rather well in the past few seasons, obtaining the likes of Doug Martin, Adrian Clayborn and Mark Barron.
But with Ronde Barber inching towards retirement and Aqib Talib now gone, there must be some additions made to the cornerback spot. And quite frankly, the secondary has just been plain horrific the past few seasons anyway.
Johnthan Banks has a very solid skill set and has seen some top-tier competition playing in the SEC. He has nice size, good ball skills and is very physical. Banks has no problem keeping up on routes and is very effective in his defense against the fade.
14. Carolina Panthers: Chance Warmack, G, Alabama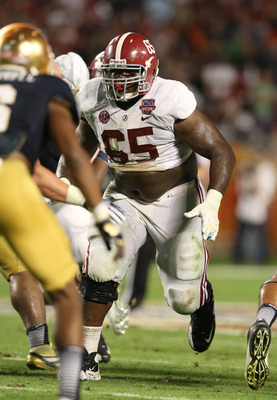 Matthew Emmons-USA TODAY Sports
Many may be lobbying for a defensive tackle to be taken with Carolina's first-round pick, but given the fact that this particular class is deep at the position, new general manager Dave Gettleman could look to build around his franchise quarterback in Cam Newton.
To be frank, the future of this franchise rides on Newton. If he continues to take the hits that he did last season, the Panthers may not be around long enough to reach the postseason.
That's where Alabama's Chance Warmack comes in.
Warmack is the top guard in this draft class. He has the power, athleticism and attitude to assure himself as a first-round selection come April. And even though he hasn't played a snap in the league, Warmack could end up as an All-Pro talent. Yes, he's that potent.
The Alabama product is a top-10 talent in the class and will immediately add depth to a very thin offensive line. Warmack should help keep Cam off the ground and keep the team's very expensive rushing attack of DeAngelo Williams, Mike Tolbert and Jonathan Stewart going.
15. New Orleans Saints: Jarvis Jones, OLB, Georgia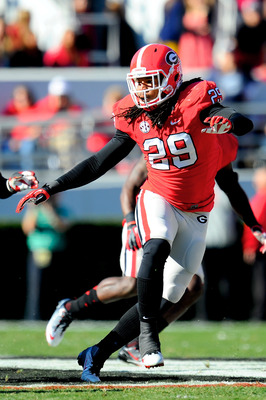 Dale Zanine-USA TODAY Sports
Jarvis Jones is one of the best, if not the best, pass-rushers in this class. He exhibits excellent burst off the snap, which is just one of his many advanced skills in the pass-rush game. Add that to his explosive speed and non-stop motor, and you have a heck of a prospect.
The outside linebacker is even considered an above-average defender against the run and in coverage.
Jones' spinal stenosis may scare some teams away. And until we get a clear diagnosis from NFL doctors, you have to assume his injury history will have him sliding a bit.
New Orleans would be very satisfied to have Jones fall down to them.
With the team switching to a 3-4 defense, the Georgia linebacker would be a perfect fit for a team desperate for any type of pass-rushing presence.
16. St. Louis Rams: Kenny Vaccaro, S, Texas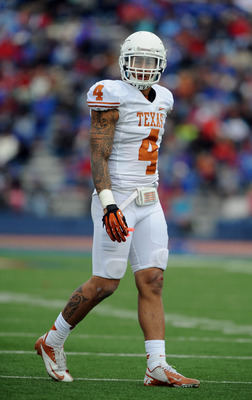 John Rieger-USA TODAY Sports
With two first-rounders in 2013, St. Louis does not have to reach for offensive line talent here. In that case, Kenny Vaccaro is the next logical option given the team's need for a safety.
Vaccaro possesses great instincts, as he is always around the ball. He covers plenty of ground, has good size and can utilize his quickness to run down the offense.
17. Pittsburgh Steelers: Sharrif Floyd, DT, Florida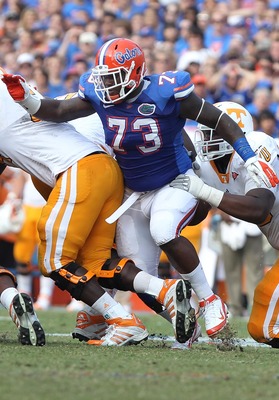 Kim Klement-USA TODAY Sports
Defensive ends Ziggy Hood and Cameron Heyward had a tough time getting to the opposing quarterbacks last season, and Pittsburgh could use a presence up the middle to eat up some double teams.
Floyd, one of the more overlooked first round talents, is a great athlete. He uses nice speed off the edge, uses his hands well on blocks and often breaks into opposing backfields. Floyd is also very versatile, as he played in multiple spots on Florida's defensive line during his collegiate career.
18. Dallas Cowboys: Sheldon Richardson, DT, Missouri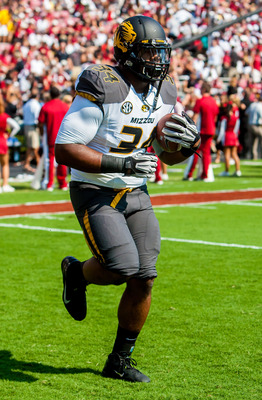 Jeff Blake-USA TODAY Sports
Missouri's Sheldon Richardson is a relatively hot name of late. Richardson has had a beast of a season thus far, and on top of that, he has the necessary skills to get to the next level.
Richardson uses his hands very well and can use his burst to get into the backfield. He'll give the Cowboys the defensive playmaker they were clamoring for all last season.
With the addition of defensive coordinator Monte Kiffin comes a switch to a 4-3 set on defense for Dallas. And with the integration of a new scheme comes the need for more specialized personnel.
19. New York Giants: Dion Jordan, DE, Oregon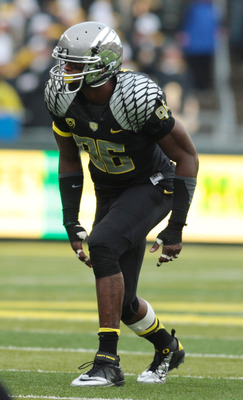 Scott Olmos-USA TODAY Sports
The Giants always seem to be in the market for pass rushers and this year should be no different. There are question marks surrounding Osi Umenyiora, so drafting a defensive end wouldn't hurt.
The freakish Dion Jordan may be a nice fit for New York.
At 6'6" and 246 pounds, the guy is a considerably appealing prospect. He has great burst, speed and athleticism. Jordan can rush the quarterback from multiple spots and chase down tight ends and halfbacks in man coverage.
Jordan possesses tremendous upside but must shake off his shoulder injury to maintain his solid stock.
20. Chicago Bears: D.J. Fluker, OT, Alabama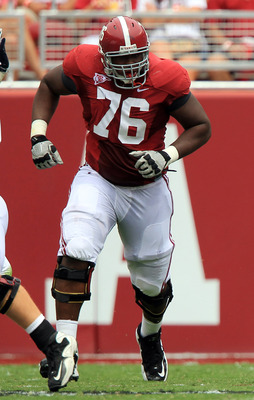 Marvin Gentry-USA TODAY Sports
Chicago has been suffering from weak offensive line play for quite some time now. Jay Cutler, whether you like him or not, needs more protection to even think about getting this team to the next level.
D.J. Fluker of Alabama is an intriguing prospect.
Fluker is an excellent run blocker. He has nice length, good athleticism and uses his physicality to bully off defenders.
21. Cincinnati Bengals: Alec Ogletree, ILB, Georgia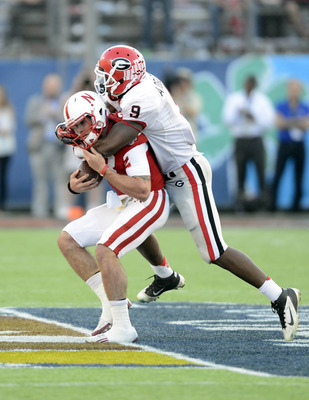 Brad Barr-USA TODAY Sports
Cincinnati's defense stepped up to the plate this past season. They could, however, use some more depth at the linebacker spot.
Alec Ogletree of Georgia could be a possibility.
Ogletree, a converted safety, has certainly given us a nice glimpse at his extensive skill set. He is always around the ball, moves very well from sideline to sideline and is not a stranger to big time hits.
Expect Ogletree's athleticism and versatility to be a major plus come draft day.
22. St. Louis Rams (from Washington): Jonathan Cooper, G, North Carolina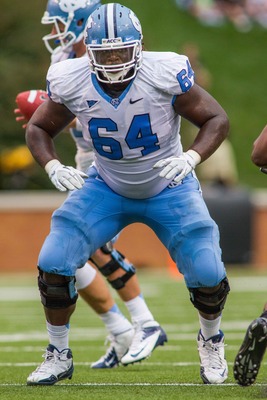 Jeremy Brevard-USA TODAY Sports
After using the first of their two first-round picks on a wideout, St. Louis should have a decent crop of offensive lineman to choose from at No. 22. At this point, North Carolina's Jonathan Cooper is the best available talent.
Cooper is a solid athlete and a very good pass protector. He is quick in picking up his blocks and is considerably agile for a guy his size.
23. Minnesota Vikings: Jesse Williams, DT, Alabama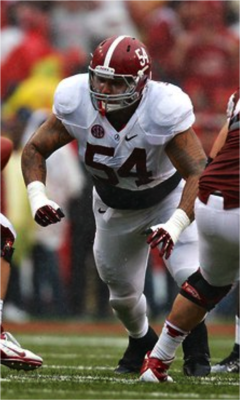 Richey Miller/Cal Sport Media, via Associated Press
Jesse Williams is a powerful, powerful man. He is good at the point of attack, uses his bull rush effectively and is an all-around disruptive force in the middle.
Minnesota could use some interior defensive line help alongside Kevin Williams. Drafting the Aussie out of Alabama could give the Vikings another Williams-Williams tandem in the middle.
24. Indianapolis Colts: Alex Okafor, DE, Texas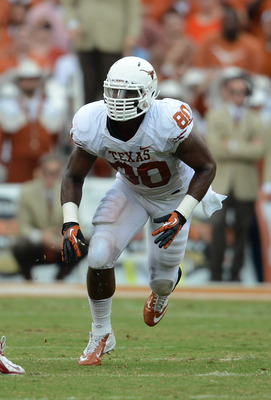 Matthew Emmons-USA TODAY Sports
Indianapolis must start looking to build up its defense to remain in contention. Alex Okafor, listed as a defensive end, is versatile and can fill the team's need at outside linebacker.
Okafor has great speed off the edge, is very solid against the run and can play in a number of spots on defense.
25. Seattle Seahawks: Johnathan Hankins, DT, Ohio State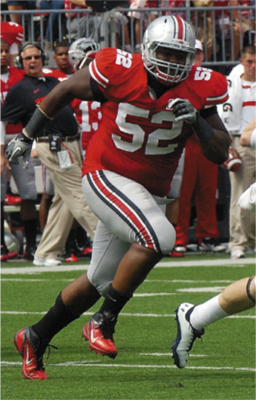 Seattle could certainly use an interior line presence on defense to stuff runs and free up pass rushers.
Johnathan Hankins, 6'4" and 325 pounds, possesses a very desirable skill set from the looks of his one-and-a-half seasons as a Buckeye. In addition to being the traditional big-man run-stuffer, Hankins does often exhibit some explosiveness en route to breaking down opposing lines.
He has slipped down boards of late. Hankins needs to make up for his lack of production with a solid showing at the upcoming combine in order to reboot his stock.
26. Green Bay Packers: Eddie Lacy, RB, Alabama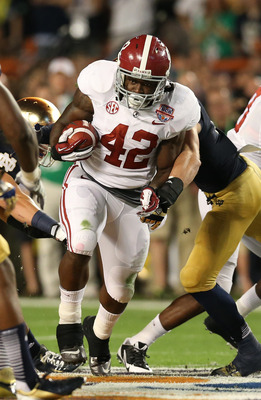 Matthew Emmons-USA TODAY Sports
I feel you, Green Bay fans. The Packers must upgrade a number of spots on their offensive line.
Unfortunately, there aren't any left worthy of a round one selection. Instead, Green Bay can address another position that been's haunting them for the past few seasons.
Eddie Lacy should be the first running back off the board. The Alabama product doesn't have top notch speed but makes up for it with his vision and feel for the spot.
Lacy is very patient on his breaks and uses his line very effectively.
27. Houston Texans: Keenan Allen, WR, California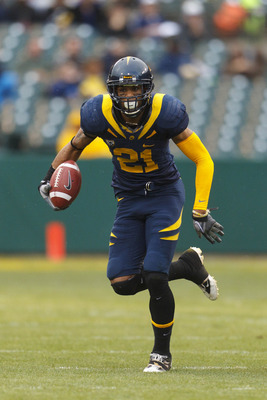 Jason O. Watson-USA TODAY Sports
Houston has to bring in a second option opposite Andre Johnson.
Keenan Allen has seen his draft stock take an untimely hit in the midst of his left knee injury. But as long as he checks out for the combine, look for him to regain his status as a legitimate mid-first-rounder.
Allen isn't the fastest guy but he is an incredible playmaker. He has soft hands, is considerably strong and is very explosive. Allen is also a great route-runner and is certainly not a stranger to picking up yards after the catch.
28. Denver Broncos: Desmond Trufant, CB, Washington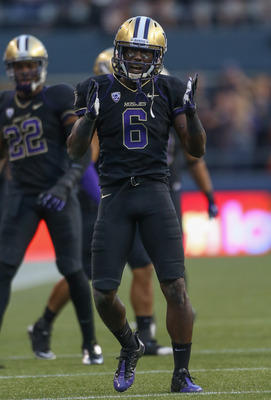 Otto Greule Jr/Getty Images
As evidenced by their playoff performance against Baltimore, Denver will need to improve their secondary.
Desmond Trufant, brother of Marcus, is easing his way into first round consideration.
Trufant has great size and quickness to transition into the NFL. His physical play allows him to stick with bigger wideouts.
29. New England Patriots: Tavon Austin, WR, West Virginia
Charles LeClaire-USA TODAY Sports
West Virginia's Tavon Austin has done nothing but produce for the Mountaineers this year. He's quick with his feet, can accelerate fairly well and is a good cutback runner.
Austin's game has drawn some comparisons to Minnesota's Percy Harvin, given his speed and production in the slot.
With Wes Welker on the cusp of free agency, New England may very well need a replacement.
30. Atlanta Falcons: Sam Montgomery, DE, LSU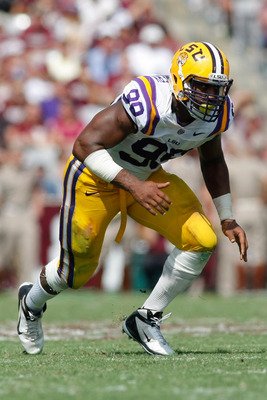 Brett Davis-USA TODAY Sports
Atlanta will be delighted to address its defensive end need with a potent talent like Sam Montgomery.
Montgomery is long, athletic and has a non-stop motor. With a little more work, his game should translate well to the next level, given his rush defense and bull-rush abilities.
He can work in the scheme as a defensive end or even as an outside linebacker.
31. San Francisco 49ers: John Jenkins, DT, Georgia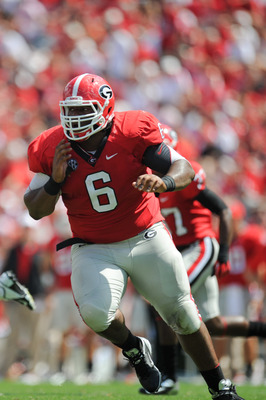 Kevin Liles-USA TODAY Sports
John Jenkins, 6'3" and 351 pounds, is your prototypical nose tackle.
He has tremendous strength and is extremely light on his feet for a player his size. Jenkins is solid off the snap, draws plenty of double-teams and utilizes his extension well to fend off blockers.
San Francisco could be in the market for a defensive tackle.
32. Baltimore Ravens: Manti Te'o, ILB, Notre Dame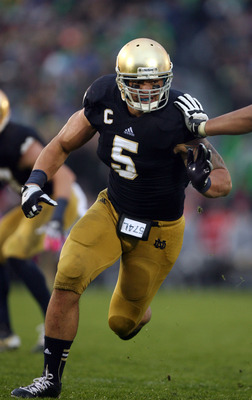 Brian Spurlock-USA TODAY Sports
The details of Manti Te'o and his imaginary girlfriend are still a bit fuzzy at this point. So until teams actually find out what happened, I'll have Te'o slip to the bottom of the first round.
Te'o is an all-around appealing prospect. He has good instincts and great athleticism, and he is especially great against the run.
Te'o also shows flashes of brilliance in the pass rush with his reads and closing speed as well. And, of course, the leadership skills of the linebacker have been well noted throughout his Notre Dame career.
With Ray Lewis hitting retirement, the new Super Bowl Champions will have to sniff out a worthy successor.
Keep Reading