5 New Jersey Devils Whose Jobs Are in Jeopardy When Adam Henrique Returns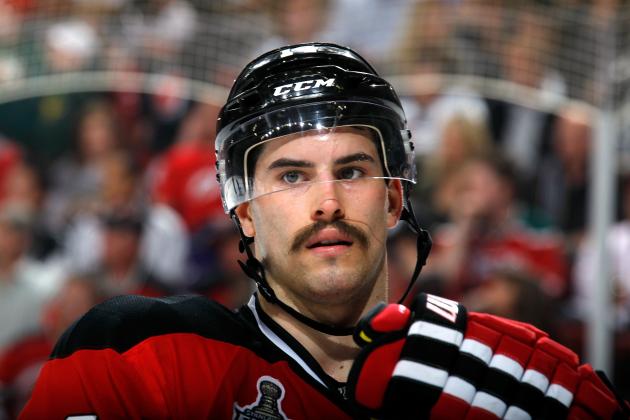 Bruce Bennett/Getty Images

According to numerous sources, New Jersey Devils Adam Henrique is about a week away from returning to action after missing three months with a thumb injury.
Pete DeBoer said C Adam Henrique (left thumb surgery)is "a week to 10 days" away from being ready to play. Not shooting puck yet, though.

— Tom Gulitti (@TGfireandice) Jan. 22, 2013
With Travis Zajac and Jacob Josefson playing with minor injuries and Krys Barch expected to play on Friday against Washington, the Devils have an almost completely healthy lineup. That being said, it may be difficult for head coach Pete DeBoer to choose who to send down for Adam Henrique.
Here is a look a five players who may be scratched or sent down starting next week.
Begin Slideshow

»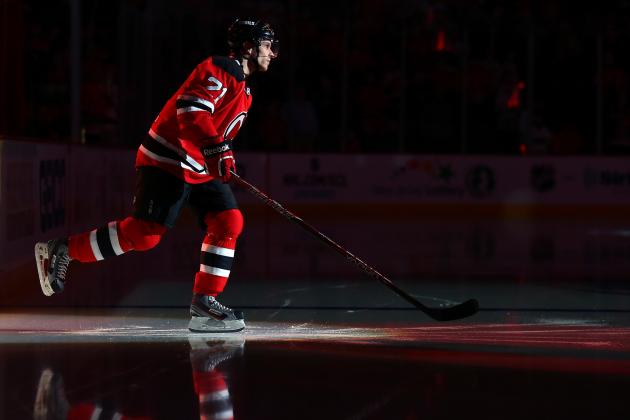 Elsa/Getty Images

For the third year in a row, Mattias Tedenby is getting a chance to prove himself at the NHL level.
The first two years ended in a bust for Tedenby, who was eventually sent down to the AHL to finish the year. However, with Zach Parise gone and Henrique out with injury, Tedenby is getting a chance to be a top four forward.
Tom Gulitti reports that Tedenby will likely swap lines with Dainius Zubrus for Friday's game against Washington and will be set with Travis Zajac and Ilya Kovalchuk. Zubrus will be reunited with Patrik Elias and will be set with David Clarkson on the two line.
Devils' lines today: Tedenby-Zajac-Kovalchuk; Zubrus-Elias-Clarkson; Carter-Gionta-Bernier; Matteau-Josefson-Barch; Janssen, Darche.

— Tom Gulitti (@TGfireandice) Jan. 24, 2013
Being placed with Zajac and Kovalchuk will be the best opportunity for Tedenby to prove himself at the NHL level, especially because Henrique made a name for himself doing the same thing last year. If Tedenby can score a few goals or record a few points, his lineup spot should be safe.
If Tedenby doesn't perform well with this opportunity, there is no doubt that he will likely be the odd man out with Henrique comes back from injury.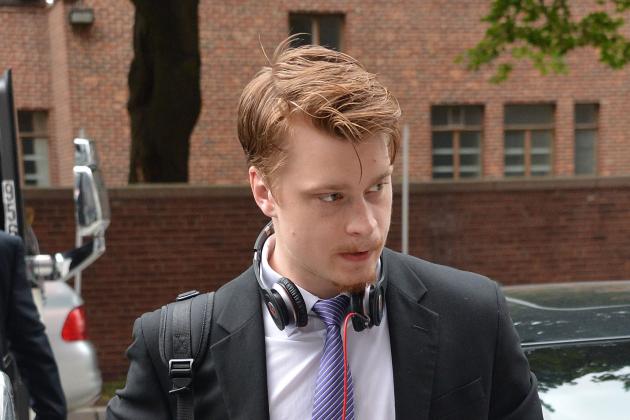 Mike Coppola/Getty Images

Now onto the curious case of Adam Larsson.
The story has been told time and time again. Larsson was drafted fourth overall last season, started almost every regular season game for the Devils in 2011-2012, but was a healthy scratch for a majority of the 2012 NHL playoffs.
That story continues into 2013 as Larsson has been a healthy scratch for the Devils first two games. With a completely healthy defensive core and a 2-0 start, it is unlikely Larsson will become a full time starter any time soon.
Peter DeBoer said he would prefer to keep Larsson at the NHL level rather than send him down because Larsson already played 30 plus games with the Albany Devils. However, he also added that it wouldn't be long until Larsson finally get a chance to play.
DeBoer on Larsson: "I think if he hadn't played 30-plus games already down there you might sit and think maybe he should be playing..."

— Tom Gulitti (@TGfireandice) Jan. 23, 2013

More DeBoer on Larsson: "If this gets into an extended period, which I don't think it will, that's something you might have to revisit."

— Tom Gulitti (@TGfireandice) Jan. 23, 2013
Larsson has a world of potential, but the Devils seem pretty content with the way their defensive front has been playing since late last season.
The New York Rangers have discussed sending young defenseman Chris Kreider down to "go through the system", so the Devils may consider giving Larsson more chances to play in the AHL as well.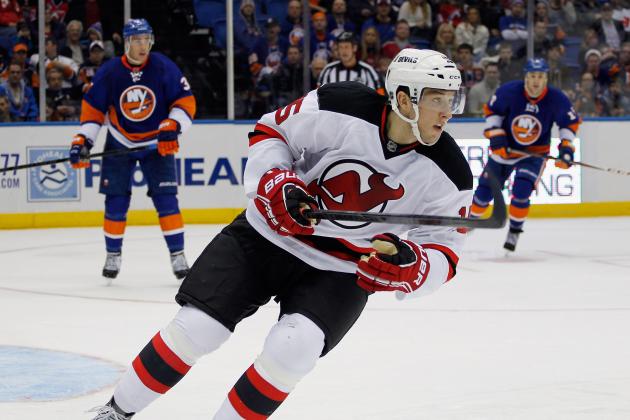 Andy Marlin/Getty Images

Despite Matteau impressing coaches in the team's first two games, the youngest player on the team may be the odd man out when Henrique comes back.
Matteau has failed to score a point so far and has primarily been placed on the fourth line with Cam Janssen and Jacob Josefson. He did manage to move up to the third line during Tuesday's game against Philadelphia, but many players agreed that it wasn't the team's best performance.
It doesn't seem likely that DeBoer will want to split up his famous fourth line (now third line) of Stephen Gionta, Ryan Carter, and Steve Bernier, so it wouldn't be surprising if Matteau is sent down for more ice time in the AHL. While this move is not definite, Matteau may be the guy the Devils want to send down.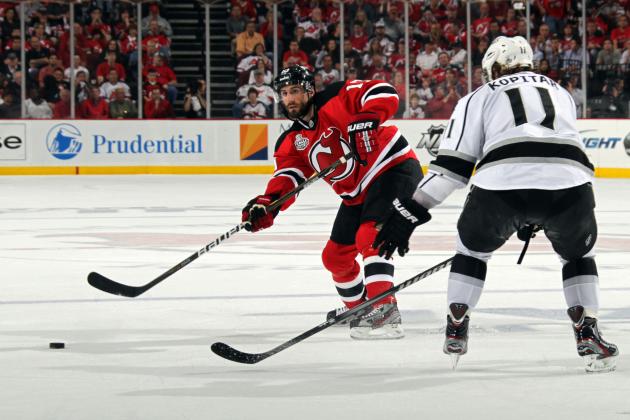 Bruce Bennett/Getty Images

Like Adam Larsson, Peter Harrold has been a healthy scratch for the team's first two games while six other defensemen start in front of him.
Harrold started most of the Stanley Cup playoffs and earned his spot on the roster for the 2013 season. However, the amount of depth on this team has forced DeBoer to bench two quality defensemen rather than have them in the starting lineup.
In the long-term Harrold may become trade bait if Devils GM Lou Lamoriello decides to make a move, but for now the best option may be to send him down for more playing time. The defense doesn't look like it needs any adjusting, so Harrold would continue to be a healthy scratch even if someone else is sent down when Henrique comes back.
Having extra depth is always nice especially on defense, but it doesn't seem logical to send a forward down for Henrique when there are two healthy defensemen sitting out every game.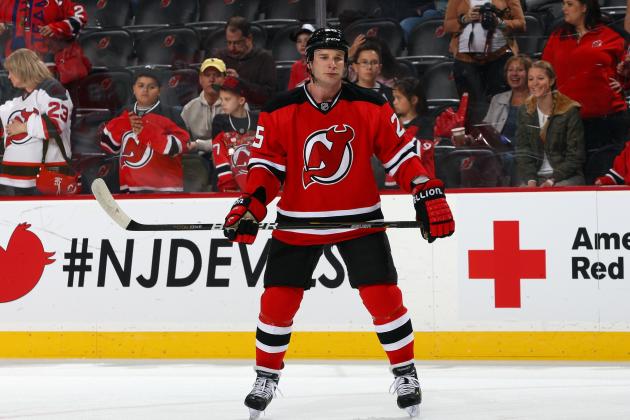 Chris Chambers/Getty Images

This last choice may not only be Cam Janssen. It all depends on the play of fellow enforcer Krys Barch.
Tom Gulitti reports that the Zubrus / Tedenby swap was not the only change in practice. It is likely that Barch will take over for Janssen on the fourth line and will be paired with Josefson and Matteau for Friday's game.
DeBoer said coaches will discuss the lineup for Friday this afternoon. He didn't commit to Barch playing, but it looks like he will.

— Tom Gulitti (@TGfireandice) Jan. 24, 2013
It seems that this should be taken as a minor adjustment just to see what Barch can bring to the table. Janssen dealt with a two enforcer team last year with Eric Boulton in the lineup, but each played in roughly the same amount of games (Janssen: 48 Boulton: 51).
Janssen is a fan favorite in New Jersey and it's hard to imagine the Devils sending him down to the AHL. While he may not always start every game, it is still more likely that Janssen be a healthy scratch in favor of Barch like he was with Boulton last season.
If the Devils keep both enforcers, it is likely that either Matteau or Tedenby would be the odd man out come next week. Peter DeBoer has a decision to make either way, and it will be interesting to see exactly what he does.