Position-by-Position Braves-Nationals Breakdown After Justin Upton Blockbuster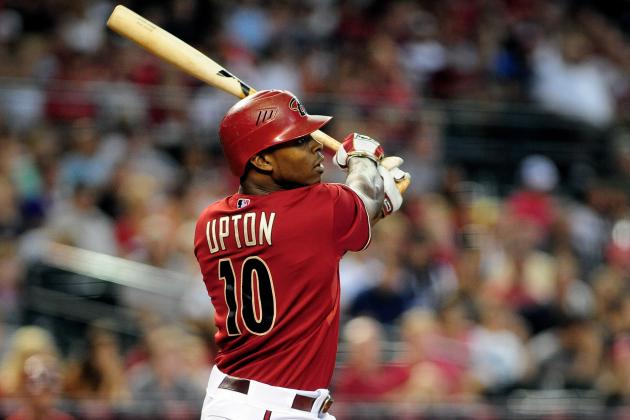 Jennifer Stewart-USA TODAY Sports

The Atlanta Braves now have two very talented brothers in their outfield and a roster that's custom-designed to reclaim dominion over the NL East.
The Braves made one of the biggest splashes of the MLB offseason on Thursday morning, pulling off a trade for Arizona Diamondbacks right fielder Justin Upton. He'll get to play alongside his older brother B.J., who signed with the Braves as a free agent earlier this winter.
As reported by Ken Rosenthal of FoxSports.com, the trade for Upton cost the Braves Martin Prado and top right-handed prospect Randall Delgado. Beyond them, the Braves parted with mere spare parts, and they're also getting third baseman Chris Johnson in the deal.
The 2013 NL East race was already set to be a two-team death match between the Braves and the Washington Nationals, and now it's all but certain to be just that. The Braves have a team that matches up very well next to the reigning division champs.
As for which team is truly better as things stand right now, well, for that we need to do a side-by-side comparison.
Note: Traditional stats courtesy of Baseball-Reference.com. Sabermetric stats courtesy of FanGraphs.
Begin Slideshow

»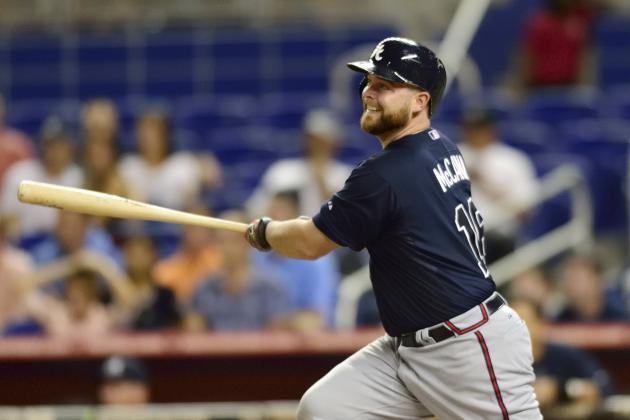 Steve Mitchell-USA TODAY Sports

This one's pretty easy.
Kurt Suzuki is a nice player. He's a very solid defensive catcher and one of the better game managers around. Nationals pitchers will be glad to have him for his knack for calling pitches and his defense.
But Suzuki doesn't have the bat to give the Nationals any kind of significant offensive contributions. He has a career .691 OPS, and he's coming off a season in which he posted a .605 OPS.
Suzuki's bat did come alive after he was traded from Oakland to Washington, but that was thanks to spikes in both BABIP and ISO that aren't sustainable.
Brian McCann, meanwhile, had a horrid year by his usual standards in 2012. He played characteristically solid defense and handled Atlanta's pitchers well all year, but he saw his OPS drop to under .700.
However, McCann still managed to hit 20 home runs, and his overall production can be forgiven because he was never 100 percent healthy. If he recovers well from offseason shoulder surgery, he should give the Braves his usual .800-plus OPS and 20 or so home runs.
Edge: Braves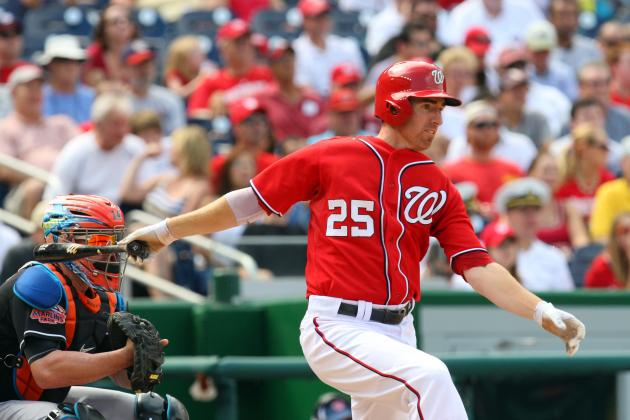 Ned Dishman/Getty Images

This one's a little tougher.
Freddie Freeman continued to make strides as a hitter in 2012. His OPS stayed steady from where it was in 2011, but he upped his walk rate, decreased his strikeout rate and hit for more power, posting a .196 ISO and hitting 23 home runs.
If Freeman's power continues to progress, he's going to be a 25-30 home run guy in 2013, which will make his power production more or less on par with Adam LaRoche's.
LaRoche hit a career-high 33 home runs in 2012, but a slight regression is in the cards, seeing as how he's probably not going to sustain his .238 ISO at 33 years old. If his ISO tumbles down more toward his .215 career mark, he'll also be a 25-30 home run guy.
The one major edge LaRoche has on Freeman is his defense. LaRoche has long been one of the game's best defenders at first base, and in 2012 he won a well-deserved Gold Glove after posting a 6.1 UZR and a DRS (Defensive Runs Saved) of plus-eight.
Freeman still has work to do to become an above-average defensive first baseman. He did have a DRS of plus-three in 2012, but he also had a minus-4.0 UZR. He's best characterized as an average defender until further notice.
Edge: Nationals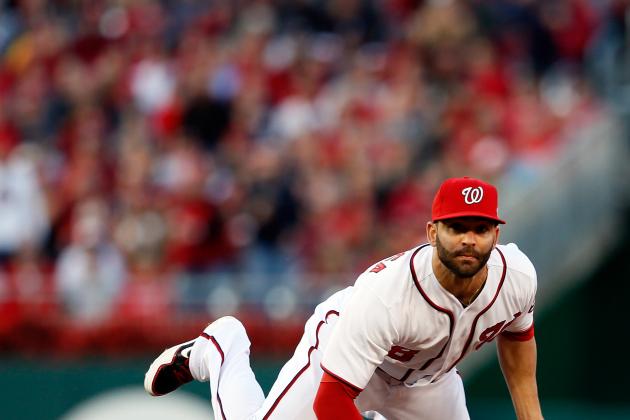 Rob Carr/Getty Images

Say what you will about Dan Uggla's frequent strikeouts and low batting averages, but he's still an above-average offensive producer as far as second basemen go.
Uggla didn't hit for as much power in 2012 as he did in 2011, as he managed only 19 home runs a year after hitting 36. What he did do was get on base much more frequently, as he upped his walk rate to 14.9 percent and his OBP to .348.
If Uggla can combine the patience he showed in 2012 with the power he showed in 2011, he should end up with a solid .350 OBP and maybe 25-30 home runs.
The Nationals have one of baseball's best-kept secrets in Danny Espinosa. With 38 homers and 37 stolen bases over the last two seasons, he's one of the more underrated power/speed threats in the game, and he's also a very good defender. Espinosa had a 7.1 UZR and plus-three DRS in 2012.
Uggla was no slouch on defense in 2012, posting a 2.0 UZR and a plus-four DRS, but he's traditionally been a poor defender. Espinosa has the edge there and the overall edge because he's the more well-rounded player of the two.
Edge: Nationals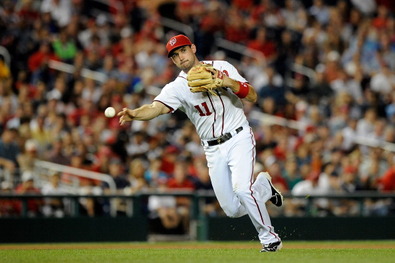 Patrick McDermott/Getty Images

The Braves have a new third baseman in Chris Johnson, but David O'Brien of the Atlanta Journal Constitution says the plan is to platoon him with Juan Francisco.
The problem with that idea is the righty-hitting Johnson is better against right-handers than he is against left-handers. He has a career .775 OPS against righties and a career .667 OPS against southpaws.
I wouldn't be too surprised if Francisco ends up getting the bulk of the playing time in 2013. He strikes out too much and doesn't walk enough, but the same can be said of Johnson, and the two players have roughly the same power potential.
Where Francisco has an edge is on defense. Johnson was terrible at third base in 2012, posting a minus-9.4 UZR and a minus-11 DRS. Francisco had a 3.0 UZR and a plus-one DRS.
Not that any of this really matters when compared to Ryan Zimmerman, of course. He's one of the best in the business when he's healthy, and he reminded everyone of that in 2012.
Zimmerman shook off a rough start to post a .963 OPS and hit 20 home runs in the season's final three months, and he played solid defense despite a shoulder injury that impacted his throwing.
If Zimmerman stays on the field in 2013, he'll be better than what the Braves have at the hot corner.
Edge: Nationals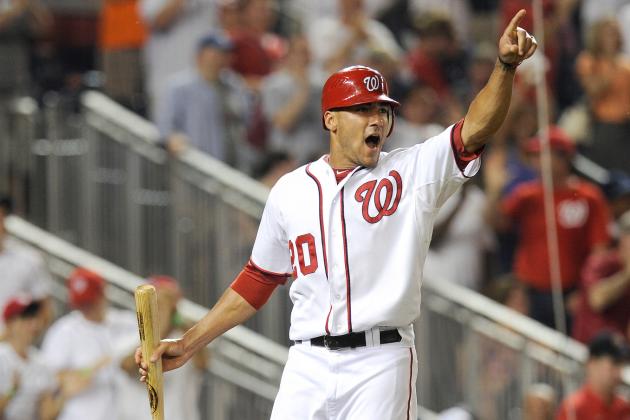 Greg Fiume/Getty Images

Andrelton Simmons is an easy choice to win a Gold Glove in 2013. Despite his very brief major league career, he's widely acknowledged as one of the game's elite defensive shortstops.
The numbers support the notion. In only 49 games with the Braves in 2012, Simmons managed a 10.4 UZR and a plus-19 DRS. If he can play that kind of defense over a full season, his glove alone will make him worth several wins above replacement.
Simmons is no slouch offensively, either. He was a solid on-base guy in the minors, and he managed a slash line of .289/.335/.416 in the majors.
Simmons, however, isn't quite Ian Desmond's equal.
Desmond had the highest fWAR of any full-time shortstop in the majors in 2012, and that was thanks to his getting it done in all three phases of the game. He had a solid slash line of .292/.335/.511 with 25 home runs and 21 stolen bases. The DRS metric viewed him as a below-average defender with a minus-six rating, but he had a 4.8 UZR.
Desmond did benefit from BABIP and ISO spikes in 2012, but he tends to be a high BABIP guy to begin with, and he showed some pop in the minors before becoming a major leaguer in 2009. It's not a stretch to think that his offensive numbers will stay relatively steady in 2013.
Edge: Nationals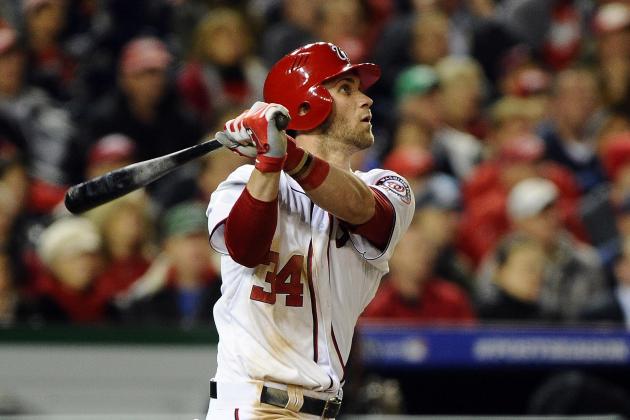 Brad Mills-USA TODAY Sports

There's undoubtedly a little skepticism among Braves fans over whether Justin Upton will be worth the high price Atlanta paid to get him, but they should be optimistic.
Upton saw his OPS drop down to .785 in 2012, but the bright side is that his strikeout rate didn't take a huge hike, and his walk rate actually increased. The culprit was a curious loss of power, as his ISO dropped down to .150 after finishing at .240 in 2011.
This may have been due to a thumb injury Upton suffered early in the season, and he surely must have been distracted by all the drama that surrounded him throughout the year. The drama will be gone in 2013, and his pop should return if he stays healthy. If so, the Braves can look forward to around 30 home runs and 20 stolen bases from their new star.
Bryce Harper could do a lot better than that in 2013. His .270/.340/.477 slash line from 2012 is easily sustainable, but an increase in power could be in the cards after Harper finished 2012 with a .643 slugging percentage in the season's final month.
Harper should also be a well-above-average defender in left field, as he has the range and the arm strength to put himself in Gold Glove territory. These are also things that Upton has, and he shouldn't have any trouble handling the move from right to left.
It's times like these that I hate to pick sides, so I'm going to take the easy way out and avoid doing so.
Edge: Push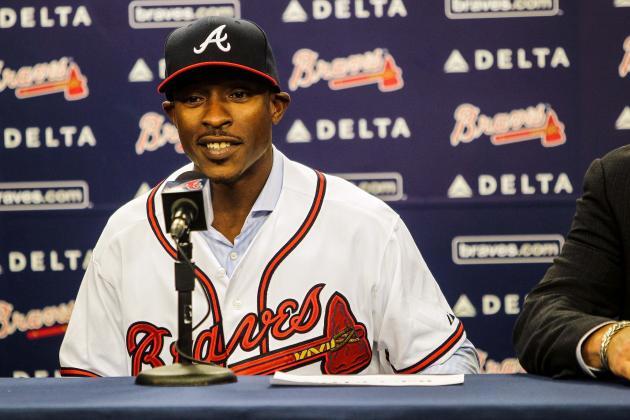 Daniel Shirey-USA TODAY Sports

If Braves fans are looking for an Upton brother to be skeptical about, it's B.J.
The elder Upton is a good bet to hit 20 home runs and steal at least 30 bases. He's done that in two straight seasons and is the only player in baseball with at least 80 homers and 150 steals since the start of the 2009 season.
Upton should also hold his own in center field. He's not Michael Bourn, but he has good range and a solid arm that make up for his occasionally questionable reads. He has a career 3.9 UZR/150 as a center fielder, and that's right about where he'll probably be in 2013.
The issue with Upton is his plate discipline, or lack thereof. He's going to strike out roughly 25 percent of the time, and he doesn't square up enough pitches to maintain a high BABIP. Unless the Braves fix his approach, they can count on an OBP in the low .300s.
If there's one advantage Denard Span has on Upton, it's defense. Span has excellent range in center field, and he used it to post an 8.5 UZR and a plus-20 DRS in 2012. He was in Bourn's company defensively.
Span, however, is limited as an offensive player. He'll give the Nats an OBP in the .340-.350 range and likely over 20 steals, but he comes with very little pop.
Since Upton has a huge edge in that department, he gets the nod by a nose here.
Edge: Braves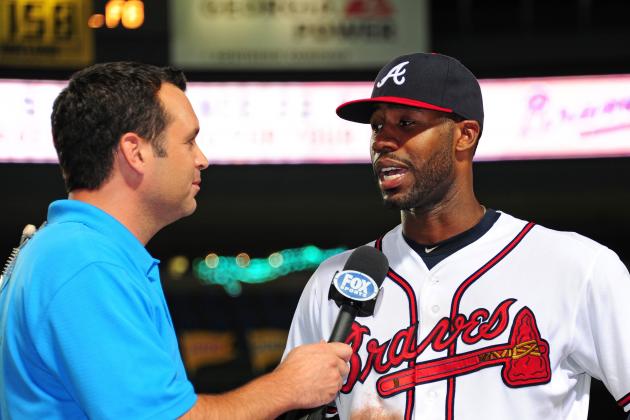 Scott Cunningham/Getty Images

Spoiler alert: Jason Heyward should be better than either of Atlanta's new toys in 2013.
Heyward quietly had a monster season in 2012, posting a .269/.335/.479 slash line with 27 homers and 21 steals. He was baseball's best defensive right fielder, posting a 22.9 UZR and a plus-20 DRS.
There's still some upside for Heyward. If he ups his walk rate back to where it was in 2010 and 2011 while cutting down on his strikeouts, his OBP will go up, and he could find himself driving more pitches. A 30/20 season is very much possible.
Jayson Werth doesn't have that kind of potential. He did have a solid second season with the Nats, posting a .300/.387/.440 slash line, but a wrist injury robbed him of some power and limited him to five home runs.
Werth's power loss is probably no fluke, however, as his ISO in 2011 was a far cry from where it was during his glory days with the Phillies. If so, his ceiling is that of a 20-homer player rather than that of a 30-homer player.
A return to right field on a full-time basis should suit Werth well, but nothing he does will make him Heyward's equal on defense. He's among the best of the best.
Edge: Braves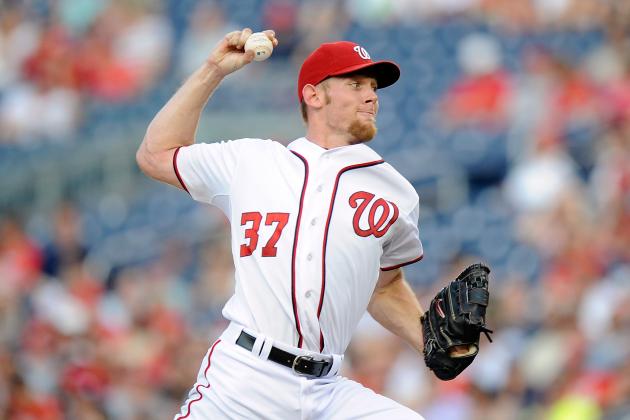 Greg Fiume/Getty Images

What Kris Medlen did in his final 12 starts in 2012 was simply astonishing.
Medlen gave up a grand total of nine earned runs in 83.2 innings for an ERA of 0.97, striking out 84, walking only 10 and holding opposing hitters to a .483 OPS.
This hot stretch was primarily thanks to Medlen's changeup, which is deadly. Per PITCHf/x, opposing batters hit just .087 against it in 2012.
Sustainable? Not at all. But a pitcher can go far with good control and an excellent changeup. If Medlen is able to maintain these things over 200 innings, he'll be one of the NL's top pitchers in 2013.
Stephen Strasburg, however, could be the top pitcher in the NL.
Strasburg's season came to an abrupt and controversial end in 2012, but the bright side for the Nats is that he made good on his ace potential in the 28 starts he made. He struck out over 11 batters per nine innings, posted a solid 2.71 BB/9 and an ERA of 3.16.
Each of Strasburg's three main pitches—fastball, curveball, changeup—rated as above-average pitches in the eyes of PITCHf/x, and his average fastball velocity was the highest among pitchers with at least 150 innings.
It's paranoia, not talent, that's keeping Strasburg from being a Cy Young winner. If the paranoia is gone in 2013, he'll be in contention for the award.
Edge: Nationals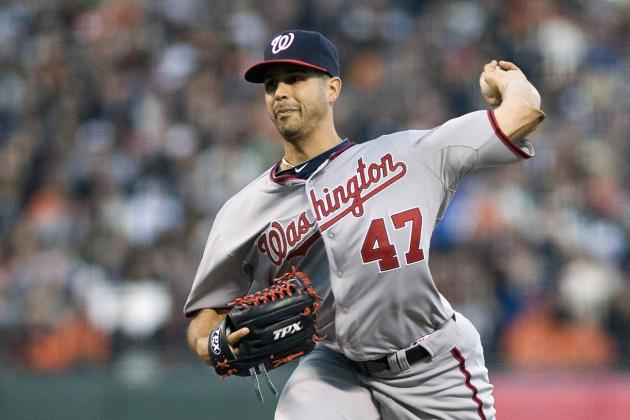 Ed Szczepanski-USA TODAY Sports

The Braves have a very strong supporting cast lined up behind Medlen in the likes of Tim Hudson, Mike Minor and Paul Maholm.
Hudson's health is always going to be a question mark, but he's still among the top ground-ball pitchers in the game and can generally be counted on for an ERA in the 3.00s.
Minor was a liability in the first half of 2012 but an overlooked stud in the second half. He had a 2.16 ERA in 14 starts and held opposing hitters to a .560 OPS. Something clicked, which is scary seeing as how he's only 25 years old.
Maholm was as steady as ever in his 11 starts for the Braves, posting a 3.54 ERA and a 1.19 WHIP. The Braves should be able to get around 200 innings and an ERA in the 3.00s from him.
On Washington's side of the fence, the Nationals have a second ace in Gio Gonzalez. He was a finalist for the NL Cy Young in 2012 after posting a 2.89 ERA and striking out 207 hitters in 199.1 innings. A key to his success was a decreased walk rate, and there will be more success in his future if he can keep it down.
Jordan Zimmermann was criminally underrated in 2012, as he posted a 2.94 ERA in 195.2 innings. He walked fewer than two batters per nine innings and limited opposing hitters to a .686 OPS.
The wild card in Washington's rotation is Dan Haren. Back problems in 2012 robbed him of his usual velocity, and his overall numbers suffered. If he stays healthy in 2013, he could revert back to the form he showed between 2007 and 2011, when he compiled a 3.33 ERA and a beastly 4.68 K/BB.
This is yet another close call, but I'm willing to give the Nationals the edge because of Haren's upside.
Edge: Nationals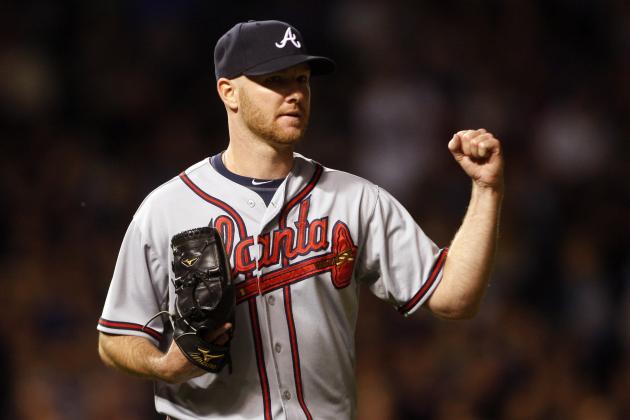 Jerry Lai-USA TODAY Sports

The Braves have had one of the top bullpens in baseball over the last two seasons, and that's thanks in large part to their strong core of middle relievers.
Left-handers Jonny Venters and Eric O'Flaherty are as good as they come. Venters has a 2.39 ERA and a 1.26 WHIP over the last two seasons to go along with a 10.1 K/9. O'Flaherty has a 1.31 ERA over the last two seasons, and he's particularly deadly against lefty hitters. He held them to a .305 OPS in 2012.
Joining the mix in 2013 will be Jordan Walden, who the Braves acquired in a trade with the Los Angeles Angels. He's tended to be wild, but he walked zero hitters in his final 14 appearances in 2012 while striking out 13 in 11 innings. The Braves may be getting him at a time when he's figuring things out.
Washington's bridge to the ninth inning in 2013 will be manned primarily by Drew Storen and Tyler Clippard. This is good news for the Nats where Clippard is concerned, as he excelled as a setup man in 2011 with a 1.83 ERA and 38 holds in 72 appearances.
Storen was limited by injury to 37 appearances in 2012, but he still managed to pitch well. He posted a 2.37 ERA and a 3.00 K/BB, holding opposing hitters to a .496 OPS.
As solid as Clippard and Storen are, the lack of a shutdown lefty in Washington's bullpen is a concern. It looks like the Nats are going to trust that role to Zach Duke, who hasn't been relevant in years.
Edge: Braves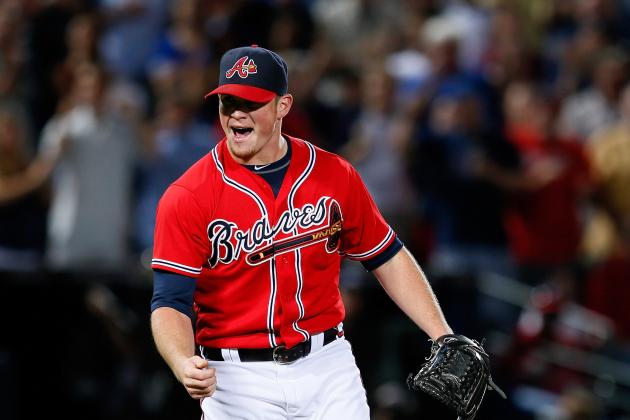 Kevin C. Cox/Getty Images

There's no question whatsoever that Craig Kimbrel is baseball's best closer.
Kimbrel tied for the NL lead in saves in 2012 while posting a 1.01 ERA and a 16.7 K/9. Over the last two seasons, he's saved 88 games while compiling a 1.61 ERA and a 15.7 K/9.
Such is life when one has un-hittable pitches. Kimbrel's fastball averages about 97 miles per hour, and opponents hit an even .100 against his slider in 2012.
Rafael Soriano is good, but not that good. Washington's new closer is also coming off a 42-save season, but he wasn't nearly as dominant as he was in 2010 with the Tampa Bay Rays. He had a higher ERA, a lower K/BB and a much higher opponents' OPS.
Soriano will be good in the ninth inning for the Nats, but he's not on Kimbrel's level. Nobody is.
Edge: Braves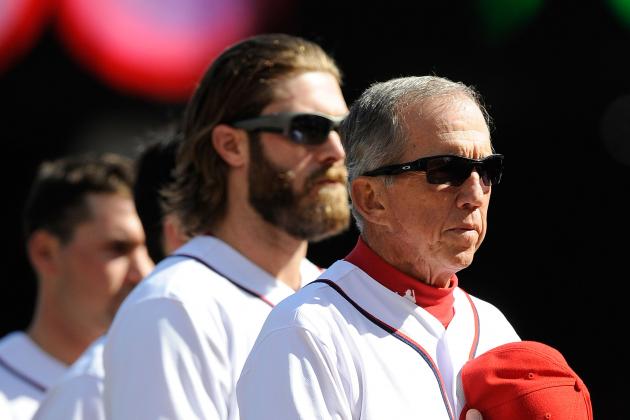 Patrick McDermott/Getty Images

Out of 12 categories, here's the final tally: Six for Washington, five for Atlanta and one push.
If you were thinking, as I was when the trade was made, that the Upton deal put the Braves on par with the Nationals, well, there you go. These two teams are as evenly matched as they appear to be.
The overall edge from where I'm standing, however, goes to the Nationals. The deciding factors are their advantages in the starting pitching department and across the infield at third, short, second and first.
There's also a solid chance that Harper will be a more valuable player than Upton if he continues to make good on his massive potential. Even if Upton does end up being the better player in the end, that outcome alone wouldn't necessarily make the Braves the better team.
The Nationals are the horse to bet on here, but it's going to be a photo finish.
If you want to talk baseball, hit me up on Twitter.