When I was a kid I always hated the bye week before the Super Bowl, but the game has gotten so darn big it really does need two weeks of build up. Each season, as soon as we know the Super Bowl participants, it's easy to see the biggest storylines that will take over the media attention leading up to the game.
This year, the #Harbowl is far and away the lead story coming out of Sunday's championship games, with the impending retirement of Ray Lewis lapping the rest of the field in second.
Are you tired of hearing about Ray? Let's hope the second week of Super Bowl previews focuses on the other Ray in Baltimore—Ray Rice—and those Ravens we haven't heard nearly enough about.
Rice is an interesting figure in Baltimore, as he has been the backbone of the offense since 2009—an absolute fantasy darling—but never gets an offensive spotlight as bright as his quarterback, Joe Flacco. When Rice was working out his contract last season, there was more talk from Flacco's agent about his client getting paid than we ever heard about Rice. Throughout the 2011 season, all the talk was about Flacco's place with the elite quarterbacks in the game when Rice was relatively quietly piling up an NFL-best 2,068 yards from scrimmage in a contract year.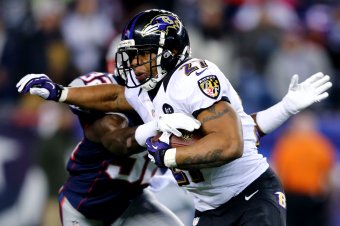 Al Bello/Getty Images
By his standards, Rice had a down year in 2012, but still
had 1,621 yards from scrimmage
, ranking ninth best in the NFL. The emergence of Bernard Pierce in the backfield, two key fumbles in the Wild Card round, and, yes,
Flacco
's amazing game in the has made Rice a little less of the focus heading into the Super Bowl than he probably deserves. Heck, the Ravens' website has a list of some of the top stories and players to cover heading into the Super Bowl
and Rice isn't even on their list
.
Truth be told, it's probably just the way he likes it.
Another Raven who seems to crave far less of the spotlight than he deserves is safety Ed Reed. The media is making so much of Lewis's final game with the Ravens it's as if we've totally forgotten the fact it's Reed's first trip to the Super Bowl in what could be his final game as well.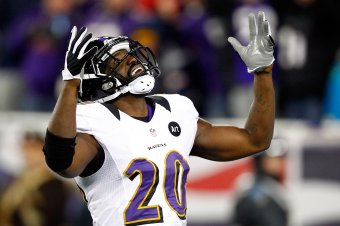 Jared Wickerham/Getty Images
Reed arrived in Baltimore two years after the Ravens won Super Bowl XXXV, making this the first trip to the Big Game in his illustrious career. There has been so much talk about Lewis redefining the middle linebacker position in the NFL with his ability to go sideline-to-sideline, but it may have been
Reed who was the more important defensive player
for Baltimore over the last decade.
There is no doubt Lewis is a sure-fire Hall of Famer, but one has to wonder if the histrionics haven't done as much for his legacy than his play. Had Lewis played his career like Reed, would we be fawning over his retirement as much? What if Reed wins the title and decides to call it quits as well? His contract is up after the Super Bowl, and he'll be come an unrestricted free agent with a lot of wear and tear on his frame. Wouldn't it be just like Reed to sit back, let Lewis get all the retirement glory, then quietly call it a career along with him?
Certainly this topic will be explored during the days leading up to the Super Bowl—I'm not suggesting media will forget about Reed's situation or ignore him on Media Day—it just seems like Reed's career ending is almost as important to Baltimore's history as that of Lewis, with none of the attention. Surely, that's by Reed's design.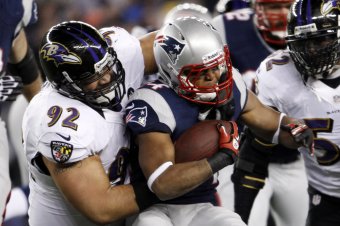 David Butler II-USA TODAY Sports
Talking about a guy who doesn't get as much of the spotlight as he should,
Haloti
Ngata
has been one of the most integral parts of the Ravens defense since coming into the league in 2006, earning
Pro Bowl selection in each of his last four seasons
.
Ngata
is the football equivalent of a chef's chef; the guy who owns a restaurant where all the other chefs love to eat but may not get the notoriety of some of the more famous establishments. Everyone in the industry respects the guy, and everyone knows how great he is, but
Ngata
doesn't get anywhere near the national publicity as the loudmouths behind him.
Switching back to the offensive side of the ball, part of the reason Flacco gets most of the attention is because Baltimore doesn't have that Calvin or Andre Johnson-type go-to receiver and Flacco continues to put up impressive numbers with a solid-but-unspectacular-at-times receiving corps. The Ravens had seven receivers catch more than 20 balls in 2012, but none snagged more than 65. Anquan Boldin led the team with 921 receiving yards and Torrey Smith was just behind him with 855 and a team-best eight touchdowns. There were 20 players in the NFL this season to eclipse 1,000 yards receiving, with 26—including two tight ends—amassing more yards than Baltimore's top guy. Still, it doesn't mean the receivers weren't a key part of Flacco's success.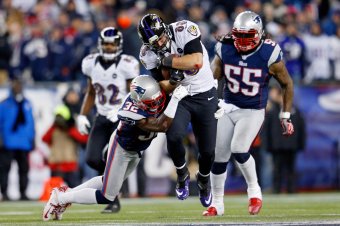 Jim Rogash/Getty Images
The most unsung hero of the receiving corps may be tight end
Dennis Pitta
, who has served as somewhat of a security blanket for
Flacco
down the stretch. Pitta caught 29 of his 61 receptions for 360 of his 669 yards and five of his seven touchdowns over the last half of the season, which included little more than a cameo role in the regular season finale. In the playoffs,
Flacco
has been on target with Boldin and Smith, but Pitta has proven to be just as important, snaring
ten balls for 137 yards and two scores
in their three AFC playoff contests.
I know this starting to read like a boring list of players we should be talking about on the Ravens as much as those we already are talking about. Oh, wait, that's exactly what this is.
The team is so much more than Lewis and Flacco and Terrell Suggs and one half of the Harbaugh brothers. Don't get me wrong, these players I've mentioned will be covered next week. The beauty of the Super Bowl is that with two weeks to cover the event, every possible story will be covered.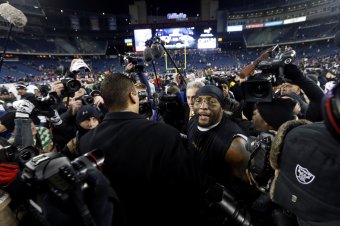 Greg M. Cooper-USA TODAY Sports
The incredible year of
rookie place kicker Justin Tucker
will
be covered. The fact that
Matt Birk is going to his first Super Bowl
and
Bryant McKinnie
went from the bench to back in the starting lineup
will
both be covered.
There's a list of players even I didn't mention yet, like Bernard Pollard who led the Ravens in tackles in 2012 or Jacoby Jones who has been a special teams stalwart. The list goes on and on.
Everything you can imagine will get covered, to some extent. It's just that the media horde—and subsequent coverage that comes from it—around Lewis and Harbaugh and Flacco's eliteness and Suggs's penchant for saying things loudly will make more of the headlines than the players in Baltimore who probably most deserve it.