UFC on Fox 6: Keys to Victory for Rampage Jackson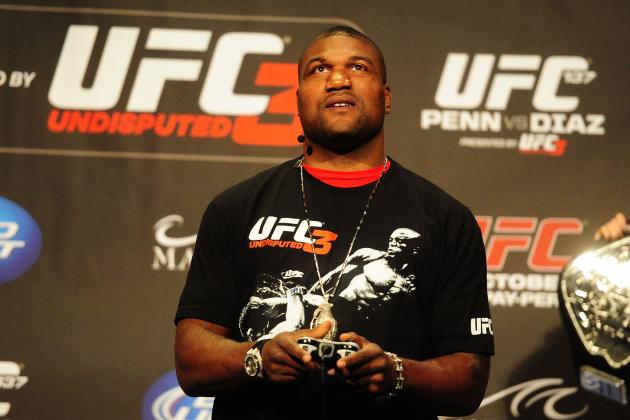 Mark J. Rebilas-USA TODAY Sports

Quinton "Rampage" Jackson will step inside the Octagon for what could be the final time this Saturday against Glover Teixeira. He will try to exit the company by defeating the top 205-pound prospect.
Teixeira has looked phenomenal in his two outings thus far, but Rampage is a big step up in competition.
With that being said, Jackson is a significant underdog in this bout. Based on the recent performances of both competitors, the bookmakers have tilted the lines against Rampage. However, with all of his experience and knockout power, no one should count him out of the fight.
Here are five keys to victory for Rampage's last UFC fight.
Begin Slideshow

»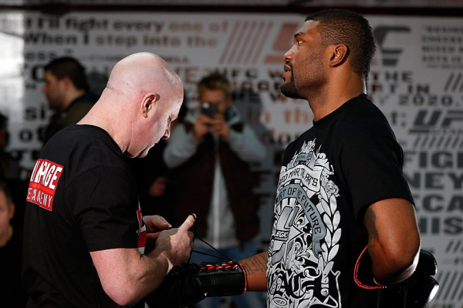 Photo by Josh Hedges/Zuffa LLC/Zuffa LLC via Getty Images
Leg kicks have given Rampage trouble in the past, as he chooses not to check them. He cannot do that against Teixeira.
If he allows Teixeira to kick his legs repeatedly, the fight is over. It takes away the movement and power of Rampage, and that will make him an easy target to finish.
Teixeira may not enter with a game plan for leg kicks, but history says that he should. Rampage must be prepared for that scenario. He needs to remember the basics in defense of leg kicks.
Jackson must check kicks.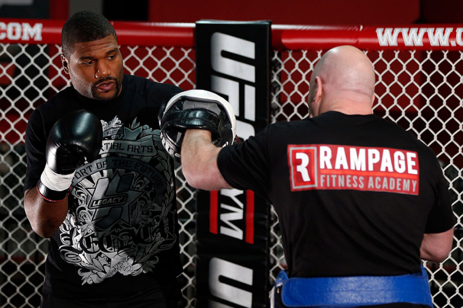 Photo by Josh Hedges/Zuffa LLC/Zuffa LLC via Getty Images
Rampage needs to manage his cardio. Keeping a manageable pace early will allow him to continue to be effective late in the fight.
Teixeira has had big first rounds, and perhaps Rampage's best bet is to drag this fight out.
Rampage has looked gassed in the later stages of his recent fights. That is because his opponents have pushed the pace and made him work. If Rampage can avoid that and slow down the action with Teixeira, he will be in better shape in the later portions of the fight.
Rampage cannot allow Teixeira to dictate the pace.
Photo by Josh Hedges/Zuffa LLC/Zuffa LLC via Getty Images
The fight will probably not be fought at a distance for the entire 15 minutes. When the distance is closed, Rampage should wear on Teixeira.
Rampage is a large light heavyweight, and he can use that to his advantage. If he can win the clinch battles and make Teixeira carry his weight, it will pay dividends as the fight lingers on.
The strength of Rampage can play a big role in accomplishing this.
A tired Teixeira will have a lot of trouble with Rampage.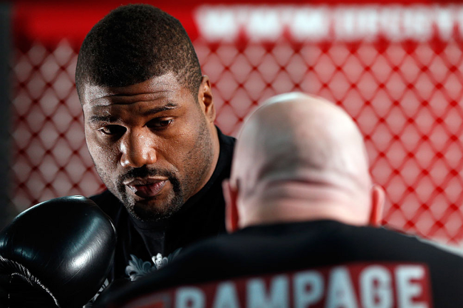 Photo by Josh Hedges/Zuffa LLC/Zuffa LLC via Getty Images
One of the biggest keys to the fight will be defending the takedown. If Teixeira gets on top of Rampage, the fight could end at any given second by TKO or submission. He is relentless from top, and can deal out some serious damage.
However, if Rampage can defend Teixeira's takedown attempts, this fight could get very interesting.
Rampage hates fighting wrestlers, and while Teixeira does not fit that mold precisely, he still loves to take the fight to the mat and punish his opponents.
The fight may hang on Jackson's ability to stop the bout from hitting the mat.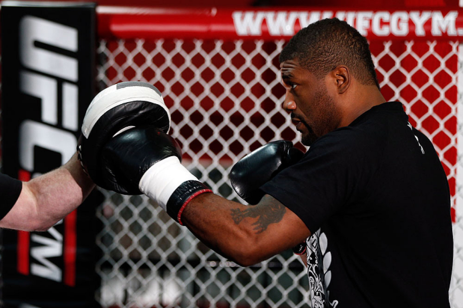 Photo by Josh Hedges/Zuffa LLC/Zuffa LLC via Getty Images
Without question, Jackson's best chance of victory is if he can box with Teixeira.
Rampage's technical ability and raw power is a very real threat to end the hype surrounding Teixeira. Even a worked-over Fabio Maldonado was able to briefly stagger Teixeira in their last fight. If Rampage lands that same shot, it could be all over.
Rampage is still a quality fighter, but he is on the downside of his career. The new crop of light heavyweights know his weaknesses and can exploit them. Rampage has to work harder at keeping the fight on the feet to utilize his best weapon.
Will Rampage be given space and time to use his hands? We will find out on Saturday.