Ilya Bryzgalov and the 10 Wackiest Goaltenders in NHL History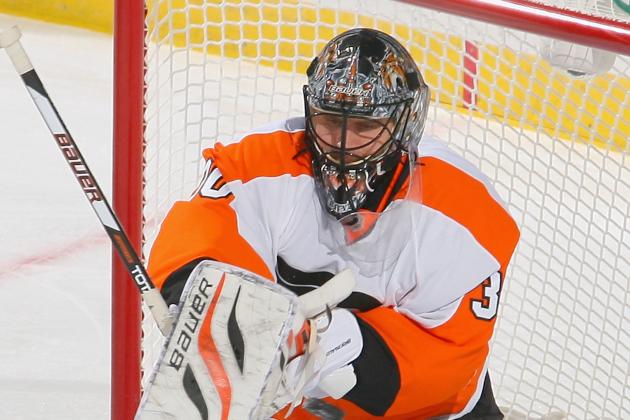 Rick Stewart/Getty Images

Let's face it, goalies are "different." That shouldn't come as a surprise when you figure that your job is to get in the way of a piece of frozen rubber flying at you at about 100 mph.
Years ago, when equipment wasn't so advanced, it hurt to stop the puck. Heck, before the 1970s, most goalies didn't even wear masks, so the job was quite hazardous.
Over the years, goalies have been called flakes, wacky, strange and many other things I can't print.
Here is a look at the 10 wackiest goalies in NHL history.
Feel free to add to the list or mention any you think I've missed (there are plenty of candidates). Good stories to back up your candidate are always appreciated.
Begin Slideshow

»
Damian Rhodes played for the Leafs, Senators and Thrashers from 1990 through 2002.
Rhodes had his own odd pregame ritual: he dyed his hair blond before home games when he played for the Senators.
The former Michigan Tech star also became the first NHL goalie to score a goal and record a shutout in the same game on January 2, 1999, when Ottawa blanked the Devils 6-0.
Glenn Hall set an NHL record that will likely never be broken when he started 502 consecutive games for the Blackhawks.
Before each game "Mr. Goalie" had his own strange ritual. Hall would throw up and then drink a glass of orange juice. For some reason, if he didn't throw up, he felt he didn't play as well.
Hall won the Stanley Cup with Chicago in 1961 and was inducted into the Hockey Hall of Fame in 1975.
Patrick Roy was one of the best goalies in NHL history.
He helped make the butterfly style of goaltending popular by the mid-1990s and won three Conn Smythe Trophies as the league's most valuable player in the playoffs.
Roy had his own strange ritual before games: While some goalies banged their stick on the goalposts during warm-ups, Roy appreciated his goalposts so much he kissed them before the start of each period.
Roy finished his career with 551 victories and was inducted into the Hockey Hall of Fame in 2006.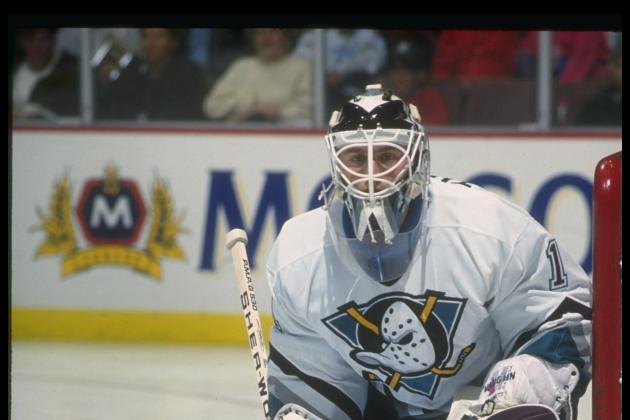 Glenn Cratty/Getty Images

Ron Tugnutt was a journeyman goaltender with eight different NHL teams between 1987 and 2004.
His most famous moment came on March 21, 1991, when he made 70 saves for the Nordiques in a 3-3 tie with Boston.
Tugnutt had a unique pregame ritual of his own. He wouldn't let play start until he had skated a small figure eight in his crease.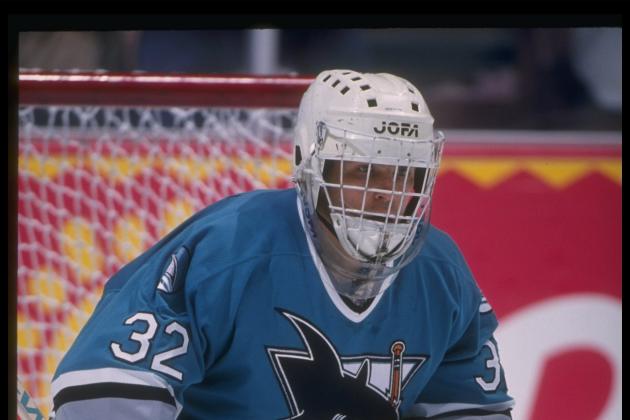 Al Bello/Getty Images

Arturs Irbe played in the NHL from 1991-2004.
The Latvian netminder played well for the Sharks, Stars and Hurricanes during his career.
Irbe's wacky ritual was sewing his own goalie pads before each game.
His superstitions didn't hinder his NHL career. He played in two All-Star Games and later became an NHL goalie coach.
Gary "Suitcase" Smith was a big-time character and one of the most original goalies out there.
He earned his nickname when he was still in the minors because he was traded so many times.
Smith played a handful of games with the Maple Leafs before expansion and tried to stick-handle the puck up the ice several times. The league changed the rules and prohibited goalies from crossing the red line as a result of Smith's antics.
He also had his own ritual between periods: He drank seven glasses of water and then took all of his equipment off until he was naked. Then he got dressed and got ready for the next period.
In addition to the Leafs, Smith played for the Seals, Blackhawks, Canucks, North Stars, Capitals, Jets and the WHA's Indianapolis Racers.
Anybody who watched HBO's 24/7 last December leading up to last year's Winter Classic could tell that Philadelphia Flyers goalie Ilya Bryzgalov was a little different.
The clip that shows Bryz trying to explain the universe is included on this page.
Bryzgalov is a successful NHL goalie; he just has a different way of looking at the world than most of us.
Gump Worsley was a true old-school goalie, a real throwback to the days of the Original Six.
He hated to wear masks and didn't wear one until the final few games of his lengthy career. "My face is my mask" was his famous quote.
He was short and chubby and didn't look anything like an athlete.
Gumper was also afraid to fly, which couldn't have helped him after expansion hit in 1967 and air travel became the norm.
He also was famous for his quips. When a reporter asked Worsley which team gave him the most trouble, Gumper famously responded "the Rangers," the team he played for at the time that was always mired at the bottom of the standings.
Yet he also won a pair of Vezina Trophies and four Stanley Cups. Worsley was inducted into the Hockey Hall of Fame in 1980.
Gary Simmons played only four seasons in the NHL, but he left his mark on teammates and opponents alike with his unique attitude towards life.
Nicknamed "Cobra" for his snakelike moves in net, Simmons wore one of the most famous masks in NHL history.
He had more than 10 tattoos on his body, including one just below his knee of a chicken hanging in a noose. Former teammate Jim Pappin explained in an interview that Simmons would bet opposing players that he had a cock that hung below his knee, a bet he would often win.
Simmons also sold Native American jewelry to teammate and opposing players.
He retired after the 1978-79 season. The NHL has never seen another quite like "The Cobra."
Gilles Gratton is better remembered for his tiger mask than his brief NHL career.
"Gratoony the Loony" was a different kind of cat when he played for three seasons in the WHA seasons and two in the NHL.
According to former teammates, Gratton thought he was the reincarnation of an old soldier from the Spanish Inquisition, and the pucks being shot at him were in response to something he did in that past life.
He also growled like a tiger while standing in his crease.
After he retired, Gratton lived for a time on a hill in France. Needless to say, he was the NHL's wackiest goalie.