The spread, a term that in common usage has come to mean everything from shotgun two-wide sets to the Air Raid offense and the zone-read scheme, has taken the college world by storm. The proliferation started in the late 1990s and since then has picked up steam as teams find ways to make use of the innovative offensive schemes.
Here at Your Best 11 we've talked about why the offenses are so difficult to stop.
They put pressure on defenses and stretch teams to their limits—both mentally and physically. Through the air they get bodies in space. On the ground they make linebackers and defensive linemen guess at who will carry the ball.
Stopping these offenses is no small order, and what they have already done to college defenses is remarkable.
Points are being scored at a rapid pace. As USA Today reported during the season, scoring has been at an all-time high over the last six years. That time period coincides with the switch of many programs to up-tempo, spread offenses.
We've seen what the spread has done to defenses. As coaches look to adapt, the spread will do more than just alter schemes, increase scoring and drive defensive coordinators crazy; it will change the complexion of defenses as a whole.
The beauty of the spread, from an offensive perspective, is that it takes so many of the hard parts of football and minimizes the risks and errors associated with them. While minimizing risks, it also maximizes results by cutting down on the number of substitutions defenses can make and forcing defenders to make tackles in space.
To combat this, coaches are going to have to change the way they use their defensive personnel. Some coaches are already using converted safeties at linebacker, playing an extra linebacker or switching to 3-4 to get more stand-up speed on the field.
Getting faster also means getting smaller in many cases.
Linebackers have to be more versatile. That means moving side to side and being able to play the run and pass adequately. Since most spread teams are not running power downhill at linebackers, smaller backers can work in chasing down plays from sideline to sideline.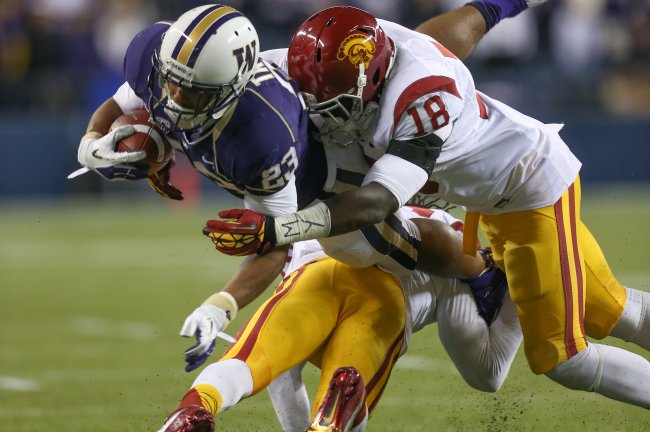 Otto Greule Jr/Getty Images
The same linebacker who is built to run side to side is also well suited to cover the backs and tight ends who sneak into pass routes. Because they are not fighting off lead blockers every play, these linebackers become the ideal players to stop the spread at the college level. They can play every down and be effective against the run and the pass.
With the exception of places that can routinely recruit physical freaks, expect linebackers to get smaller. Teams don't need the 240- or 250-pound hammers that power football required. They need the 230-pound guy who can get to the edge in a hurry and track down a dual-threat quarterback.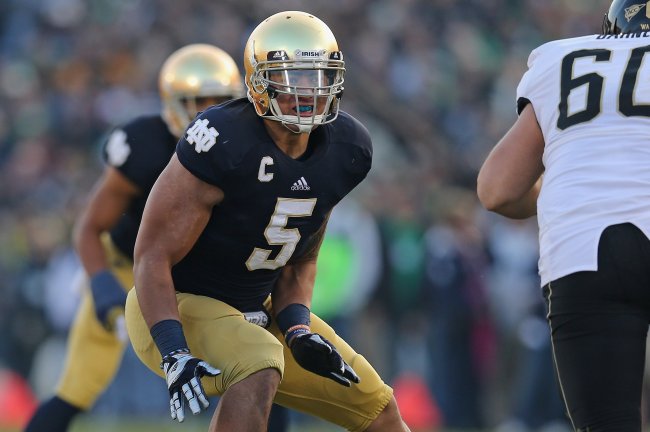 Jonathan Daniel/Getty Images
This change has been happening slowly. But as the spread multiplies in all of its forms, expect the shrinking of linebackers to progress rapidly.
That means teams will get smaller on a multitude of fronts. There will be more full-time nickel packages, More 4-2-5 or, in some cases, 3-3-5 looks as pass-rushing and run-stopping get dumped in favor of more on-field speed.
At Your Best 11, we've talked about how defensive coordinators need to wrestle the game back from the high-tempo, point-scoring offenses. The linebacker position, as the spot most tasked with adapting to what offenses do, is going to come under the most scrutiny.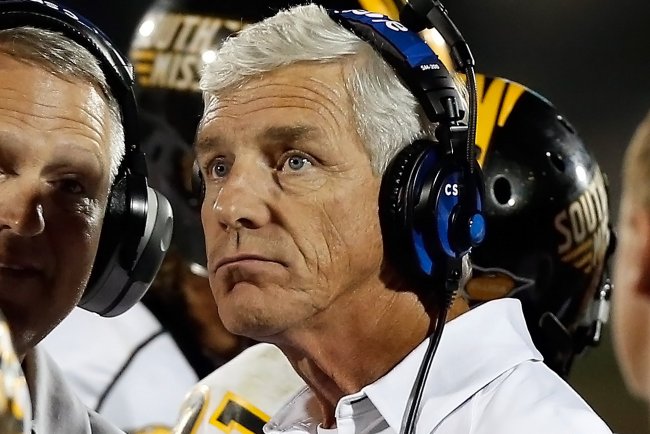 J. Meric/Getty Images
Are your linebackers fast enough to cover their zones against a quarterback with a quick trigger?
Would your team benefit from getting an extra safety on the field instead of the linebacker who might not be quick enough? Is it worth the vulnerability in the run game to play with a hybrid linebacker-safety who is smaller?
Defensive backs are always going to cover the outside guys and patrol the back end. Defensive linemen are always going to get after the quarterback and try to stop the run. Linebackers are the players who must adjust as offenses change their focus.
For today's linebackers, that adjustment comes not only in mere responsibilities and alignments, but also in their bodies.
With the exception of a handful of physical specimens who run like deer and still push 250 pounds, that massive hulking linebacker in the middle has gone out of style. He was great at stopping the run, but today's backers have to play in space and be able to move as well backward and sideways as they do running downhill.
Players who would have been solid linebackers defending teams' power attacks a half-decade ago will likely end up with their hands down as defensive ends. Guys who would have been the big safety in the early 2000s will probably slide down into the box and find their home as a linebacker.
DeVonte Holloman played a hybrid safety/backer at South Carolina
Most teams are already making this push to get more speed on the field. After a season where the spread so clearly dominated much of the landscape, in every conference, expect more teams to make the shift. The tempo is no longer just a Big 12 and Oregon thing. North Carolina and Clemson in the ACC, Ohio State in the Big Ten, Texas A&M, Tennessee and Auburn in the SEC, plus Arizona and Arizona State in the Pac-12 all have or will push the tempo using the spread.
Defensive coaches have to figure out how to stop it, and more speed on the field is the first answer.
You get the speed on the field and tweak your assignments and alignments from there. Smaller linebackers, hybrid linebackers and converted safeties are going to be seen with increasing regularity in the collegiate ranks.
And because football is cyclical, as linebackers get smaller to combat the spread, how soon before coaches opt for the power attack to exploit size advantages?