The NBA's Most Underrated Flashy Passers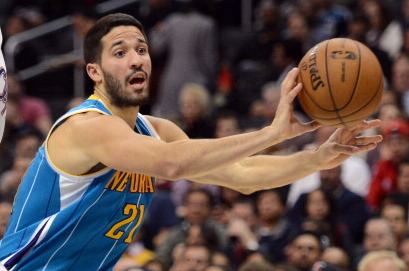 Harry How/Getty Images

As NBA fans salivate over highlight reels of renowned floor generals like Chris Paul and Rajon Rondo, there are several lesser-known yet skilled players who deserve our attention at the point guard position.
The pool of talent at point guard is so deep that it's easy for some small-market gems to go unheralded, as several of these flashy passers have.
Despite playing on some of the league's less-talented teams, these players have stood out, thanks in part to their phenomenal work handling and passing the basketball.
Begin Slideshow

»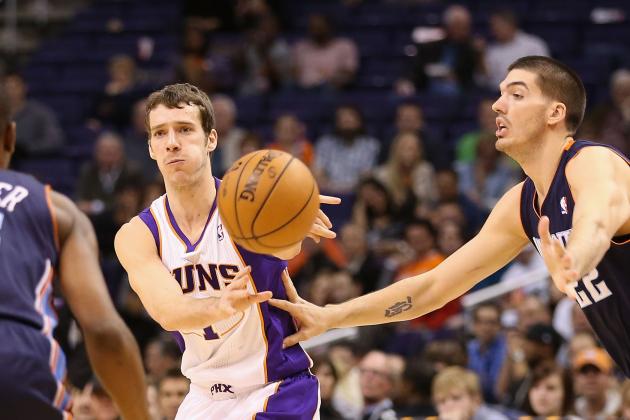 Christian Petersen/Getty Images

At 15-28, the Phoenix Suns have the second-worst record in the Western Conference, as their unbalanced and relatively bland lineup has disappointed even more than prognosticators believed it would.
Fortunately, there's still one reason to tune into Suns games, and that reason is point guard Goran Dragic.
In his fifth NBA season, the Slovenian floor general has lived up to the generous contract the Suns bestowed upon him this past summer, averaging 14.2 points and 6.2 assists as the team's starting point guard.
Replacing Steve Nash's production is a nearly impossible task, but Dragic hasn't let lofty expectations faze him, as he's shown a versatility and international flair on a nightly basis.
Dragic ranks 19th in the NBA in assists, and that's with a lousy supporting cast. Were Dragic surrounded by a more talented bunch, he would threaten to crack the top 10 in assists.
Richard Mackson-USA TODAY Sports

The New Orleans Hornets haven't been consistent in Year One of the Anthony Davis era, but head coach Monty Williams has the pieces to mold his squad into a legitimate playoff team in the near future.
The most pleasant surprise for the Hornets, and perhaps one of the biggest in the NBA, has been the emergence of point guard Greivis Vasquez, who has made the transition from role player to full-fledged starter in his third professional season.
From his rookie season of 2010-11 to his sophomore campaign of 2011-12, Vasquez's assist numbers more than doubled, from 2.2 to 5.4 per game.
However, Vasquez's leap into the NBA's upper echelon of passers has occurred during his third NBA season. He ranks third in the NBA in assists (9.1 per game), behind only Rajon Rondo and Chris Paul.
With Ryan Anderson, Anthony Davis and Eric Gordon beside him to lend a helping hand, Vasquez is quickly emerging as one of the game's most lethal and underrated passers.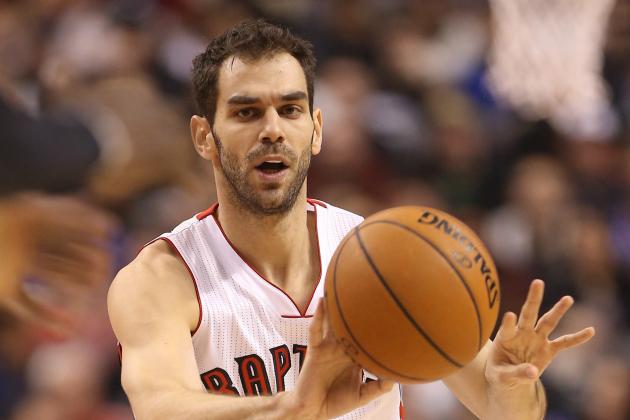 Tom Szczerbowski-USA TODAY Sport

Of the NBA's top-10 leaders in assists, Jose Calderon is the only player in this list who's averaging fewer than 30 minutes per game (28.2).
Calderon ranks eighth in the NBA in assists, but the Toronto Raptors' point guard is known for not only creating plays for his teammates but also for taking extremely good care of the basketball. The Spanish sensation is again leading the league this season in assist-to-turnover ratio, with a mark of 4.65 assists per turnover, following up last year's effort in which he led the NBA with 4.50-to-one ratio.
In the final year of his contract, Calderon's future in Toronto appears cloudy, and in December Hoopsworld listed him as one of the league's most likely players to be dealt at the deadline.
A flashy and efficient player (PER of 19.98) of Calderon's caliber will be a sought-after commodity if he is indeed made available. He could lend a helping hand to a championship contender seeking that one final piece.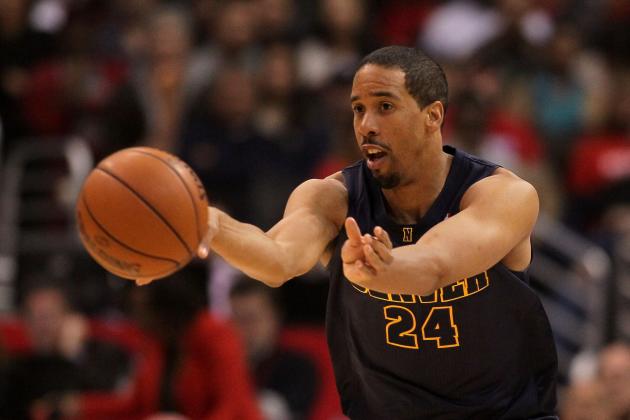 Victor Decolongon/Getty Images

I know what you're thinking. Andre Miller is aging, slow and his style of play looks more fit for a YMCA than an NBA floor.
If your thoughts align with those above, perhaps you should reconsider your stance on the Denver Nuggets' point guard.
Miller's game, at the age 36, is a beautiful thing to watch, as he wears down opponents with his veteran savvy and his artful passing out of the mid-post.
Change of pace takes on a different meaning with Miller, who is used in relief of lightning-quick starter Ty Lawson, giving the Nuggets a more controlled, deliberate dimension in the half court.
Miller's assist numbers have been slowly declining with age (down to 5.7 per game this season), but his wizardry handling the basketball continues to mystify observers.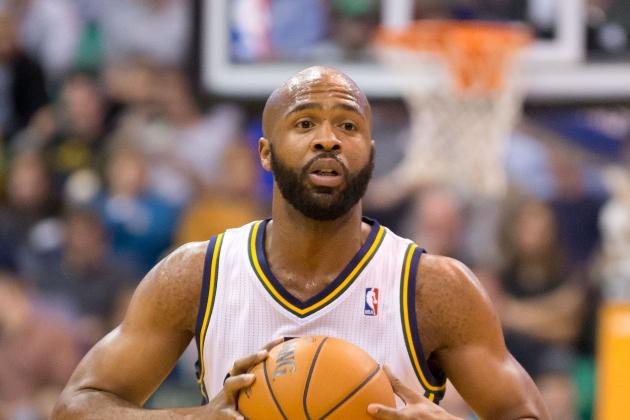 Russ Isabella-USA TODAY Sports

Jamaal Tinsley's NBA career has not been filled with tremendous accomplishments, but he's shown enough to be considered one of the league's craftiest passers.
Tinsley has seen a bump in minutes with Mo Williams sidelined due to injury, and while he doesn't score quite the way Williams does, he's a more than capable passer and a surprisingly good ball-handler.
In 20.9 minutes per game with the Utah Jazz this season, Tinsley is averaging 5.2 assists per contest, up from a mark of 3.3 a year ago.
Still not convinced? Take a look at Tinsley's no-look dish against the Indiana Pacers from early 2012.
Much like Andre Miller, Tinsley is a player who has found ways to adapt and improve his game with age.