Syracuse Orange Last Big East Roundup: A Harbinger for Postseason Success?
Use your ← → (arrow) keys to browse more stories
Mike Stobe/Getty Images

The Syracuse Orange, now one-third of the way through their conference schedule in their last Big East season, sit atop the league standings after Monday's win against Cincinnati.
But this is hardly a time for complacency. There are no nights off in the Big East, and every coach will tell you that any road win is a good win.
Though Syracuse is now 6-0 in conference play, the meat of their schedule is looming.
For Syracuse to continue its pursuit of the Big East regular-season crown, and possibly a No. 1 seed in the NCAA tournament, how they perform in these five games will be crucial.
February 2 at Pittsburgh
Jamie Dixon's teams always show up on the defensive end, lunch pails in hand, ready
for a physical tussle. The Panthers would start guarding teams in their pregame lay-up lines if they could. Expect more of the same this time around.
Though the Panthers lack a proficient scorer (Talib Zanna leads them at 11.8 points
per game), they make up for that with depth. Lots of depth. Pittsburgh has 10 players averaging between 28 and 12 minutes per contest. Depth like that translates into not letting up on the defensive end.
Syracuse's bigs will have to hold their own on the glass while staying out of foul
trouble. The Orange will also have to make perimeter shots to avoid a slug fest down low, which is playing right into Pitt's hands.
How many of these five games will Syracuse win?
February 23 vs. Georgetown
Syracuse's last Big East home game against its long-time nemesis. If that isn't enough to get the competitive juices flowing that day, toss in the jersey retirement ceremony for Carmelo
Anthony. How much would Georgetown like to put a damper on Anthony's day?
Similar to Pittsburgh, the Hoyas have been known to play a little defense. With three conference losses in its first six games, including one to cellar-dweller South Florida, Georgetown will need to claim a few scalps from the league heavies if they want to move up in the standings. And who better than their
main rival?
Like his father before him at Manley Field House, the last thing any Syracuse fan wants is John Thompson III walking out of the Carrier Dome for the last time, victorious.
February 25 at Marquette
This year's Marquette team is a similar version to recent others. They don't have much size, but they are ripe with wing athletes who drive the ball to the hoop and finish in transition.
The Golden Eagles win games in a variety of ways. They started 2013 off on a good note by taking down UConn in an overtime thriller on New Year's Day. Georgetown was the next to fall in a low-scoring affair, 49-48. Marquette completed the trifecta by out-toughing Pittsburgh on the road in another overtime contest.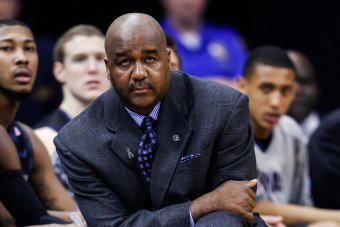 Michael Hickey/Getty Images
Syracuse and Marquette have played some tightly contested games over the past few seasons, including meeting in the 2011 NCAA tournament where the Golden Eagles prevailed. The Orange better hope they aren't trailing in the last couple of minutes of this year's game, as six Marquette players are shooting better than 72 percent from the charity stripe.
March 2 vs. Louisville
The rematch.
If Rick Pitino needs to fuel his team with any extra incentive for this game, all he needs to do is show them the tape of Syracuse coming from behind earlier this year to steal away the game in the final minute and knock off then-No.1 Louisville on the road.
Despite the loss, the Cardinals are one of the most talented teams in the nation. Being the third-to-last game of the regular season for both teams, the result of this one could have an enormous impact on
the seeding of not only the Big East Tournament, but also a possible No. 1 seed in the NCAA tournament.
For the Orange to earn a sweep of the Cardinals, they'll have to do a much better job of taking care of the ball than they did in the first matchup. And Syracuse should bring their track shoes
to this game, too, because Louisville's defensive pressure is like an American Express card; they never leave home without it.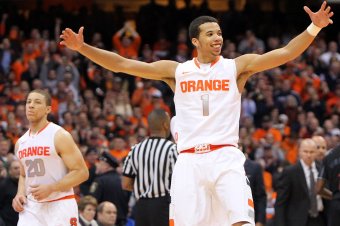 Nate Shron/Getty Images
Syracuse should have attendance of over 30,000 for this Saturday afternoon tilt, but even a deafening venue won't mean anything if they allow Louisville to cash in on turnovers and drain their threes. This
one could be the Big East game of the year.
March 9 at Georgetown
Syracuse's last regular-season Big East game. And it's on the road against Georgetown. Irony, thy name is fitting.
This game reeks of the league schedule makers saying to Syracuse, "You want to leave us for the ACC? Fine. We'll let the Hoyas be the doorknob in your backside on the way out. Good luck."
And as a parting gift, how much would the league office like Georgetown to be the ones to cost the Orange a possible regular-season championship and the top seed in the conference tournament?
The possibility of such an outcome must bring a smile to the face of Big East commissioner Mike Aresco.