B/R MMA Staff Predictions for UFC on Fox 6 Preliminary Card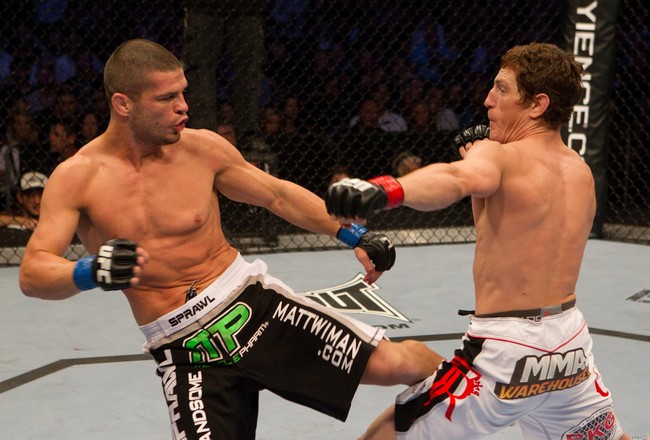 Courtesy of MMAMania

As you impatiently count down the days until UFC on Fox 6, the B/R staff is here to both placate and occupy your mind with our predictions for Saturday's preliminary card bouts.
There are a number of compelling encounters on the undercard, including Clay Guida vs. Hatsu Hioki—in what could be a featherweight title eliminator. We can also look forward to Matt Wiman vs. TJ Grant, in a contest that is bound to deliver plenty of action.
So, without further delay, Scott Harris, Riley Kontek, Dwight Wakabayashi, Andrew Saunders and myself, James MacDonald, will now offer our picks for Saturday night's undercard.
Simeon Thoresen vs. David Mitchell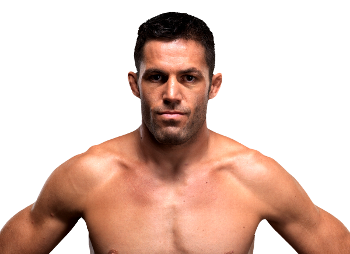 Courtesy of the MMA News
Scott Harris: Norway's Thoresen is a good, though not great, prospect out of Europe. He's mainly a grappler, as is David Mitchell, though Mitchell has more experience on the Ben Affleck lookalike circuit. Nevertheless, I think Thoresen gets the W.
Thoresen, Split Decision
Riley Kontek: David Mitchell may be 0-2 so far in his career, but he has taken on some tough opposition. Thoresen is a solid grappler, but he is over his head on the ground taking on a superior grappler who is ready to give UFC fans a win.
Mitchell, Submission, Round 2
James MacDonald: David Mitchell is on his third strike here, having gone 0-2 thus far in his UFC career. With his spot on the line, I expect Mitchell to go all out in search of his first win inside the Octagon. Unfortunately, his mechanical-looking striking game may be his undoing against Simeon Thoresen. I expect the Norwegian to control the stand-up exchanges and earn a unanimous-decision win.
Thoresen, Unanimous Decision
Dwight Wakabayashi: Both of these men are known for their grappling prowess more than anything, so those skills could cancel out and present a nice slugfest. Thoresen has a win in the UFC and Mitchell doesn't, but he has faced tougher competition.
Mitchell, Unanimous Decision
Andrew Saunders: David Mitchell has been thrown into the deep end as far as a promotional newcomer goes, but I think he has finally been given an opponent on his own level. I think Mitchell's grappling takes this fight and he will finally get the elusive win.
Mitchell, Unanimous Decision
Staff Picking Thoresen: Harris, MacDonald
Staff Picking Mitchell: Kontek, Wakabayashi, Saunders

Rafael Natal vs. Sean Spencer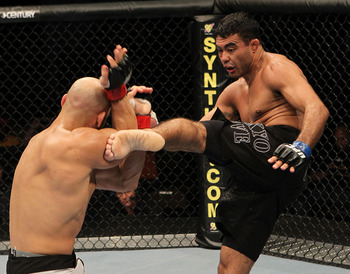 Courtesy of UFC.com
Scott Harris: When the UFC comes calling, you've got to pick up that phone. Unfortunately for 25-year-old Sean Spencer, on the other end was Rafael Natal, a tough out for any experienced middleweight, not to mention a 25-year-old welterweight. I hope the phone rings again for a well-rounded headhunter in Spencer, but this weekend he'll get handled.
Natal, Submission, Round 2
Riley Kontek: I am high on Sean Spencer's skills, but taking a short-notice fight in a weight class above where you fight is rarely a success. Add to that the fact he is taking on a very experienced UFC veteran who is a large middleweight, and it spells trouble for Spencer.
Natal, Unanimous Decision
James MacDonald: It's both good news and bad news for Sean Spencer. The good news is that he has made it to the dance. The bad news is that he is being thrown in against a particularly good dancer in Rafael Natal. Even worse news is that, as a natural welterweight, he will be at a significant size disadvantage. And unfortunately, I see the size disparity being too much for the UFC newcomer to contend with.
Natal, Unanimous Decision
Dwight Wakabayashi: Spencer steps in for Magnus Cedenblad and has a significant size disadvantage going in against Natal. I think it will be just too much for the Virginia native to overcome. If he lasts with Natal, his stock will go up considerably. Natal is no contender at middleweight, but he should be able to finish Spencer.
Natal, Submission, Round 2
Andrew Saunders: Natal is coming into this fight with a size advantage and a full training camp. Those two things play largely into his favor. To be fair, I think he would have won this fight even if Spencer had gotten a quality camp.
Natal, Submission, Round 3
Staff Picking Natal: Harris, Kontek, MacDonald, Wakabayashi, Saunders
Staff Picking Spencer: None

Mike Stumpf vs. Pascal Krauss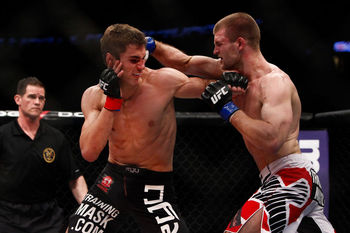 Courtesy of MMA Junkie
Scott Harris: Pascal Krauss will undoubtedly want to retrack his hype train in this one. And I think he'll get it done against Mike Stumpf, whom I've never heard of. A glance at his record reveals he has a win over Kenneth Allen, also known as the greatest tomato can in MMA history. So that's a fun thing. Submission of the Night dark horse, right here.
Krauss, Submission, Round 1
Riley Kontek: Pascal Krauss is an extremely underrated fighter, and Mike Stumpf looked incredibly overmatched in his UFC debut. I expect Stumpf to succumb to a tapout again and earn his walking papers.
Krauss, Submission, Round 2
James MacDonald: Having come unstuck last time out against the oft-hyped Brit John Hathaway, I expect Pascal Krauss to get back to winning ways against Mike Stumpf, who we last saw tapping to a TJ Waldburger triangle. I anticipate a similar outcome on Saturday.
Krauss, Submission, Round 1
Dwight Wakabayashi: Krauss is a highly touted up-and-comer coming off the first loss of his career against John Hathaway, and Stumpf is coming off a first-round submission loss to TJ Waldburger. Krauss should be a favorite for submission of the night.
Krauss, Submission, Round 2
Andrew Saunders: Krauss is a prospect coming off of a setback. Although, a loss to John Hathaway is nothing to be ashamed of. This is a solid rebound fight for the Roufusport grappler.
Krauss, Submission, Round 1
Staff Picking Krauss: Harris, Kontek, MacDonald, Wakabayashi, Saunders
Staff Picking Stumpf: None

Mike Russow vs. Shawn Jordan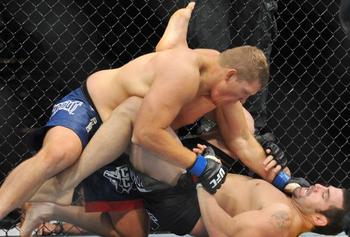 Courtesy of Sherdog
Scott Harris: This is a feast-or-famine matchup in the heavyweight division. Both these guys are bruisers who don't tend to finish, so it could be an extended slugfest. But the more likely scenario is that college wrestler Russow holds the one-dimensional Jordan's head below the deep water for three rounds.
Russow, Unanimous Decision
Riley Kontek: Mike Russow will be performing in front of his home crowd against a guy who struggled with Cheick Kongo's clinch in his last outing. Russow is far more dangerous in the clinch and rarely lets guys off their back when they get planted on the mat. Call the judges for this one.
Russow, Unanimous Decision
James MacDonald: If Shawn Jordan's last fight is anything to go by, his upcoming bout with Mike Russow will be of little interest to anyone besides insomniacs and masochists. With that said, Jordan should be able to utilise his superior athleticism to grind out a decision.
Jordan, Unanimous Decision
Dwight Wakabayashi: With all due respect to both these big men, I think you may want to head for a washroom break for this one, as history and styles tell me that this could be a case of who has the better bear hug. Both men are coming off losses, but Jordan is more in need of a bounce back after his brutal performance against Cheick Kongo. He is also the younger fighter, with more upside.
Jordan, Unanimous Decision
Andrew Saunders: This fight is going to be determined by whether or not Jordan can stuff the takedowns of his opponent. With Russow having a clear advantage in that department, it ultimately comes down to whether or not Jordan can use his power advantage to shrug his opponent off. Ultimately, the wrestling of Russow will be too much for Jordan, and he will be smothered by his opponent, who likes to use weak ground-and-pound to stay active enough that the referee doesn't stand it back up.

Russow, Unanimous Decision
Staff Picking Russow: Harris, Kontek, Saunders
Staff Picking Jordan: MacDonald, Wakabayashi

Ryan Bader vs. Vladimir Matyushenko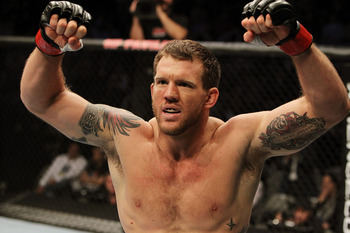 Courtesy of UFC.com
Scott Harris: I'm definitely a Matyushenko fan, and kudos to him for returning to the cage despite having a perfect (and perfectly sensible) reason to retire following an Achilles tendon tear. The heart will pull for "The Janitor" in this case, but the head doesn't want to hear it.
Bader, TKO, Round 3
Riley Kontek: Vladimir Matyushenko has had a great MMA career, but he's no rookie at this point. He is in his 40s, while Ryan Bader is the young, hungry lion with cannons for fists. This may be the last hoorah for Matyushenko.
Bader, TKO, Round 2
James MacDonald: Vladimir Matyushenko is a crafty veteran, but at 42 years of age, he is perhaps out of his depth against the younger, more athletic Ryan Bader. While I don't anticipate the TUF Season 8 winner being able to outwrestle such an accomplished grappler, Bader should have too much power for the Russian.
Bader, TKO, Round 2
Dwight Wakabayashi: Matyushenko is still fighting top guys after all these years, and you can never count the veteran out. I just think Bader is in a bad mood and is a bad match up for Vlady, and he is gonna pay a fast price.
Bader, TKO, Round 1
Andrew Saunders: The most dangerous aspect of Matyushenko's game is his ground-and-pound. Unfortunately, due to the superior wrestling and strength of his opponent, it's hard to imagine The Janitor getting top position and inflicting damage. This fight will likely see Bader use heavy pressure to work Matyushenko to the floor. Once there, he will not be willing to give up position in hopes of doing damage. Expect "Darth" to employ a "safe" style of fighting in order to take home the decision victory.
Bader, Unanimous Decision
Staff Picking Bader: Harris, Kontek, MacDonald, Wakabayashi, Saunders
Staff Picking Matyushenko: None

Clay Guida vs. Hatsu Hioki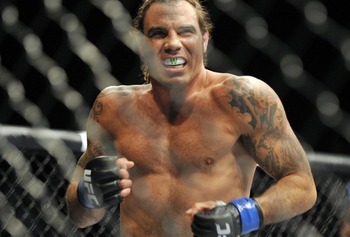 Courtesy of CagePotato
Scott Harris: It might feel almost awkward to watch this fight, like making small talk with a buddy who just got s-canned. But it's partly of Clay Guida's own making, thanks to that maddening Gray Maynard performance. Hioki won't be able to stuff Guida's takedowns, and Guida will surely be hungry to make good in his featherweight debut.
Guida, Unanimous Decision
Riley Kontek: This is a great matchup for Clay Guida. Ricardo Lamas easily controlled Hatsu Hioki in their recent encounter, and Clay Guida is arguably the better wrestler. Expect a workmanlike decision from "The Carpenter."
Guida, Unanimous Decision
James MacDonald: This is bound to be a great fight, particularly if you appreciate grappling. Although it's difficult to anticipate how Guida will look on his featherweight debut, I have always felt that he has the frame to compete at 145 pounds. As talented as Hioki is as a grappler, "The Carpenter" will likely be able to use his wrestling and suffocating top control to earn a decision. However, don't expect Hioki to make it easy for him.
Guida, Unanimous Decision
Dwight Wakabayashi: If Guida wants to come in to the division and establish his all-around game, we could see some cool trading early in this one. Something tells me he will go to the takedowns early, if not right away, and I don't like Hioki's chances of stopping him. Hioki may try for some submissions from his back, but he won't get them and won't be able to get out from under the new featherweight contender.
Guida, Unanimous Decision
Andrew Saunders: Guida showed us in fights with Gray Maynard and Anthony Pettis that he simply isn't happy being known as an exciting fighter. With 16 UFC appearances, he wants to earn a title shot by any means necessary, and I think we are in for a grinding performance similar to the one he turned in against Pettis. Hioki is a solid featherweight with tremendous upside, but the Lamas loss derailed his momentum completely.
Guida, Unanimous Decision
Staff Picking Guida: Harris, Kontek, MacDonald, Wakabayashi, Saunders
Staff Picking Hioki: None

TJ Grant vs. Matt Wiman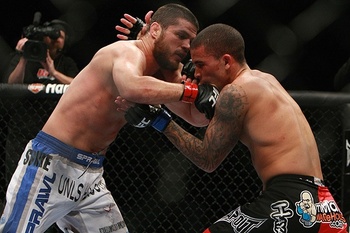 Courtesy of Sherdog
Scott Harris: T.J. Grant is one of the best grapplers at 155, as evidenced by his 3-0 record there. Sure, Wiman tapped Paul Sass, but Sass was getting the better of Wiman until recklessness got the better of Sass. Grant won't give Wiman the easy out.
Grant, Unanimous Decision
Riley Kontek: Matt Wiman is easily one of the most underrated fighters in any weight class in MMA. T.J. Grant may be on the rise at 155, but Wiman will finally prove why he is arguably a top-10 lightweight in the UFC.
Wiman, Unanimous Decision
James MacDonald: The interminably underrated Matt Wiman has come a long way since Season 5 of The Ultimate Fighter. He boasts a relentless style that is both exciting and effective in equal measures. T.J. Grant has some promise, but Wiman's style may overwhelm him.
Wiman, Unanimous Decision
Dwight Wakabayashi: T.J. Grant is on a fantastic roll right now, and his all-around game is extremely tough to handle. Unpredictability and pace play a big role in him keeping his opponent guessing. Grant is a great grappler who proved his striking chops in his last win against Evan Dunham. Wiman is a gamer and as tough as they come, and his skills are also very underrated. Should be a Fight of the Night candidate.
Grant, Unanimous Decision
Andrew Saunders:
First things first, I think T.J. Grant lost to Evan Dunham at UFC 152. That win is the only reason he is in a fight with a rising star like Wiman, and I think he is outmatched. His only chance of victory comes by way of submission, and Wiman isn't one to get caught with something stupid. Unless "Handsome" Matt injures himself by slipping on the Movie 43 logo, he should take this fight handily.
Wiman, TKO, Round 2
Staff Picking Grant: Harris, Wakabayashi
Staff Picking Wiman: Kontek, MacDonald, Saunders

Keep Reading