Fantasy Basketball Players Who Will Break Out in NBA Season's Second Half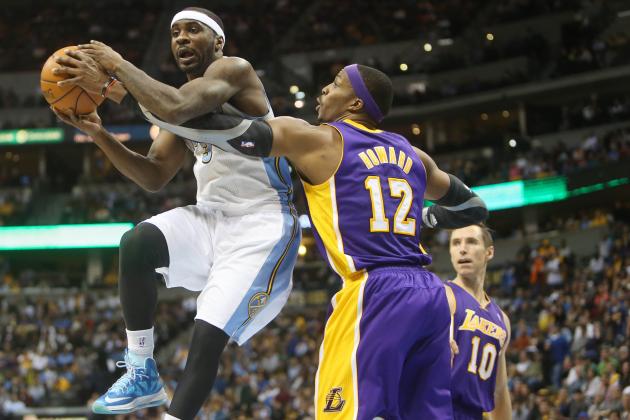 USA TODAY Sports

Fantasy basketball owners are typically pleased when a player gets plenty of run—unless the stats he's piling up are of the negative variety. Ty Lawson and Andre Iguodala don't need another trade to shake up the Denver Nuggets roster in order to play more minutes, but each of them should improve their respective fantasy games as the season wears on regardless.
A couple of marquee fantasy big men—and John Wall—haven't performed up to expectations this season due to injuries that they're working through. While Dwight Howard may never hit 80 percent of his free throws, there is reason to believe that the rest of his fantasy game will improve beyond the 16.7 PPG, 12.0 RPG and 2.5 BPG that he's averaging this year.
It should simply be a matter of time before Dirk Nowitzki becomes Dirk Nowitzki again.
All stats accurate prior to games played on Jan. 24, 2013.
Begin Slideshow

»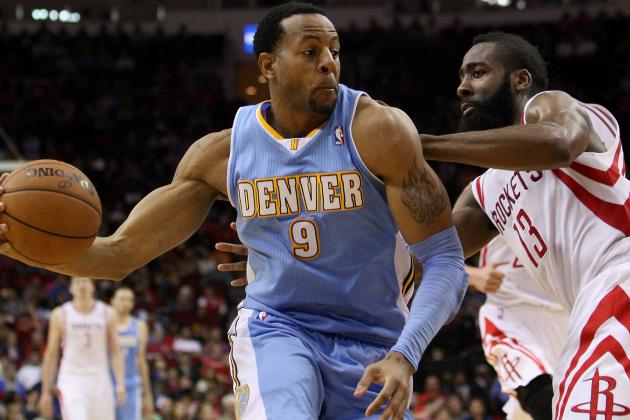 USA TODAY Sports

Andre Iguodala still hasn't fully blended into the Denver Nuggets lineup. Per Benjamin Hochman of the Denver Post, Iguodala admitted: "I'm probably behind the curve…It's been a roller-coaster as far as comfort level, the ups and downs of the NBA season, but that happens in transition."
He's averaging double-figure scoring along with around five rebounds and assists nightly, but it's the peripheral numbers that have been so bad with the Nuggets swingman. Iguodala is converting just 43.3 percent of his field-goal attempts, 61.4 percent of his free-throw attempts and turning the ball over 2.6 times per game.
Those percentages are terrible enough to make fantasy owners consider dropping Iguodala, if it weren't for his name value. More time with the team will—hopefully—rectify his lack of efficiency.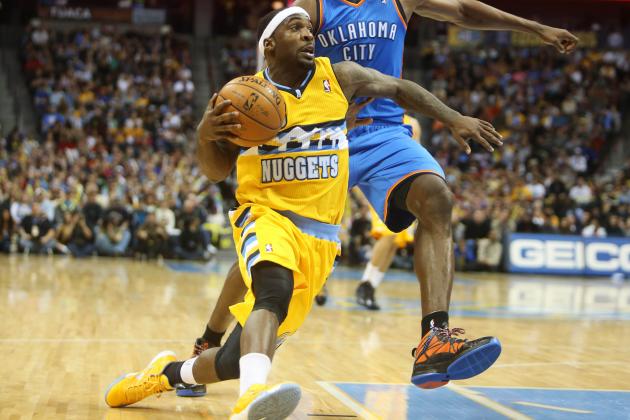 USA TODAY Sports

Ty Lawson has a history of turning things up after the All-Star break. In each of his last two seasons, he's shot better from the field, the arc and the line in addition to putting up more points and dimes after watching the All-Star festivities.
In 2011-12, Lawson shot 47.3 percent from the field, 30.5 percent from deep and 80.2 percent from the line to go with 15.4 PPG, 6.1 APG and 1.4 SPG in 30 games before the break.
In the 31 games afterward, Lawson converted 50.1 percent of his field-goal attempts, 40.7 percent of his three-pointers and 84.5 percent of his freebies.
He averaged 17.3 PPG, 7.0 APG and 1.3 SPG during that time.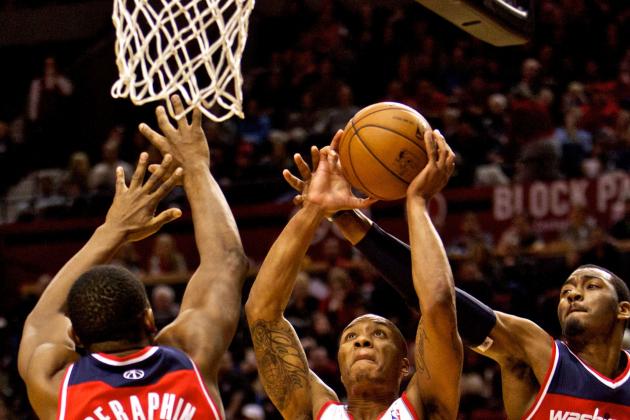 Craig Mitchelldyer-USA TODAY Sports

Michael Lee of the Washington Post has noticed the impact that John Wall has had on the Washington Wizards.
He may eventually have a similar one for fantasy owners this season: The former No. 1-overall pick hasn't started a game yet in his third season after returning from a knee injury that kept him out of Washington's first 33 games, but he's already got two double-digit assist nights to his credit.
In 25.3 minutes per game, Wall is averaging 14.0 points, 2.6 boards, 6.9 dimes, 0.9 blocks and 1.0 steals in 2013. His shooting has fallen off to 41.0 percent from the field, but that has never been Wall's fantasy strength. What is encouraging is that his free-throw percentage has bumped from 78.9 percent as a sophomore to 82.9 percent this season.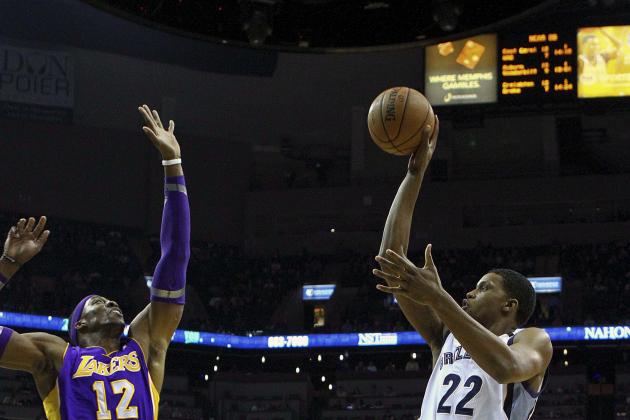 Spruce Derden-USA TODAY Sports

Something's almost got to give in Los Angeles: Either Dwight Howard or Pau Gasol may need to be traded for either to truly flourish in head coach Mike D'Antoni's fast-paced system.
Whether Howard is the one to stay or go is immaterial; he should get more floor time somewhere after a deal is made. According to ESPN.com's Ramona Shelburne and Marc Stein, the L.A. Lakers aren't yet looking to move him.
They already attempted to move Gasol last season.
Unfortunately—or fortunately, if you're targeting Howard in fantasy basketball trade talks—the big man's injuries have kept him from being effective in his last few games. Dwight has only averaged 20.1 minutes per game over his last three while battling a shoulder injury in addition to the back problems he's worked through all season.
Dave McMenamin of ESPNLosAngeles.com reported that he "re-aggravated the torn labrum in his right shoulder…and did not return to the game" on Jan. 23.
The silver lining comes in his last seven games played before that: Howard pulled down 16.4 boards and 2.9 blocks per game. L.A. will need him—or the guy who replaces him in a trade—to produce for the L.A. Lakers to have a shot at a playoff berth.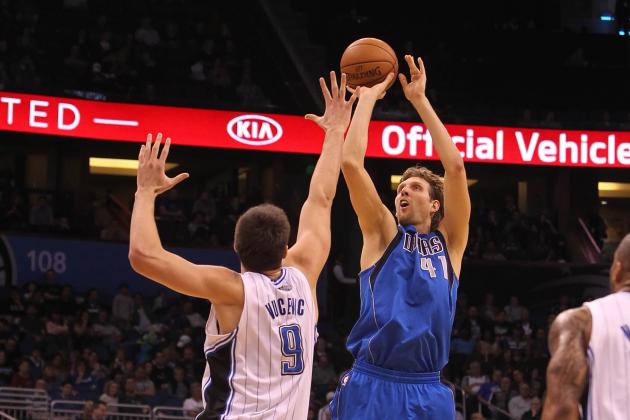 Kim Klement-USA TODAY Sports

Dirk Nowitzki is working his way back into dominant fantasy form. It may take a little while—he hasn't topped 20 points in any game this season—but the Dallas Mavericks veteran is currently riding an 11-game, double-digit scoring streak.
He had a rocky start to the 2012-13 season, shooting 32.4 percent from the field while scoring 7.5 PPG in the month of December (four games).
Since (11 games, nine starts), Dirk is up to 42.7 percent shooting and scoring 16.2 points a night. He's already up to six boards per game after pulling down 6.8 RPG last year. Nowitzki's three-point prowess is already evident, as he's knocking down 1.1 per game in just 29.3 minutes.
Where Dirk hasn't been Dirk of late is from the free-throw line: His 77.4 percent free-throw shooting is the worst it's been since his rookie year (77.3). Given that he had converted better than 89.0 percent of his charity shots in each of his previous four seasons, it's safe to expect that he will approach that number as the 2012-13 season progresses.
With that increased free-throw efficiency will come an uptick in scoring.
For more fantasy basketball analysis, follow Jamal on Twitter: Follow @StatManJ