Duke Basketball: 5 Keys to Avoiding an Upset Against Maryland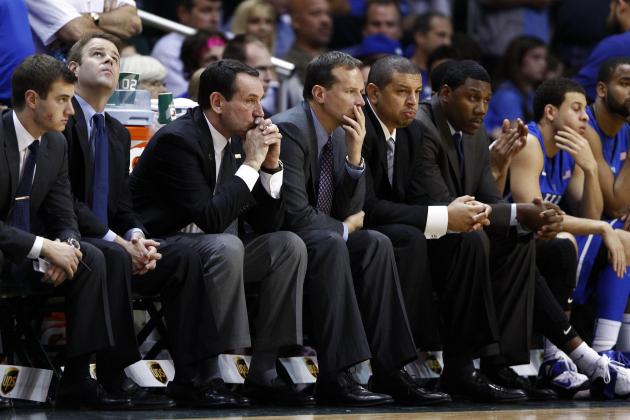 USA TODAY Sports

Reality quickly set in for the Duke Blue Devils after Wednesday night's thrashing at the hands of the Miami Hurricanes. The realization that life without senior forward Ryan Kelly is not fun.
As Kelly continued to occupy the sidelines with a right foot injury, he witnessed his team fall victim to an impressive 25-1 run midway through the first half. Essentially out on their feet, No. 1 Duke (16-2, 3-2) never recovered as Miami earned a 90-67 runaway victory, which marked the third worst defeat ever for a No. 1 team and Duke's worst loss since the 1990 national championship game.
While the addition of Kelly may not have mattered on that night, his presence on both ends of the floor would have given the Blue Devils a fighting chance. Instead, Duke will journey forth still searching for an identity to this team that continues to allude them.
Facing a quick three day turnaround, Duke will host the Maryland Terrapins (15-4, 3-3) on Saturday afternoon. Maryland, winners of just two of their last five games, could be the perfect rebound game for the Blue Devils. However the question that many are left asking, is how will Duke respond to such an embarrassing defeat just one game ago?
In order for Duke to get back to their winning ways, they will need to overcome an uncharacteristic display of passion and a bevy of media scrutiny.
Here are the five most important keys for Duke to avoid their third loss of the season and in conference play at the hands of Maryland.
Begin Slideshow

»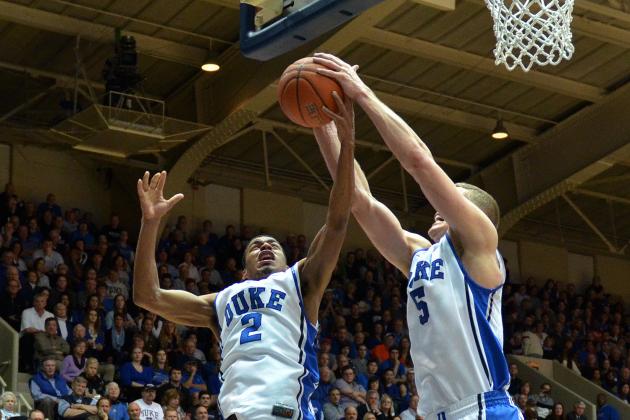 Rob Kinnan-USA TODAY Sports

For the Duke Blue Devils to turn back a challenge from the Maryland Terrapins on Saturday, it all starts on the glass.
Maryland will enter as the second best rebounding team in the country and in the ACC, as they average right at 43.0 rebounds per game. What is one of Duke's biggest weaknesses, plays perfectly into Maryland's biggest strength.
While Ryan Kelly continues to nurse his right foot that has sidelined him for the last three games, Duke will need someone other than senior forward Mason Plumlee to have an impact on the boards. That particular someone could be freshman forward Amile Jefferson, who is averaging 6.3 rebounds per game since Kelly has been out for the Blue Devils.
Closely watch the matchup between Plumlee and Maryland center Alex Len, however, especially on the offensive glass. Len averages around 39 percent of his team leading 8.2 rebounds per game on offensive rebounds alone. If Plumlee becomes lackadaisical around the rim, Len will feast on the second chance opportunities that will become available.
Mark Dolejs-USA TODAY Sports

While Maryland has the rebounding advantage over Duke, the Blue Devils are a much more prolific three point shooting team.
Duke is currently ranked first in the ACC and ninth in the country shooting just over 40 percent from three. Those two particular rankings are largely due to Ryan Kelly's 52 percent from the three point line on the season. Without Kelly, however, Duke still has more than enough firepower from beyond the arc, as they have three players shooting over 35 percent on the season.
Senior guard Seth Curry will be the key player to watch all game, after an abysmal performance against Miami. Curry went scoreless for the first time this season and the fifth time in his career at Duke as he was 0-10 from the field, which included going 0-5 from three. If Duke has any chance at bouncing back on Saturday, it starts with the play of Curry.
Two key statistics to point out for the Blue Devils prior to their meeting with Maryland is that as a team they have shot just 23 percent from three during their two losses this season. Granted, both losses came on the road. However in the friendly confines of Cameron Indoor Stadium in three conference games, Duke is shooting just over 48 percent from three.
Can they continue their hot shooting at home? If so, chances of capturing their 17th victory of the season is extremely high.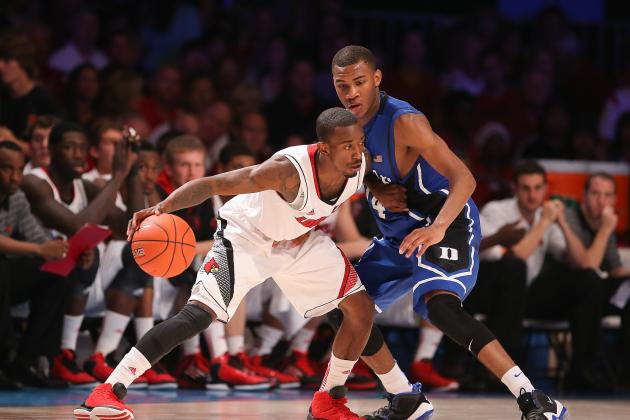 Kevin Jairaj-USA TODAY Sports

Duke forgot to bring their defense with them to Coral Gables, Florida on Wednesday as Miami scored on the Blue Devils at will, which included an impressive 25-1 run in the first half. It was easily Duke's worst defensive performance of the season, allowing Miami to score 1.15 points per possession.
If Wednesday was your first real look at this year's Duke team, you would think that you were watching last year's squad, which earned the label as the worst defensive team under head coach Mike Krzyzewski.
In any case, the season continues.
Looking ahead, Duke's defense—ranked first in the ACC in turnover margin and seventh in the Ken Pomery ratings in adjusted defensive efficiency—will be under careful watch against a Maryland team prone to unravel under heavy pressure. If the Blue Devils can crank up the intensity on the defensive end, like they've been known to do this year, then it can become an excruciating long day for the Terrapins, who currently ranks last in the ACC in turnover margin at -4.11.
A key statistic to point out heading into Saturday's meeting is that during their four losses this season, Maryland has shot 22 percent from the three point line.
Forcing turnovers and disrupting Maryland's three point shooters could be the blueprint to success for Duke on Saturday.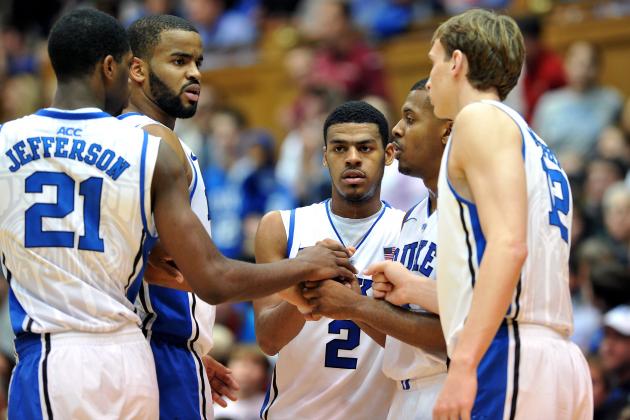 Lance King/Getty Images

In every game this season, the Duke offense is mainly run through seniors Seth Curry, Ryan Kelly and Mason Plumlee. With Kelly still missing time, the scoring load has fallen heavily on the shoulders of Curry and Plumlee. But who steps up as that third leading scorer?
If sophomore Quinn Cook or freshman Rasheed Sulaimon came to mind first, then you are correct.
Cook has been outstanding all season long at the point guard spot for Duke, as he ranks second in the ACC in assist to turnover margin while averaging 11.1 points per game.
Sulaimon has made a smooth transition over to the collegiate level and has sparked the Blue Devils with a relentless attitude on both ends of the floor. He is currently fourth on the team in scoring with 11.3 points per game and ranks third in steals with 1.1 steals per game.
For Duke to continue their success this season, however, they will need steady production from a bench full of underclassmen. Freshman Amile Jefferson has filled in nicely since the injury to Kelly, averaging 9.7 points and 6.3 rebounds in his last three games. Junior guard Tyler Thornton has to give Duke valuable minutes at the point guard position when he replaces Cook.
Junior Josh Hairston and redshirt freshmen Alex Murphy and Marshall Plumlee need to also step up when their names are called. Murphy, who is averaging just 6.6 minutes per game this season, made the best of his opportunity against Miami on Wednesday scoring a career high 11 points.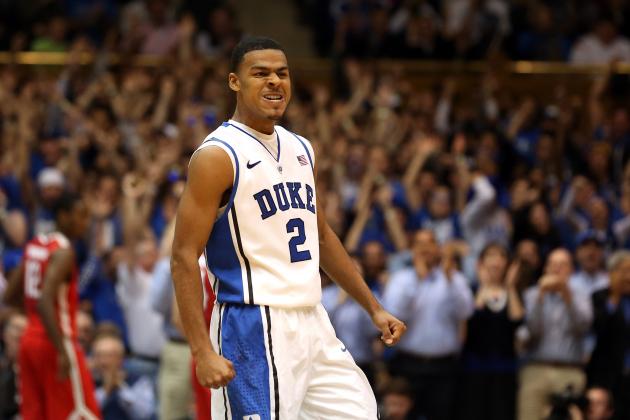 Streeter Lecka/Getty Images

Plain and simple, Duke has to compete on Saturday, something they did not do in the least against Miami in their blowout loss.
If they do, it becomes second nature. Duke is too good of a basketball team with or without Ryan Kelly to perform like they did on Wednesday night.
Duke's meeting with Maryland is shaping up to be the most critical game of the season, in terms of what this team can become.
Are they a championship contender or a championship pretender?