Novak Djokovic Thrashes David Ferrer, Moves Through to Australian Open Final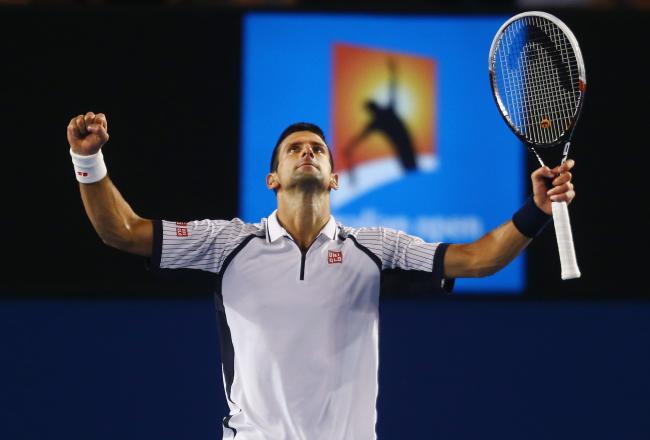 Scott Barbour/Getty Images
2013 Australian Open Men's Semifinal (LIVE)
Final score:
Novak Djokovic [1] beat David Ferrer [4] — 6-2, 6-2, 6-1.
Analysis:
Novak Djokovic delivered arguably the performance of his career en route to his third straight Australian Open final—demolishing fourth seed David Ferrer in straight sets.
The World No. 1 was in rare tough tonight in every aspect of the game, and was simply too strong for his opponent here, as the scoreline completely reflects.
Djokovic finished the match winning 91 percent of his first serve points and 55 percent of his receiving points also—totaling double the number of points in the match as Ferrer.
Throw in the 30 winners that he hit throughout as well as his perfect seven-for-seven on break point, and this truly was a scintillating performance from Novak Djokovic.
Few Grand Slam semi-finals between the first and fourth seeds will be over in under an hour and a half; this one here was truly something special from the Serbian.
He will play either Andy Murray or Roger Federer early Sunday morning in the 2013 Australian Open Final—gunning to become the first man ever to win the tournament three years in a row.
Judging by his performance tonight, you'd have to think that's a real possibility.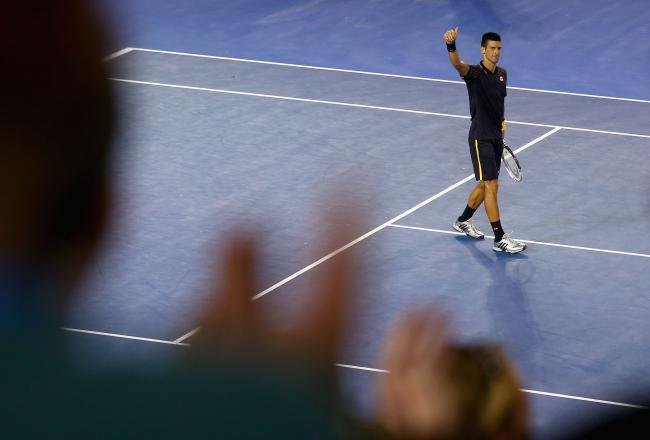 Post-match interview quotes.
Very interesting assessment from Novak Djokovic on himself following Djokovic's win here, asked whether he could play any better than he did tonight.
Probably not. This is one of the best performances I've ever had in my career. Hopefully I can maintain that level in the final.
Simply put, an absolutely superb performance from Novak tonight, who will go through to the 2013 Australian Open as the clear favorite, and rightly so.
He was in rare touch tonight—even for his lofty standards—with the scoreline a shockingly true representation of just how one-sided this was.
Join me live on Bleacher Report for full coverage of tomorrow's semifinal between Andy Murray and Roger Federer, as well as both finals later on in the week.
Incredible performance from Djokovic.
Ferrer just blown away by incredible hitting and power from Novak.
The two-time defending champion will have a chance to become the first champion to win three years in a row. Absolutely incredible from Novak.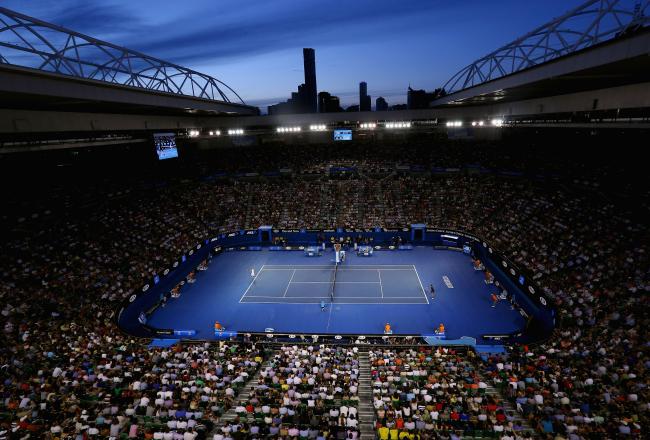 NOVAK DJOKOVIC WINS 6-2, 6-2, 6-1.
THROUGH TO THE AUSTRALIAN OPEN FINAL AGAIN!!
MATCH POINT NOVAK DJOKOVIC.
Error from David Ferrer brings up match point.
30-all, Ferrer serving, trailing 5-1 third set.
Drop shots galore here from Novak, who seems content just to try his luck given how well everything else has gone so far this match.
Will likely allow Ferrer the game win to serve it out for the match.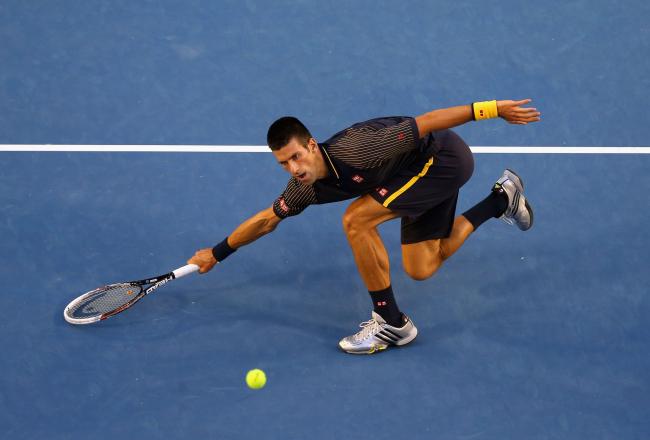 Game Djokovic. Ferrer serving to stay in the match.
40-0, Djokovic serving, leading 4-1 third set.
Drop shot from Djokovic brings Ferrer scrambling into the net, only for Djokovic to lob him to perfection. He's simply toying with the Spaniard.
Three game points for Novak.
30-0, Djokovic serving, leading 4-1 third set.
Blasting away, Djokovic hits another backhand down the line.
15-0, Djokovic serving, leading 4-1 third set.
Brilliant off forehand to finish the rally from Djokovic.
Incredible shot—Ferrer just looks on.
40-15, Ferrer serving, trailing 4-0 third set.
Some mistakes from Djokovic allows Ferrer to get back in this one, and hopefully, finally get a service game on the board in this fourth set.
A wonderful curling forehand down the line wins the game.
Where has that been all match for Ferrer?
Game, Ferrer. Trails 4-1 third set.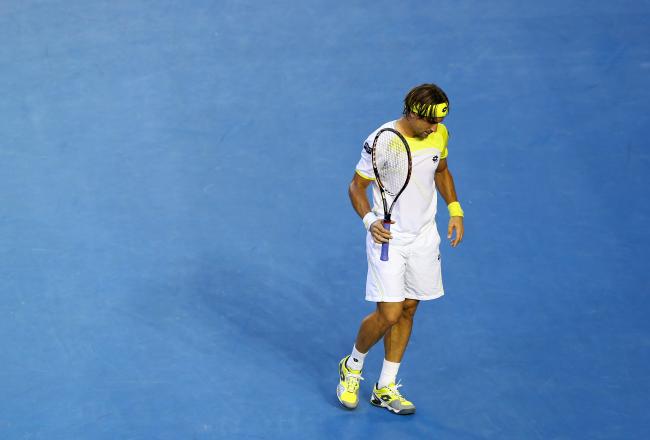 Game, Djokovic. Leads 4-0 third set.
Two more winners for the game, and it's a drubbing.
This isn't even good hitting practice anymore for Novak because his hitting partner isn't really hitting anything back. All too easy.
30-0, Djokovic serving, leads 3-0 third set.
ANOTHER WINNER for Novak.
That's his 24th winner for the match—Ferrer has only won 34 points in total for the match.
Game, Djokovic. Leads 3-0 third set.
Djokovic breaks Ferrer to love, and this just isn't fair.
Four scintillating shots down the line—one on the forehand; there on the backhand.
On the up, on the way down—doesnt matter here.
Djokovic is even impressing himself with how he's playing here.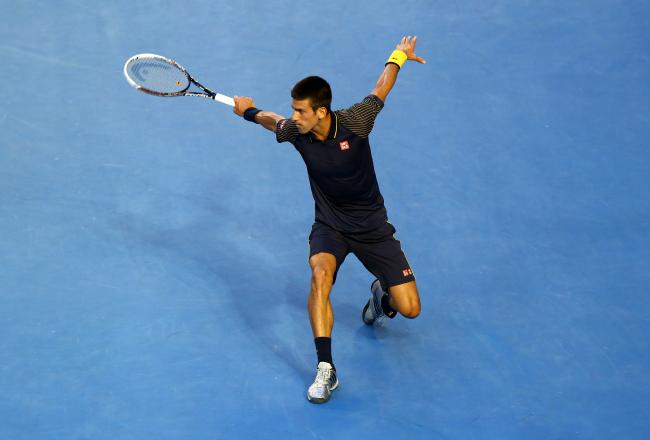 Shot of the tournament!!
Djokovic hits a 157 km/h rocket down the line on his forehand—probably about two to three metros right and to the left hand side of the court and yet he still gets it in.
Leads Ferrer 0-30, Ferrer serving, trailing 2-0 third set.
40-15, Djokovic serving, leading 1-0 third set.
Landing first serves here, Djokovic is barely even having to return the ball here.
Finishes the game with another 200 km/h boomer down the middle.
Game, Djokovic. Leads 2-0 third set.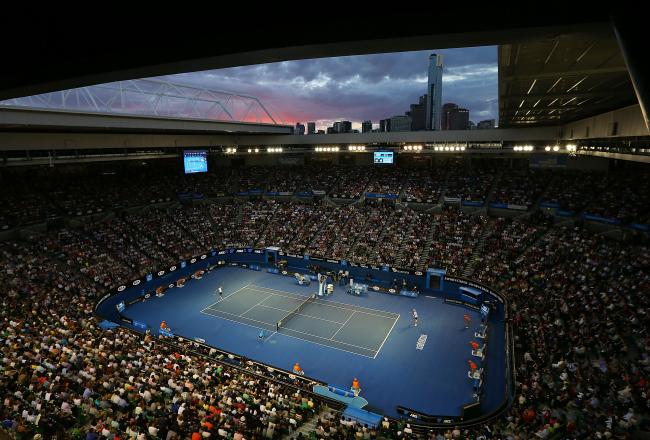 Game, Djokovic. Leads 1-0 third set.
More hitting practice for Djokovic—a great warm up for the real match which he looks set to play against either Andy Murray or Roger Federer on Sunday.
It's all too easy out there at the moment.
30-40, Ferrer serving, opening game of the third set.
A 30-shot rally moving right across the court finishes with Ferrer shanking arguably the easiest shot of the entire point.
Very indicative of the match so far.
30-all, Ferrer serving, opening game of the third set.
Interesting statistic here—in matches lasting longer than nine shots, Ferrer is winning just 13 percent. Unforced errors from both players here to start the third set.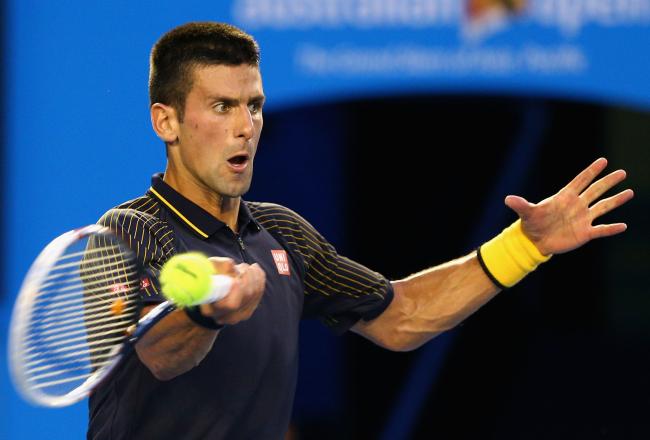 What do we think here for the third set? 6-0?
I'll go 6-1—give Ferrer a chance to get on the board.
NOVAK DJOKOVIC WINS THE SECOND SET.
Too easy for Novak Djokovic, who takes the second set 6-2.
David Ferrer looks helpless, particularly when Novak goes down the line or anytime that the World No. 1 is serving. Which unfortunately for Ferrer, happens all the time.
40-15, Djokovic serving and leading 5-2, second set.
Djokovic's forehand down the line sets up a huge backhand down the line, which then sets up a great overhead smash behind the running Ferrer.
Two set points for the 2011 and 2012 champion.
30-15, Djokovic serving, leading 5-2 second set.
Novak making some bad shots and yet it's still all too easy for Djokovic.
Two points away from the second set.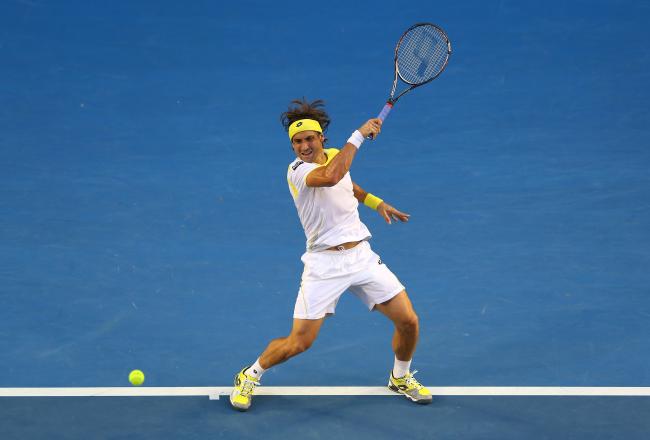 Game, Ferrer, trailing 5-2 second set.
A few rare mistakes from Djokovic give Ferrer the game here—perhaps just prolonging the inevitable about this set here given Novak's dominance thus far.
Ferrer can't stop the Djokovic serve at all here.
Novak simply going through the motions.
Scintillating tennis from Novak!!
At full stretch on the backhand, Djokovic goes from being under the pump to being at the net finishing the point in a matter of two shots.
15-30 and another look at breaking the Ferrer serve.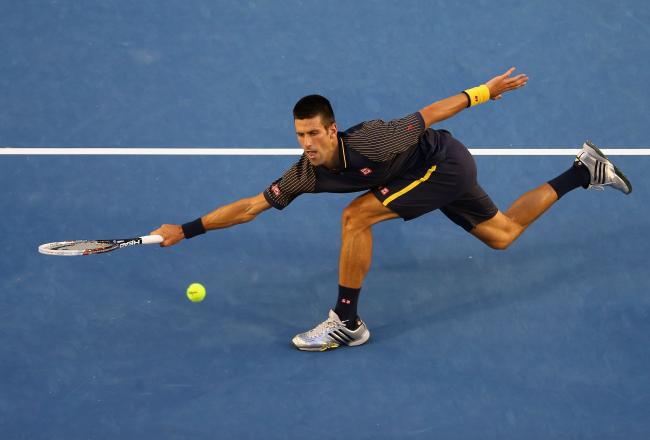 Game, Djokovic. Leads 5-1 second set.
Too easy on the backhand from well behind the baseline there for Novak.
Djokovic simply ruthless on his own serve; dominating that of his opponent also.
This article is
What is the duplicate article?
Why is this article offensive?
Where is this article plagiarized from?
Why is this article poorly edited?