Roger Federer vs. Andy Murray: Australian Open Semifinal Preview and Analysis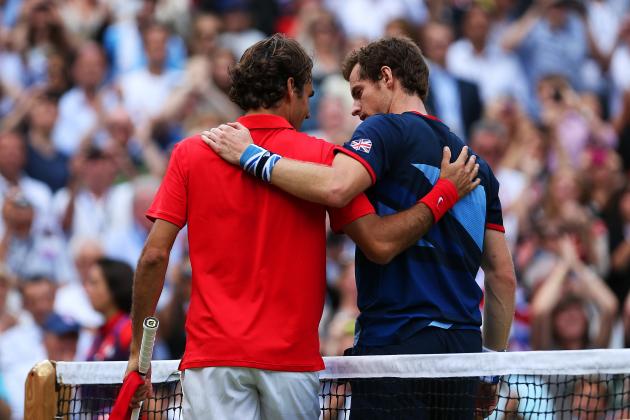 Clive Brunskill/Getty Images

Roger Federer vs. Andy Murray is worthy of a Grand Slam final at the 2013 Australian Open. Both champions collide on perhaps the most level conditions of their career rivalry in what has every opportunity to be the latest Aussie classic.
Since summer 2012, Federer and Murray have combined for the past two Grand Slam titles and the top two Olympics medals. They also split matches at Shanghai and London to close the 2012 ATP season. Murray may now have evened the odds against his Swiss tormentor.
Federer is still a remarkable champion able to win Grand Slams, but he must implement more guile and versatility to offset his younger rivals.
He survived a grinding match in the quarterfinals against Jo-Wilfried Tsonga, and now must bounce back with a stiffer test against Murray. The prospects of facing Novak Djokovic are his likely reward.
Murray is at his career peak, and he hopes to build on his recent breakthrough at the U.S. Open. He has added more punch to his offensive arsenal and now has removed the gorilla of expectations from his shoulders. Many fans and pundits would tap Murray as the favorite in this matchup, if not to win the title.
What can tennis fans expect to see in each player's game for a winning formula?
Begin Slideshow

»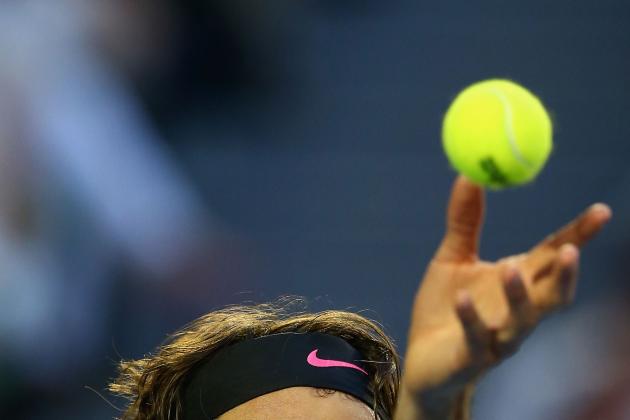 Ryan Pierse/Getty Images

Federer still has one of the great service games in tennis, and until the Tsonga match had not been broken at the Australian Open.
His first serve consistently tops 120 miles per hour, but more importantly it can keep Murray off balance. Federer will look to stretch Murray wide on the deuce court and go down the center on the advantage court.
Murray looks to hit hard first serves in the hopes of winning some easy points. It's the second serve that can be his Achilles heel.
Federer is great at adjusting to an opponent's serve as a match wears on, so Murray will need to be sharpest in the deciding sets. It will not be enough for him to simply poke second serves at the Federer backhand.
It will be great theatre Down Under, but even Shakespeare would acknowledge that the serve is the thing
Solid Advantage: Federer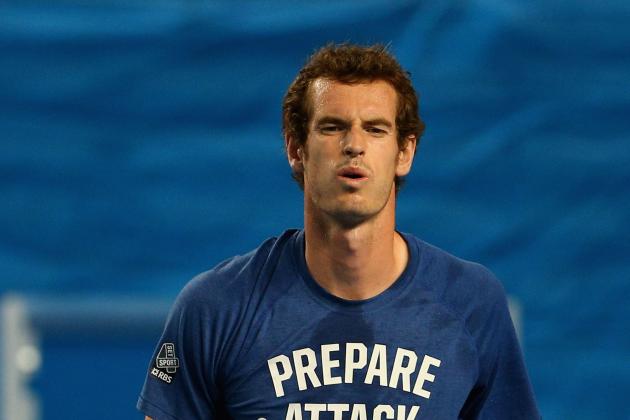 Lucas Dawson/Getty Images

Federer is underrated here. He is so great at holding serve he has rarely felt the pressure to gamble for high risk winners. He will block back big serves and force players to press as the match lengthens.
Federer is a thinker. He is adept at anticipating his opponent's patterns, and is rarely aced.
Murray is considered one of the great returners in the game and has been lauded in historical context as well. He is able to return deep and to either corner.
Murray can put a lot of pressure on Federer if he gets to see a lot of second serves. He is consistent but will hit a fair amount of winners. It's one of his weapons that have launched him to the top.
Though Murray has made a living stamping "Return to Sender" on many an opponent's serves, Federer can deliver at any time. He is not Fed-Ex for nothing.
Slight Advantage: Murray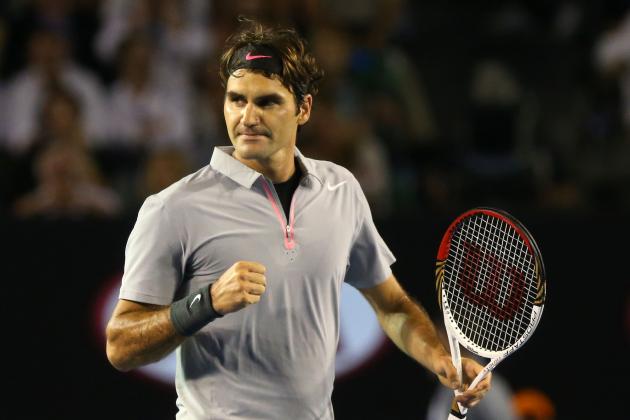 Quinn Rooney/Getty Images

Maybe there has never been a better forehand than Federer's. Its beauty could fill pages of poetry and its power could conquer nations. It's the weapon of choice for a 17-time Grand Slam winner, and it's still the best in the game.
Federer will look to pick up short topspin balls and attach the Murray forehand. Murray is a great scrambler, but Federer is best controlling shorter points.
If the match goes well for Federer, he will spread it all over the court and mix in plenty of slice. The power and the winners are nice, but control is the ultimate objective for Federer. He wants Murray to know that the match is on his forehand.
Murray picked up a reputation as being a pusher or counter puncher at times in his career. Under coach Ivan Lendl, there has been a noticeable effort for Murray to be more aggressive, especially finding spots to step in and hit harder down the line.
While nobody will ever list Murray's forehand on any top ten lists, his defense and more offensive-minded approach has paid dividends. Murray will need slice and deep placement to counter Federer, but he will need to pull the string as often as possible.
But if Federer can wield his hammer, the god of thunder will be victorious.
Strong Advantage: Federer
Julian Finney/Getty Images

Federer continues to show improvement in picking up the ball earlier against his baseline rivals. This was noticeable on the slower hard courts at Indian Wells last year when he defeated Rafael Nadal.
Murray will continue to attack the Federer backhand, but Federer can also attack with backhand to backhand slice and even gain the upper hand.
Will Federer show consistency or will the unforced errors pile up? Next to his serve, this may be key to him winning the match.
Murray must win this area, even to bolster his belief in defeating Federer. Traditionally, Murray likes to attack down the line with his backhand, but finding some short balls for vicious cross-court angles can be equally effective.
The Scot can find success by painting the corners and forcing his more aged rival to run side to side. This is how he must keep control on his court and neutralize the Federer forehand.
Solid Advantage: Murray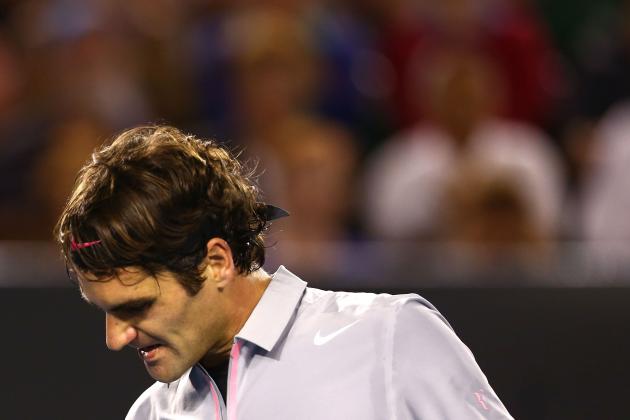 Mark Kolbe/Getty Images

Federer has rarely worn down in any one match during his epic career. When it has happened, it has been a cumulative effect from two or three matches.
At age 31, Federer needs a little more recovery than a few years ago, so this will be important following the five-setter against Tsonga.
Still, Federer is extremely fit, and it can hardly be said that he has lost matches due to lack of conditioning. He also has a remarkable sense for conserving energy through his attacking game.
It's not easy to bend low, volley, come in to net or race from side to side. His body handles rigors of all type, so there is no reason to think this will change.
Murray is younger and has the spring to sprint and retrieve. It would seem to be an advantage, but even grinders can find their energy spent. The Wimbledon final of 2012 was just an example as the older Federer was clearly fresher as the match concluded.
However, Murray also had a lot left to out-duel Djokovic in the fifth set at the U.S. Open. He deserves his newly upgraded warrior card.
Just don't forget sagacious advice from NFL coaching legend Vince Lombardi: "Life's battles don't always go to the stronger or faster man. But sooner or later, the man who wins is the man who thinks he can."
Advantage: Even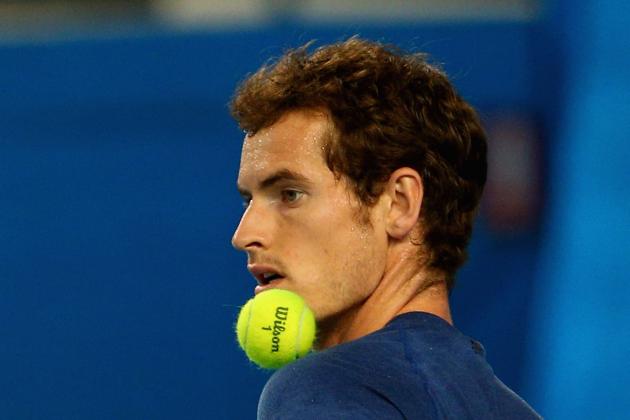 Lucas Dawson/Getty Images

It's dangerous to think back at Federer's last ten years as somehow measuring his confidence for 2013.
A player's confidence is largely derived from his last match. It can come and go, even to the very best champions. Pete Sampras struggled with his confidence for almost two years prior to winning his 14th Grand Slam title.
Federer often wears his confidence beneath his determination. He certainly will not give anything away to Murray.
Murray would be wise to not rely too heavily on his recent success, but to remember the hard work and determination of a hungry champion.
He knows he can beat Federer on the big stage, but must feel confident that he can play his best game. It would be fruitless to worry about winning or losing in and of itself.
Confidence may rise and fall within the course of a big match. In the end, it will manifest its winner.
Advantage: Even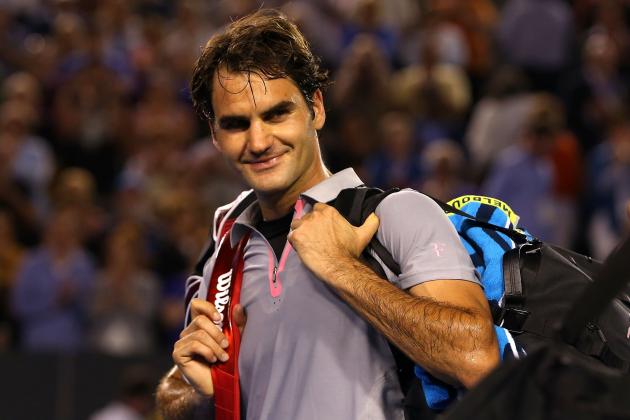 Mark Kolbe/Getty Images

This is where tennis fans can list off Federer's staggering career achievements and Grand Slam titles. It will matter walking into Rod Laver Arena, and perhaps at the coin toss, but that's it.
The good news for Federer is his consistent play at Melbourne. He is deep into the second week with another opportunity to take victory. The pressure may be off with a chance to play house money. He also wants to win this title as if it were his first.
Murray's life will be forever changed following his U.S. Open title. Will it be enough, or will he thirst for more as if going to war was the only way to achieve it? He will have to do so, but he can.
Although there is a sense that Murray is poised to continue his own mini-epic run, Federer is more than just another champion. The Swiss maestro is a wonderful shotmaker and wonderfully adept at seizing momentum during a donnybrook.
Murray will need his "A" game and some shakiness from Federer's play.
Federer needs consistency, energy and control.
Slight Advantage: Federer