The Duke Blue Devils experienced one of the worst losses in the history of the program on Wednesday night at the hands of the Miami Hurricanes, 90-63.
On the surface, Duke's loss looks horrendous in every sense of the word, and in many ways it is. But when you dig a little deeper, this loss wasn't too much of a cause for concern.
Granted, the Blue Devils must learn from this loss just like any other. The Hurricanes simply out-hustled the No. 1 team in the nation on both sides of the floor, and Duke was unable to muster up many easy buckets throughout the game.
The 90 points allowed by the Blue Devils defense is very uncharacteristic of their season thus far, and that output was the most any team has scored on Duke this season.
Coach Mike Krzyzewski's squad has now lost two of its last three games, both to ranked opponents. But while many will point to those losses and say that Duke can't beat good teams, that couldn't be further from the truth.
Earlier in the year, the Blue Devils topped Kentucky, Louisville and Ohio State. All were ranked in the Top Five when Duke played them, so the proof is clearly in the pudding that Coach K and Co. can win tough games.
Every team goes through rough patches throughout the course of a college basketball season, and an elite team like Duke is no different. With that being said, each team goes through struggles differently, and this is the particular way the Blue Devils are going through theirs.
Against the 'Canes, the Blue Devils got next to nothing production from some of their key players who clearly had an off night.
Seth Curry and Quinn Cook combined for a dreadful 1-of-22 from the field, yet both are shooting over 40 percent from the field for the season. As a team, the Blue Devils shot just under 30 percent for the game and 17 percent from long range.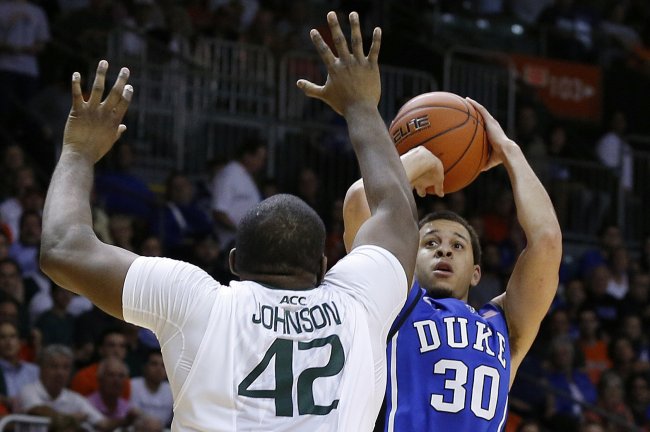 USA TODAY Sports
By comparison, Duke is shooting 46 and 40 percent for the season, respectively.
Free-throw shooting has been a problem this season for Duke, but the Blue Devils were even able to shoot worse from the charity stripe than their season average. Against Miami, Duke shot 65 percent from the line, while its season average stands at 71 percent.
This game was really lost in the first half, thanks to a 25-1 run by Miami. During that stretch, Duke missed 13 consecutive shots, and it's not like they were all bad looks, but rather uncharacteristically inaccurate shooting.
When the run was all said and done, a 14-13 Duke lead transformed into a staggering 38-15 deficit. That insane 24-point swing was the biggest cause of Duke's 27-point loss by far.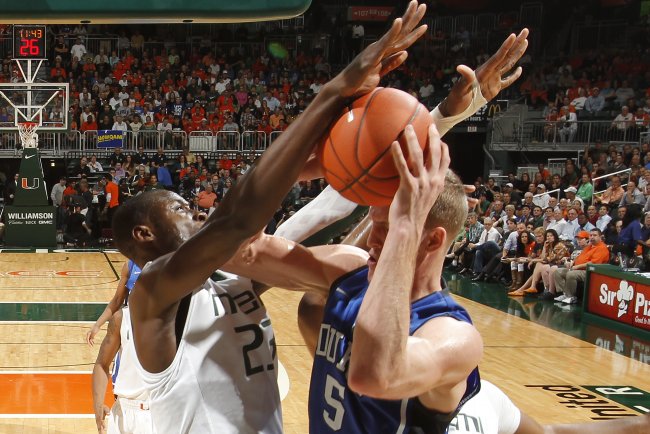 Joel Auerbach/Getty Images
Sometimes in basketball, all it takes is one bad stretch for a team to lose a game, and the Blue Devils found that out the hard way. Things did improve in the second half, and Duke was far more competitive, but by then, it was too little too late.
This was a very valuable lesson for a young Blue Devils roster that hasn't experienced much failure. If this isn't a wake-up call to work harder and improve the consistency of their shooting overall, I don't know what is.
Is this loss a cause for concern?
Duke and Miami will meet again later in the season, this time on Duke's home floor in early March. Until then, the Blue Devils should keep this game in their minds and use it as fuel to get better for their upcoming opponents.
There's no doubt that game with the 'Canes will be circled on the Blue Devils' calendars and the results will be very different next time around when Duke actually brings its best stuff to the floor.
Because what you saw on the floor on Wednesday night was a mirage. Nothing more, nothing less.