Boise State Football: Comparing Joe Southwick's 1st Year vs. Kellen Moore's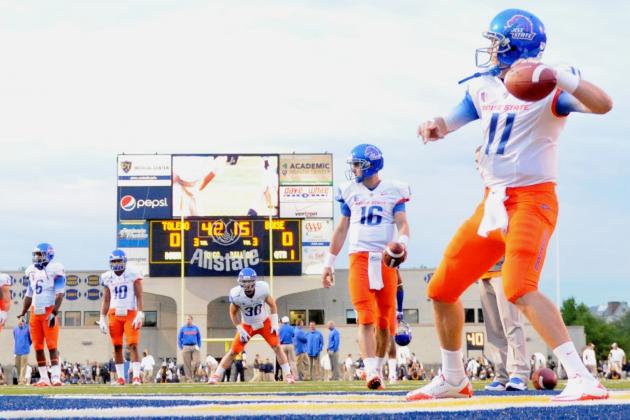 Tim Fuller-USA TODAY Sports

The 2012 college football season was quite interesting for head coach Chris Petersen and his Broncos. With so many seniors leaving after 2011, and so many holes to fill, no one was sure how Boise State would do.
Offense and defense needed substantial construction, but no project was bigger than replacing Bronco legend Kellen Moore at quarterback. However, because retiring a position is still not an option, someone had to step up.
Enter junior Joe Southwick.
Southwick began the 2012 season in, perhaps, the biggest shadow that any quarterback at Boise State has ever been under. The pressure was tremendous, and the weight of Moore's memory rode the shoulders of Southwick from the opening kickoff until the final whistle.
So, how did he do?
Let's compare Joe Southwick's first year as starter for the Broncos to Kellen Moore's debut season and see how the two stack up.
Begin Slideshow

»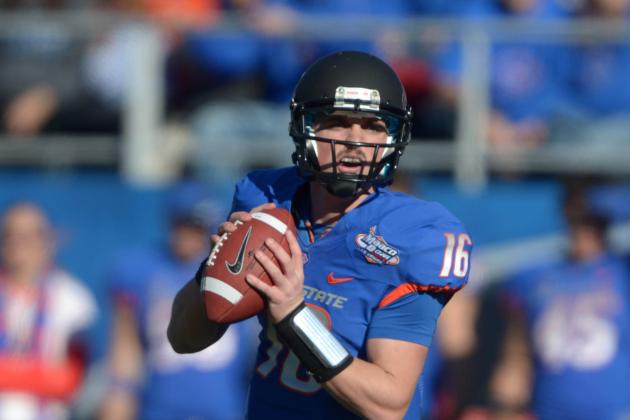 USA TODAY Sports

When you look at Joe Southwick and Kellen Moore on paper, Southwick is a bit taller and faster. However, everyone knows that a quarterback can't always be judged by the measurables.
The intangibles are something that can't always be seen on paper or even on tape. Heart, mind and passion aren't always so easily recognized.
However, it does seem like head coach Chris Petersen has a knack at sniffing out such qualities in players that often go overlooked.
| | | |
| --- | --- | --- |
| | Joe Southwick | Kellen Moore |
| Height: | 6'1" | 6'0" |
| Weight: | 187 | 194 |
| Throws: | Right | Left |
| 40 Time: | 4.64 | 4.94 |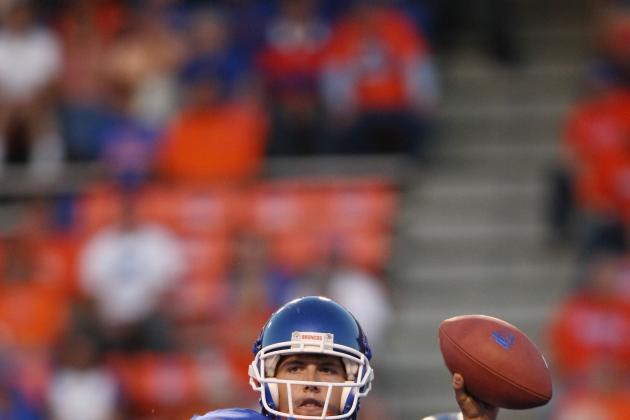 Jonathan Ferrey/Getty Images

Kellen Moore
Kellen Moore's first start was as a redshirt freshman. It was a home contest against Idaho State. The game was never close, and Moore made a splash on The Blue.
Moore went 14-of-19 for 274 yards, two touchdowns and no interceptions. It was the first time in school history that a freshman had started at quarterback for the Broncos, which is quite remarkable by itself.
In the postgame press conference, Moore explained how he felt as the game began. He stated:
"I felt pretty good. I was a little nervous the first play. But after that you start to sink in and you're good to go."
Moore was certainly good to go, and the win over the Bengals would be the first of 50 the talented quarterback would celebrate while at Boise State.
Joe Southwick
Joe Southwick's first start came as a redshirt junior, but it was far more difficult than Moore's first game. He did not have the luxury of a home game or an FCS opponent. Instead, it was a road game in East Lansing against Michigan State.
Southwick did not have the best debut completing only 15 of 31 passes for 169 yards, one interception and no touchdowns. The Broncos also lost the game 17-13.
Southwick was certainly not the only one to have a less-than-stellar game, but he did receive a good amount of criticism over the loss.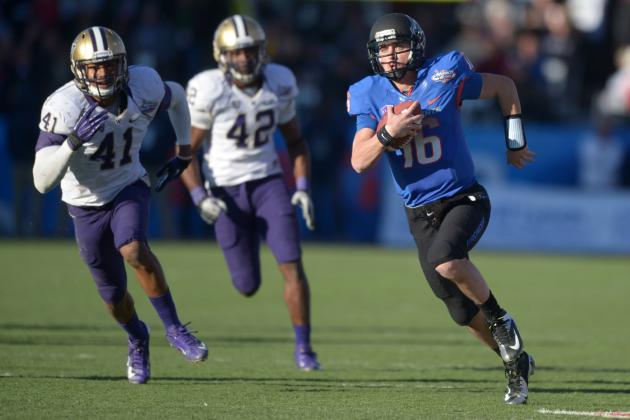 USA TODAY Sports

Joe Southwick
During the course of the 2012 season, Joe Southwick had a bit of a roller-coaster ride. The loss at Michigan State was devastating, but he and the Broncos bounced back against Miami (Ohio) with a 39-12 win at home in Week 3 of the season.
However, the BYU game, four days later, caused more criticism and worry for Bronco fans. The Cougars came to town on a Thursday night, and the game played out ugly and similar to the Michigan State loss. The big difference, however, was that the Broncos pulled out a 7-6 win over BYU—even without an offensive touchdown.
Southwick completed just 15 of 25 passes for only 145 yards. He had no interceptions, but he also had no touchdowns. After the game, the complaining about Southwick and the offense rose to historic levels.
The voices died down a bit in the following weeks as Boise State would roll off five wins in a row, even if a couple of those were closer than Bronco fans were used to.
However, against San Diego State, the offense faltered, and for the second year in a row, a November loss would prove to keep the Broncos out of a BCS bowl game.
At that point in the season, many fans were feeling a bit frustrated. Still, Chris Petersen's team was 7-2, which for such a huge rebuilding year should have been seen as an accomplishment. However, it was certainly not what Bronco Nation was accustom to.
Southwick saved the best for last and led the Broncos to three straight wins to finish off the regular season and a share of the Mountain West Conference title.
In the Maaco Bowl Las Vegas, Southwick's scrambling legs came alive. Fans of the Broncos were happy to see such a mobile version of their quarterback. On the day, Southwick threw 38 times for 26 completions, 264 yards and two touchdowns. He also scrambled his way to 39 yards on 11 carries.
Overall, it was an excellent game for Southwick and set him up nicely for 2013. With Southwick at quarterback, the Broncos finished the 2012 season as MWC Champions, Maaco Bowl Champions and with an 11-2 overall record.
Kellen Moore
In his first season, fans didn't know what to think about the redshirt freshman from Prosser, Wash. However, the fans and everyone else quickly learned that Moore was special.
In the first two games of the season, Moore played two home games against subpar competition. He picked apart Idaho State and Bowling Green. However, it was his third start that announced him to the college football world.
On Saturday, September 20, 2008, Moore and the Broncos went into Autzen Stadium and stunned the Oregon Ducks, their fans and probably even the Boise State faithful.
The game ended in a 37-32 win for Boise, but the game wasn't that close. It was 34-13 before a couple of late Oregon scores made the game look respectable.
Moore and the Broncos would then roll out nine more wins in a row to finish the regular season undefeated at 12-0.
Boise State would face TCU in the Poinsettia Bowl, and it would prove to be Moore's first loss as a starter. The game ended in a 16-17 loss, and a late missed field goal would prove to be a pattern for heartbreaking losses with Moore as quarterback.
Overall, in his first season Moore did some remarkable things. He led his team to a 12-1 record and a WAC championship.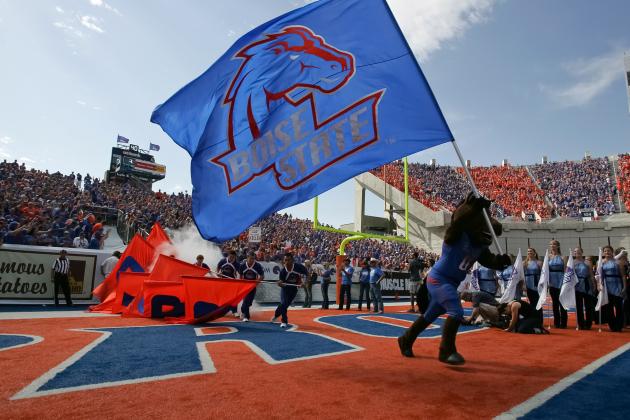 Otto Kitsinger III/Getty Images

Joe Southwick had a decent first season for Boise State. If it weren't for the Kellen Moore hangover, Bronco fans may have been more receptive to his campaign.
As the season progressed, Southwick got better, and leading the Broncos to a MWC championship, an 11-2 overall record and a Maaco Bowl victory were enough to win many over.
Moore, on the other hand, was completely unexpected by Bronco Nation. Moore followed a 10-3 season under the leadership of single-season starting quarterback Taylor Tharp.
The Oregon game, of course, was huge, and many Bronco fans still consider it one of the greatest moments in Bronco history. The Michigan State loss in 2012 in contrast was quite the disappointment.
When you look at the first-season stat comparisons between Southwick and Moore, it is easy to see that Kellen did some amazing things. However, when you look at Southwick's stats, they aren't all that bad. In fact, at most schools, Southwick's stats would be quite impressive.
| | | |
| --- | --- | --- |
| Stats | Kellen Moore | Joe Southwick |
| Att: | 405 | 371 |
| Comp: | 281 | 248 |
| Comp. Pct: | 69.4 | 68.4 |
| Yards: | 3502 | 2730 |
| TD: | 25 | 19 |
| Int: | 10 | 7 |
| Rating: | 157.44 | 141.8 |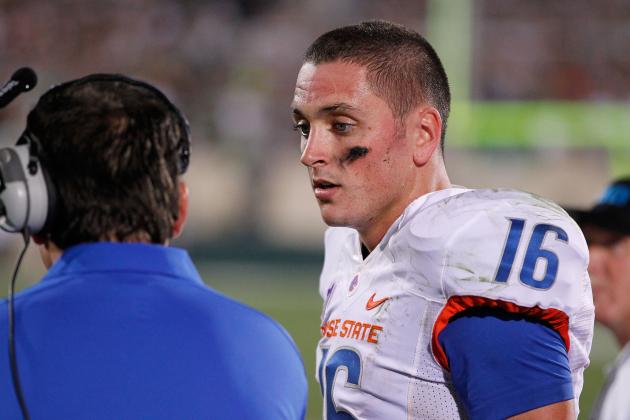 Gregory Shamus/Getty Images

Considering the enormous shadow Joe Southwick was under and the pressure that came along with it, the redshirt junior did a very good job keeping it all together. With the early criticism and impossible comparisons to Kellen Moore, a lesser man might have buckled.
Southwick did not buckle. The trial by fire seemed to refine the junior, and instead of shrinking back, he seemed to get better and better under the weight of it all. His final four games were quite impressive, and the Maaco Bowl game was his most complete game.
He may be challenged for his starting job in 2013, but if the 2012 season is any indication, Southwick is up for the challenge, and he can certainly handle the pressure.
Moore will always be missed and cherished by Bronco Nation. Southwick and any other Boise State quarterback will no doubt be compared to the left handed Bronco legend for years to come. It is simply something that comes with the territory.
Players like Moore come along rarely, and to compare others to him is just not fair. Fair or not, however, it is going to happen.
Who knows, in 2013 Southwick might have the kind of season that makes the 2014 starter feel the heat. The storyline could be how the new starting quarterback must live up to the shadow of Kellen Moore and Joe Southwick.