Full New York Jets Scouting Guide for the 2013 Senior Bowl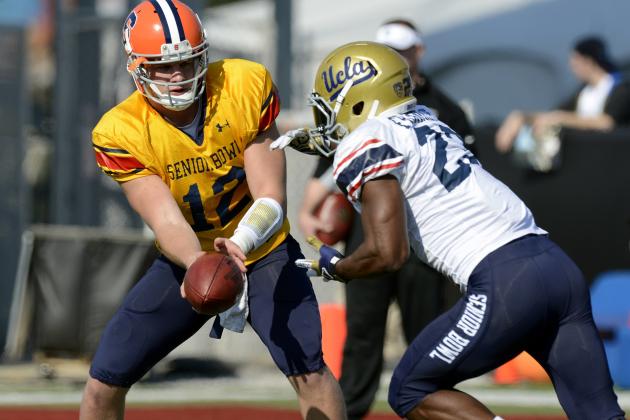 USA TODAY Sports

With the Senior Bowl on Saturday, it is time to look at some of the top prospects who could be wearing green and white next season.
These practice and game results are but a small sample of what these players can do. But this is usually the first time NFL coaches have a chance to work directly with these prospects, and first impressions are important.
The following slides will feature players and positions the Jets should be focusing on given their current needs and draft position.
Begin Slideshow

»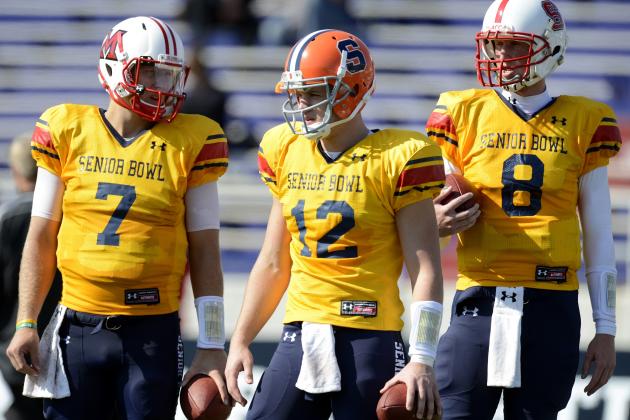 USA TODAY Sports

Just about any quarterback is in play for the Jets, as any could fall to them with the ninth pick in the draft. Unfortunately, Geno Smith did not attend the Senior Bowl, but several other top prospects did:
Tyler Wilson, Arkansas: Wilson was one of the more impressive players this week, which makes plenty of sense given his passing ability. Not only was he impressive, but he also continued to get better throughout the week:
Out of the three QBs on the South team, Tyler Wilson has improved the most over the three days of practice.

— Adam Caplan (@caplannfl) January 23, 2013
At this rate, Wilson will be selected far before the Jets pick at No. 9, but he is still worth keeping an eye on.
Mike Glennon, N.C. State: The N.C. State quarterback is not far behind Tyler Wilson in arm strength. He was another player who impressed as the week progressed:
A coach at Senior Bowl practice said that NC State's Mike Glennon really separated himself from the other QBs today

— Brian Costello (@BrianCoz) January 23, 2013
Glennon's weakness is his in inability to function in a muddy pocket. He's reminiscent of Blaine Gabbert in that regard. But his passing ability is going to put him in the first round.
Zac Dysert, Miami (OH): Dysert was one of the more underwhelming passers this week, underwhelming with his arm strength and accuracy:
RT @ryanalf17: How about Dysert? > hasn't looked great in practice. More of a gamer. Little disappointed in the lack of velocity/accuracy

— Daniel Jeremiah (@MoveTheSticks) January 24, 2013
Still, as Daniel Jeremiah points out, Dysert performs better in games than practices. How he performs on Saturday will be huge for his draft stock.
E.J. Manuel, Florida State: One of the most polarizing passers in this year's class, Manuel can go as early as the first round or as late as the third.
Really like FSU Qb E J Manuel at the Sr Bowl.Clearly has the best arm of all the Qb's.He can really spin it.

— james miller (@15miller) January 24, 2013
Manuel has a chance to climb up draft boards Saturday if he shows that he can operate effectively in the pocket and throw with anticipation in a game situation.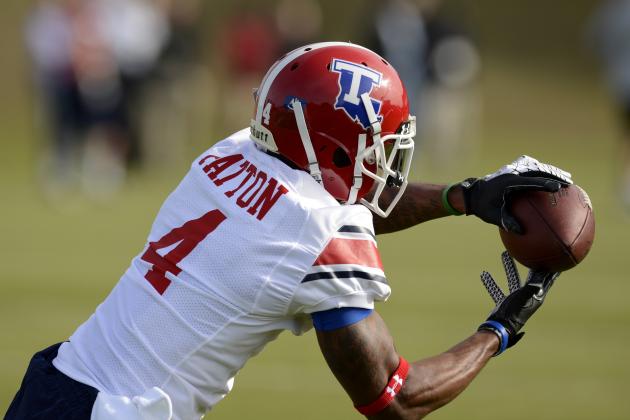 USA TODAY Sports

Despite getting Santonio Holmes back from injury and Stephen Hill gaining a year of experience, the Jets need receiver depth in the worst way. So they could look into taking one of these players with their first couple of picks.
Quinton Patton, Louisiana Tech: Patton was not able to show off his athleticism in Louisiana Tech's offense, but he was one of the most impressive players during the week of practice. He had great technique and made contested catches.
For the Jets, the only problem with Patton is that his stock may be rising so much that he may be too expensive for them, even in the second round.
Ryan Swope, Texas A&M: Swope has the makings of a slot receiver, with great hands and good lateral quickness, but he lacks elite speed.
The Jets already have a slot receiver in Jeremy Kerley, but they need to add as much depth as possible.
Chris Harper, Kansas State: Harper has excellent hands, dropping just one pass in 2012. He also made a handful of contested catches in Senior Bowl practice, showing great body control.
He lacks ideal size at 6'1, but he has good quickness and would fit the Jets' new West Coast-style offense.
Terrance Williams, Baylor: Another year, another Baylor receiver taken early in the draft. CBS Sports went so far as to call him the best receiver in Mobile this week. He showed plenty of quickness and the ability to make adjustments on the ball. He even impressed in his willingness to block.
Williams will likely command at least a second-round pick, but he has a chance to sneak into the first round if he continues to impress on Saturday and throughout the draft process.
Markus Wheaton, Oregon State: Wheaton has good speed and runs solid routes, and he showed the ability to make adjustments on contested catches during the practices.
Wheaton is a bit undersized at 5'11", but he has plenty of talent and should be at taken in the second day of the draft.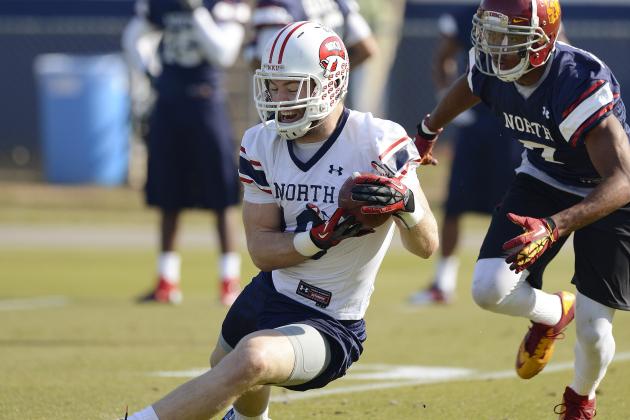 USA TODAY Sports

Tyler Eifert and Travis Kelce, the top tight ends in this year's class, are not in attendance at the Senior Bowl. But there is quality depth, with several possible replacements available for Dustin Keller, who should be the Jets' most expensive free agent.
Jack Doyle, Western Kentucky: Doyle is a good athlete and a fluid runner, but he does not anchor well as a blocker.
While he appears to be more of a receiver, Doyle has good size at more than 250 pounds and could eventually develop into a more versatile player with some good coaching.
Vance McDonald, Rice: McDonald is another tight end who plays more like a receiver than a blocker. But he is even bigger than Doyle (260 pounds) and could develop into an in-line blocker. For now, however, he is best used as a size mismatch against smaller safeties.
Ryan Otten, San Jose State: Otten had a successful career at San Jose State, but his production may have been more a result of good quarterback play than Otten making plays on his own. Look to see if he can find a way to make plays working with a new quarterback on Saturday, or if his gaudy college stats are misleading.
The Jets' offensive line played better than most assumed in 2012. But with three starters set to be free agents, they will need to find some new blood through the draft.
Eric Fisher, Central Michigan: Fisher was one of, if not the most impressive player during the week of practices. He's now a a potential top-10 pick. He was excellent in one-on-one drills, stonewalling the top rushers at the event. Look for him to be dominant in the Senior Bowl.
Larry Warford,Kentucky: The Kentucky product showed off his sheer power, but he can be beaten by quicker, more athletic defensive tackles. A mauler in the run game, he could be a target for the Jets in the middle rounds if he can improve his quickness in pass protection.
Brian Winters, Kent State: He had a phenomenal senior season and fits best in the NFL as a right tackle or guard. There is a good chance the Jets will need one of those positions next season, so look to see if Winters shows enough athleticism to be kicked outside to tackle.
Oday Aboushi, Virginia: Although he fits a bit better as a left tackle, he has enough power to move over to the right side. His athleticism allows him to hold up against speed rushers, but he needs to improve in the run game.
Justin Pugh, Syracuse: Push is actually a redshirt junior, but he can play in the Senior Bowl because he graduated from Syracuse. Pugh has a lot of talent, but he needs to bulk up if he is going to be a starting tackle in the NFL.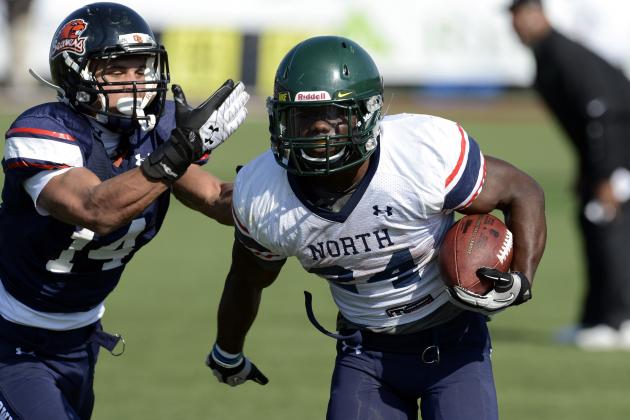 USA TODAY Sports

This year's running-back class does not feature a can't-miss stud, but there are all types of runners, many of whom will be on display during Saturday's Senior Bowl.
Kenjon Barner, Oregon: He has been one of the most impressive players in practice, showing more physicality than expected from a supposed "finesse" runner. If the Jets make Bilal Powell the starter, Barner could be a perfect complement in a back-by-committee system, especially if he continues to improve as an inside runner.
Denard Robinson, Michigan: He ultimately failed to show that he can even be a college quarterback, but his combination of speed, agility and vision makes him a good prospect as a running back.
During the game, also watch how he runs pass routes. Whoever drafts Robinson will get a versatile, explosive athlete who can line up just about anywhere, including Wildcat quarterback.
Stepfan Taylor, Stanford: He does everything well. But at the same time, he does not do anything exceptionally well. Like Barner, he is an ideal complementary back in a committee backfield. Runners like Taylor need to show that they can excel in pass protection to be a valuable asset on any team.
Johnathan Franklin, UCLA: The strength of Franklin's game is his ability to make defenders miss. After all, he was nicknamed "Jet Ski" by his UCLA teammates because of his ability to leave defenders in his wake.
However, Franklin lacks the bulk required to be a lead back, and he does not catch the ball as well as you would expect from a chance-of-pace back. However, if he can improve his concentration, he could be a solid mid-round pick.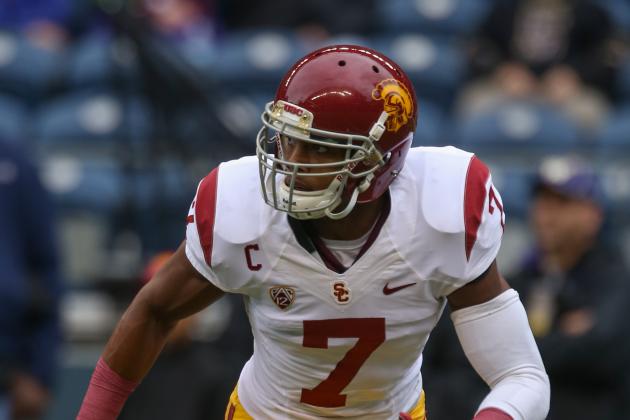 Otto Greule Jr/Getty Images

Not only are the Jets pondering trading their starting cornerback Darrelle Revis, three starters from the secondary are set to be free agents Adding youth and depth to the secondary is a must.
T.J. McDonald, USC: The son of the Jets' defensive backs coach, McDonald could be a target for the Jets in the early rounds. With both of their starting safeties set to be free agents, the Jets could have a need there.
McDonald is mostly an in-the-box guy, which puts a huge damper on his value in a passing league. But he is excellent at filling in gaps and hits with an unmatched level of viciousness.
Phillip Thomas, Fresno State: The 2012 NCAA interception leader is quickly rising up draft boards. Thomas is well-rounded, able to cover and play with physicality. If he finds a way to last into the third or fourth rounds, the Jets should consider adding him. He could match up with the tight ends in New England and still be able to make plays against the run.
Robert Lester, Alabama: Dee Milliner, his Alabama teammate, will get the most attention as a potential top-10 pick, but Lester is a solid prospect at free safety.
His strength is reading quarterbacks and playing the deep part of the field. In Saturday's game, look to see how well he covers tight ends and slot receivers.
Desmond Trufant, Washington: Trufant has had one of the best weeks of practice of any defensive back. His physicality makes him a perfect fit the Jets' man-coverage system.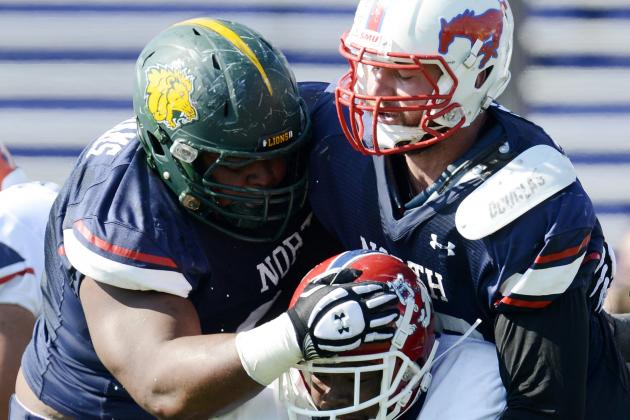 USA TODAY Sports

It is hardly a secret that the Jets need players who can get after the quarterback from the outside linebacker position, especially since Calvin Pace and Bryan Thomas figure to be on their way out.
Margus Hunt, SMU: The Estonian sensation has turned heads this week, flashing athleticism reminiscent of Jason Pierre-Paul.
The Jets' biggest concern with Hunt is whether, at 6'8" and 280 pounds, he has the mobility to play outside linebacker in a 3-4. That kind of height would make him one of the largest outside linebackers in the game. But if given the chance to use, Rex Ryan would be sure to change his scheme to help Hunt, not the other way around.
Ezekiel Ansah, BYU: He is one of the strongest players in Mobile, but he has struggled a bit with a lack of quickness and will take time to adjust to the speed of the NFL.
As a result, Ansah's stock may take a tumble into the bottom of the first round. So if the Jets want to trade down, he could be an option and a scheme-versatile player. However, he is a lot like Quinton Coples in many respects, so the Jets may not want to take a similar player two years in a row.
Alex Okafor, Texas: Okafor is a good athlete for his size, but what is most impressive is his raw strength. This allows him to have a strong bull rush and play the run very well. At 265 pounds, Okafor is small enough to make the conversion to a 3-4 linebacker if necessary.