Florida Football: 6 Reasons Why Gators Shouldn't Give Up on Jeff Driskel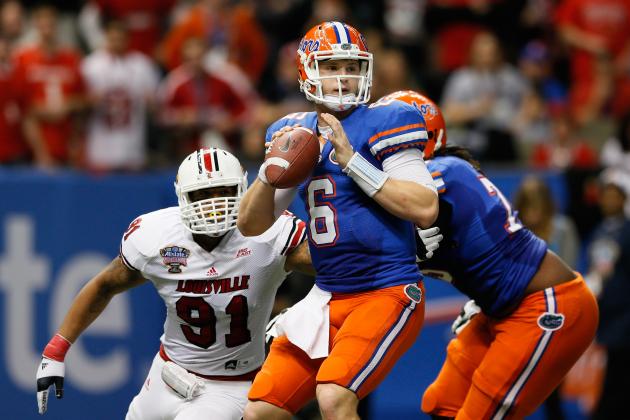 Kevin C. Cox/Getty Images
Jeff Driskel struggled in the Sugar Bowl
Like most first-year starting quarterbacks, Jeff Driskel had his fair share of struggles at the helm of Florida's offense. Furthermore, he was at his worst in the Gators' two biggest games of the 2012 season.
The first of these was Florida's showdown with Georgia. With the SEC East lead on the line, Driskel never found a rhythm in the pocket. The Bulldogs forced him into throwing a key interception in the red zone before the end of the first half. This was one of two picks on that day for Driskel, but this one was particularly meaningful because it cost Florida a lead change that would have shifted momentum. In the end, the Gators lost the game and a shot to play for a spot in the national title game.
Their consolation prize was the Sugar Bowl. Once again, Driskel looked very uncomfortable throughout. His first play from scrimmage was an errant pass returned for a Louisville touchdown. He would later throw another interception in the red zone and fumble within his own territory. The final score may have been 33-23, but anyone who watched the game knows it was not as competitive as that score implies.
Next season, the Gators will have to rely more on Driskel to move the football. After a season in which he only threw for 1,646 yards, however, Florida fans might be ready to doubt his leadership abilities and skill set.
However, I am here to tell you that it isn't quite time to panic in Gainesville. In fact, Driskel should improve dramatically from last season.
When the Gators take the field next August against Toledo, Driskel will be hungry to take them to the next level. While key departures on defense could put a wrench in these plans, I believe Driskel will be adequately prepared to handle his end of the bargain.
Here are the main reasons why.
Begin Slideshow

»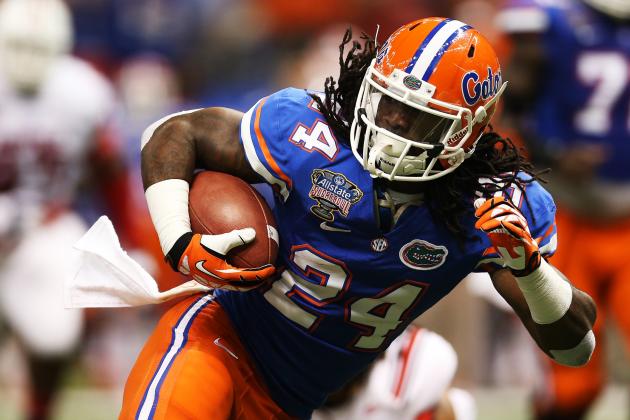 Matthew Stockman/Getty Images
Matt Jones and newcomer Kelvin Taylor should take some of the pressure off Driskel.
Although the Gators have lacked a "No. 1" target at wide receiver the past couple seasons, the group as a whole is fast and talented.
If there is one wideout who seemingly looks like the favorite to become the next go-to Gator receiver, it is Quinton Dunbar. Three of his four touchdowns came during the second half of last season, and his best game was the team's Sugar Bowl defeat.
In addition, new help is on the way in the Gators' tremendous recruiting class. Newcomers Demarcus Robinson, Ahmad Fulwood, and Alvin Bailey have the potential to make plays during their first season in Gainesville.
The offensive unit more likely to make plays for Florida, however, is its group of running backs. Matt Jones looks like the favorite to replace Mike Gillislee after breakout performances against Jacksonville State and Florida State. Should he have problems, incoming freshmen Kelvin Taylor and Adam Lane will be there to step in. Specifically, Taylor has all the makings of a future superstar.
What does this mean for Driskel? First of all, Florida's talented runners should be able to move the ball and open up the passing game. If they can force defenders to focus on stopping the ground game, Driskel will have an easier time finding targets down the field and using play action.
When he does throw the ball, Driskel will also have skilled youngsters on the receiving end of his passes. They have the ability to turn short passes into substantial gains. This means Driskel should not have to look for the home run pass deep down the field to be effective.
It is often said that many athletes are capable of helping their teammates play better. Likewise, the skilled Gator playmakers should allow Driskel to have an easier time throwing the ball.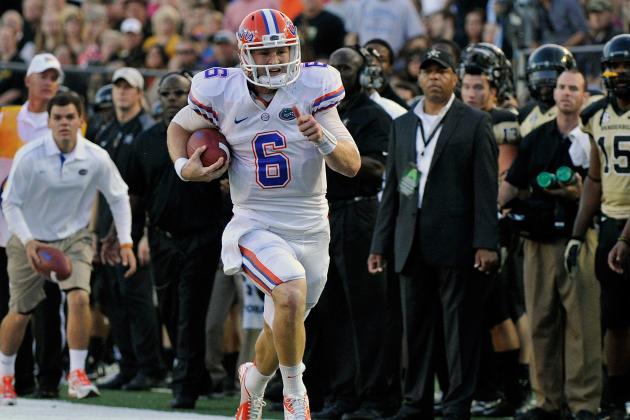 Frederick Breedon/Getty Images
Driskel showed his running abilities against Vanderbilt.
The value of Driskel's mobility cannot be understated. If all else fails, he is capable of putting on the afterburners and speeding down the field.
His raw speed was put on display in the Gators' victory over Vanderbilt. He ran for three touchdowns, including a 70-yard gallop that made everyone else look frozen in time. He has quick acceleration and side-to-side speed. Once on the run, his 6'4" frame makes him extremely tough to bring down.
His mobility is also important because it can allow him to extend plays. If the pocket collapses around him, Driskel is not afraid to scramble for extra time to throw the ball. Although there were a few instances where this tendency hurt him last season, his scrambling ability remains one of his better assets.
Whereas Tim Tebow was a wrecking ball on the run, Driskel's sheer speed allows him to blow by defenders. It is yet another facet that opposing defenses need to take into account when he is on the field.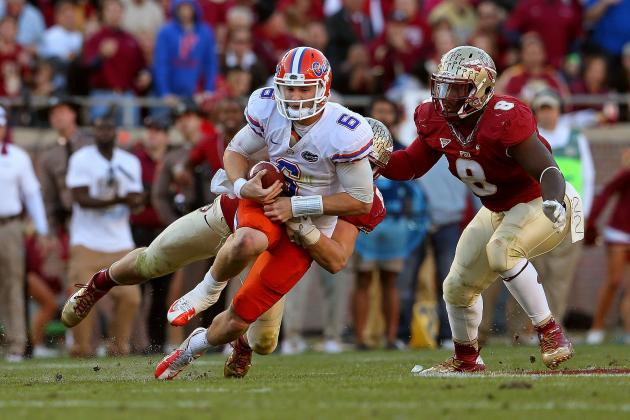 Mike Ehrmann/Getty Images
Driskel needs to take fewer hits to avoid potential injury.
One of Driskel's biggest problems last season was that he took way too many hits. This eventually led to an injured ankle that kept him out for a game. However, he was more than likely hurting long before that injury.
Barring some freak accident in spring practice or over the summer, Driskel will enter next season in the freshest condition he's been in since the opener against Bowling Green last season. This should immediately help his running ability.
By the end of last season, it had become apparent that he no longer had the same "burst" of initial speed that he possessed against the Commodores and other opponents. He should be able to accelerate as quickly as ever after this offseason.
Furthermore, starting off healthy could also be a mental benefit for Driskel. Obviously, the more pain someone is in, the harder it is for that person to concentrate. By the end of last season, the accumulation of aches and pains likely affected his focus in the pocket. That should no longer be an issue once next season starts.
As long as Driskel takes fewer hits during games, he should be able to avoid significant injury next season. His overall play should improve as well.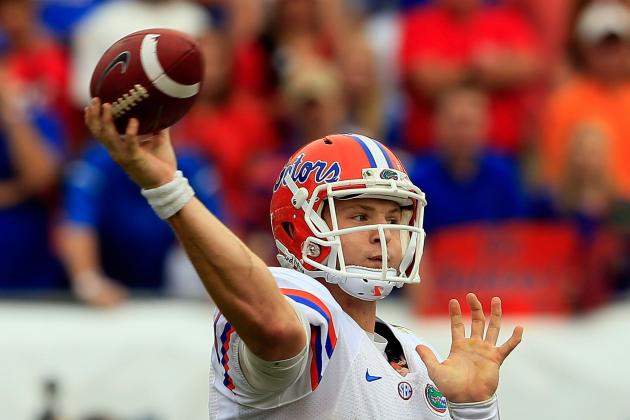 Sam Greenwood/Getty Images
Florida's run-heavy offensive scheme means Driskel needs to be a game-manager rather than a game-changer.
It's no secret that Coach Muschamp's formula for victory is a heavy dose of powerful running and sound defense. Because of this, Driskel does not need to single-handedly light up the scoreboard. Instead, his main job will be to take care of the football and convert for first downs.
The biggest reason the Gators almost made the BCS National Championship Game, even with Driskel's inconsistency, was that their defense kept every game manageable. Driskel was never forced to put up gaudy offensive numbers in order for Florida to win.
As inconsistent as Driskel was at times, he only threw three interceptions during the regular season. This is a telling stat because it illustrates how he was able to avoid situations in which he needed to force the ball into tight windows downfield. With the caliber of players found on the Gator defense, the same trend should repeat itself this season. This will take pressure off Driskel, and it should also make him more productive.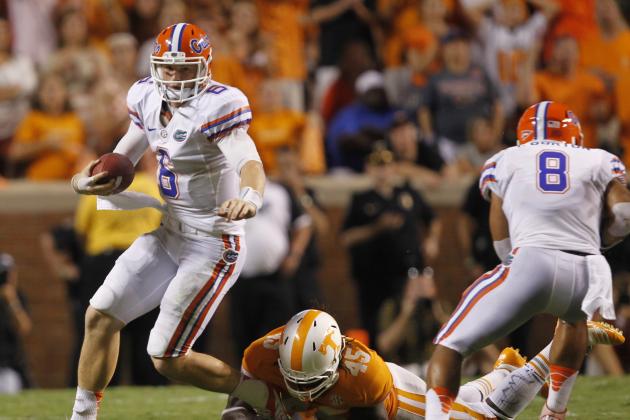 John Sommers II/Getty Images
Driskel led the Gators to a come-from-behind win over Tennessee.
One of the most promising qualities that emerged in Driskel's game last season was his ability to lead a comeback in SEC play.
The first one came against Texas A&M. Down 17-7 in the second quarter, Driskel and the Gators rattled off 13 unanswered points to win their first conference game of the season.
A week later, Driskel had his coming-out party against Tennessee. Behind by a touchdown in the third quarter, he made plays both with his arm and his feet en route to 300 total yards and another Gator victory.
He also piloted Florida to come-from-behind wins against LSU and Florida State.
Putting together four such games in one season is no easy task for any quarterback, let alone a sophomore in his first year as a starter. However, Driskel showed that he does have some semblance of a clutch gene in his DNA. Sure, it may not be fully developed yet. Still, such wins can boost a player's confidence dramatically.
This means that when Driskel finds himself playing from behind at one point or another next season, he will have the trust in himself and his skill set to lead the Gators down the comeback trail.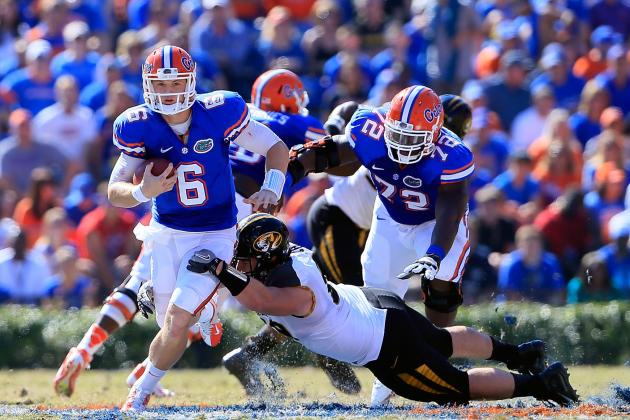 Sam Greenwood/Getty Images
A full season in the SEC should pay dividends for Driskel.
We hear all the time from experts and fans about the importance of playing time when it comes to a player's growth and development. This is, of course, because there's a lot of truth to that idea.
Yes, practice is also important for players, especially younger ones. However, nothing in practice can really prepare an SEC quarterback for the rigors of facing some of the toughest teams in college football week after week. The best way to learn is through experience.
After a full season as Florida's starter, Driskel has just that.
One area of his game that should drastically improve is his pocket awareness. There were times last year when Driskel struggled to scan through his reads once his first option was not available. This led to sacks and fumbles. This year, however, he will be able to look back on such situations from last season and make quicker decisions.
In more general terms, Driskel will simply have a better understanding of the overall speed and strategical elements of the game. He will be able to react on the fly when things do not go as planned, and he will know when it's time to either take a shot downfield or hold back.
He may not be at the level of AJ McCarron or Johnny Manziel, but spending a year leading Florida's offense should allow Driskel to take his game to another level. With no immediate pressure from the Gator backups, he will be able to develop his game as efficiently as possible.