Predicting 2013 Stats for Every Toronto Blue Jays Relief Pitcher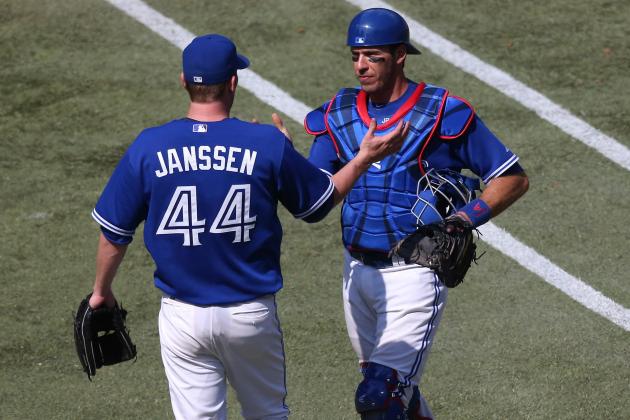 Tom Szczerbowski/Getty Images

Although the Toronto Blue Jays made drastic changes to their pitching staff this offseason, the 2013 edition of their bullpen will have some familiar faces.
Attempting to predict each pitcher's role in the bullpen and their 2013 stat line is not an exact science. Based on their previous performance and projected roles in the bullpen, we can make an educated guess, but only time will tell how the bullpen performs.
On the official Blue Jays depth chart, there are nine pitchers listed. Each of them will be counted on, as relief pitching has become an increasingly important part of a successful MLB team. Good teams have consistent bullpens, and although they may not get the glory like the starting pitchers, relief pitchers are important in their own right.
The Blue Jays closer, setup man, long-relief pitchers, middle-relief pitchers and specialists are all listed, along with their projected win-loss record, ERA, innings pitched and saves (if applicable). Save for the closer and setup tandem, this lineup has at least one left-handed pitcher and one right-handed pitcher in each role.
Begin Slideshow

»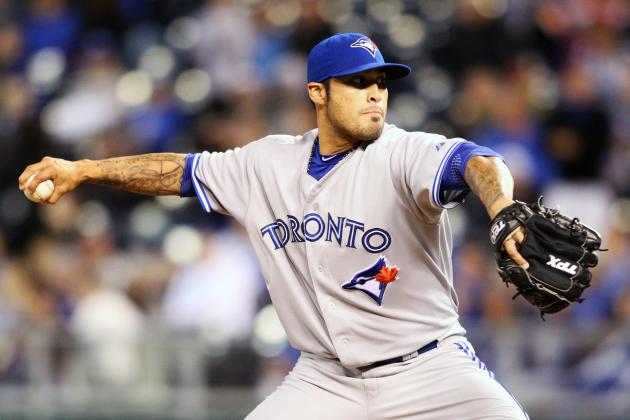 Tim Umphrey/Getty Images

Casey Janssen
Look for Casey Janssen to start the season as the Blue Jays closer. Although he may split some of the save opportunities with Sergio Santos, his performance as the closer last year warrants him the opportunity to enter spring training with the job.
He should be able to continue the success he experienced last year, and unless he proves to be ineffective or gets injured, he will be saving games all year.
W/L: 2-1 ERA: 2.59 SV: 26 IP: 64.0
Sergio Santos
The other half of the potential closer tandem, Sergio Santos, will see a lot of action this season if he can stay healthy. Santos is coming back from shoulder surgery and the strength of his arm will determine his effectiveness. He will be tasked with the odd save, as well as consistent work as the setup man.
W/L: 1-2 ERA: 2.88 SV: 9 IP: 69.0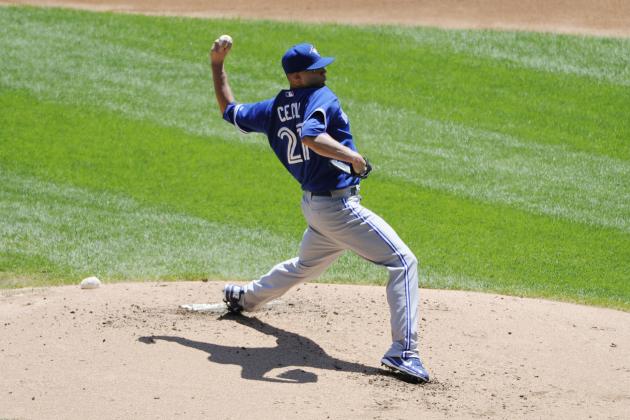 David Banks/Getty Images

Brad Lincoln
The right-handed Lincoln, will be tasked with some lengthy relief work when the Blue Jays get in trouble this year, but he showed he was able to handle the workload when he pitched 88 innings last year. His long-relief work will be a crucial piece to the success of the Blue Jays bullpen.
W/L: 4-2 ERA: 3.61 IP: 86.0
Brett Cecil
As former starter, Cecil's role in the bullpen was all but sealed when the Blue Jays added three proven starters this offseason. Last year Cecil saw playing time out of the bullpen as a long-relief man, and that trend should continue into this year.
His innings total will be indicative of his long-relief work, but his true value will lie in his ERA. If he is able to keep it down, he will be an integral part of a successful bullpen recipe.
W/L: 1-3 ERA: 4.35 IP: 71.0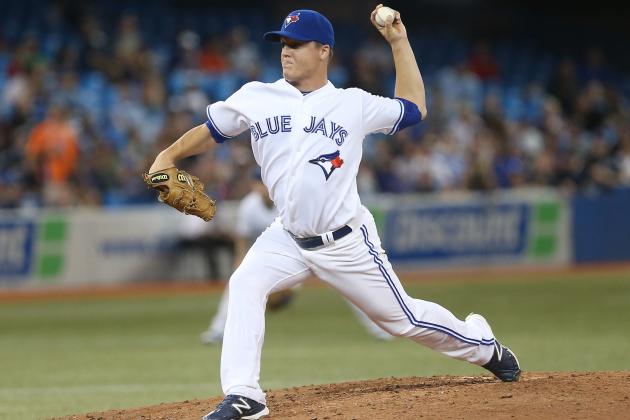 Tom Szczerbowski/Getty Images

Steve Delabar
After completing one of the more impressive comebacks in the MLB, 2013 will be Delabar's first full year with Toronto. He will be asked to eat up innings this year in all situations for the Blue Jays. His middle inning relief work was relied on last year, and will be again in 2013.
W/L: 4-4 ERA: 3.60 IP: 66.0
Aaron Loup
Loup was impressive in his rookie season with the Blue Jays last year and will look to build upon that in his sophomore campaign. He is another short-inning pitcher who will be asked to retire batters one inning at a time. Hopefully Loup can record his first major league win this year as well.
W/L: 1-2 ERA: 2.71 IP: 38.0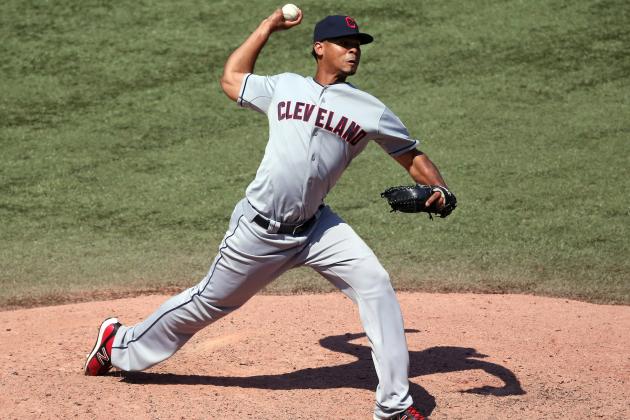 Tom Szczerbowski/Getty Images

Darren Oliver
The Blue Jays recently decided to exercise their 2013 option and bring back Oliver for one more year. He brings a veteran presence to the bullpen and will provide some stability as a lefty specialist. His advancing age will limit his innings, but he should be serviceable if used correctly throughout the season.
W/L: 2-4 ERA: 2.41 IP: 42.0
Esmil Rogers
One of the rare new faces in the Blue Jays bullpen for this year, Rogers will get a lot of situational work. When the Blue Jays need a quick inning, or manager John Gibbons wants to take advantage of a matchup, Rogers will get the call. Although his innings will not be amongst the team leaders, his contribution will be vital.
W/L: 0-2 ERA: 4.87 IP: 27.0
Jeremy Jeffress
The 25-year-old Jeffress was acquired this offseason to join the Blue Jays bullpen from Kansas City. Through three seasons, he has only pitched 38.2 innings. Because he will be playing behind such a talented starting rotation and a deep bullpen this year, his workload will not see a marked increase.
W/L: 0-2 ERA: 6.03 IP: 20.0