NHL Trade Rumors: Predicting 3 Blockbuster Roberto Luongo Trades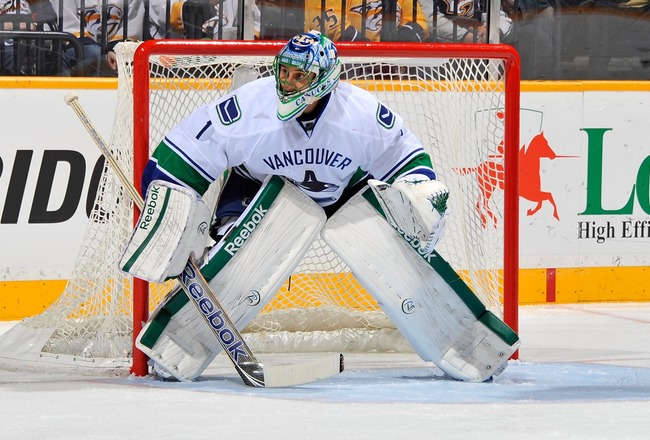 Canucks goaltender Roberto Luongo could find himself in a new uniform before the end of the season

Vancouver Canucks goaltender Roberto Luongo has found himself involved in plenty of trade rumors since the start of the season.
During an interview with Cam Cole of the Vancouver Sun, Canucks GM Mike Gillis said that "there was a deal in place" involving Luongo The mystery team is unknown, but TSN's Bob McKenzie believes that mystery team can be either Philadelphia or Florida.
It's possible the "mystery" team is actually FLA or PHI, which is no mystery at all but Gillis' quote (not who you think it is) is ambiguous.
While there are plenty of possible destinations for Luongo, it is still unclear where he will end up. Toronto has been the most rumored destination.
Toronto makes the most sense, as they are going with a young, inexperienced tandem in James Reimer and Ben Scrivens. Besides the other mentioned teams, Columbus, Tampa Bay, and Chicago are also possibilities.
With that in mind, here are three possible Luongo trades that make sense.
1. Traded to Chicago for Dave Bolland, Viktor Stalhberg, 2nd Round Pick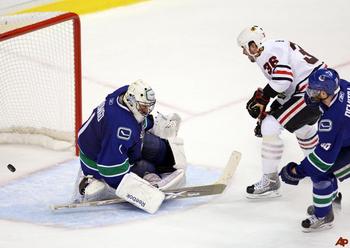 This is unlikely to happen, but it makes sense for both teams.
The Blackhawks have been unhappy with Corey Crawford's inconsisteny and lack of reliability. The Canucks need grit and toughness, and Dave Bolland provides that.
He is also one of the games premier shutdown centers, something the Canucks currently lack in the wake of Ryan Kesler's injury.
Bolland has been able to limit the Sedin Twins' playmaking ability. Not only that, he's capable of scoring both goals. Having a player of Bolland's caliber who's effective at both ends of the ice would be ideal.
The Blackhawks would also send left winger Viktor Stalhberg to Vancouver. He would replace the injured David Booth on the second line, and can score 20 goals as well. The Blackhawks have plenty of goal-scoring prospects, and can afford to part with Stalhberg.
The Blackhawks would be getting themselves one of the league's best and most consistent goaltenders. Luongo has had seven straight 30-plus win seasons.
Although Luongo has struggled mightily in the postseason, he is capable of leading them to the Stanley Cup finals, and would have plenty of help and experience in front of him. Luongo's hefty contract could be a roadblock, but Blackhawks GM Stan Bowman has shown the willingness to spend money.
Because of the bitter rivalry between these two teams, it is extremely unlikely this trade happens, but anything is possible.
2. Traded to Toronto for Tyler Bozak, Nazem Kadri, 2nd Round Pick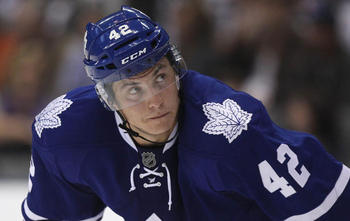 The Maple Leafs have so much talent offensively, boasting quality players such as Phil Kessel, Joffrey Lupul, Mikhail Grabovski, and Clarke MacArthur. They also have prospects who aren't far away from making the NHL, such as Jerry D'Amigo and Tyler Biggs.
They have plenty of depth at the forward position, and can afford to part with some of them.
Actually, they need to part with some of their forwards. They desperately need a goaltender and veteran leadership, and Luongo fills both of those holes.
The Maple Leafs have lacked a true, bonafide number one goaltender since Ed Belfour in 2006. Trading for Vesa Toskala didn't help, and neither did signing Jonas Gustavsson.
It's time for them to make a big move. Luongo could find it difficult at first playing with an inferior group of defensemen in front of him compared to Vancouver's, but it wouldn't take him long to adjust.
Luongo is still an elite goaltender, and can lead this young squad to the playoffs- something the Leafs haven't made since 2004.
The Canucks would get more scoring depth in Tyler Bozak- who would also fill the void at second line center while Kesler recovers from off-season shoulder surgery. The Canucks also lack elite prospects, and landing Kadri would instantly change that.
Luongo could indeed find himself in Toronto. GM Dave Nonis was the one who acquired his services when he was the Canucks General Manager, and that increases the chances of this trade happening.
3. Traded to Florida for George Parros, Jose Theodore, and Stephen Weiss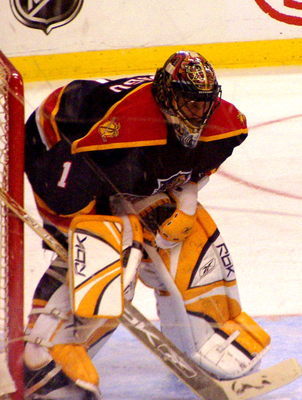 Looks familiar, doesn't it?
A reunion with Florida is Luongo's desire, he lives there in the offseason and his wife is there.
This trade would be a huge win for both sides. The Panthers would get the elite goaltender they've lacked since trading him away, and would be contenders for the long-term.
They also wouldn't have to give up any of their promising young forwards or top prospects. The other reason this trade makes sense is Luongo would be playing in a less crazy hockey market compared to Vancouver, and the pressure and criticism would lessen.
Panthers GM Dale Tallon went on an off-season shopping spree in 2011, even taking on Brian Campbell's contract. Luongo wants to return to Florida, so it makes plenty of sense, and it's just a matter of the Panthers' mutual interest, if there is any.
The Canucks would fix four major problems here:
They would gain toughness and an intimidating enforcer in George Parros. Teams such as the Bruins would think twice about going after the Canucks' star players with a guy as scary as Parros on the ice.
They would add a backup goaltender in Jose Theodore, who is still capable of being a number one, and would be a cheaper option. If Corey Schneider struggles, Theodore could take over until Schneider finds his groove again.
A Second Line Center would be gained in Stephen Weiss. As previously mentioned, the Canucks are still lacking a true number two center while Kesler is hurt, and Weiss is an ideal fit. He's scored 20-plus goals the past three seasons, and could lead the second power play unit.
Unloading Luongo's heavy contract would also rid the Canucks of a major headache in salary cap space.
GM Mike Gillis loves spending money, and if the Canucks have anymore weaknesses that must be addressed or need to lockup key player long-term, he will have plenty of money to do it.
Conclusion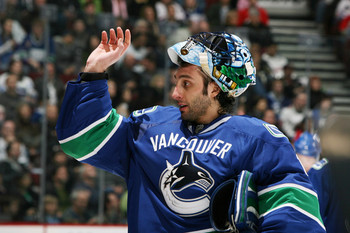 It's hard to predict any trade.
Do you have any trades you think could happen that involve Luongo?
Let me know in the comment section below!
Follow me on Twitter: AlexHoegler27
Keep Reading

Vancouver Canucks: Like this team?