The UFC's "Rampage" era looks like it will come to an end on Saturday night in Chicago. Win or lose Quinton "Rampage" Jackson is planning on walking away from the organization following his UFC on Fox 6 co-main event battle against Glover Teixeira.
The former UFC champion, and unifier of the UFC and Pride titles participated in his final open workout in Chicago on Wednesday and he had a lot to say about his time with the promotion, both good and bad.
With the level of vitriol that emerged during his recent media call, you would think Jackson would be walking away from the promotion angry and embittered, spitting venom at those that will soon be his former employers, but that wasn't the case. The outspoken veteran seemed resigned to the fact that this was the end of the road in the UFC for him. "It's just another fight, I don't think about all that other stuff. This is how I pay my bills."
As for paying the bills in the future Jackson reiterated the fact that he was very serious about making the move to professional boxing, not only for the fat paychecks that may come with that sport, but due to the fact that he feels he could fill a big role as a participant in the "sweet science."
"I think I can bring to boxing what they are lacking right now," Jackson said. "We don't have a Holyfield or Mike Tyson or fighters like that right now and I think I can bring that kind of energy to boxing."
But that's in the future, as far as the past, Jackson laid out his top three grievances with the UFC, a complete list of which he said would have taken a great deal of time to run through.
The first was, "The DVD Rampage Greatest Hits. If they had even told me that they were making the DVD I could have helped promote it, I could have made a little money off that."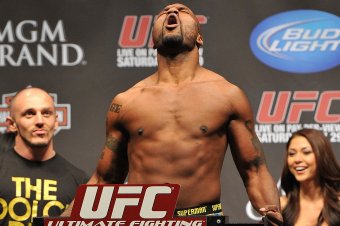 Jon Kopaloff/Getty Images
Next up:
My Round 5 toy. They made me leave the company and then they sign with the company and the toy looks stupid. I don't get toys to give to my kids, they don't even tell me. They got stuff about me I don't even know, cards, t-shirts, stuff, chains and the toy looks stupid, it doesn't even have hair. It's stupid.
Finally, "The last thing they did to me in my last fight, I got injured and they knew I was injured and instead of appreciating that I didn't pull out of the Japan card, Dana talked crap about me."
It wasn't all looking back in anger for Jackson, he did mention several things he will miss about his time with the UFC:
I'll miss Burt Watson, he's funny backstage and cool to hang around. Honestly, if you're on Dana's good side he's the coolest guy. Lorenzo and Frank have always been cool with me, those guys are real cool. I'll miss the good fans, the fans cheering you on when you walk back to the locker room and stuff. Bruce Buffer calling your name. I'll miss all that but, sometimes you gotta look in the mirror and stand up for yourself when you feel you've been treated badly, there's just so much you can take.
For those thinking this is all just bluster, just Rampage being Rampage on one side and UFC president Dana White being Dana White on the other and that the two will work things out and come to some resolution, Jackson will tell you that you're wrong:
I think that bridge is burned. I don't want to badmouth them. Dana, once upon a time gave me a big break when he purchased my contract from WFA, but it's no secret, ever since I did the A-Team movie and didn't fight Rashad Evans in Memphis we've had a bad relationship.
It's hard to be certain if that is in fact the time and the reason that things went bad between Jackson and the UFC; what does seem certain is that a UFC career that began in February 2007 will come to an end on January 26, 2012.
**all quotes obtained first hand by BR MMA