Detroit Pistons vs. Chicago Bulls: Live Score, Results and Game Highlights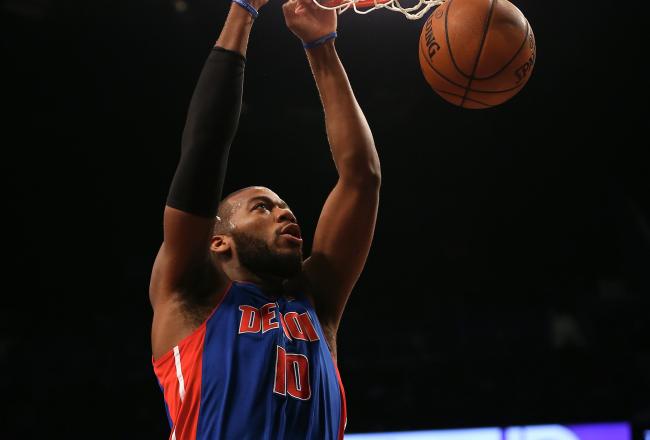 The Pistons have lost 16 straight to the Bulls dating back to 2008.
Elsa/Getty Images
The Chicago Bulls improved to 25-16 with their 85-82 victory over the Detroit Pistons Jan. 23 at the United Center. Here's the commentary on tonight's game.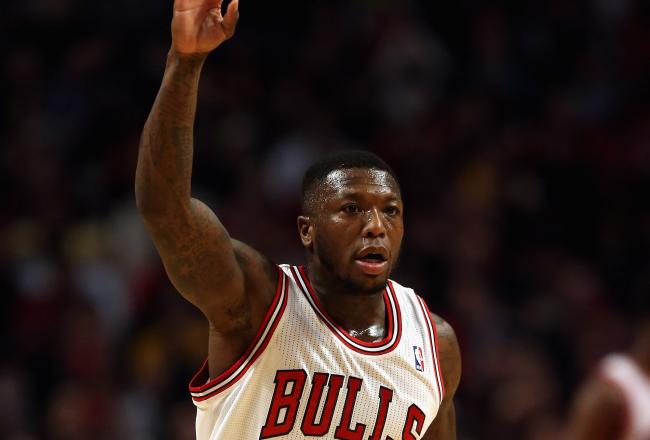 The Pistons got two good looks at three in those last seven seconds. The first was a wing three by Tayshaun Prince (who inbounded the ball). Following an offensive rebound, the Pistons threw it back to Rodney Stuckey, who got a great look, but the jumper fell short.
It's a disappointing loss for the Pistons who played so well and had won seven of 10 going into tonight's game, but the Bulls put it all together in the fourth quarter and outscored the Pistons 28-14 in the final period.
The key to the game for Chicago?
Pretty simple: Nate Robinson and Jimmy Butler.
The duo brought energy and ignited a fire on the rest of the lazy Bulls players, and the United Center crowd came alive as Nate Robinson goaded them into getting into it. The win was the Bulls' 19th straight victory over the Pistons.
FINAL SCORE: BULLS 85, PISTONS 82
What a hectic last play for the Bulls. Marco Belinelli missed a rushed corner jumper but the awkward rebound was saved from going out of bounds by Joakim Noah.
The Pistons stood around and thought the ball was going out, but Noah's save found Belinelli cutting to the hole for a basket. Belinelli made the layup and got fouled. The three point play was as unorthodox as it was fortuitous, but the Bulls will certainly take the result.
On the road, down by three, I see a Kyle Singler trey being launched if they can help it.
BULLS 85, PISTONS 82 — 7.5 seconds in game, Detroit ball
Rodney Stuckey drew a double team on a postup against Kirk Hinrich. That allowed Jason Maxiell to sneak behind Joakim Noah for a backdoor cut that resulted in an easy layup.
I'm not so sure Stuckey demands a double team against Hinrich, even in the post. It seems the Bulls likely should have played him straight up.
BULLS 82, PISTONS 82 — 29.4 seconds in game, Bulls ball
After a Rodney Stuckey basket, Jimmy Butler answered on the other end with a corner three from a Nate Robinson kick-out. The Bulls are playing high energy ball, only further proving they mailed it in the first three quarters.
Against teams like the Pistons, it's easy to get away with doing this.
But the Bulls will have to play with more energy against the league's better teams, with or without Derrick Rose and Luol Deng.
BULLS 82, PISTONS 80 — 1:06 in 4th, Pistons Timeout
Tayshaun Prince hit a three to pull the Pistons back within a point, but it is hard to believe Detroit will win this game. The Bulls' 'D' has tightened up a lot in the fourth quarter and the Pistons aren't getting as many good looks at the basket.
BULLS 79, PISTONS 78 — 2:14 4th
Despite the fact that Carlos Boozer was having a pretty good game, he hasn't appeared yet in the fourth quarter. Tom Thibodeau has stuck with the lineup that got them back into the game:
PG- Nate Robinson
SG- Marco Belinelli
SF- Jimmy Butler
PF- Taj Gibson
C- Joakim Noah
Four reserves and the starting center...it's worked, so why change it now?
BULLS 79, PISTONS 73 — 4:21 in 4th Quarter
Detroit is exhibiting one of the signs of a bad basketball team. Energy and hustle builds a big lead, complacency and inattentiveness fritters it away.
The Bulls have dominated this quarter and gone on an 18-5 run. Surely, Lawrence Frank already tried to instruct the Pistons that this lead would disappear if their feet let off the accelerator.
BULLS 75, PISTONS 73 — 5:31 4th Quarter
Nate Robinson has scored the last nine points of the game and drawn the Bulls to within a point. He's fired up and raising his arms for the crowd to join him. Finally, his teammates have begun to feed off his energy.
PISTONS 70, BULLS 69 — 8:30 in 4th
Nate Robinson has ignited the Bulls and the crowd. After pushing it on the break and getting to the line to hit two free throws, Robinson came back with a long two-point jumper and has the Bulls playing with some energy after looking lethargic the entire night.
Robinson has eight points and four assists in under 12 minutes of play.
PISTONS 70, BULLS 66 — 9:25 in 4th
Nate Robinson fed Jimmy Butler for a hard dunk in transition that ignited the United Center crowd. The dunk cut the Pistons' lead to eight, and Greg Monroe is now on a poster.
PISTONS 68, BULLS 60 — 10:55 4th
The teams have battled evenly in both the second and third quarters, so it can reasonably said if the Pistons hang on to win this one that coming out aggressive early was the key. The Pistons led by nine after the first, and still lead by nine.
Andre Drummond blocked a Joakim Noah layup at the end of the third quarter and now has eight points, four rebounds, a steal and a block.
PISTONS 68, BULLS 57 — End of 3rd
Kirk Hinrich, Rip Hamilton and Carlos Boozer all have three fouls apiece. The third quarter is coming to its close though, so the Bulls should be able to avoid having three-fifths of their starting lineup in foul trouble.
Carlos Boozer checked out at 3:23 in 3rd, with 16 points and six rebounds. He and Jimmy Butler have been the only two Bulls playing with enough energy to make a victory possible. Yet, the Bulls are still in this game despite the lackluster effort.
PISTONS 62, BULLS 53 — 2:57 in 3rd
Rip Hamilton hit the Bulls' first three after they missed their first ten attempts. The triple drew the Bulls back within eight, before it was answered by a Kyle Singler trey.
PISTONS 62, BULLS 51 — 4:00 3rd
Jimmy Butler's hustle continues to make the difference in keeping the Bulls in this game. Following a brick by Carlos Boozer, Butler swept in for a nice putback.
PISTONS 57, BULLS 44 — 7:00 in 3rd
Pistons coach Lawrence Frank doesn't want to let this big lead evaporate (obvious statement), as the Pistons are not that accustomed to building double-digit leads. Energy and hustle got them this lead, but it's easy to get complacent and stop doing the things that enabled the lead to grow to begin with.
After getting up by as many as 17, the Bulls fought back to get it closer and force a Pistons timeout.
PISTONS 55, BULLS 42 — 8:07 3rd
The Bulls were flat in the first half and they came out even flatter in the second. Kyle Singler exploited three Bulls defenders for a reverse layup, then his missed free throw was rebounded by teammate Greg Monroe for an easy putback.
Brandon Knight pushed it back in transition.
The Pistons have owned the third quarter thus far and have got off to an 8-0 run to open the game up.
PISTONS 55, BULLS 38 — 10:22 3rd
The Pistons out-hustled the Bulls all throughout the first half, and the Bulls played sloppy and lacked energy. They had nine turnovers, though it led to just seven Pistons' points.
The Pistons also out-rebounded the Bulls 21-18 and had seven offensive rebounds.
The Bulls aren't doing the little things, and without Derrick Rose and Luol Deng, that is exactly what is required to win a game like tonight's. Perplexingly, the Bulls just aren't as good in their own arena, and United Center fans would like the Bulls to play how they do on the road at home...The Bulls could fall to .500 at home with a loss tonight.
PISTONS 47, BULLS 38 — Halftime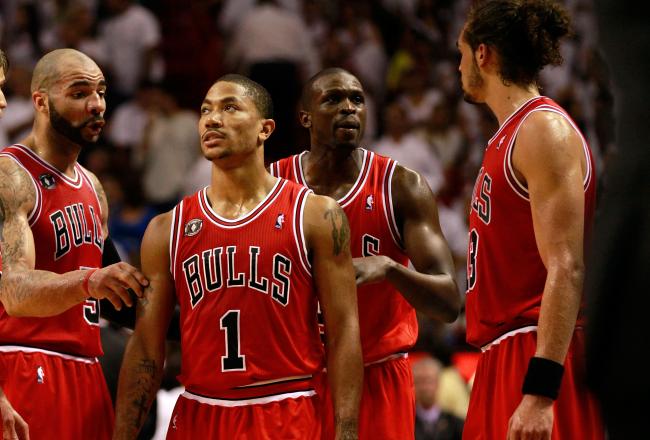 As good as the Bulls' ball movement had been in the last two weeks, nights like tonight clearly illustrate the need for a go-to scorer. Even Luol Deng would alleviate these dry spells the Bulls are encountering tonight, but of course the real treat for Bulls fans and players alike would be for Derrick Rose to return.
Rose was cleared for full contract drills and should be back soon, though no date has been established yet. Rose's playmaking and supreme scoring ability should bring the Bulls back into the realm of Eastern Conference contenders. They've been far better than expected without their MVP.
PISTONS 43, BULLS 37 — 29.9 seconds in half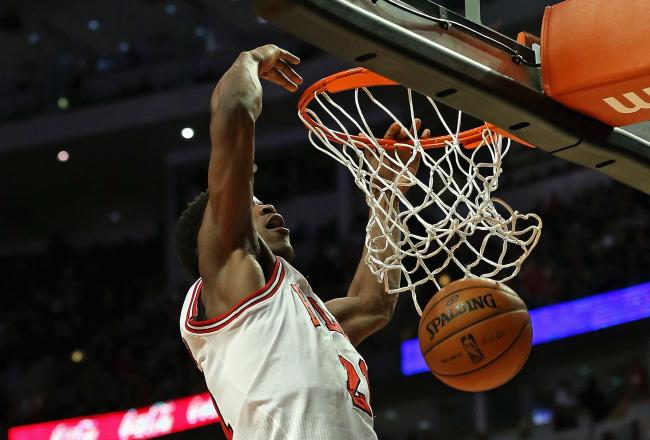 Jimmy Butler is the only Bull showing maximum effort tonight. He just grabbed his fourth offensive rebound on his own shot as the Pistons stood around helplessly.
The Marquette product is looking like he could potentially be one of the steals of the 2011 NBA Draft (he was selected No. 30 overall).
Butler has seven points and six rebounds now for the Bulls, who need more energy than what they have shown so far to get back in this one.
PISTONS 39, BULLS 32 — 2:30 2nd
Carlos Boozer (5-of-9 for 10 points) has five of the Bulls 11 field goals, but after the games he'd reeled off prior to the 14 point, six rebound game against the Lakers, the bar had been set much higher.
Boozer had 36 points and 14 rebounds against the Toronto Raptors on Jan. 16. While that is a standout game, Boozer must provide even more for the Bulls to win again tonight with Luol Deng still sidelined.
PISTONS 37, BULLS 29 — 4:43 in 2nd
Jimmy Butler seems to have a very high ceiling. He's already proven himself to be a lock-down defender, and he's far better offensively than he's been given credit for. Next on his checklist will be to develop more confidence and cohesiveness in playing with his teammates.
Butler has four points and five rebounds (three offensive) mid-way through the second quarter and just checked out with the Bulls down six.
PISTONS 37, BULLS 29 — 5:00 in 2nd
Anyone who is really buying that Will Bynum is 6-feet tall needs an exam. Nate Robinson is generously listed at 5'9" (we know you're 5'7", Nate) and Bynum is maybe an inch or two taller than Nate.
Note: If I was vertically challenged, I doubt I'd lie about my height. Isn't it more impressive to say you're in the NBA when you're under 6-feet tall?
Nate's making an impact in the second quarter and has already had a hand in three Bulls' baskets (one field goal and two assists).
PISTONS 33, BULLS 24 — 7:01 2nd
As good as the Bulls looked in the fourth quarter Monday night, that's how bad they look in the first quarter tonight. Uninspired and flat.

— Nick Friedell (@NickFriedell) January 24, 2013
Tom Thibodeau calls for timeout two minutes into the second quarter as the Pistons exploited the Bulls interior defense, leading to an Andre Drummond dunk. Joakim Noah got caught on help-side defense from another poorly defended pick and roll.
Drummond has made his first three field goals of the game and now has a team high six points for Detroit.
PISTONS 28, BULLS 19 — 10:03 2nd
The Pistons outscored the Bulls 23-14 in the first quarter, but the Bulls came out with a Marco Belinelli jumper to score the first bucket of the second quarter. The Bulls' ball movement has been a big factor in their great play recently, as they have shown the effectiveness of team basketball.
The Bulls likely have no Hall of Famers on the court right now (until Derrick Rose gets back), while the 17-24 L.A. Lakers have four.
Ball movement and team play can get a club pretty far.
PISTONS 26, BULLS 19 — 10:22 2nd
This article is
What is the duplicate article?
Why is this article offensive?
Where is this article plagiarized from?
Why is this article poorly edited?