L.A. Lakers vs. Memphis Grizzlies: Live Analysis, Updates and Highlights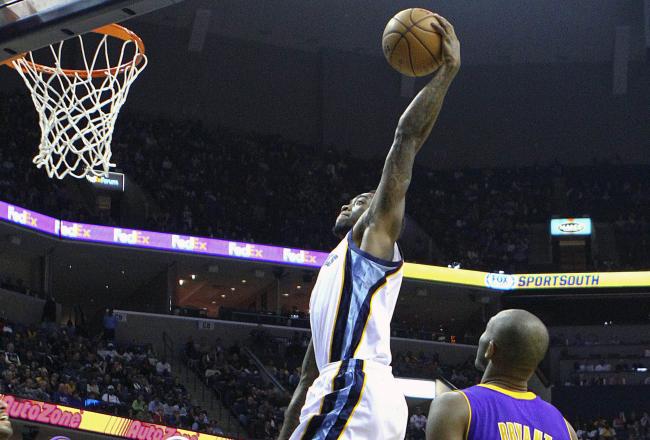 The Grizzlies hand the Lakers their seventh consecutive road loss behind double-digit scoring from six players, 106-93. Kobe Bryant scored 29 points in the loss. Dwight Howard re-injured his right shoulder in the second quarter and didn't return the rest of the game.
Lakers' 106-93 loss to Grizzlies is their 25th of the season. LA hasn't lost more than 25 games in an ENTIRE SEASON since 2006-07.

— SportsCenter (@SportsCenter) January 24, 2013
The Lakers are now 2-10 in January. That's the worst record in the league. Yes, even worse than the Bobcats and Wizards.

— Anthony Slater (@anthonyVslater) January 24, 2013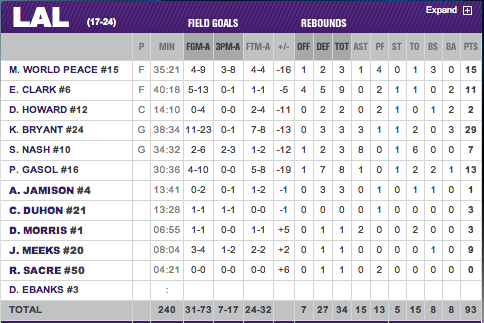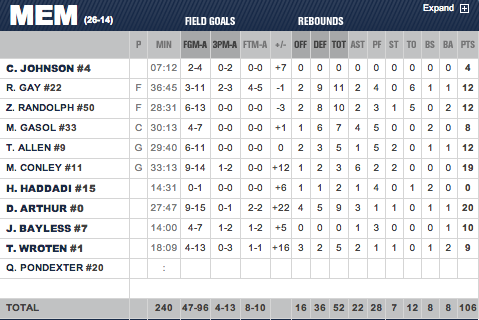 The Lakers finish their road trip winless (0-3) to give them their seventh road loss in a row.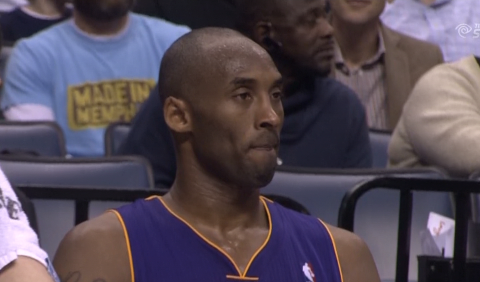 Kobe doesn't look happy on the bench.
Kobe was 7 of 9 in the 1st half, then 10 of 13, but is now 11 of 23. Not getting those calls at the rim didn't help. Has 29 points.

— Mike Trudell (@LakersReporter) January 24, 2013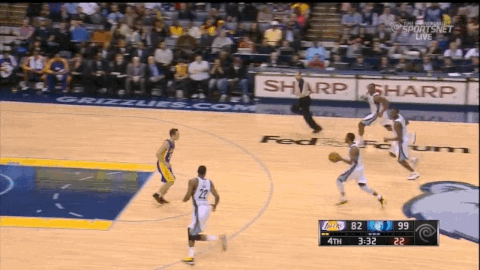 With this Darrell Arthur fastbreak dunk the Grizzlies have busted it open. Timeout Lakers.

Kobe is close to 30 points tonight.
Kobe on the verge of explosion after another no-call at the rim from Bill Kennedy. Meanwhile, LAL down 93-76 w/6:39 left.

— Mike Trudell (@LakersReporter) January 24, 2013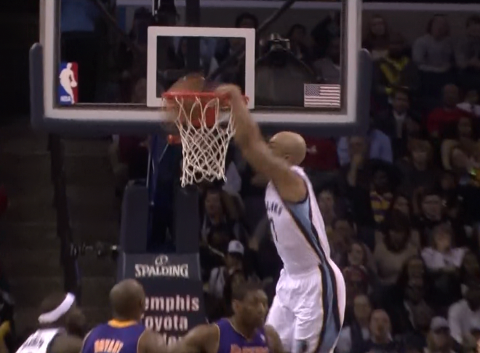 Jerryd Bayless goes backdoor and throws it down.

Lakers fans will disagree with the officiating but LA is in a serious hole midway through the fourth.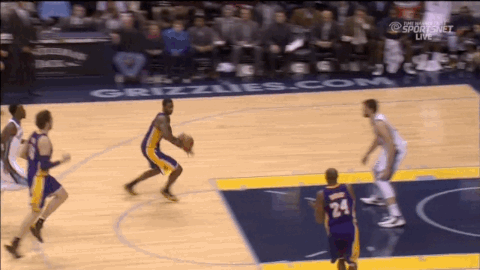 The no-call that earned Kobe a technical.
Kobe Bryant gets a T after complaining about a missed foul call. Lakers in serious trouble here late.

— Dime Update (@DimeUpdate) January 24, 2013
If Mike D'Antoni says there were players crying in the locker room after tonight's game, I swear ...

— Dave McMenamin (@mcten) January 24, 2013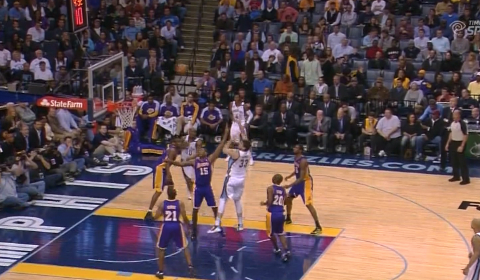 Marc Gasol hits the turnaround sky hook to put the Grizzlies up 15. Timeout Lakers.
Small team of Duhon-Meeks-MWP-Jamison-Clark in to start the 4th, with a tall task of cutting into a double-digit lead.

— Mike Trudell (@LakersReporter) January 24, 2013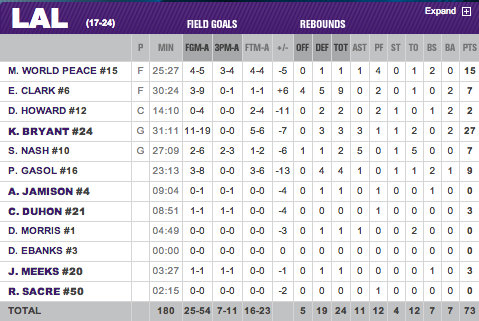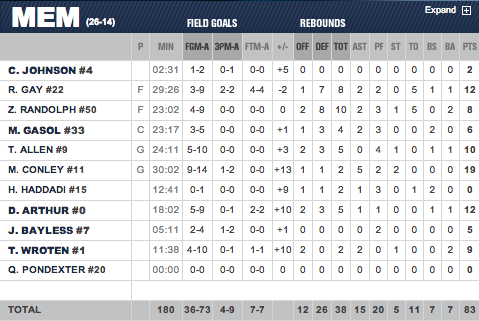 At the end of three, the Lakers are down ten.
The Lakers trail 83-73 after three quarters. We'll see if they dig deep here or not.

— Dave McMenamin (@mcten) January 24, 2013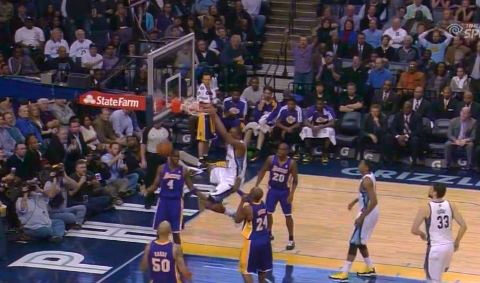 Darrell Arthur grabs the offensive rebound and slams it down.
Kobe's first step has been great tonight. Just blew past Rudy Gay, drew a PF. LAL down 77-67, w/Kobe heading to line out of a time out.

— Mike Trudell (@LakersReporter) January 24, 2013
Nash was 27 for 27 this season on free throws before that miss. He hasn't been sharp from the field lately either. ... MEM 77, LAL 67.

— KEVIN DING (@KevinDing) January 24, 2013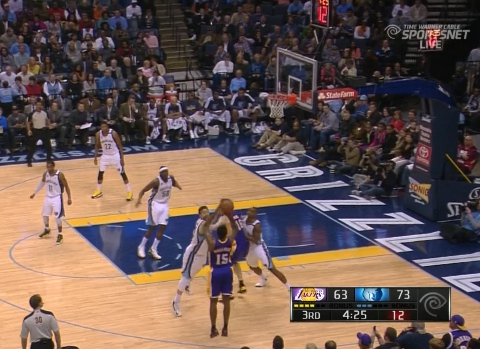 Metta World Peace hits his third three of the game.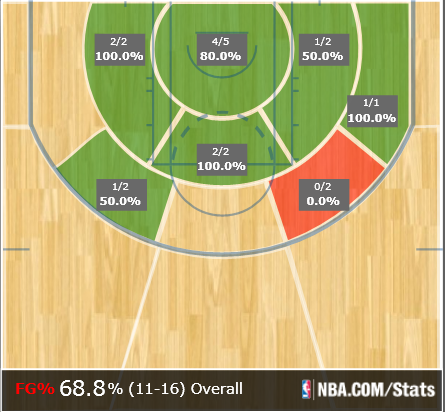 After shooting 31.6% in his last three games, Kobe has shot 11-of-16 so far tonight.
As noted on the @twcsportsnet broadcast, Grizzlies lead the Lakers 15-0 in 2nd chance pts. Kobe's got 6 quick pts in the 3rd, 69-63 MEM.

— Los Angeles Lakers (@Lakers) January 24, 2013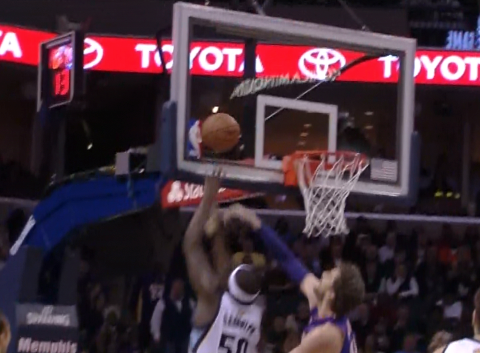 Pau Gasol swats Zach Randolph's shot. Grizzlies call timeout with the Lakers within six.

Kobe's 24 points lead all scorers. He has eight in the half.
This article is
What is the duplicate article?
Why is this article offensive?
Where is this article plagiarized from?
Why is this article poorly edited?