Detroit Pistons vs. Chicago Bulls: Postgame Grades and Analysis for Chicago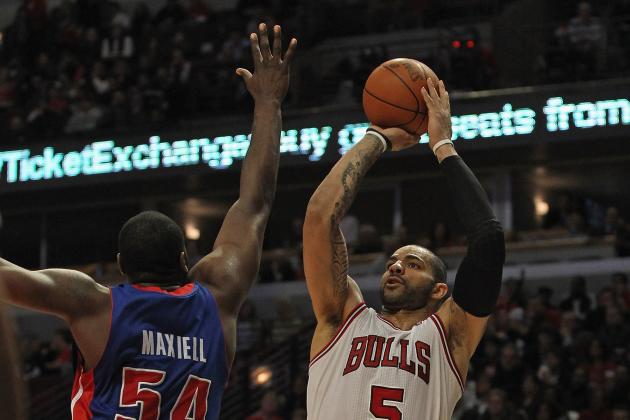 Jonathan Daniel/Getty Images

The Chicago Bulls played another Bullsy basketball game, beating the Detroit Pistons 85-82 in a battle of a solid defense from Chicago and a sloppy offense from Detroit.
Chicago's defense was in common form, holding Detroit to 41 percent shooting, locking down the three-point line so that the Pistons barely had a chance to think about shooting, out-rebounding the taller Pistons squad and forcing silly mistakes by the younger, inexperienced Detroit team.
It was a dirty, gritty game, punctuated by the likes of Jimmy Butler's stellar defense and a scoring streak from Nate Robinson, so you know it was a different one, even if the score was familiar for this stout Chicago team.
In an act of defiance, Tom Thibodeau was actually relying on the team's bench later on, running out a lineup of Robinson, Marco Belinelli, Butler, Taj Gibson and Joakim Noah.
Oddly enough, that squad was able to extend Chicago's lead, and even dominate at some points during the game.
This Chicago team is capable of spotting opponents big leads, and eventually digging in its heels and refusing to allow another point until it's leading, which is pretty much what the Bulls did in this one.
Let's take a look at who was most responsible for the outcome in Chicago, and toss around a grade or two.
Begin Slideshow

»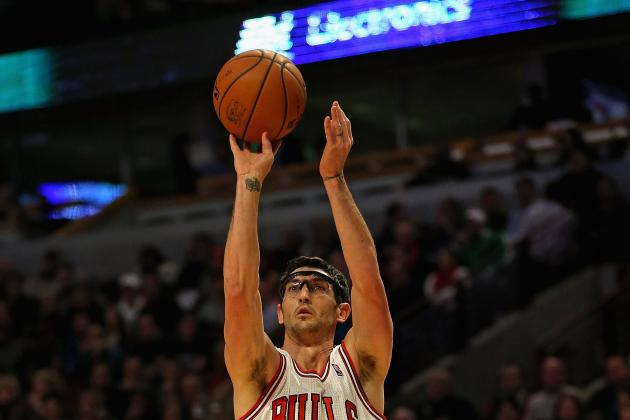 Jonathan Daniel/Getty Images

Stat Line: 0 points, 3 rebounds, 3 assists, 1 block and 1 steal
At halftime Kirk Hinrich had no points and three assists, and he wasn't really doing the job necessary to Chicago's success, but he doesn't really have the keys to the offense in this scenario. The Bulls have multiple pilots.
Of course, his defense did leave something to be desired, as he struggled to hang around with Rodney Stuckey and Brandon Knight.
However, Thibodeau knows what Hinrich is capable of in a tense situation. He's got a calm head and never makes a rash decision.
In order to keep the game in hand, Hinrich went in for Marco Belinelli with two minutes to go. This allowed Chicago to keep the hot-shooting Nate Robinson in without letting him handle the ball for an entire possession, surely avoiding a disaster.
Hinrich finished with no points, three rebounds and three assists, but he did have a late-game impact, so there's something to be said of that.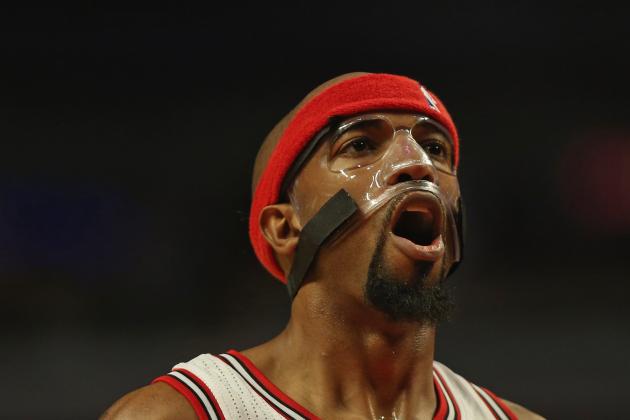 Jonathan Daniel/Getty Images

Stat Line: 11 points, 1 rebound, 2 assists
Rip Hamilton has had the definition of an on-and-off season, constantly wavering between somewhat effective and completely useless on offense.
At halftime, he was saddled with just two points and two assists, making just one of his three shots and hanging around as one of the few players for Chicago who still wasn't able to get to the foul line.
Defensively, he's what he's been for the past few seasons, and he's never going to be anything different. If it weren't for the help of Joakim Noah and Taj Gibson, he would be a lot less valuable to Tom Thibodeau.
The third quarter was when Rip came alive, scoring nine points and making three of his five shots and helping Chicago stay involved through a lull.
He didn't play a ton in this game thanks to Jimmy Butler's superior play, and a good run in the fourth from Nate Robinson and Marco Belinelli, but he didn't have a terrible game.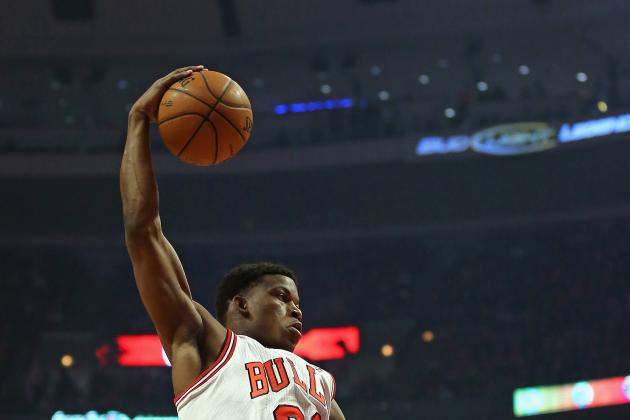 Jonathan Daniel/Getty Images

Stat Line: 18 points, 9 rebounds, 4 assists, 1 block and 1 steal
I'm not so sure that there have been more than five games in Jimmy Butler's career in which the stat sheet tells the story of the game he played, and it was no different Wednesday night.
Butler came in and filled the hole left by Luol Deng, and he knew that he would need to try to shoot more than normal if he had a shot to take.
While he shot poorly to start the night, he was able to attack the rim relentlessly, getting to the free-throw line and making five of six freebies in the first half. That was just the start of things.
He wasn't great from the floor initially, but he came alive later in the game, following a 1-of-8 start from the floor with a 5-of-6 stretch, finishing the game with 18 points.
Butler is deceptively big, and he showed it Wednesday night. He was setting screens for Carlos Boozer, skulking around the baseline under the basket and suddenly inserting himself into the paint when the shot went up allowing him to grab Moses Malone-ish rebounds, and he can pass, or at least he knows when to make the right pass.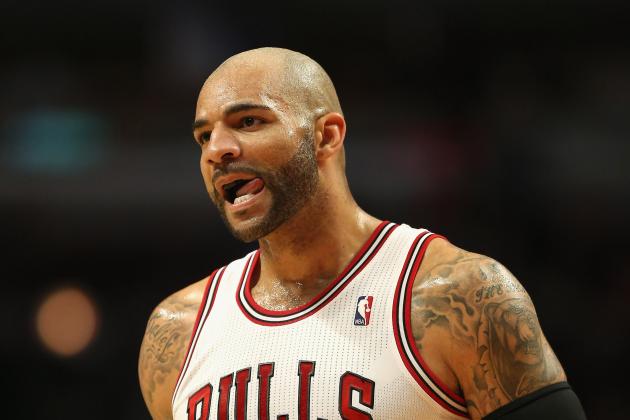 Jonathan Daniel/Getty Images

Stat Line: 16 points, 6 rebounds, 2 assists
As we've been conditioned to dislike Carlos Boozer over the past few seasons, it's imperative that we acknowledge something about him; he's at the very least 90 percent of the way back to his old self.
There's no more sulking, taking entire offensive possessions off, completely disregarding defense (although he's still a poor defender), or flat, legless jumpers.
Boozer's game Wednesday night has been a reflection of the past month of basketball, sinking jumpers, playing an incredible post game, aggressive on offense and finally somewhat active on defense.
Oddly enough, Boozer was the most consistent offensive player all night long, but he didn't see a lick of time in the fourth quarter thanks to a solid fourth from Taj Gibson.
Even still, If it weren't for Boozer, this team would be doomed.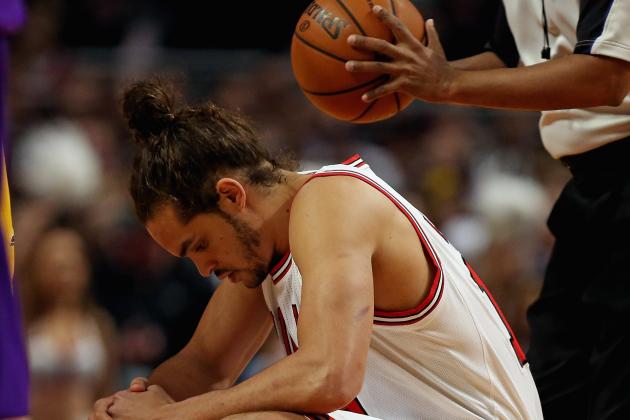 Jonathan Daniel/Getty Images

Stat Line: 10 points, 18 rebounds, 2 assists, 2 steals and 1 block
Before we get anywhere with Joakim Noah, it must be said that he needs to start a school teaching big men how to pass. He may seem completely out of control through 90 percent of a game, but when he passes it's nothing but butter.
Even when he's off from the floor, or ends up picking up a few too many fouls, Noah passes like nobody's business.
Along with the passing game, Wednesday night was the same old story, same old song and dance for Joakim on the court.
He was good enough defensively, but was constantly forced to help out on penetrating guards, which led to the Detroit bigs getting a few more points than he would have liked (by the way, the same thing happened to Kevin Garnett as Brandon Knight and Rodney Stuckey shook they're way around Rajon Rondo).
Noah was a rebounding fiend, gobbling up every loose board and taking a bite out of any player who tried to take it away from him.
Of course, Noah basically won the game for the Bulls, saving an errant shot from Marco Belinelli, which ended up back in the hands of a streaking Marco for a layup.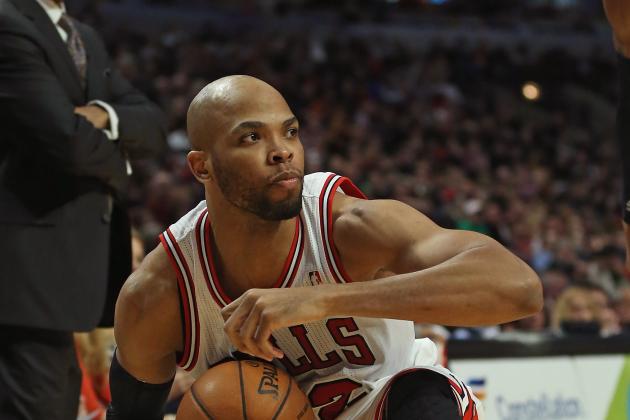 Jonathan Daniel/Getty Images

Stat Line: 14 points, 4 rebounds, 1 assist, 2 blocks
Tom Thibodeau will never cease to amaze me with the rotations that he plays (or doesn't), even when he's got an injury to deal with.
With Deng out of the game, it would have made plenty of sense to give Taj a few minutes at the small forward spot, but Jimmy Butler went and played 24 (solid) minutes throughout the game.
In the minimal time that he received, Gibson was able to display his usual defensive prowess, throwing his body around and using his incredible hops to alter shots, and that was enough to give him a solid night off the bench.
Gibson was incredibly on point offensively, scoring eight points on 3-of-4 shooting, and he was able to help keep the ball moving in an otherwise stagnant Chicago offense.
He was playing well enough late in the third quarter to convince Thibs to keep him running into the fourth, and it was worth it with the Pistons starting the quarter on a 12-2 run, and Gibson tipping in the shot midway through the quarter to give Chicago the lead.
The big, athletic fellow is certainly earning Stacey King's nicknaming him "The Secretary of Defense."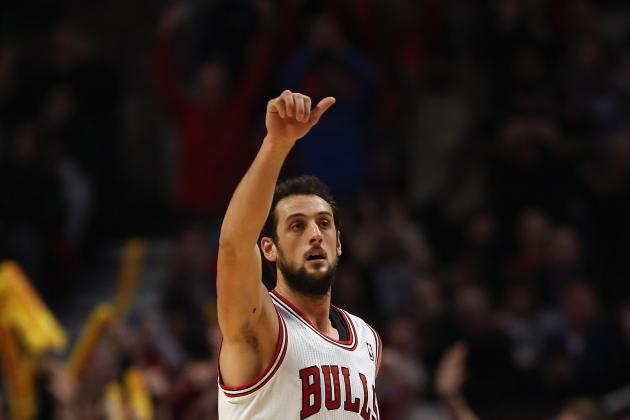 Jonathan Daniel/Getty Images

Combined Stat Line: 30 points, 6 rebounds, 8 assists, 1 steal and 2 blocks
After Gibson, the extent of Chicago's bench was Marco Belinelli and Nate Robinson, with Nazr Mohammed playing all of eight seconds and chucking a 42-footer at the end of the second quarter.
Lucky for the Bulls, they got the version of Nate Robinson that was seemingly unable to miss in the fourth quarter, scoring nine straight points at one point, including a transition three-pointer that the coach in me wanted to stomp and scream about.
On top of that, he was able to find Noah while falling out of bounds, dropping it in to the big man for the game-tying dunk.
Regardless of ridiculous shot selection, Robinson's offense gave the Bulls a chance to win this one, so you've got to give the little dude some credit.
While it looked like Belinelli would end up having another bad night, he came off the bench late in the fourth quarter to turn it all around, sinking what would be the eventual game-winner off the Joakim Noah save.