L.A. Lakers vs. Memphis Grizzlies: Live Score, Results and Game Highlights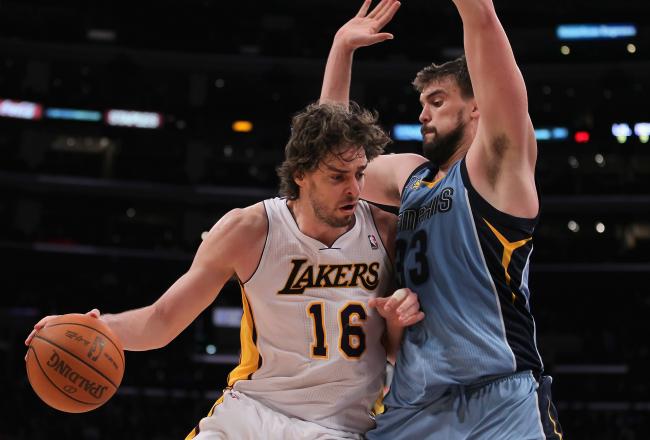 Jeff Gross/Getty Images
The Memphis Grizzlies took it to the struggling Los Angeles Lakers tonight in Memphis by a score of 106-93.
Scroll down through the blog to see how it happened.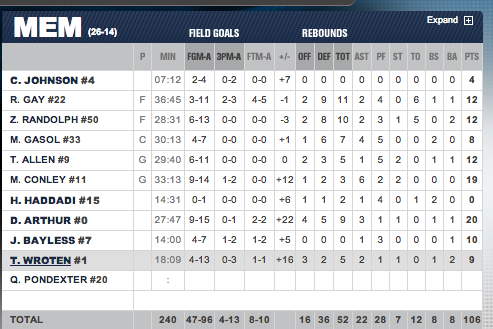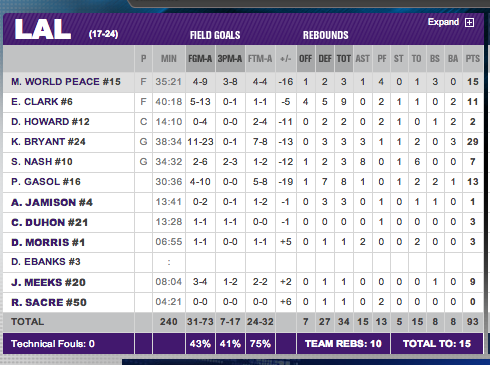 Final Score: MEM 106, LAL 93
Here's a quick recap before the box score post.
Dwight left after a shoulder injury and the Lakers defense clearly missed his presence.
Kobe started hot but couldn't single-handedly carry the team through Memphis' constant barrage.
Mike Conley was a star in his time on the floor and Darrell Arthur highlighted a tremendous bench effort for the Grizzlies.
L.A. drops to 17-25 and does not have many positives to take from an awful road trip.
This one just ended, final score MEM 106, LAL 93.
Darius Morris converts a three-point play (Go Blue!) but it is far from enough.
Kobe does not look happy on the bench.
So much for the pregame talk turning this team around!
Under two minutes to go here, Memphis is cruising and up by 17.
A monster slam in transition typifies how the second half has gone for the Lakers.
Memphis leads this one now by 21 points and the air has been sucked out of the Lakers team.
Now we just have to wait for the clock to run out in Memphis.
Pau to the line for two with the Lakers trailing by 17.
MEM 95, LAL 78; 5:20 remaining in regulation
This one is a tough one to swallow for Lakers fans. At what point do they make a switch?
Kobe better watch himself here, he is about to get tossed from this game if he doesn't stop screaming at the officials. Halfway through the fourth and L.A. doesn't appear to have a chance.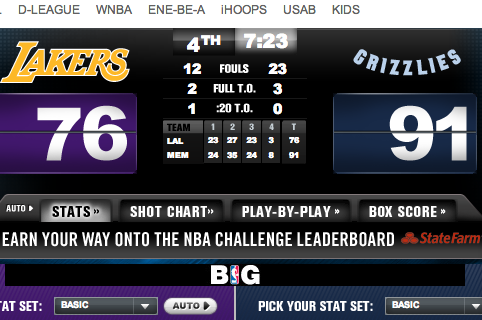 After both teams had all players diving on the floor for a wild loose ball, Kobe got absolutely drilled on his way up for a lay-up in transition. No call.
Kobe is irate and quickly picked up a T which stopped the ensuing Grizzlies possession.
Darrell Arthur scores again and Memphis is still up 15.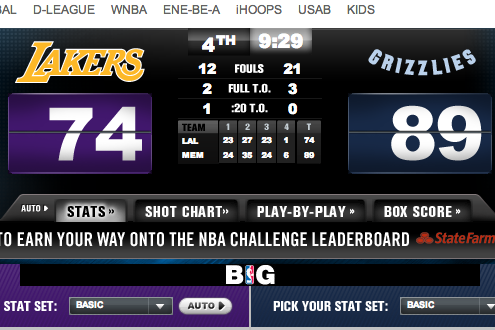 A pretty floater from Marc Gasol extends Memphis' lead to 15 and D'Antoni will take a timeout before it gets out of hand.
Only way back into this one is through defense. And the Lakers are not showing any positive signs here.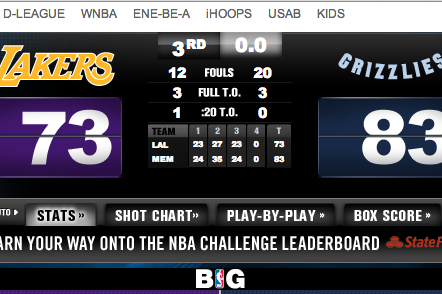 Memphis wins a hustle battle as the clock ticks down but cannot convert. They lead by 10 heading to the fourth quarter.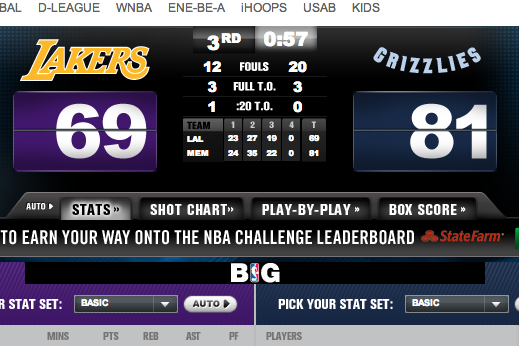 The Lakers are out of gas and not playing any defense. Darrell Arthur is torching them under the hoop.
Sacre flops hard on a drive and the Grizz will get free throws.
The Grizzlies are looking to score 100 for only the twelfth time all season and seem to be on good pace.
79-69 Memphis.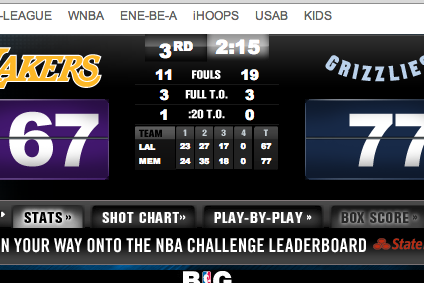 Darrell Arthur hits a nice turnaround and Memphis is in control with a double-digit lead.
Ball in the hands of Kobe and he's going to the line.
Timeout at the FedEx Forum.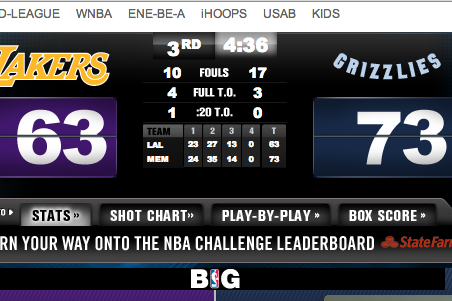 Pau can't connect over Marc but Marc connects on a high-arcing jumper over Pau.
Parents are loving it. Memphis by 10 with 4:36 to play in the third.
MWP for three! Lakers close it to four.
The Lakers are getting stops and have closed their deficit to five. Who will be the standout performer that can take them the rest of the way?
No Dwight anywhere, as he has an aggravated right shoulder.
Pau will see increased minutes and I happen to think it may be better for L.A.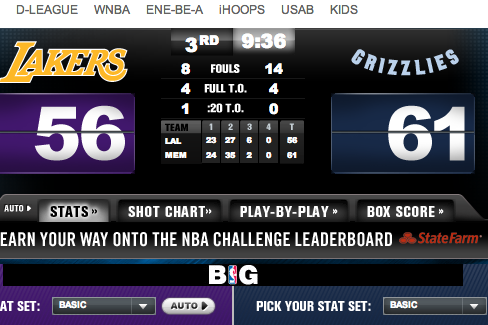 Can the Lakers mount enough of a defensive effort to overcome a deficit in this one? Earl Clark is getting to the rim early in the third.
Here we go! Memphis will start with the ball.
The Lakers came out strong to start the half, but couldn't maintain their pace. In fact, the Grizzlies' bench spelled the undoing of L.A.'s early lead, chipping in over 20 points in just two quarters.
Dwight is out with an injury and it didn't look too good as he headed back behind the scenes.
Kobe is on fire but Mike Conley is matching his offensive strides so far.
What will become of this game in the second half?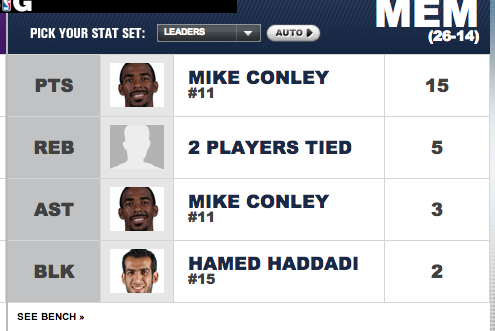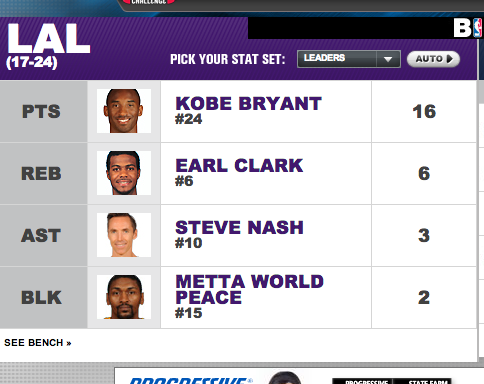 At half our score is 59-50 in favor of the Grizzlies. Lets have a look at the leaders so far.
Pau gets fouled on a driving lay-in with only 2.4 seconds remaining in the half but doesn't make either one. The Lakers trail by nine at half.
This article is
What is the duplicate article?
Why is this article offensive?
Where is this article plagiarized from?
Why is this article poorly edited?