Duke vs. Miami: Live Score, Updates and Analysis for ACC Game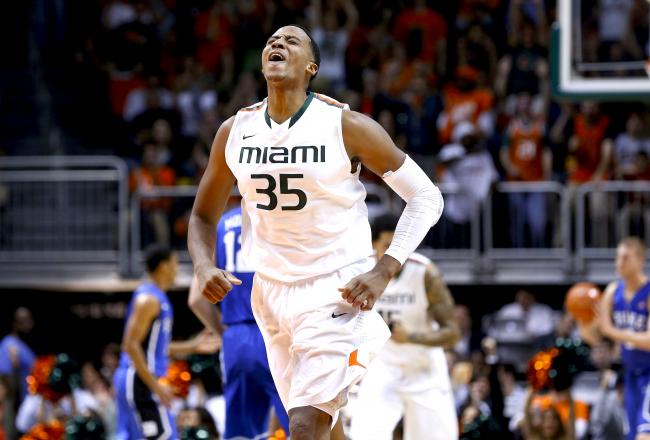 The No. 25 ranked Miami Hurricanes took down the No. 1 ranked Duke Blue Devils in an impressive 90-63 victory tonight in Coral Gables, Fl.
Miami dominated on both ends of the court and forced Duke into a horrible scoring night, including shutting down Duke's sharp-shooting Seth Curry.
With the win, the Hurricanes now move to 5-0 in the ACC, which gives them a two-game lead atop the conference standings.
After this dominant display over the Blue Devils, Miami appears to have cemented itself as the best team in the ACC.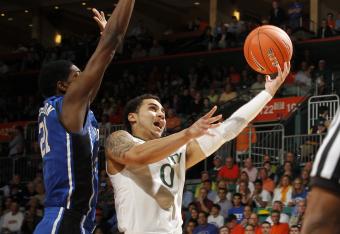 Miami 90, Duke 63 (Final)
Duke now falls to 16-2 and 3-2 in the conference but the Blue Devils are facing major issues moving forward. The team's transition defense and inability to stop dribble penetration was a huge factor in tonight's game. These issues will need to be addressed if they expect to have any success in March.
Another concern for Duke is the play of Seth Curry. For the first time all season, Curry was held scoreless. With Ryan Kelly injured, Curry has to play well for Duke to win.
Miami 90, Duke 63 (Final)
The Miami fans are now storming the court and celebrating this dominant victory over Duke. Expect the Hurricanes to climb in the polls after this big win over the No. 1 ranked team in the nation. It will be interesting to see how far Duke falls with this abysmal performance.
Miami 88, Duke 56 (1:20 Second Half)
Jim Larranaga is now emptying his bench and taking out the Miami starters. Outstanding performance by Miami's starting five tonight.
Miami 85, Duke 54 (1:40 Second Half)
Miami is a team that lost to Florida Gulf Coast earlier in the season and beat Boston College by one point last week. Following this big win, it will be interesting to see how the Hurricanes respond in their next game against Florida State. The Hurricanes clearly have the talent to beat anyone in the country, but now they need to play with consistency.
Miami 74, Duke 50 (4:45 Second Half)
The score in this game has caught many people around the country by surprise, including ESPN's Andy Katz.
Just checking. Did we reverse the rankings on the broadcast? Should it have been No. 1 Miami and No. 25 Duke?
— Andy Katz (@ESPNAndyKatz) January 24, 2013
One group that does not appear surprised is the Miami team. The Hurricanes have played with confidence, poise and intensity all game. In no way did they appear to be rattled by the moment.
Miami 69, Duke 44 (7:12 Second Half)
In one of the few positives Duke can take from this game, Alex Murphy has played well tonight. The redshirt freshman has scored 11 points to lead the Blue Devils. It appears Duke will need Murphy and others to step up in order to still compete for the ACC Championship.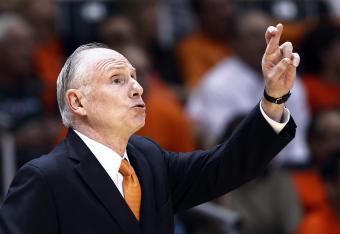 Miami 69, Duke 42 (8:13 Second Half)
The Hurricanes have played exceptional on a national stage against the No. 1 ranked team in America. If Miami didn't have respect before this game, they will definitely have it now. The question going forward will be whether or not Jim Larranaga's team has solidified itself as the favorite to win the ACC.
Miami 69, Duke 42 (9:19 Second Half)
With another miss, Seth Curry is now 0-for-8 shooting the ball and still doesn't have a point. With Curry struggling, it's become increasingly clear that Duke has major issues scoring the ball when Ryan Kelly is injured.
Miami is turning this second half into a highlight reel with fast-break dunks.
Miami 63, Duke 35 (11:37 Second Half)
Duke has executed more on offense in the second half but they are still unable to stop Miami on the defensive end. Like years past, the Blue Devils are being exposed as a team that struggles to stop athletic guards who can penetrate with the basketball.
Miami 63, Duke 33 (12:00 Second Half)
It looks like Mike Krzyzewski is doing everything he can to get his team back in the game.
#Duke coach Mike Krzyzewski to Karl Hess: "We're losing by 30 points, give us some free throws"

— Laura Keeley (@laurakeeley) January 24, 2013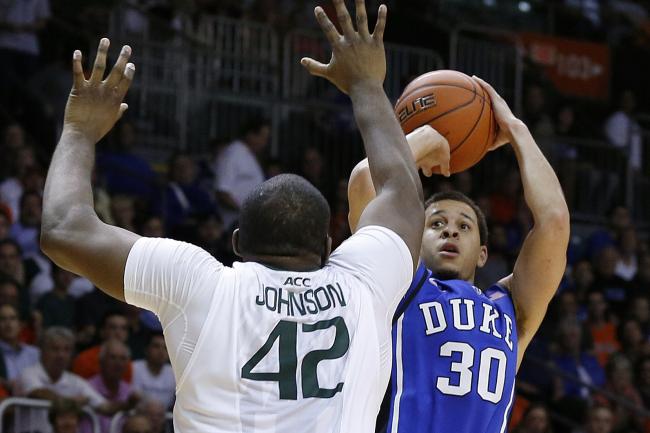 Miami 54, Duke 29 (15:07 Second Half)
Duke's guards, Seth Curry and Quinn Cook, have been completely outplayed tonight by Durand Scott and Shane Larkin. Cook & Curry are shooting a combined 1-of-17 from the field.
The Hurricanes are playing like they have the best tandem of guards in the ACC.
Miami 51, Duke 28 (16:44 Second Half)
Alex Murphy is trying to provide Duke with a big lift off the bench. He has seven points already in the second half. Now, the key for the Blue Devils to have a chance to get back in this game will be getting stops on the defensive end.
Miami 49, Duke 19 (18:27 Second Half)
It's going from bad to worse to start the second half for the Blue Devils. Miami has started the half on a 7-0 run and they getting to every loose ball. It will be interesting to see how much fight this Duke team shows.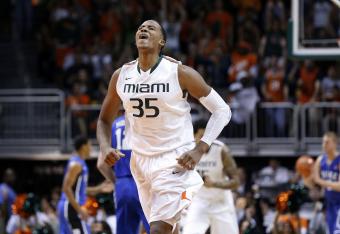 Miami 42, Duke 19 (Halftime)
Duke has struggled to execute on the offensive and defensive ends of the floor and the No. 1 team in the country appears to be in serious jeopardy. With Seth Curry being held without a point and Mason Plumlee scoring only four points, the Blue Devils have been unable to generate any sort of offense.
Miami has shot the ball extremely well from the perimeter, going 6-of-11 from beyond the three-point line. Duke has had no answer for Kenny Kadji or Durand Scott, who have been able to score the ball from the paint and the perimeter. Kadji has 11 points and Scott has 15 points.
The Blue Devils will need to make a major run to even pull themselves back into this game.
Miami 38, Duke 17 (1:45 First Half)
Miami is playing more like the team that should be ranked No. 1 in the country right now. The Hurricanes are playing aggressive and with confidence. Duke looks like a team that is intimidated by this tough environment.
Miami 32, Duke 15 (3:48 First Half)
Miami is in the midst of a 19-1 run and Duke is searching for options on offense. Former Duke guard Jay Williams has noticed the struggles for the Blue Devils.
Duke is so limited offensively. Plumlee & Curry are the only experienced options. Every1 else is young. Miami is in attack mode early.

— Jay Williams (@RealJayWilliams) January 24, 2013
Miami 29, Duke 15 (5:05 First Half)
The Hurricanes are on fire from beyond the three-point line. The Canes are now 5-of-8 from behind the arc. Miami is doing to Duke what the Blue Devils usually do to other teams. Duke really needs Seth Curry to put the team on his back.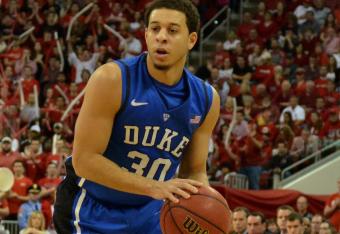 Miami 19, Duke 14 (7:37 First Half)
Miami has held Seth Curry scoreless so far. Curry has missed both shots he's taken. Duke will need him to heat up in order to come out of Coral Gables with a victory.
Miami 19, Duke 14 (8:40 First Half)
The Hurricanes have hit three-point shots on back to back possessions and are in the midst of a 13-4 run. Miami is also doing a nice job disrupting Duke's offense.
Miami 13, Duke 11 (11:52 First Half)
Reggie Johnson has checked into the game for the Hurricanes but he's already picked up an offensive foul. Shane Larkin and Durand Scott have had great success getting to the basket for Miami. Duke's guards haven't been able to knock down open shots so far.
Duke 7, Miami 6 (15:26, First Half)
Duke is playing well to start the game and attacking the offensive glass. The Hurricanes are having success driving the ball and getting in the paint.
Both teams seem evenly matched early on.
They are about to begin in Coral Gables
Starting Lineup for Miami: Shane Larkin, Durand Scott, Trey McKinney Jones, Kenny Kadji, Julian Gamble.
Starting Lineup for Duke: Quinn Cook, Seth Curry, Rasheed Sulaimon, Amile Jefferson, Mason Plumlee.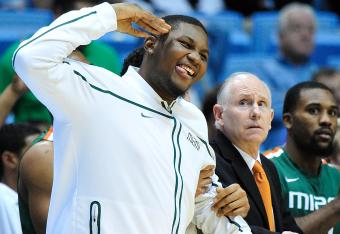 Laura Keeley, the Duke beat reporter for the Raleigh News & Observer and Charlotte Observer, just announced on Twitter that Reggie Johnson will be playing for Miami. He could give the Hurricanes a big boost.
This article is
What is the duplicate article?
Why is this article offensive?
Where is this article plagiarized from?
Why is this article poorly edited?

Duke Basketball: Like this team?