Playing Fact or Fiction with Each Toronto Raptors Player as a Building Block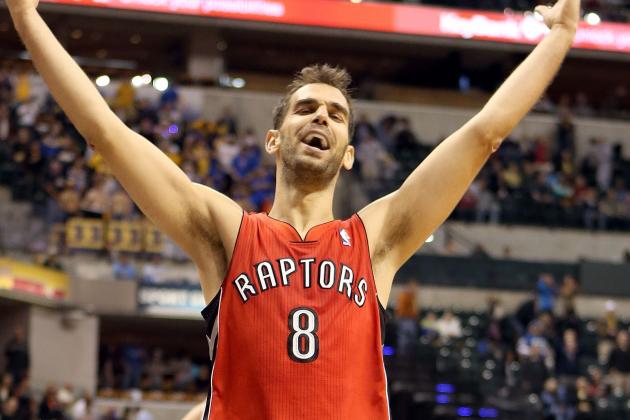 Andy Lyons/Getty Images

The NBA All-Star Game is closely upon us, but more importantly, the trade deadline is less than a month away, so it's a good idea to take a look at which Toronto Raptors are here to stay and which are simply roster fillers.
Obviously, the Toronto Raptors are in rebuilding mode.
We witnessed firsthand this past offseason that they're looking to buy players in an attempt to give this franchise a facelift.
Let's take a look at which players are future building blocks for this organization and who's just a block that's sinking them right now.
Begin Slideshow

»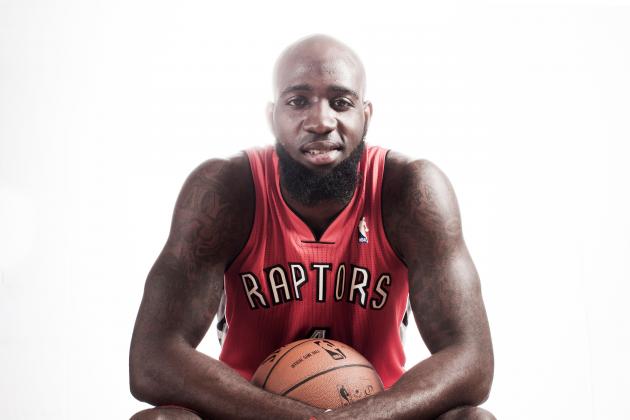 Nick Laham/Getty Images

Building Block: Fiction
There's nothing special about Quincy Acy's rookie year, especially if you're looking at his stat line. I understand he's a rookie. But I don't think the potential is there for him to grow, particularly with the Toronto Raptors.
Acy is averaging 2.9 points per game with 2.0 rebounds in about eight minutes of playing time. If he happened to be on the court for 24 minutes, his current stats project out to only nine points and six rebounds.
To date, his best game came a few weeks ago in a loss to the Chicago Bulls. In this contest, Quincy saw 15 minutes of court time. He scored eight points and grabbed six rebounds.
He's young. But that's all he's got going for him.
Quincy Acy is just a roster filler.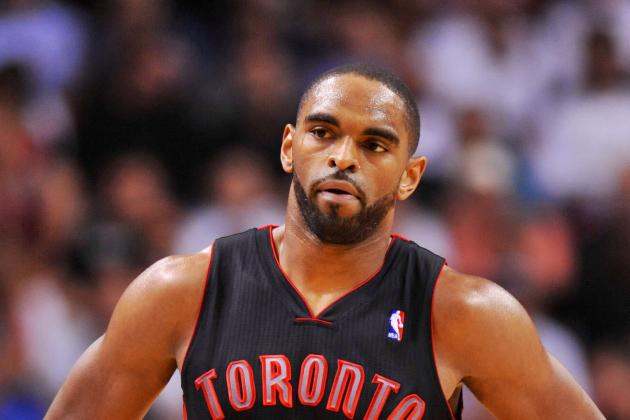 USA TODAY Sports

Building Block: Fiction
Alan Anderson is a solid contributor to the Toronto Raptors this season, but to call him a building block would be utterly mendacious.
He's currently averaging 12.6 points per game and 2.3 rebounds a contest, but he's not someone the Raptors are looking to commit to in the long run. It wouldn't make sense to include Anderson in any long-term plans, especially considering the fact there's some attractive shooting guards likely to become free agents at the end of the season.
For example, Tony Allen, J.R. Smith and Randy Foye will all be available. Allen would bring defense to the Raptors while a run at Smith or Foye would create an offensive arsenal.
Alan Anderson is not the answer to Toronto's woes, so don't expect to see him in a Raptors uniform once his contract expires at the end of this season.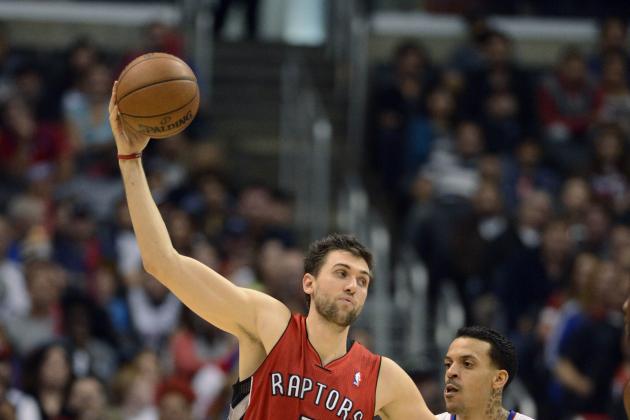 Richard Mackson-USA TODAY Sports

Building Block: Fiction
There's absolutely no way that Andrea Bargnani is a part of future plans for the Toronto Raptors.
The former overall number one pick in the 2006 draft hasn't lived up to the hype, and he's been on the trading block for quite some time now.
His career stat line includes 15.5 points per game and 4.9 rebounds a contest—not exactly what you expect from a No.1 pick.
Ben Golliver and Rob Mahoney of Sports Illustrated recently discussed Bargnani's worth and whether or not Bargnani will be moved this season. Unfortunately, the Raptors have shown their cards by letting it be known that Andrea isn't wanted and won't get nearly enough in return for the Italian forward.
It didn't help Bargnani's future when he expressed frustration with the team and called the Raptors "losers," as documented in Dylan Murphy's article on SportsGrid.com.
Andrea Bargnani might be a building block for a franchise in the near future. But it won't be for the Toronto Raptors.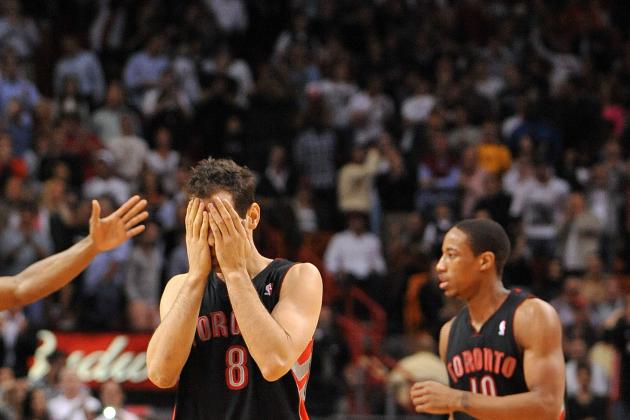 USA TODAY Sports

Building Block: Fiction
Another Raptor that's surely on his way out is point guard Jose Calderon.
The Spanish basketball player has been on and off the trade block for quite some time. His situation with the Raptors is not helped by the fact that Kyle Lowry is also on the roster. Fortunately for the Raptors, the organization should be able to get something in return for Calderon.
Calderon is a nice trade piece, as pointed out by Chuck Myron over at HoopsRumors.com. He's a proven point guard that can make the necessary passes, easy and difficult. This season he's averaging 7.5 assists per game—not bad for someone surrounded by average guys. He's also scoring 11.1 points per game, so it's easy to see why teams will jump on Toronto with inquiries about the point guard.
However, he's just not as valuable to the Raptors as he could be to others. His time as a building block for Toronto is over.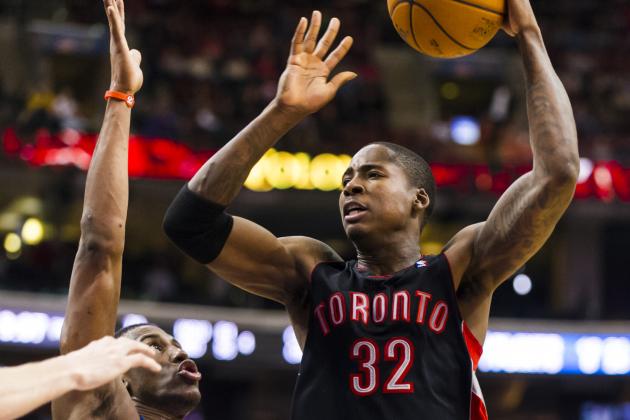 USA TODAY Sports

Building Block: Fact
Ed Davis has adapted well since being drafted 13th overall in the 2010 NBA Draft.
The reason Toronto selected Davis was because he's an excellent finisher at the rim who also helps his teammates with some putbacks off misses. For the 2012-13 season, he's shooting 55 percent from the field and scoring 9.5 points per game.
While his defense is subpar, the 6'10" power forward can rebound and shot block. The importance of a great rebounder who can prevent second-chance opportunities for the opposition, while gaining second chances for his own team, cannot be overstressed. Davis' 6.6 rebounds per game are undervalued.
The most brilliant play seen from him this season came in the November 25th game against the San Antonio Spurs. In this contest, Ed Davis accumulated 15 points and 14 rebounds—the first of his six double-doubles this year.
It's obvious that the more playing time Davis sees, the better he gets. That's why the Toronto organization should be willing to keep him on the roster and factor him into their future plans.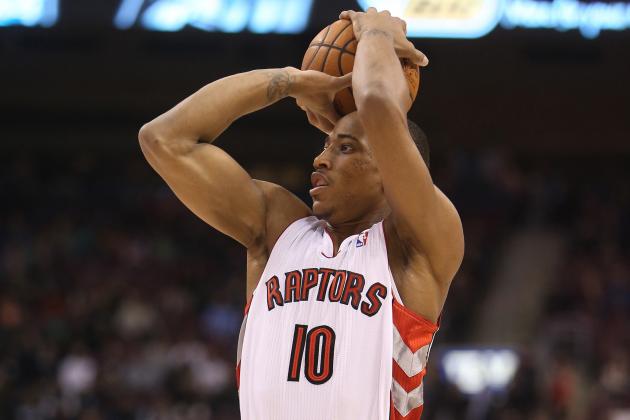 Tom Szczerbowski-USA TODAY Sports

Building Block: Fact
If there's anyone on this Toronto team worth building around, it's DeMar DeRozan.
The man is a talented scorer who isn't scared to drive to the rim and draw a foul. And he loves the fast-break dunks, too.
DeRozan will be Toronto's franchise player—plain and simple.
He's averaging 17.3 points and 4.4 rebounds per game this season.
The shooting guard has had two games this year where he's cracked 30 points, including a 37 point explosion against the Utah Jazz on November 12, 2012.
Every year, DeRozan has improved. And at 23 years old, he's got tremendous potential to be a star.
How can you not expect Toronto to build around this guy?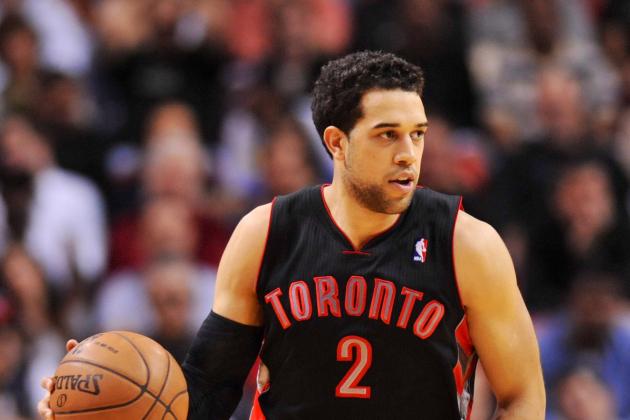 USA TODAY Sports

Building Block: Fact (for now)
The Toronto Raptors' front office pushed to sign Landry Fields this past offseason, and they were eager to see if the New York Knicks would match their offer.
Luckily for the Raptors, the Knicks chose not to match and the Raptors got what they wanted. Unfortunately, Landry hasn't lived up to that hefty contract he signed, nor has he looked like the Landry Fields everyone saw during his rookie year.
Fields is only averaging 5.1 points and 5.4 rebounds per contest. That's not the production you expect from someone making over $6 million a year.
In 38 minutes of play against the Los Angeles Lakers on January 20th, Fields scored 18 points and grabbed 10 boards. Fast-forward three days later, and the forward only had seven points and five rebounds.
The reason Landry will remain in the plans for the Raptors is simply because no one will want to take him on.
At this point, Landry is not a consistent player. And he might be an outright bust.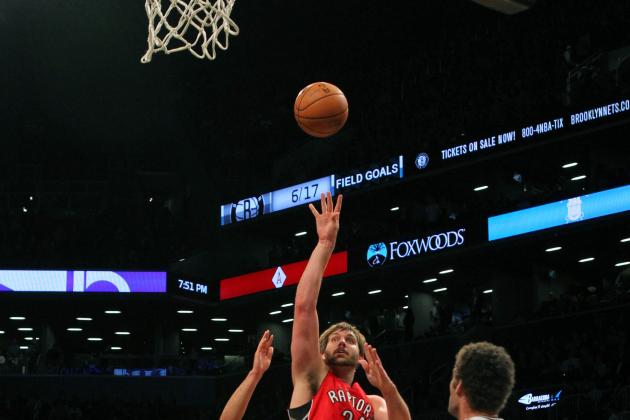 USA TODAY Sports

Building Block: Fiction
Aaron Gray is not someone you build your franchise around.
Sure, he's a seven-footer. But that's about all he's got going for him.
For his career, Gray averages 3.6 points and 3.8 rebounds. Yes, you read that right. Just 3.8 rebounds a contest. Not what you expected from someone who is seven feet tall.
In 21 minutes of play against the San Antonio Spurs the day after Christmas, Gray only grabbed four rebounds, one shy of his season-high five boards.
The center is not athletic, nor can he play defense. He's just someone who can relieve the other bigs on this team—you know, the ones who are just a tad bit over 200 pounds.
There's just no room for Aaron Gray in the future unless he's willing to take a hefty pay cut from his nearly $3 million per year salary. Even with that, I don't see Toronto bringing him back as a
"needed piece" for the current rebuilding.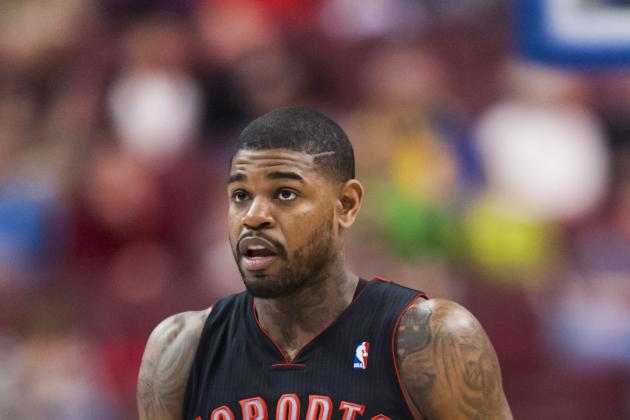 USA TODAY Sports

Building Block: Fact
Amir Johnson is not a consistent player. But if he can get his act together, he'll find his niche with the Toronto Raptors.
He's an effective big man and a great shot-blocker. And blocked shots help to get the crowd amped up. When building a franchise, you want this type of guy to interact with the fans.
Amir's also careful with his shot selection, as his mid-range jumper is nearly guaranteed. The only adjustment he needs to make is improving a bit in the post. As a big man, your post play is your bread and butter.
Johnson averages 9.4 points and 6.5 boards per game, both above his career averages. He could be the power forward Toronto needs to further progress and become competitive in the Atlantic Division.
There's room for Johnson to grow. Toronto should be willing to wait it out and watch him blossom.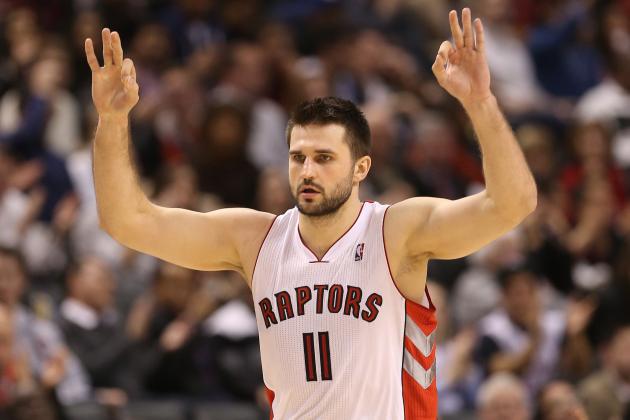 Tom Szczerbowski-USA TODAY Sports

Building Block: Fiction
Linas Kleiza is certainly not a building block for this franchise—or any other franchise, either.
He's an overrated shooter. He's somewhat hefty to be shooting the long ball. Add to the fact that he's a horrible defender who's constantly in foul trouble and you've got several reasons as to why he shouldn't be in Toronto if they're looking to contend.
He's averaging 7.4 points per game this season. As he's now 28 years old, I don't think he's likely to get any better.
It's unlikely that Toronto will extend this guy past his current contract, as he's simply someone to help fill out their bench.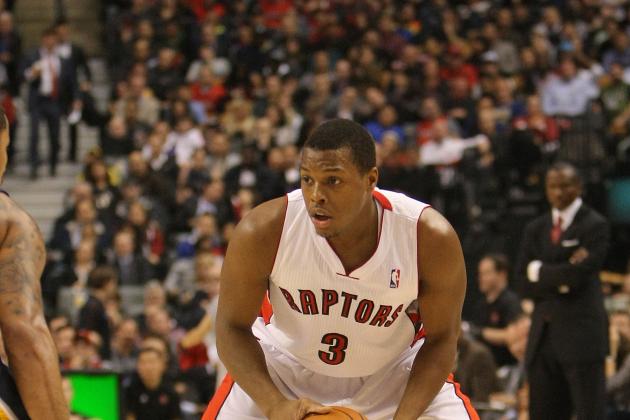 Dave Sandford/Getty Images

Building Block: Fact
When the Toronto Raptors traded for Kyle Lowry over the summer, they acquired the point guard who could take them to the next level if surrounded by the right pieces.
Kyle Lowry is Toronto's best point guard right now, and he should be for many years to come.
He's tough, physical and pressures his defenders. His defense is above average among other guards of his size, which will come in handy. Particularly against his Eastern Conference opponents.
This season, Lowry is maintaining a 42.3 percent field-goal percentage, including 39.4 percent from beyond the arc. He currently averages 13.8 points, 5.8 assists and 4.4 rebounds per game—all higher than his career averages.
We got a glimpse of what Lowry could do when he went for 20-plus on back-to-back nights in games against the Brooklyn Nets and Chicago Bulls in January.
Lowry is only 26 years old, so he has yet to reach his peak. Toronto will want to be the team that benefits from his talents as he reaches the ceiling.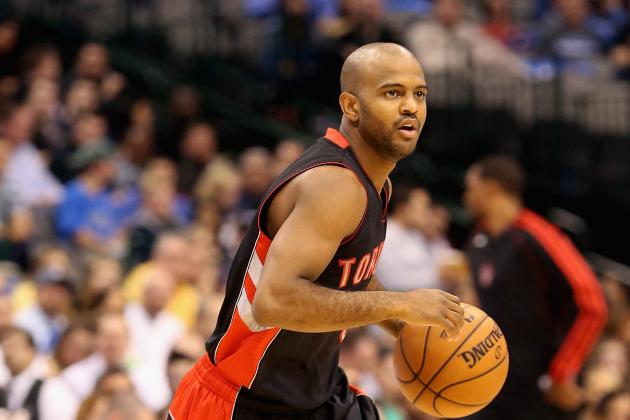 Ronald Martinez/Getty Images

Building Block: Fiction
John Lucas is on his third NBA team. And at 30 years old, it's hard for me to pretend the man's got enough skill to be a building block for a franchise.
Sure, Lucas can suffice as a backup point guard. But there are other options out there that Toronto might want to look at.
Lucas averages 4.2 points and 1.8 assists for the Raptors in about 11 minutes per game. Neither number is attractive for someone who's suppose to be a floor general. You can blame that on his poor court vision or lack of athleticism.
The Raptors are tied to Lucas for another year. But when the organization goes into overhaul mode, John Lucas III will not be here to watch the team improve.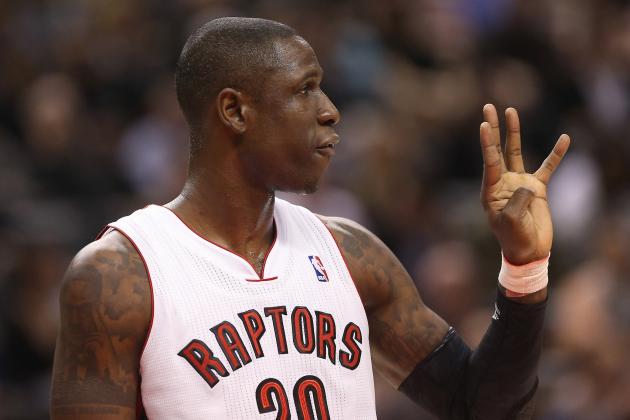 Tom Szczerbowski-USA TODAY Sports

Building Block: Fiction
Mickael Pietrus has been on five different teams in his nine-year NBA career.
Building block? I think not.
He's certainly a decent role player to have around. Especially in an otherwise young group with potential.
If there's any reason to keep him around, it's because he's a veteran who can provide six fouls against Eastern Conference foes for a cheap salary.
Pietrus averages 5.6 points per game this season, nearly three points fewer than his career average of 8.3 points. And at 30 years old, I can't say he'll be in a Raptors uniform past this season.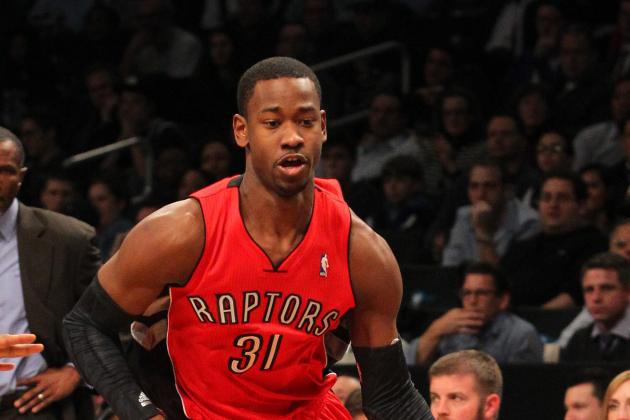 USA TODAY Sports

Building Block: Fact
Terrence Ross is another young athlete with a high ceiling. He's just 21 years old, and the athleticism that he possesses is far superior than most ballers his age. If he continues to adapt well, then the Raptors might've snagged themselves a good deal with the eighth pick of last year's draft.
Ross is a shooting guard who can pretty much nail any shot he takes, especially the deep ball. However, he doesn't drive nearly as much as DeMar DeRozan. Because of that, he doesn't draw too many fouls.
But this is only his first year of pro ball, so the organization can still mold him into a better all-around player.
His defense is currently below average, but he has the potential to be an excellent defender because of his size. Toronto would be smart to utilize that to their advantage, similar to how the New York Knicks use Ronnie Brewer for defensive purposes.
Averaging 7.1 points per game, Ross can still break out and become something special. We saw a glimpse of brilliance from Terrence in a January 2 game against the Portland Trail Blazers, where he exploded for 26 points in 25 minutes of play.
Toronto fans, get use to seeing Terrence Ross around the Air Canada Centre. Because it's highly unlikely that he will be moved anytime soon.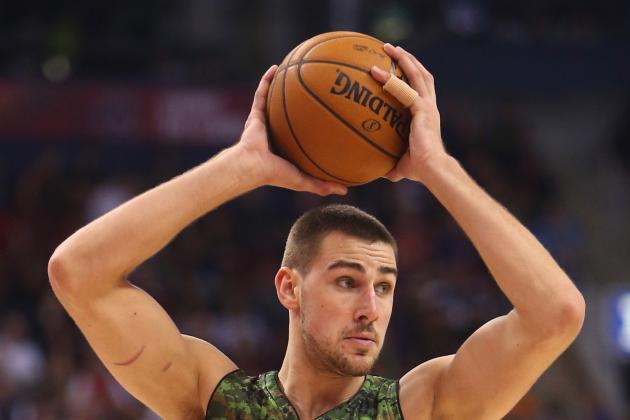 Tom Szczerbowski-USA TODAY Sports

Building Block: Fact
The Toronto Raptors favor Jonas Valanciunas as a center, more so than anyone else on the roster. That's why they drafted him fifth overall in the 2011 NBA Draft.
Valanciunas has the potential to be a solid big man in the NBA. The 6'11" center is promising, and he's only 20 years old. He can score when near the basket because of his mobility.
And he pulls down rebounds effortlessly, which gives Toronto's fans something worth looking forward to when he does return.
The main thing I see in Jonas is his similarity, body-wise. to Kevin Love—Valanciunas is just 30 pounds lighter. If he can put on some muscle and become more physical, it wouldn't come as a surprise if Valanciunas' numbers come close to Love's. Maybe he wouldn't quite reach Love's career averages of 17.2 points and 12.2 rebounds per game, but Valanciunas certainly seems capable of a double-double average.
Although Valanciunas suffered an injury during this season that resulted in a broken finger, fans should expect to see the big man return soon.
There is hope for both Valanciunas—and his future—in Toronto.