UFC on Fox 6 Predictions: Complete Win-Loss Projections for Each Fight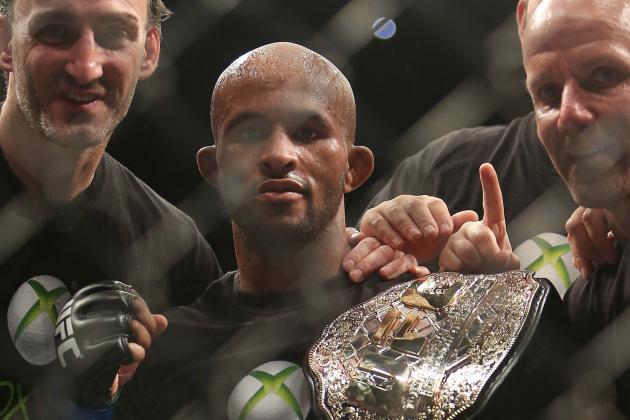 Tom Szczerbowski-USA TODAY Sports

Take a good look at Demetrious "Mighty Mouse" Johnson (16-2-1) posing in the picture above. That's probably the only way you'll see him standing still in the Octagon.
The reigning UFC Flyweight champion is as quick as they come, but his opponent at UFC on Fox 6 is no slow poke himself.
John "The Magician" (15-5) Dodson is fast and explosive. At 5'3", 125 pounds, both of these men are agile, and they pack a punch.
They will square off in the main event of the sixth edition of UFC on Fox from the United Center in Chicago.
The card is laced with notable names, but many of them are trying to avenge recent losses. The fight that precedes the main event is a farewell to one of the promotions most well-known stars, but even he is trying to get back in the win column.
It's all a part of the many storylines attached to the UFC's next big event. Who will win each of the 11 confirmed matches at UFC on Fox 6?
Start the slideshow to find out.
Begin Slideshow

»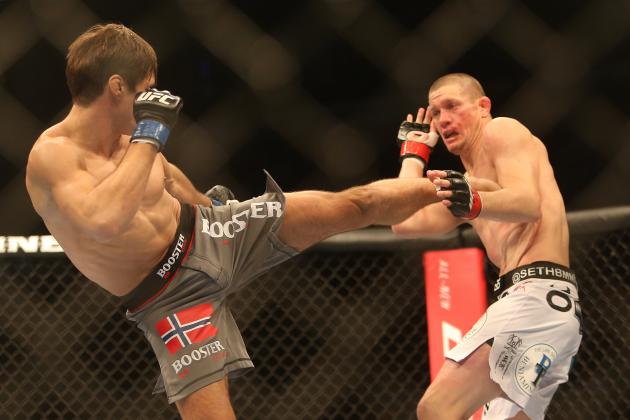 Tom Szczerbowski-USA TODAY Sports

This is a perfect example of how overall MMA records can be deceiving. Simeon Thoresen looks the part of a tough welterweight, and his record would suggest he's elite, but his vicious KO loss to Seth Baczynski at UFC 152 zapped him of some appeal.
Here he is in the live-streamed Facebook prelim facing a man who may be on his last thread with the promotion. David Mitchell is 0-2 in the UFC, thus far. If he doesn't at least have a good showing, he could be cut.
Despite what happened at UFC 152, Thoresen is talented. He's a very skilled submissions fighter, with decent punching power, but his hands are slow.
He can't afford to risk getting caught with a big shot again. In search of the tapout, he'll take Mitchell—a decent submission fighter himself—to the mat and finish him with a choke.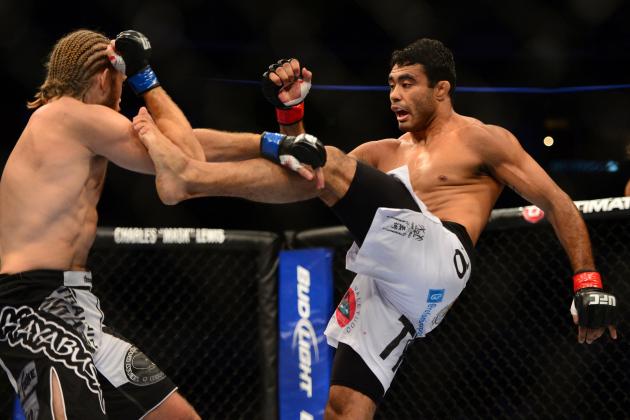 Kyle Terada-USA TODAY Sports

This fight has the potential to be an exciting battle. The very flashy Rafael Natal was knocked senseless by a head kick from Andrew Craig in his last fight on UFC on Fuel TV 4.
Natal had been taunting and posturing toward Craig throughout the fight, as he was dominating him before he was caught.
He had dropped the tough Texan twice before he himself was dropped for good. Natal is looking for redemption and a way to improve his reputation after such a humbling defeat.
It won't be easy as he's facing the man they call "Black Magic."
Sean Spencer is making his UFC debut, and he has big power in his right hand. He'll want to make a statement, but Natal has learned from the foolishness that cost him against Craig.
Don't expect him to take Spencer lightly. He'll smartly save the showboating until the match is finished. Natal will win this one by KO.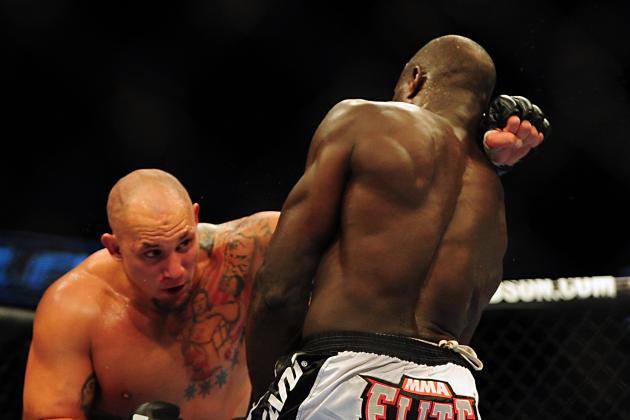 Anne-Marie Sorvin-USA TODAY Sports

Both of these heavyweights are dangerous on their feet, but both are also trying to rebound from losses in their last fight.
Shawn Jordan did something in his last fight that I thought was nearly impossible. He actually lost to Cheick Kongo by decision.
I'm kidding, as Kongo has five decision wins in his career (in fact, his last two victories have come from points), but generally, the big Frenchman's fights don't reach the final horn.
If you saw that fight, the lack of stamina from both men had as much to do with the fight going the distance as any other factor. Unless Jordan has worked to improve in that area, his lack of conditioning will hurt him against Russow.
The 36-year-old Russow will be fighting in his hometown, and he is a solid submission artist. As Jordan tires after his initial push to stop Russow in the stand-up, he'll tire and become vulnerable to the submission.
Chicago fans won't be used to seeing a guy named Jordan lose in the United Center, but it'll happen on Saturday night by tapout.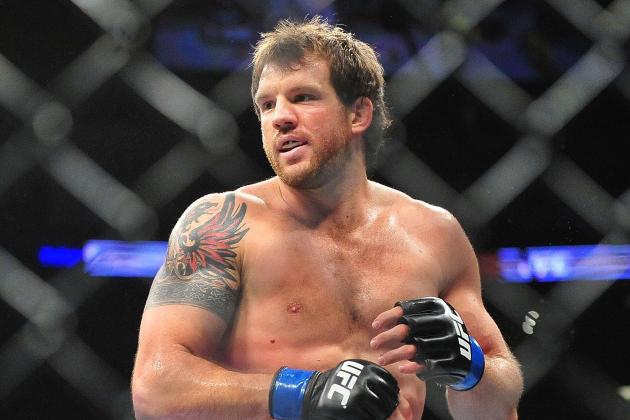 Gary A. Vasquez-USA TODAY Sports

In Ryan Bader's last bout, he was thoroughly embarrassed by Lyoto Machida.
Sometimes aspiring contenders lose to established contenders by a close decision, or even by eating one big shot, but Bader was beaten up and dismantled by the Dragon.
It made me wonder if he really deserves to be considered an elite light heavyweight.
Vladimir Matyushenko is a big striker, but he's 42 years old. This is the type of fight that is tailor-made for Bader. He'll have a quickness advantage, and as long as he stays away from Matyushenko's right hand, he should be able to dominate him on the ground.
Bader will win by TKO from ground-and-pound.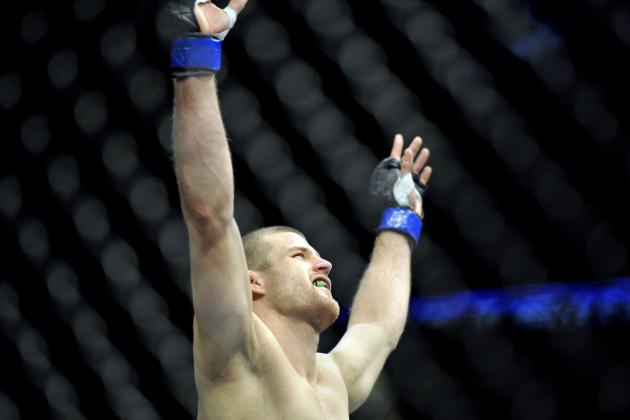 Joe Camporeale-USA TODAY Sports

Pascal Krauss is an expert grappler who tasted his first defeat in his last fight against John Hathaway at UFC on Fox 3. That loss was a mere bump in the road for Krauss. There are big things in store for this welterweight.
He's an excellent grappler, with heavy hands and powerful leg kicks.
Mike Stumpf is also a very strong grappler, and he shows amazing upper body and core strength.
The difference between these two comes in the striking department. Krauss is taller, with a longer reach, and he appears to punch harder than Stumpf.
I like what I've seen from both men, but Krauss is my pick to win by decision.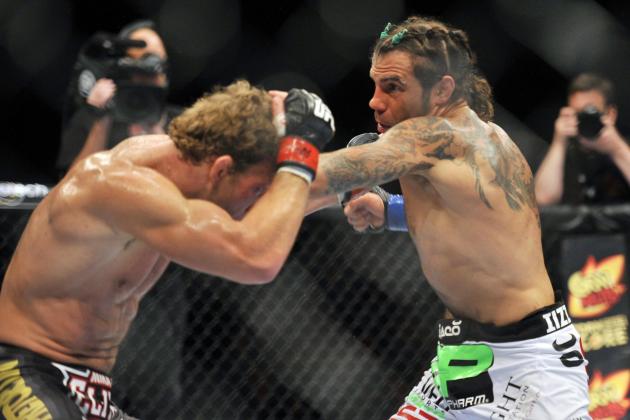 Joe Camporeale-USA TODAY Sports

There is no one in the UFC quite like Clay Guida. He isn't the most physically talented fighter in MMA, but he's one of the most compelling to watch.
The 31-year-old veteran has lost his last two fights, but there is certainly no shame in losing to Benson Henderson and Gray Maynard by decision.
Still, the UFC veteran is ready to get off the snide.
Hatsu Hioki is looking to grapple and make his opponents submit, but that will be a tough task against Guida. "The Carpenter" is strong in that area.
His takedown and submission defense combination is one of the best aspects of his game, though he has been careless on occasion.
Guida must be aware of the chokes that have been his undoing in previous bouts, but his constant pressure and physical strength will overwhelm Hioki.
If he fights at a controlled frenzy, he'll win by decision.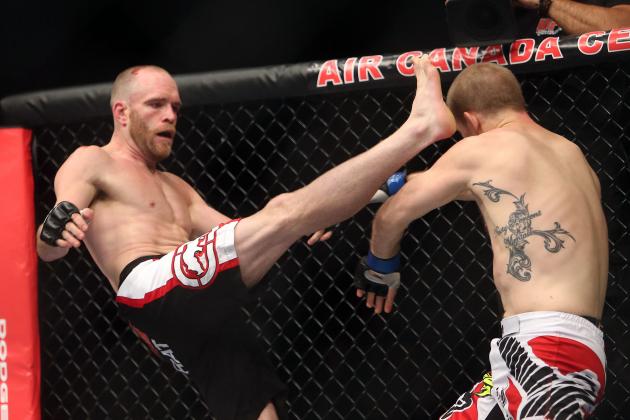 Tom Szczerbowski-USA TODAY Sports

Matt Wiman has been competing in the UFC since 2006. Experience is no issue for him, but T.J. Grant's well-rounded grappling game and tough beard will be.
Grant is great at transitions and finding submission opportunities. Though Wiman has never been submitted in his career, Grant's relentless pursuit of the submission will wear him down.
Forcing the previously unsubmitted UFC veteran to tap will make a significant statement in the lightweight division.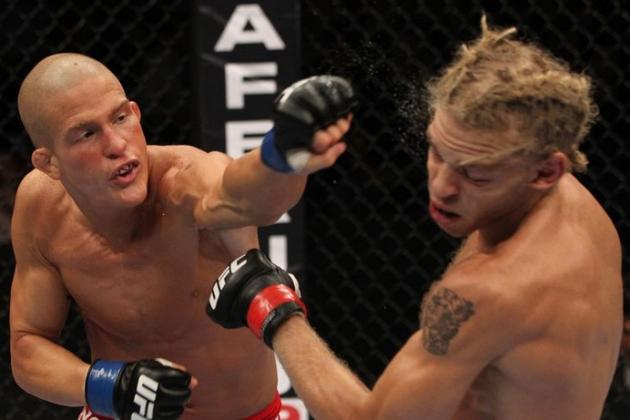 image from MMA Gospel - Zuffa
This is a matchup of two young and exciting featherweights. Ricardo Lamas has won his last three—all of which have come in the UFC—and one was an impressive win by triangle choke over a tough Cub Swanson.
As much as I like him as a fighter, Erik Koch is just too fast and explosive for Lamas.
Before Swanson allowed Lamas to take him to the ground, he was beating him to the punch.
Koch is even quicker than Swanson, his takedown and submission defense combination is better as well. He'll score an exciting win by KO to add some serious buzz around his name.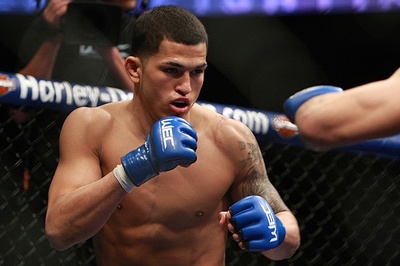 image from MMA Convert
I'm as excited about this fight as I am for the main event.
Anthony Pettis can be electrifying in the Octagon. He showed that with his famous cage-running kick against Benson Henderson in the WEC and his devastating head kick to Joe Lauzon at UFC 144.
You never know what maneuver he'll attempt in the stand-up game, and he's very underrated as a grappler.
His opponent is one of the toughest fighters in the promotion in Donald Cerrone. He proved he had a great chin in his last fight at UFC 150.
The Cowboy took a huge shot from Melvin Guillard, but he rebounded to stop him just moments after being rocked.
The winner of this fight absolutely deserves a shot at Henderson's title.
Pettis is just too quick for Cerrone in stand-up, and if the fight goes to the ground, he's slippery enough to hold him at bay or even finish him by submission.
Showtime will prevail in this entertaining bout.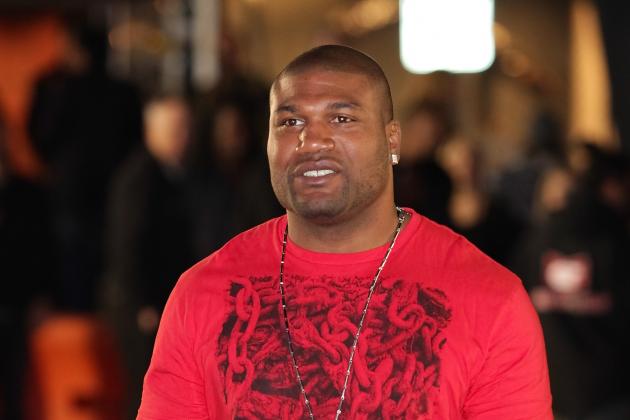 Noel Vasquez/Getty Images

It's not everyday that you get an opportunity to watch a UFC legend compete for the final time in the Octagon. If Quinton "Rampage" Jackson is true to his word, he's done with the UFC after this bout (ESPN), and he'll be looking to go out a winner.
Glover Teixeira is a highly respected striker and someone who has seemingly been groomed for a title shot since he first arrived in the UFC in May 2012.
He's won both of his fights with the promotion, and this is set up to be just another stepping stone to a run at Jon Jones. If Teixeira is smart, he'll take Rampage to the mat.
It has been proven time and time again, Jackson merely knows how to survive when taken off his feet. He has no offense from the ground, thus opponents have won easy decisions when they employed that tactic.
If you stand and bang with him, you're fighting his fight.
Teixeira will be smart, and he'll dominate Rampage on the ground for a victory by decision.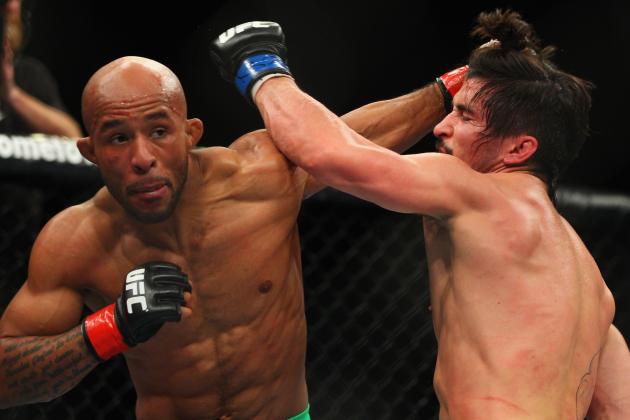 Mark Kolbe/Getty Images

John Dodson has the power to knock Demetrious Johnson out, but catching him flush is the problem. Mighty Mouse is so quick and elusive, it'll be very difficult to accomplish that goal.
Unfortunately for Dodson, that is the only chance he has to win this fight.
Johnson is one of the best grapplers in the sport—not just the division—the entire sport of MMA. His skills on the ground are amazing.
If you combine that with his other-worldly quickness, you have a guy who seems destined to hold his title for a while. Chalk up a successful title defense for Mighty Mouse.
He will defeat Dodson in the main event by submission.
Follow Brian Mazique and Franchiseplay on YouTube and Twitter for reactions, analysis and news from the world of sports and sports video games