The Top 20 Current UFC Fighters with Questionable Conditioning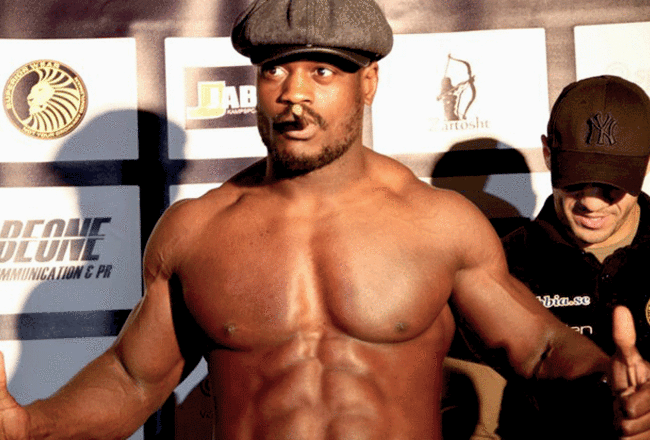 Photo courtesy of fiveOuncesofPain

Given the talent level of today's professional mixed martial artists, excellent cardiovascular abilities are a mandatory. If you can't fight aggressively for, bare minimum, 15 minutes, you're in trouble.

Somehow there are still fighters out there oblivious to this fact, despite conditioning repeatedly biting them in the tail. That said, there are plenty of fighters with solid cardio that insist on such severe aggression early, always seeking a quick stoppage that even their ability to perform in the later rounds wavers.

Conditioning is tricky. It's not only about being able to compete for 15 minutes, it's about being able to start strong, finish strong and maintain a fast enough pace to intelligently attack and defend constantly in between.

Toss nerves and anxiety into the equation and conditioning becomes somewhat of an art form all its own. It's an intricate art form at that, and one that not every man has mastered.
20. Joe Lauzon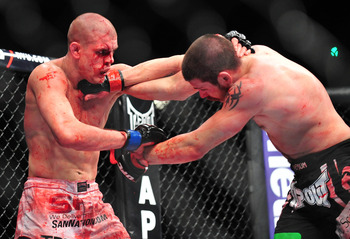 Gary A. Vasquez-USA TODAY Sports
Joe's actually got a deep gas tank. He can fight and fight with steady aggression for 15 minutes. We've seen it on a few occasions, and recently, he's looked better than ever, to his credit.

However, when Joe smells blood early, he's got a tendency to overexert himself in search of another spectacular finish. When he's successful, it's magic. When he fails, he tends to wilt right around the eight minute mark.
19. Aaron Simpson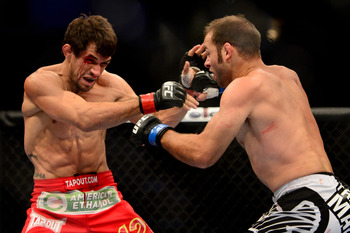 Kyle Terada-USA TODAY Sports
Aaron's another guy who has the ability to duke it out for the duration of a three-round fight (as we've seen time and again, and again). However, any opponent with strong enough wrestling to prevent "A-Train" from pushing them against the fence—where he does the bulk of his work—and force the pace of the fight stands to wear down Simpson.

Aaron looks solid when things are going his way, but when the tides turn, and he finds himself on the receiving end of a physical accosting, he fades. For prime examples, check out his fights with Chris Leben, Ronny Markes and Mark Munoz.
18. Dan Henderson
Valerie Macon/Getty Images
Dan's another guy who doesn't mind emptying the tank if he believes he's got a serious chance of rendering his opponent unconscious early. His relentless aggression works quite a bit, but when he runs into brick walls like Mauricio "Shogun" Rua or "Rampage" Jackson, it doesn't necessarily pay off.

Seek out Henderson's fight with Jake Sheilds at Strikeforce—Nashville for a great example of what can happen to "Hendo" if he puts all his eggs in the first round's basket.
17. Mauricio Rua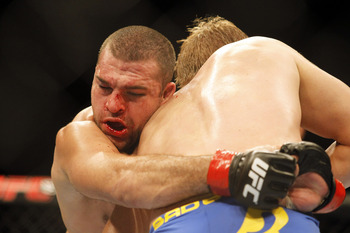 Joe Nicholson-USA TODAY Sports
Shogun is a lot like Henderson, likely for different reasons. All camp reports I've heard indicate that Shogun lacks a bit of discipline when it comes to cardio routines and dieting, while I've heard numerous first-hand statements that lead me to believe Dan's still the owner of a strong work ethic and a careful eater. Father Time looks to be the real difference between the two.

What's interesting about Rua is the fact that despite fading fairly regularly in fights that surpass the ten minute mark, he's still a threat to be feared, even when exhausted.

Is that proof that heart is every bit as pivotal as conditioning? I don't know, but it seems to work for "Shogun".
16. Jake Ellenberger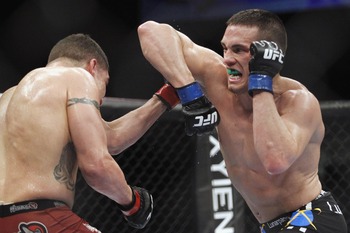 Matt Ryerson-USA TODAY Sports
Jake is capable of fighting the distance, but the immanent danger that stares opponents in the face during round one has traditionally vacated the cage by the time round two is ticking away.

Ellenberger likes to throw everything he's got into every punch he throws. He's typically precise enough to make it work for him, as evidenced by his 17 finishes via striking, but when he's not, he runs into trouble.

If you can survive the first-round onslaught of "The Juggernaut," your chances of victory skyrocket. Just ask Diego Sanchez, who came awfully close to a successful rally during their UFC on FUEL TV 1 duel.
15. Matt Hamill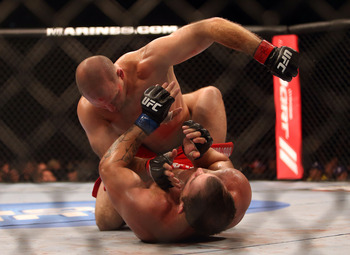 Tom Szczerbowski-USA TODAY Sports
There's a reason Hamill often comes up short when the stakes are high: his conditioning needs serious work.

The guy has shown noticeable improvement in virtually every facet of his game, other than cardio. He's still prone to come out strong, hold for a round and a half and then plod his way to the finish line.

He's lucky he's good enough to usually rack up enough points on the cards in the first few rounds to ensure a victory on the cards.
14. Josh Grispi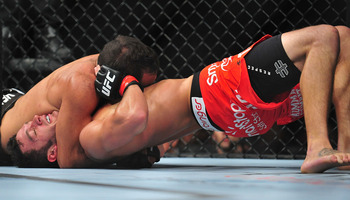 Gary A. Vasquez-USA TODAY Sports
I'm not entirely sure why Grispi wilts, but he does. Part of me believes it to be anxiety, and part of me believes it to be some outside distractions.

Whatever the problem may be, Josh has got to overcome it, soon. He still has time, technique and physical ability on his side. If he can get the monkey off his back, he can climb back to the upper echelons of competition.
13. Cung Le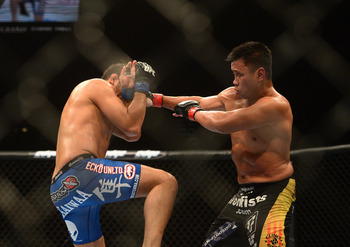 Mark J. Rebilas-USA TODAY Sports
Mother Nature and Father Time are calling for Cung to take it easy.

The man has enjoyed a lengthy, highly successful career, winning titles in both kickboxing and mixed martial arts. The fact that at 40 years old, he happens to be slowing down, is nothing to surprise or sadden.

Cung slows late in fights these days, but in his case, it seems perfectly natural.
12. Leonard Garcia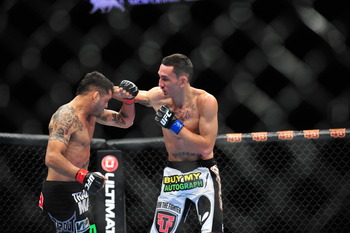 Gary A. Vasquez-USA TODAY Sports
Make no mistake, Leonard can throw hay-makers for fifteen minutes. But virtually all technique (sans his last fight, which stands as one of his finest performances) goes flying out the window and he looks physically exhausted.

If Garcia can continue to fight with a bit more discipline, we'll see a massive difference in regards to conditioning.
11. Diego Brandao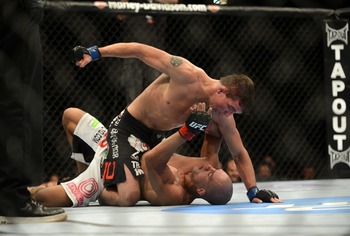 Ron Chenoy-USA TODAY Sports
Diego is a killer. Hungry for the finish, and willing to invest everything he's got into all maneuvers executed. Unfortunately those not intimidated by his presence, and tough enough to endure five minutes of aggression, stand a fair chance of defeating the wily Brazilian.

He's got to mature as a fighter and continue learning to be aggressive while properly pacing himself if he wants to emerge as a serious threat at featherweight.
10. Vitor Belfort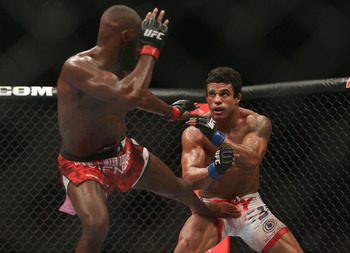 Tom Szczerbowski-USA TODAY Sports
Vitor's been pulling some surprises from his bag as of late, nearly submitting champion Jon Jones at UFC 152 and subsequently finishing Michael Bisping with a savage high kick at UFC on FX 7.

It seems this veteran isn't only about boxing.

Belfort's learning with the sport, and he seems to be measuring his performances better, which will continue to lead to solid showings from the gas tank. But when he gets overzealous, and hunts for that dazzling finish only to come up unsuccessful after a few too many barrages, he slows significantly.

Opponents have caught on, but it seems Belfort has as well.
09. Chris Leben
Gary A. Vasquez-USA TODAY Sports
Chris Leben often looks like he's fighting in quicksand beyond the first round. That doesn't mean he's out of the fight, but it is a clear indicator that "The Crippler" lacks consistency in his training outside of the cage.

A longtime favorite fighter of mine, I'm dying to see Leben put it all together.
08. Ramsey Nijem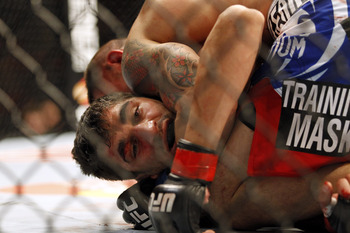 Joe Nicholson-USA TODAY Sports
Ramsey's green in this sport, which to an extent can explain away his conditioning issues.
However, he's fighting for the UFC, and if he hopes to continue winning, and continue fighting for the UFC, he's got to find a way to take the training to another level.
07. Karlos Vemola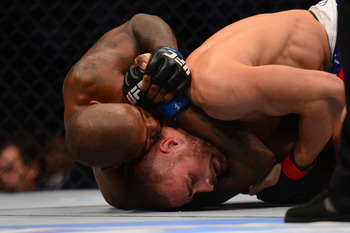 Kyle Terada-USA TODAY Sports
Don't get caught by Vemola in the first round; this dude is powerful. The guy's capable of ending a fight quickly. That he has proven. It's the deeper waters that bring the questions to the surface.

At this point in his career, he hasn't looked particularly fantastic outside of one round. With the exception of his win over Mike Massenzio at UFC on FOX 3, he's lost every fight to go beyond round one. And that's not just inside the UFC, we're talking total career statistics.
06. Christian Morecraft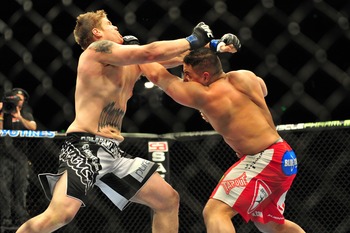 Don McPeak-USA TODAY Sports
There's not much to say about Morecraft. I personally feel he's got serious potential as a fighter, but he was signed by the UFC before he was adequately prepared.

His cardio is just one of many areas the man will need to refine in order to move his career forward.
05. Cody McKenzie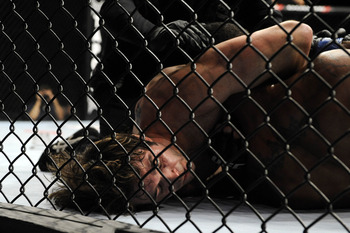 Rafael Suanes-USA TODAY Sports
Cody McKenzie's conditioning must be called into question. Beyond round one he looks as though he's battling to keep himself coordinated.

I love to see the quick "McKenzitine", but if he can't his the choke in the first, it's all but a wrap.

In 16 professional fights, Cody's won just one fight that lasted beyond the first round.
04. Shane Del Rosario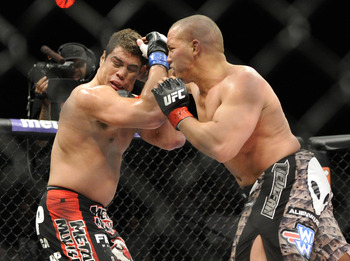 Josh Holmberg-USA TODAY Sports
Talk about talent that must be recognized and refined! Shane has the tools to be an amazing mixed martial artist. His striking is fantastic, he's fairly quick and his agility is noteworthy.

Sadly, most of those qualities seem to gradually disappear as his fights wear on.

Shane can be a real contender in the UFC's heavyweight division, but he's got to start putting the proper time in at the gym. That's all there is to it.
03. Lavar Johnson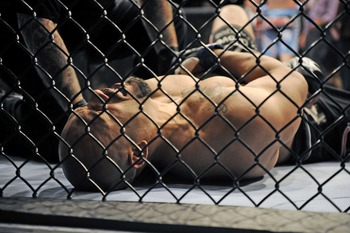 Ron Chenoy-USA TODAY Sports
Lavar's cardio is an issue for one reason: he puts 250 percent effort into every punch he hurls at opponents. Ironically, those power punches have proven his most endearing quality as a fighter.

If only he could learn to measure that assault.
02. Papy Abedi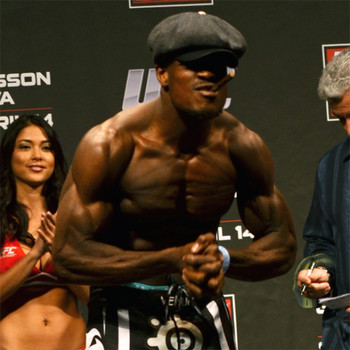 Photo courtesy of Fight Play TV
Papy looks like he's capable of dead-lifting a redwood, while puffing on a cigar. But big muscles don't equate to success, as proven by Abedi's two consecutive UFC defeats.

He starts like a freight train, runs into something he like, and all desire and ability seem to slink away, AWOL with no word.
01. B.J. Penn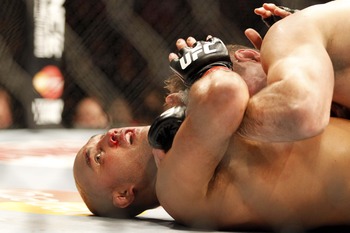 Joe Nicholson-USA TODAY Sports
Who else, right?

I'm one of those firm believers that B.J. Penn's career would have unfolded in a significantly different manner had he consistently maintained his weight and only taken fights at his natural weight class, 155 pounds.

I think his legacy would be that of legend, and he'd lack quite a few of the nine losses he now has on his resume.

The man loves to challenge himself, and he's competed outside of his comfort zone one too many times. All the weight fluctuation has taken it's toll on B.J.'s body, and I don't think he can reinvent himself physically at this point.

All the fights above 155 took their toll on B.J.'s body and on his cardio. These days a fresh Penn beyond round one sounds more like a fanatic's fantasy than an actual possibility.


Follow me on Twitter.
Keep Reading