Green Bay Packers: Buy or Sell 11 Players on the Bubble to Return Next Season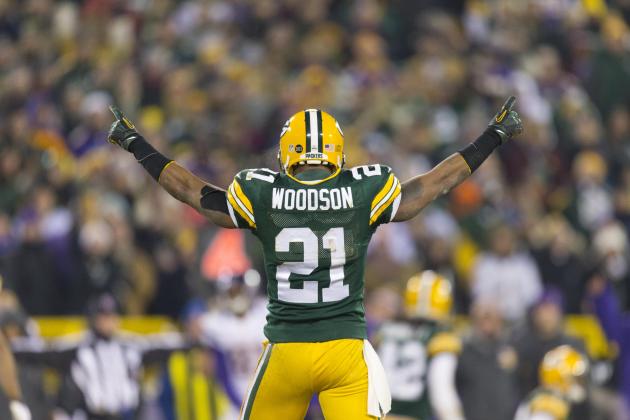 USA TODAY Sports

After yet another disappointing loss in the playoffs, one thing is certain, the winds of change will be blowing in Green Bay. Some changes are obvious, while others are far more complex and involve several different factors.
This off season will be interesting to say the least as key players from the past like Greg Jennings as well as potential building blocks for the future like Sam Shields are free agents.
That being said, due to the rules of the NFL, there is only so much money to go around.
Suffice to say, Packers GM Ted Thompson has many tough decisions ahead. He may have to cut ties with overpaid veterans, renegotiate toxic contracts, and decide which of the Packers 12 free agents he wants to resign, all the while being conscious of large contract extensions looming in the not so distant future.
All salary information via Spotrac.
Begin Slideshow

»
USA TODAY Sports

Status: Unrestricted Free Agent
Brad Jones has been with the Green Bay Packers for four years now, and it has been a roller coaster ride for the 26-year-old out of Colorado.
He saw success his rookie season replacing an injured Aaron Kampman. Jones had four sacks and appeared like he may be the future at outside linebacker opposite Clay Matthews.
Well that never materialized as he struggled his second year, and as a result he spent much of the next two seasons buried in the depth chart while coaches decided what to do with him.
Eventually, they decided to move Jones inside, and in time he adjusted and somewhat excelled. This season, he started 11 games, more than doubled his previous career high in tackles, had two sacks and a forced fumble.
While his poor performance in San Fransisco has left a bad taste in the mouth of many Packers fans; It doesn't erase the fact that he is a valuable back up linebacker in Dom Capers' system. He can play inside or outside; is great on special teams; and has shown the ability to improve.
Verdict: Buy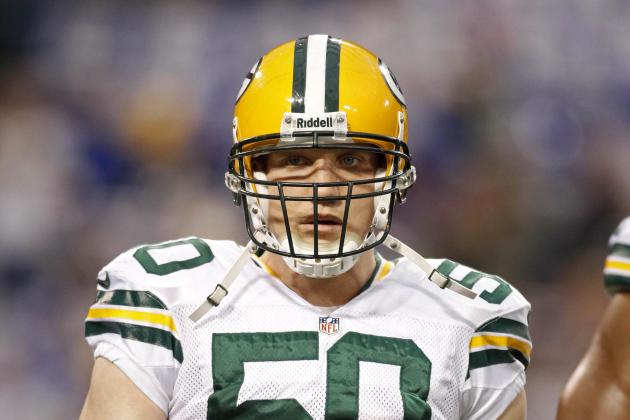 Bruce Kluckhohn-USA TODAY Sports

Status: Under contract, due $7.05 million
A.J. Hawk, despite what many may think, actually had a pretty decent year this past season. He started every game, finished second on the team in tackles with 120 and had three sacks. He was often praised by Coach McCarthy for his hard work and consistency.
However, when up against the elite offenses in the NFL, it becomes clear that Hawk lacks the top end speed and strength to make the proper impact. Many of his tackles always seem to be after there is significant yardage gained, and he seems to get beat a lot when he is in coverage.
Combine that with the emergence of Jones (see last slide) as well as the return of D.J. Smith, and Hawk should be all but gone.
Verdict: Sell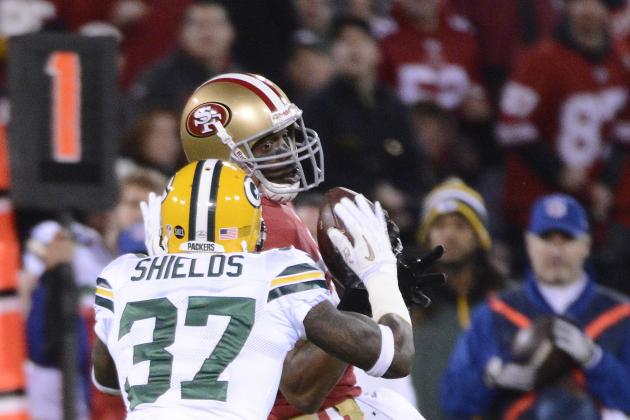 Robert Hanashiro-USA TODAY Sport

Status: Restricted Free Agent
Here is one of the great stories of the 2012 Green Bay Packers. Sam Shields, who starred as a rookie in 2010, had been plagued by injuries, inconsistent play, and poor tackling. Many felt that if he had a poor showing in training camp, he might be cut.
Well Shields did enough to make the team, but appeared to be on a short leash. He struggled a little bit early in the season, and was once again hit by the injury bug, missing six games with a separated shoulder. However, when he returned, he came back strong. In six games, Including the playoffs, he had 11 passes defensed, four interceptions (one ran back for a touchdown) and 21 tackles.
It was clear Shields was one of the best defensive backs down the stretch, and he deserves to be in a Packer uniform next year.
Verdict: Buy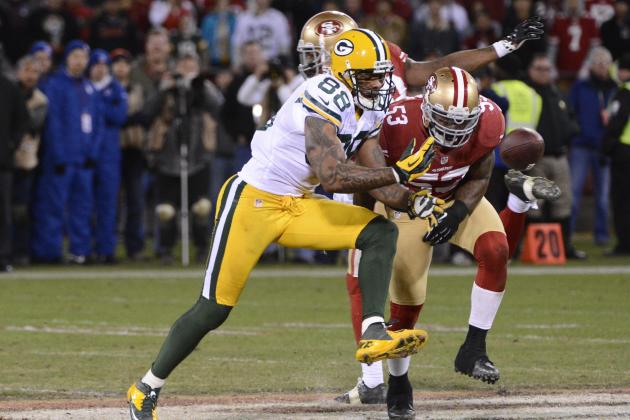 Robert Hanashiro-USA TODAY Sport

Status: Under contract, due $8.75 million
Jermichael Finley is a unlimited source of frustration for Green Bay Packer coaches and fans alike. He looks the part, he acts the part, but for whatever reason, he just hasn't lived up to the hype.
As a result, he gets frustrated, and does the one thing you should never do—take it to the media.
Despite all of that, he did get better down the stretch and his statistics ended up surprisingly good. He reached a new career high in receptions, and was fourth on the team in yardage. Most importantly, he is still only 25 years old!
While I am willing to put up with Finely and his shenanigans one more year, if by this time next year, he has not completely tapped into his unlimited potential, then it may be time to cut ties.
Verdict: Buy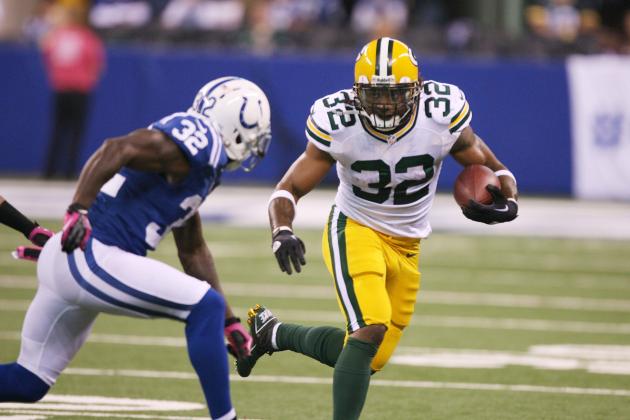 Brian Spurlock-USA TODAY Sports

Status: Unrestricted Free Agent
At various times during training camp, Coach McCarthy had to stop practice early because he did not have enough running backs to continue. As a result, the Green Bay Packers decided to bring in Cedric Benson, a seven year veteran with a reputation of being both productive and durable.
He then, of course, got injured five weeks into the season and never returned.
During his limited time with the Packers he showed he could still gain the tough yardage inside the tackles and on short yardage situations. And while his stats on the whole were not overly impressive (only 3.5 yards a carry, and one touchdown), he made a good impression on his teammates and the coaching staff.
That being said, the emergence of DuJuan Harris should all but end any thought that Packers management may have had in retaining Benson. Harris runs hard like Benson, but is more explosive, younger and a better receiver out of the backfield.
Verdict: Sell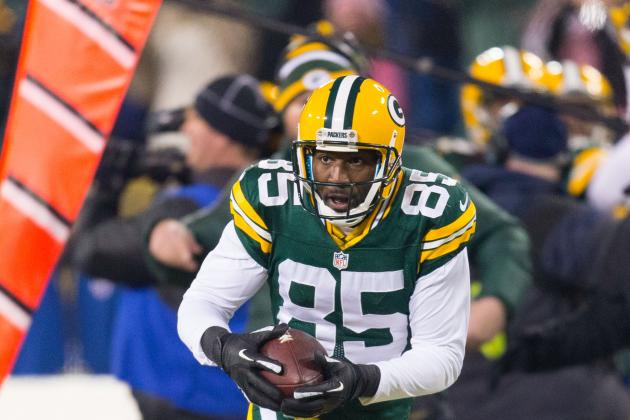 USA TODAY Sports

Status: Unrestricted Free Agent
File this under the James Jones act of 2011. I am going to hold out with the hope that Greg Jennings much like Jones will shop around, see what the market dictates, and ultimately decide to come back to Titletown— I am not holding my breath.
One major problem with the above theory is Jennings is more talented than Jones was perceived to be in 2011. When Jennings is healthy, he is one of the best. There is very little chance of a player as talented as he is flying under the radar.
On the Green Bay Packers side, they can't afford to pay Jennings $12 million or more a season. Jennings has been injury prone the past two years, had career lows in just about every category last season and will turn 30 in December. Also the emergence of Randal Cobb has all but eliminated any possibility of the Packers breaking the bank to keep Jennings.
Unfortunately, Jennings will most likely go on to play somewhere else and much like Cullin Jenkins, Thompson may regret letting him walk.
Verdict: Sorry Ted, you are on your own here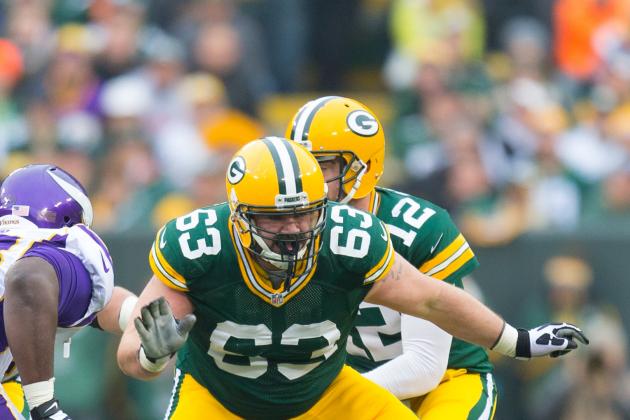 Jeff Hanisch-USA TODAY Sports

Status: Under Contract, due $3.5 million
If there was ever a reason to get rid of the Pro Bowl, or challenge its legitimacy, then this is it.
Jeff Saturday, a pro bowler? Really?
Have they watched him play this year? Do they know he was benched for a guy who had never started a game at center in his whole career?
Saturday, at one time, was one of the best centers in the game; however, that time has passed. Part his strength was supposed to be his experience and mastery of the no huddle system in
Indianapolis
, which is very similar to the one used in Green Bay. Well, for whatever reason, Saturday more often then not looked like a fish out of water, and was ineffective (to say the least) as a blocker.
Not only will he not be playing for the Green Bay Packers this season, but he most likely will not be playing anywhere this year. Deep down Saturday knows that, which why it has been
widely reported
that he will retire after the Pro Bowl.
Verdict: Sell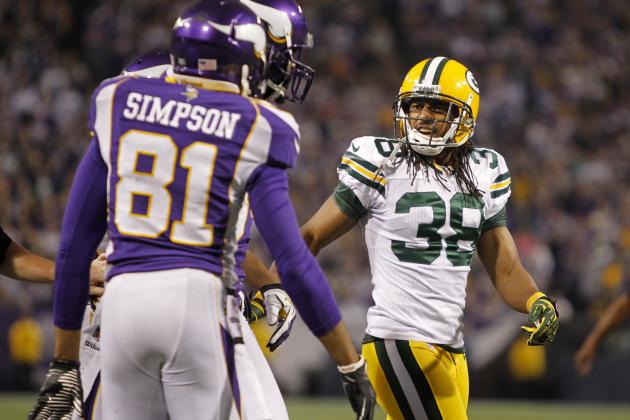 Bruce Kluckhohn-USA TODAY Sports

Status: Under contract, due $7.4 million
For the life of me I cannot understand the talk of getting rid of Tramon Williams. Overall, he had a pretty solid year. He may not be the shutdown corner he was in 2010, but few players in the NFL are. He was fourth on the team in tackles, and second in passes defensed.
Williams was inconsistent at times, but if that is the reasoning to cut him, then they should be prepared to cut everyone on the entire defense not named Clay Matthews III.
Also, while the Green Bay Packers appear to be pretty good now depth wise at corner, that can change in an instant. Sam Shields has been up and down his whole career, Davon House is injury prone, and Casey Hayward has only had one season under his belt.
Verdict: Buy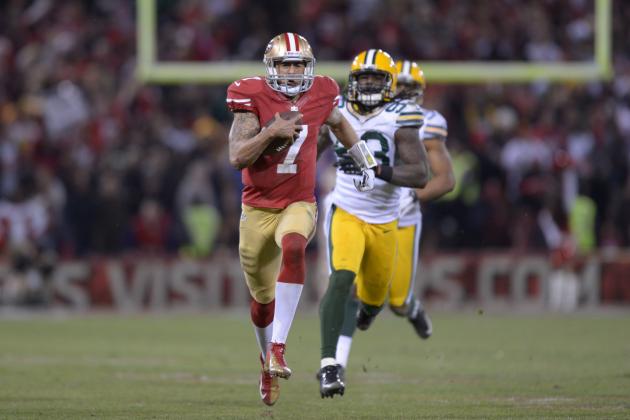 Kirby Lee-USA TODAY Sports

Status: Unrestricted Free Agent
I didn't want Erik Walden to return last year. I felt that he had reached his ceiling as a player. He is a decent back up, and to be fair, that is what Green Bay wanted him to be. However, when Nick Perry went down for the year, he was once again thrust into action.
While he did have his fair share of good plays, he seemed to have many more negative ones—especially later in the season. As painfully seen in the
San Francisco
game, he is horrible against the run and loses containment too easily (
sorry coach Greene, it was his fault
).
It makes one wonder, if he hasn't gotten it by now, will he ever get it, and I for one don't want to wait any longer to find out.
Verdict: Sell
USA TODAY Sports

Status: Under Contract, due $10 million
Put me with the people that hope Charles Woodson will return to the Green Bay Packers this year. While Woodson may be a shell of the 2009 version that won defensive player of the year, one must remember that he has not had a lot of experience in safety and should get better the more he plays it.
He still takes too many chances, and no longer has the speed to make up for those mistakes. But when he is healthy, he allows Dom Capers to get a lot more creative. He is more effective closer to the line of scrimmage, and not many DB's in this league can say that. He is leader, plays hard and is a great example for the young players in our secondary to learn from.
Still, the Packers simply cannot pay him $10 million. If the Packers cut him, they would have to eat seven million dollars in unpaid bonuses. Hopefully, Woodson does the right thing and restructures.
Verdict: Buy at a discounted price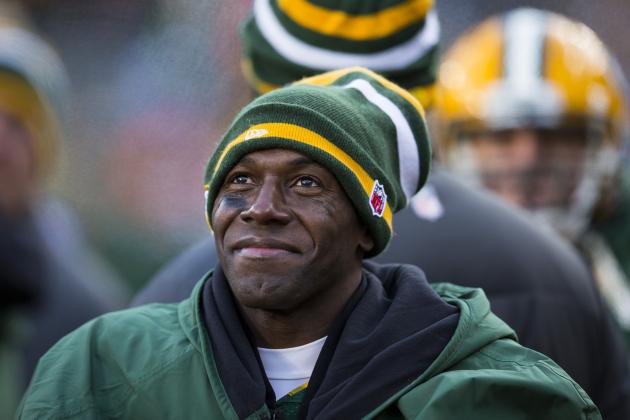 Tom Lynn/Getty Images

I could never buy or sell Donald Driver, the man is a Green Bay Packers legend. Instead, I would rather make a plea to a man who might just be nice enough to listen.
Donald, please do not subject the Packer faithful with yet another recent Packers legend wearing a different uniform in the twilight of his career. Like Brett Favre wearing Purple, Edgar Bennet wearing blue and orange, or Ahman Green wearing what ever color the Omaha Nighthawks of the UFL were.
You are a living legend, and will most likely be immortalized in Canton. You have done it all as a member of the Green Bay Packers. You have won a championship, been to Pro Bowls, and won multiple awards.
There is simply nothing left to do.
You started as a little known 7th Round draft pick out of Alcorn State. 230 players, including 25 receivers were drafted ahead of you. No one, (including me at the time) gave you a chance of even making the team. All you did was prove everyone wrong, and in the process became the franchise's all time leading receiver—the script writes itself.
The only thing missing is the ending. That Mr. Driver will be up to you.