Michigan Basketball: Predictions for Wolverines Most Important Remaining Games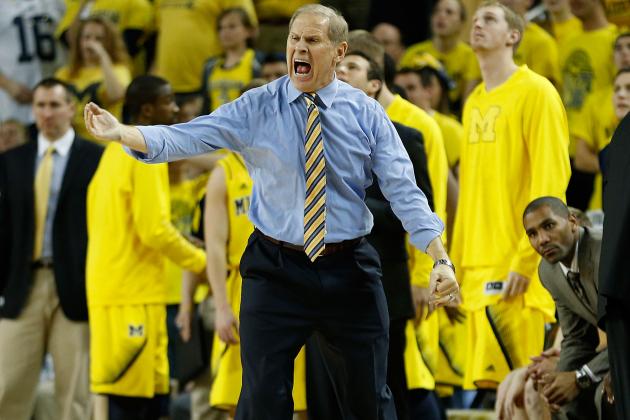 Gregory Shamus/Getty Images
Will head coach John Beilein be able to navigate the Wolverines through a difficult stretch of games and win a second straight Big Ten title?
The race for the Big Ten Conference title is starting to heat up, and the Michigan Wolverines know better than anyone else in the league how tough things are about to get.
The Wolverines are currently 4-1 in conference games, but no victory is a sure thing in the Big Ten this season and Michigan has its most difficult stretch of contests still to come in the months of February and March.
There are seven games in particular that will have a significant impact on Michigan's chase for a second straight league title, and this article examines how the Wolverines will perform in these pivotal contests.
Click ahead for full predictions of the seven most important games remaining on Michigan's 2012-13 schedule.
Begin Slideshow

»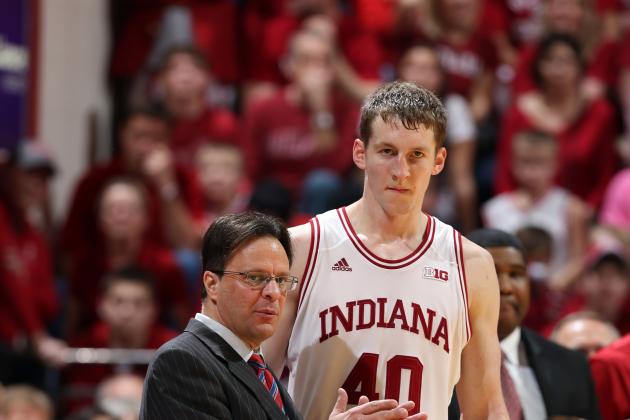 Brian Spurlock-USA TODAY Sports
Cody Zeller will be a major matchup problem for the Michigan Wolverines.
In order for the Michigan Wolverines to have a legitimate shot at capturing a second straight Big Ten Conference title, the Maize and Blue will need to take at least one game from the No. 7 Indiana Hoosiers.
The Wolverines have already proved it can go into a hostile environment and pull out a victory against a Top 10 team, but the Hoosiers are going to create matchup problems that will be too much for Michigan to overcome at Assembly Hall.
Michigan's lack of a dominant post player will come back to haunt them as long as preseason All-American Cody Zeller demands the ball in the post early and often.
Sophomore point guard Trey Burke or junior shooting guard Tim Hardaway Jr. will be able to lock down three-point specialist Jordan Hulls, though savvy veterans Christian Watford and Victor Oladipo will outplay their counterparts to help guide the Hoosiers to a victory.
Indiana has beaten Michigan three straight times in Bloomington, and I fully expect the Hoosiers to make it four in a row on Feb. 2.
Prediction: Indiana 72, Michigan 65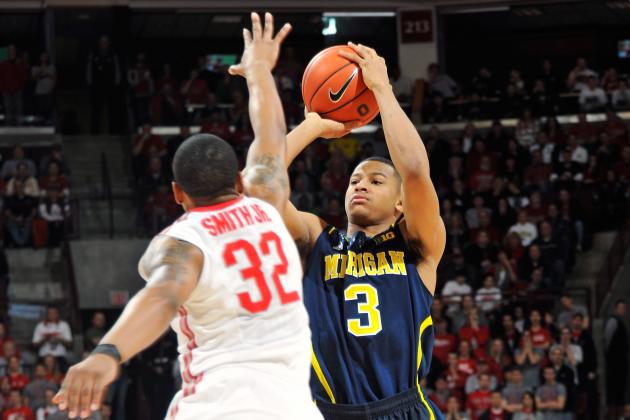 Jamie Sabau/Getty Images
Trey Burke and the Wolverines will be out for vengeance against the Ohio State Buckeyes.
The second game of the Michigan Wolverines' most daunting portion of their league schedule will give head coach John Beilein's team a chance to avenge their only loss of the season, which came on Jan. 13 against the No. 14 Ohio State Buckeyes in Columbus.
This time, though, there will be not be a lengthy scoring drought in the opening minutes of action and the Wolverines will race out to an early lead in what will be one of the most emotional games of the season at the Crisler Center.
The rim will be much kinder to jump shots delivered from Trey Burke, Tim Hardaway Jr. and freshman small forward Glenn Robinson III, while everyone except for Deshaun Thomas struggles to knock down contested looks for the Buckeyes.
Ohio State's junior point guard Aaron Craft is going to make things difficult for Burke, but Michigan's supporting cast will take some of the pressure off of its leading scorer by hitting some three-pointers to spread the floor out.
Burke will take advantage of the extra space by attacking the basket and either finishing off a few tough layups on his own or kicking the ball out to freshman sharp-shooter Nik Stauskas in the corners for uncontested treys.
The Buckeyes will make a run late in the first half to cut into Michigan's lead before falling behind again by double digits early in second half, and the Wolverines will hold off Ohio State despite a barrage of jumpers from Thomas.
Prediction: Michigan 65, Ohio State 59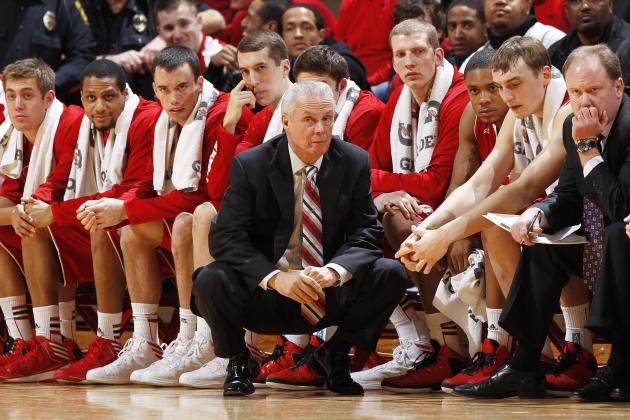 Joe Robbins/Getty Images
Bo Ryan and the Wisconsin Badgers are tough to beat at the Kohl Center.
If anyone needs evidence of how deep the Big Ten Conference is they should take a look at the Wisconsin Badgers, who are not ranked in the national polls but have throttled the Illinois Fighting Illini and are the only team in the league with a victory over the Indiana Hoosiers.
The Badgers also gave the No. 13 Michigan State Spartans a serious run at the Kohl Center, which is a venue everybody in the league hopes they can avoid given Wisconsin's 179-18 record there under head coach Bo Ryan.
What the Badgers lack in talent they make up for with sound fundamental play and outstanding defense.
Senior power forward Jared Berggren will give the Michigan Wolverines some problems in the post, but Glenn Robinson III should be able to handle senior small forward Mike Bruesewitz.
Underclassmen guards Traevon Jackson and George Marshall have each had their respective turns in the spotlight, though Ryan Evans, Sam Dekker and Ben Brust have been much more consistent for the Badgers.
Scoring will be at a premium in this matchup, and the Wolverines finally look like they have enough athleticism to come away with a victory in Madison.
This matchup does not suit Michigan particularly well though, and the Badgers will make the Wolverines operate out of the half court for much of the contest, which is something the Maize and Blue have struggled with this season.
Plus, Michigan will be coming off of an emotional effort against the Buckeyes, so this one is set up for a letdown.
Prediction: Wisconsin 58, Michigan 51
Gregory Shamus/Getty Images
Keith Appling and the Michigan State Spartans are out in front of the pack in the early goings of Big Ten play.
The Breslin Center has not been kind to the Michigan Wolverines over the years and it will once again be a difficult task to top the No. 13 Michigan State Spartans, who currently lead the Big Ten Conference with a 6-1 record.
Michigan has lost eight of the last nine times it has traveled to East Lansing, though most of those teams were significantly overmatched on paper.
Much like the Indiana Hoosiers, Michigan State will be able to exploit the Wolverines' weakness on the interior with a talented duo of big men in junior Adreian Payne and senior Derrick Nix.
The focal point of this game will be the play of point guards Keith Appling and Trey Burke. Appling is more of a scoring guard than a distributor for the Spartans, while Burke does plenty of both for Michigan.
Freshman shooting guard Gary Harris will have a tough matchup on his hands with Tim Hardaway Jr. or Nik Stauskas out on the perimeter, but Glenn Robinson III will struggle against Michigan State's most athletic player, sophomore small forward Branden Dawson.
If the chalk holds, Michigan should come out on top, but nothing comes easy on the road and the Spartans will play one of their best games of the year with the Wolverines in town.
Although Michigan looks like the better overall team, Michigan State will dominate inside the paint and on the glass to steal a victory from the Maize and Blue at home.
Prediction: Michigan State 64, Michigan 59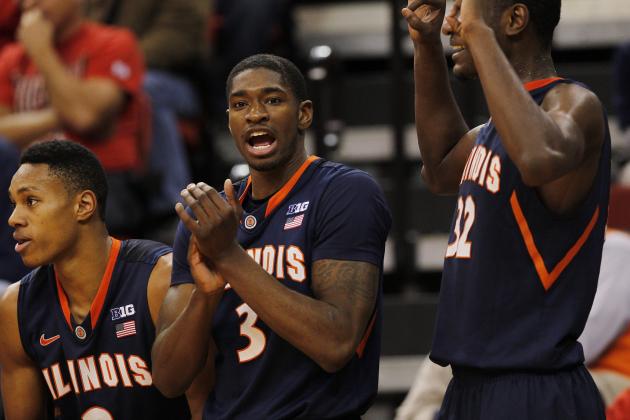 Bruce Thorson-USA TODAY Sports
Brandon Paul is always a threat to turn in a huge scoring performance.
Although the Illinois Fighting Illini are no longer ranked and will pose a much bigger threat to the Michigan Wolverines in their own building, the matchup between these two teams on Feb. 24th will be much more important for the Maize and Blue.
This game is sandwiched between Michigan's two tilts with the Penn State Nittany Lions, and since the Wolverines will be coming off of arguably its toughest stretch of the season, they are going to need a win over a quality opponent to regain some confidence.
Senior guard Brandon Paul will not make things easy for Michigan, though and the 6'4", 200-pounder has been known for single-handedly taking down nationally ranked foes. Earlier this season, Paul dropped 35 points to lead the Fighting Illini to a victory over the then-No.10 Gonzaga Bulldogs in Spokane, Wash.
Last year, Paul torched the No. 5 Ohio State Buckeyes to the tune of 43 points in a 79-74 victory at Assembly Hall.
Illinois has come back to earth by dropping four out of six Big Ten games after racing out to a 13-1 start, and who knows how bad things could be spiraling out of control for the Fighting Illini if things continue to go south as their schedule toughens.
The Wolverines should have no troubles getting out in transition against Illinois, though, and should be able to cruise to a double-digit victory in Ann Arbor behind strong outings from Trey Burke and Tim Hardaway Jr.
Prediction: Michigan 82, Illinois 68
Two of the Michigan Wolverines' most pivotal games in the Big Ten Conference title race will be played in March, and the first will pit the Maize and Blue against the Michigan State Spartans for a second time.
Big men Adreian Payne and Derrick Nix will still hurt the Wolverines in the paint, but by this time of the year freshman big man Mitch McGary should be far enough along in his progression to minimize some of the damage.
Michigan's friendly confines have also been rather unkind to the Spartans in recent years. The Wolverines boast a 4-2 record in the last six meetings with Michigan State at the Crisler Center and should be favored to notch a fifth victory in seven contests in Ann Arbor.
The individual matchups will not change much between the first tilt on Feb. 12th and March 2nd, but the home-court advantage will swing this one in favor of Michigan.
Prediction: Michigan 75, Michigan State 67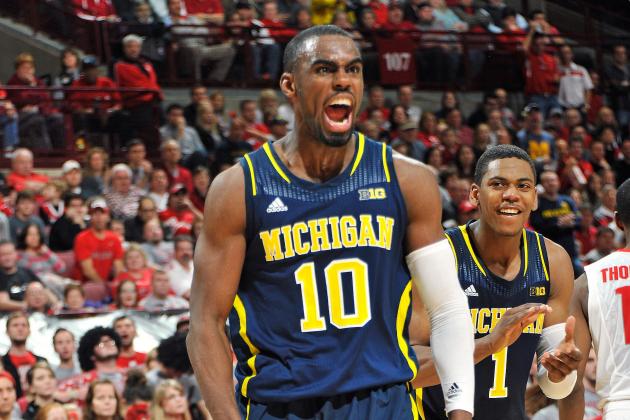 Jamie Sabau/Getty Images
Tim Hardaway Jr. and Glenn Robinson III will be major factors in Michigan's second tilt with Indiana.
This matchup is scheduled for the final day of the 2012-13 regular season, and the winner of this rematch between the Michigan Wolverines and Indiana Hoosiers could determine who wins the Big Ten Conference title.
Much like the first tilt, Cody Zeller should have a successful outing, but Mitch McGary will be much improved the second time around, which is going to help the Wolverines avoid being dominated on the interior at both ends of the floor.
This time around, Jordan Hulls will be kept in check and won't get free to knock down more than one or two shots from beyond the arc thanks to outstanding defensive efforts from either Trey Burke or Nik Stauskas.
The Hoosiers are plenty deep, though, and will make a run at the Wolverines with strong outings from point guard Kevin "Yogi" Ferrell and junior small forward Will Sheehey. The two are combining to average 17.6 points and 6.7 rebounds per game, so do not be surprised if they play well in Ann Arbor.
In the end, Burke, Tim Hardaway Jr. and Glenn Robinson III are going to push the tempo of this game and get out in transition too often for Indiana to come away with a victory at the Crisler Center.
Prediction: Michigan 77, Indiana 74