NBA Teams That Must Make a Move at Trade Deadline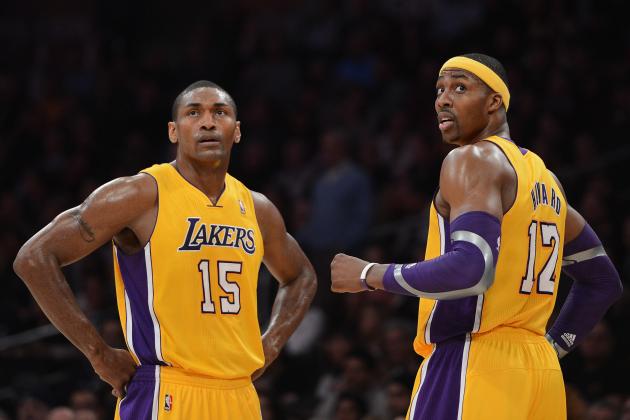 Harry How/Getty Images

With this year's trade deadline four weeks away, certain teams' GMs must get on the phones now if they want to make a push over the final stretch of the regular season. Some teams may not seem like they need to get a trade done, but being too passive on deadline day can sometimes be the biggest mistake a team can make.
This year, there are a small number of teams that simply have to make deals to either save their seasons or increase their odds of doing well in the playoffs. They need certain players, ones that may not come cheap. In this case, as much as it may hurt to do so, GMs will have no choice but to break the bank and pull the trigger on a deal that fills that very need.
One team that definitely needs to make a trade is the Los Angeles Lakers. Despite having a championship roster on paper, the team has not lived up to expectations, and it may be time to cut the dead weight in hopes of making a strong final push or just taking a Mulligan this year and hoping for a different outcome in 2014.
Regardless of what deals are pursued, certain teams are in a position right now where they have no choice but to make a deal. Otherwise, they will be destined to be average and not taste greatness at all.
All statistics in this article are accurate as of January 22, 2013
Begin Slideshow

»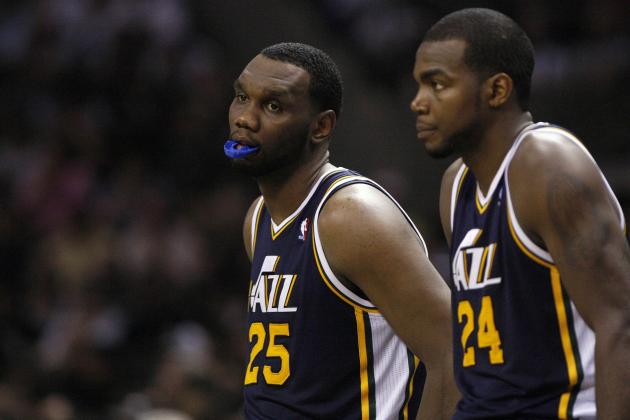 Soobum Im-USA TODAY Sports

Deadline Move: Acquire a shooting guard
Utah is a team defined by its twin towers, Al Jefferson and Paul Millsap. Unfortunately, as good as this duo has been for the team, the Jazz's depth at guard needs a lot of work, primarily at the two.
The team's best options at that position right now are Randy Foye and Gordon Hayward, but neither man is the one who can carry the team back to contention and subsequent greatness. Some may argue that second-year man Alec Burks can fill that role, but his jump shot is nowhere near strong enough.
Foye is primarily a three-point threat and is a free agent after the season. Hayward can score points, but not consistently. Herein lies why GM Ted Lindsey needs to pull the trigger on a deal.
Enter Jefferson and Millsap once again. Both players' contracts are up at the end of the season, and chances are that Lindsey will try and deal at least one of them so as not to lose both for nothing this summer.
Given how many teams out there could use help in the frontcourt, particularly in the paint, this is a potential deal that is bound to happen, regardless of which team presents itself as a buyer.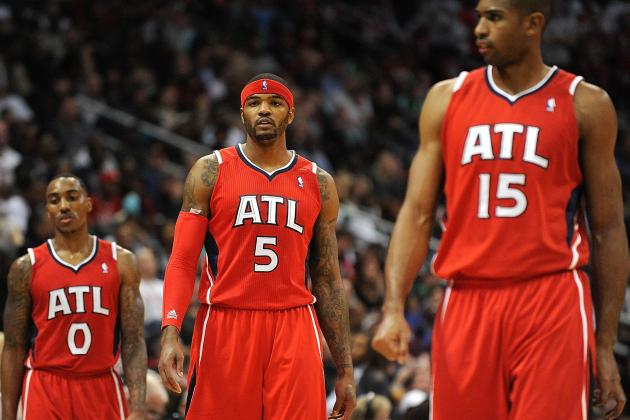 Kevin Liles-USA TODAY Sports

Deadline Move: Acquire a shooting guard and draft picks
Even though star scorer Joe Johnson was sent to the Brooklyn Nets over the summer, the Atlanta Hawks have still managed to play solid basketball. Josh Smith has provided sound offense with an even better defensive game, and Al Horford was a formidable paint presence. All in all, it looked as though it was going to be another good season for the Hawks.
That is, until guard Lou Williams tore his ACL. In the blink of an eye, a key piece of the team's offense was gone.
However, all hope may not be lost. As Ken Berger of CBS Sports reported on January 16, Smith may be unhappy in Atlanta and ready to seek a new team. Given his level of talent, teams will be willing to offer a solid 2-guard and then some in exchange for his services.
Even if a shooting guard isn't acquired, the Hawks will not necessarily be up the creek without a paddle. Devin Harris may get hot again, and rookie John Jenkins could see extended minutes too.
Just the same, GM Danny Ferry owes it to himself to at least seek out a rent-a-player for the playoff stretch, and that could mean trading a top player.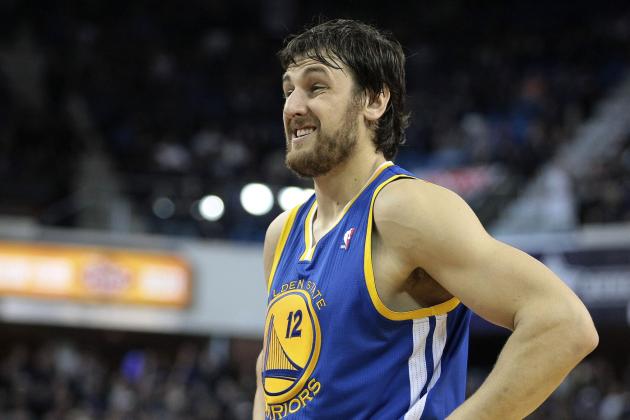 Kelley L Cox-USA TODAY Sports

Deadline move: Acquire a reliable center
The Warriors have needed a center for a long time, and it looked like they struck gold last season in acquiring Andrew Bogut. However, Bogut's ankle has continued to be a problem and he has appeared in just four games this season.
In his absence, rookie Festus Ezeli has seen most of the minutes at the five.
That is all well and good, but the Warriors cannot continue their success this season without a solid body manning the middle. David Lee can keep the team afloat in the rebounding department, but to rely on a rookie in Ezeli to carry them to a title is ridiculous. The team needs experience, and the front office should hit the phones to see who is available.
Depending on which players are on the market, chances are that the Warriors will need to give up one of two players: Richard Jefferson and/or Jarrett Jack. Under certain circumstances, maybe Carl Landry would have to be included as well.
Each of those players brings their own set of skills to the table, but losing someone like Jack or Landry would be a big loss no matter how you look at it. Still, if it means helping the team's future as a whole, GM Bob Meyers will have little choice but to pull the trigger on a deal.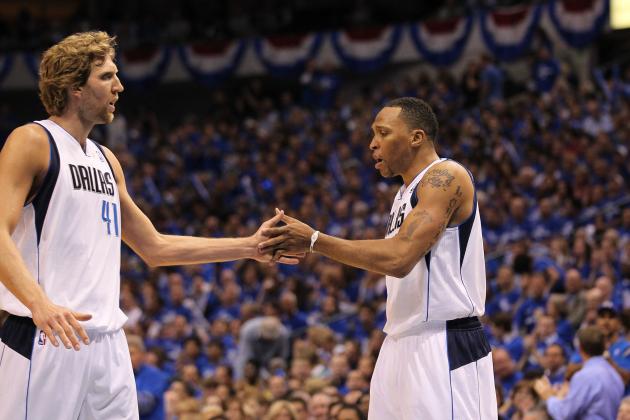 Matthew Emmons-USA TODAY Sports

Deadline move: Acquire a young combo forward
Though they won a championship just two seasons ago, the Dallas Mavericks are slowly entering a rebuilding phase. The team is talented, but its key players are starting to get old, namely Dirk Nowitzki and Shawn Marion.
The fact is that these players are on the decline, and Marion's expiring contract makes him a prime trade chip. Even though he is getting up there in years, he can still play excellent defense and provide solid scoring in a pinch, even though his shot is quite ugly.
Dallas must use him and other trade chips in either players or draft picks to land a talented young combo forward. One name that jumps out is Terrence Jones of the Houston Rockets, but that deal is unlikely to happen.
Fortunately, players with similar skill-sets are available throughout the league, so it's time for GM Donnie Nelson to hit the phones and start cooking up some deals.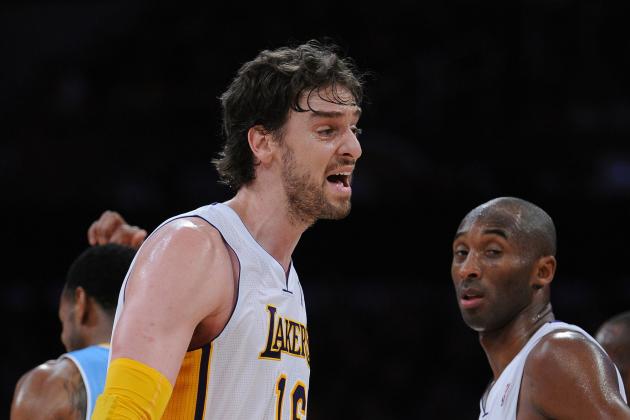 Jayne Kamin-Oncea-USA TODAY Sports

Deadline Move: Acquire a power forward that fits the system
Based on the roster that's on paper, the Lakers should be the best team in the NBA this season. Instead, thanks to injuries, a coaching change and other factors, Los Angeles is 17-24 and four games behind the final playoff spot in the highly-competitive Western Conference.
Though it is a move that is easier said than done, GM Mitch Kupchak needs to hit the phones now and find a taker for Spanish seven-footer Pau Gasol. Though talented, the man has struggled mightily in the run-and-gun game of Mike D'Antoni and has not been shy about the fact that he is not a fan of it. On the season, he is averaging a career worst 12.7 points and 8.3 rebounds per game.
Throw in that Gasol has recently said he doesn't like his new role as a bench player, and it's clear. He needs to be dealt, and fast. This could prove to be tough, as Gasol is making $19 million this season and due just under $19.3 million in 2013-14.
Just the same, if Kupchak can pull off a deal for someone like Houston's Terrence Jones or Minnesota second-year man Derrick Williams, then the Lakers can finally start getting on the right track. It may not be a pretty trade scenario, but it is one that will ultimately help the team in the long run.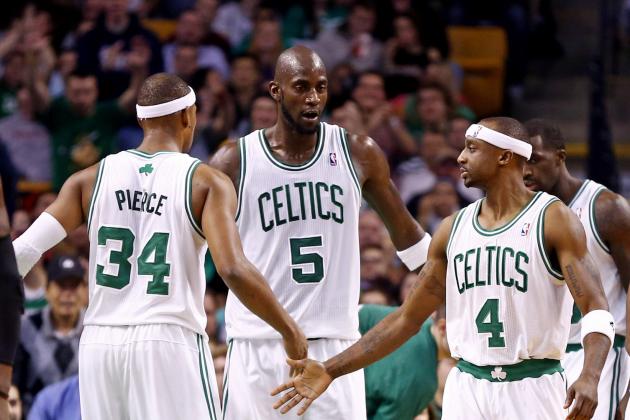 USA TODAY Sports

Deadline move: Acquire a reliable young frontcourt player
After coming within one win of the NBA Finals last season, the Celtics are struggling just to stay in the playoff race this year. Instead of being the Eastern Conference powerhouse they have been in years past, they are the No. 8 team in the playoff picture and on a four-game losing streak.
The sad truth is that though the Celtics have talent, their age is starting to show. Though he has plenty of bite left to go with his bark, especially on defense, Kevin Garnett is slowing down at age 36. Paul Pierce can still score points, but is not getting any younger at 35.
All age aside, the team's greatest weakness is at power forward and GM Danny Ainge needs to fix it immediately. Jeff Green can be electrifying, but his heart condition prevents him from stepping into a starting role permanently. Jared Sullinger has shown potential, but he is too young and not ready to start just yet.
That leaves Brandon Bass, who has been nothing but disappointing this season. After signing a three-year contract over the summer, he has averaged just 7.7 points and five rebounds over 26.1 minutes per game.
Thus, one can see the change that the Celtics need to make. Ainge needs to pursue a trade for either a young center or power forward, and he may need to dump Bass and/or Green in order to acquire that.
Though acquiring such a piece would be expensive, the Celtics do not really have much of a choice. The season is slowly slipping away, and a deal needs to be made in order for it not to become lost.