NFL Draft 2013: Ranking Top 10 Defensive Prospects at Every Position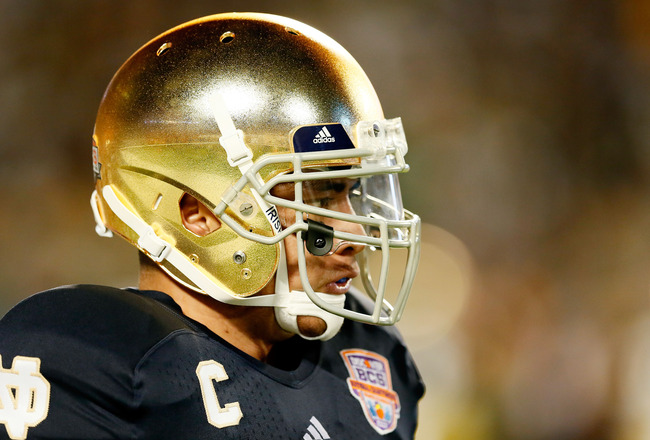 Kevin C. Cox/Getty Images
The 2013 NFL draft stands to produce plenty of impact players on the defensive side of the ball at the next level, whether it be in the front seven or in the secondary.
Those teams with a great need on defense will be delighted with this year's class (those looking for franchise quarterbacks, not so much).
From 4-3 defensive ends to 3-4 outside linebackers to run-stoppers to hard-hitting safeties, there are a wealth of intriguing options for NFL teams in the draft.
Here's a look at my top 10 prospects for each defensive position.
Defensive End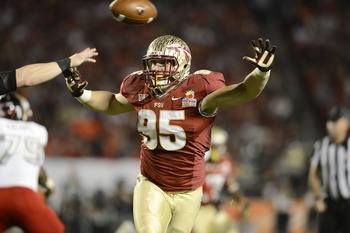 Ron Chenoy-USA TODAY Sports
1. Bjoern Werner, Florida State
Strong against the pass and the run, there's something to be said about the fact that Bjoern Werner is widely considered the best 4-3 defensive end in the class given there are so many good ones.
2. Damontre Moore, Texas A&M
A dynamic pass-rusher who can also defend the run, Damontre Moore's versatility makes him a dream prospect for many teams.
3. Ezekiel Ansah, BYU
Ezekiel Ansah is finally getting the respect he deserves in NFL circles. His versatility, motor and pass-rushing skills remind me of J.J. Watt when he came out of Wisconsin.
4. Dion Jordan, Oregon
Tough, versatile, athletic and explosive, Dion Jordan could make an instant impact at the next level.
5. Sam Montgomery, LSU
An emotional, passionate run-stopper who has displayed pass-rushing skills at LSU, Sam Montgomery also has shown off some versatility.
6. Alex Okafor, Texas
An explosive pass-rusher displaying the burst, length and strength to be a difference-maker in the NFL.
7. Corey Lemonier, Auburn
Corey Lemonier has the ability to be a very complete player. His combination of pass-rushing and run-stopping skills, combined with his versatility and motor, could make him a steal in the second round.
8. Datone Jones, UCLA
Bulky, strong, athletic and versatile, Datone Jones continues to move up draft boards after an impressive effort during Senior Bowl practices.
9. Margus Hunt, SMU
Margus Hunt not only has the size to make an impact in the NFL, he has the burst, closing speed and power to push around opposing offensive linemen.
10. Cornellius Carradine, Florida State
Cornellius Carradine needs to improve when recognizing the run, but his pass-rushing skills, toughness and motor project him to be an impact player at the next level.
Defensive Tackle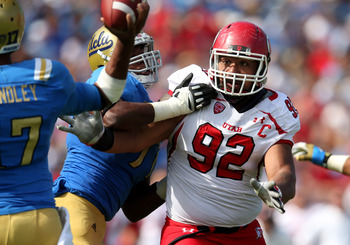 Stephen Dunn/Getty Images
1. Star Lotulelei, Utah
Stat Lotulelei's strength, anchoring ability, motor and toughness project him to be a fantastic player in the NFL.
2. Sheldon Richardson, Missouri
With the explosiveness, closing burst and quickness to be a standout defensive tackle, don't be surprised if Sheldon Richardson makes his mark at the next level.
3. Jesse Williams, Alabama
Jesse Williams stands to be an impact nose tackle, possessing the size, quickness, upper-body strength and toughness to be a handful for opposing offensive linemen.
4. Sharrif Floyd, Florida
Sharrif Floyd is still developing when it comes to pass-rushing, but there's no doubt he can hold his own when defending the run. His combination of size and fluidity makes him a unique prospect and he plays with a non-stop motor.
5. Johnathan Hankins, Ohio State
Johnathan Hankins isn't much of a pass-rusher, but if you're looking for a run-stopper who can blow up the backfield with his quickness, strength and commitment, look no further than the Ohio State product.
6. Kawann Short, Purdue
Kawann Short could stand to show a more consistent motor, but he's tough and plays well against the run and the pass. He has a collection of pass-rush moves ranging from a bull-rush to a speed-rush.
7. John Jenkins, Georgia
You have to love John Jenkins' tenacity, motor and anchoring ability against the run, but he's not much an asset when rushing the passer.
8. Sylvester Williams, North Carolina
Sylvester Williams can anchor the middle and occupy multiple blockers and he also has the violent hands and quickness off the block to make plays laterally.
9. Akeem Spence, Illinois
He's physical, tough, and has the awareness and range to be an impact player on the defensive line. Akeem Spence may never be a big-time pass-rusher, but his ability against the run should see his named called in the early rounds.
10. Brandon Williams, Missouri Southern State
With solid size and strength with the agility to get down the line and make plays on the outside, Brandon Williams is one player who made a name for himself during Senior Bowl week.
Outside Linebacker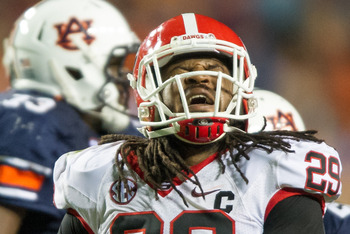 Michael Chang/Getty Images
1. Jarvis Jones, Georgia
A potential top-five pick, Jarvis Jones blew up the SEC in 2012. He can be a devastating pass-rusher, particularly on 3rd-and-long, and he also has the range and burst to drag down ball carriers in the backfield.
2. Barkevious Mingo, LSU
Explosive, quick, long and fluid, Barkevious Mingo rose above teammate Sam Montgomery in 2012, making him a potential top-10 pick in the draft as a 3-4 outside linebacker.
3. Khaseem Greene, Rutgers
Possessing the range, tackling ability and coverage skills as a former safety, Khaseem Greene should make for an impact player as a 4-3 linebacker at the next level.
4. John Simon, Ohio State
John Simon has great upper-body strength to go along with a relentless motor. That, combined with his smarts and ability to make an impact against the run and the pass, makes him a top-five linebacker at the next level in my eyes.
5. Chase Thomas, Stanford
Chase Thomas is the kind of do-it-all player that NFL scouts love. What he lacks in big-time explosiveness, he makes up for in range, intelligence, tackling ability and a relentless playing style.
6. Brandon Jenkins, Florida State
There is no question that Brandon Jenkins has the talent to be an impact player in the NFL. His quickness, explosiveness and instincts made him a terror in his first three years at Florida State. However, a season-ending foot injury has some wondering if he'll regain his swagger.
7. Sean Porter, Texas A&M
Sean Porter still needs to improve his take-on skills and there are some who wonder if his lack of physicality will hinder him in the NFL, but he has great fluidity and athleticism for his size. He should be able to find a home as a weakside linebacker or lined up in the slot.
8. Jamie Collins, Southern Mississippi
Jamie Collins possesses the strength, length, speed and fluidity to make a difference at the pro level, but he figures to be a project from the start, given his awareness and ability to play sound football need some work.
9. Jelani Jenkins, Florida
Jelani Jenkins doesn't have great size and he comes with injury concerns, but if you are looking at him as a weakside linebacker in a 4-3, he could pleasantly surprise in the NFL. His quickness and coverage ability make him an asset.
10. Travis Long, Washington State
Travis Long's lack of size, strength and explosiveness probably means he will never be an impact starter in the NFL, but his vision, awareness and versatility makes him an intriguing prospect. I could see him being a player who can make some impact plays for teams in a limited role.
Inside Linebacker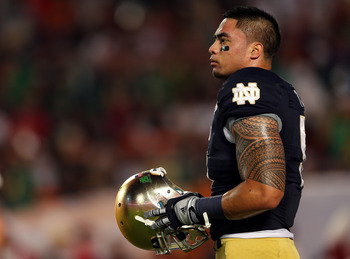 Mike Ehrmann/Getty Images
1. Arthur Brown, Kansas State
Arthur Brown's ability against the run is impressive. He boasts sideline-to-sideline ability, above-average tackling skills and seamless fluidity when changing direction.
2. Alec Ogletree, Georgia
Alec Ogletree is a bit inconsistent when it comes to reading the field, but with some work he could be a difference-maker at inside linebacker. With eye-popping speed for his size, impressive explosiveness and the fluidity to bend around blocks and get to the quarterback, Ogletree has plenty of potential.
3. Kevin Minter, LSU
A physical downhill linebacker, Kevin Minter showed the tenacity, instincts, decisiveness and leadership that made him a popular player among scouts when playing for LSU. There are some who believe he may be the best inside linebacker in the class.
4. Manti Te'o, Notre Dame
There is no question that Manti Te'o is an excellent downhill player who blows up north-south runs and tackles with authority, but he does have a bit of a disadvantage in terms of height and length and that showed against Alabama in the BCS National Championship Game. Beyond that, the bizarre story of Lennay Kekua could haunt him come draft day.
5. Jon Bostic, Florida
A downhill tackler who hammers the run, Jon Bostic has the instincts and leadership ability to be an impact player in the NFL, but he doesn't have exceptional burst or quickness, which may hurt him at the next level.
6. Nico Johnson, Alabama
There are some concerns with Nico Johnson. He doesn't have great recovery speed and hasn't shown the ability to be a one-man wrecking crew. However, he does show enough to be a complementary player in the NFL, with the shedding ability, fluidity and motor to make a difference.
7. Kiko Alonso, Oregon
Kiko Alonso has had plenty of off-the-field issues in the past, but he roared back in his final two years at Oregon, showing the athleticism and awareness critical at the inside linebacker position. Add his tackling ability and aggressiveness, and you have a player who could surprise at the next level.
8. Kevin Reddick, North Carolina
Despite a rough start to his college football career off the field, Kevin Reddick made plays all over the field at North Carolina. His combination of size, athleticism and football IQ could make him a solid player.
9. Bruce Taylor, Virginia Tech
Bruce Taylor's combination of size, quickness and agility could see him be an impact player in the NFL. He also has the potential to fit in well on a blitz-happy team.
10. A.J. Klein, Iowa State
Intelligent, quick and relentless when going for the tackle, A.J. Klein has the potential to surprise in the pros. There are some questions about his flexibility on the edge and recovery speed, though.
Cornerback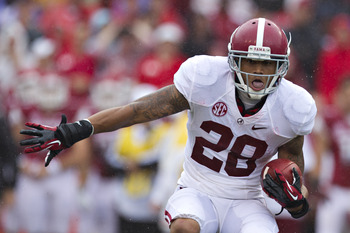 Wesley Hitt/Getty Images
1. Dee Milliner, Alabama
Dee Milliner is widely regarded as the best cornerback in the class, with elite coverage skills and a physicality against the run he put on full display in the SEC at Alabama. He's a potential shutdown corner at the next level.
2. Xavier Rhodes, Florida State
Xavier Rhodes' physical tools and aggressiveness stand to make him an asset against stronger receivers and when defending the run.
3. Johnthan Banks, Mississippi State
Johnthan Banks didn't show a whole lot of playmaking ability down the stretch at Mississippi State, but there's no doubt that he's displayed the instincts, ball-hawking ability and tackling skills to be a strong corner in the NFL.
4. Logan Ryan, Rutgers
As a do-it-all player with strong work ethic and a great understanding of the game, it's no wonder why Logan Ryan is raising eyebrows throughout the NFL.
5. Jordan Poyer, Oregon
Jordan Poyer was the leader of an Oregon State defense that played well for the majority of the 2012 campaign. He was labeled a shutdown corner in college, possessing the coverage skills and ball-hawking ability NFL scouts love.
6. Desmond Trufant, Washington
Desmond Trufant is one of those players who made a name for himself at the 2013 Senior Bowl. He's an all-around impact player at cornerback, exhibiting the coverage skills, toughness, physicality and awareness to be a first-round prospect.
7. David Amerson, NC State
There are many who believe that David Amerson would make for a better safety in the pros. It makes sense given that he struggled in man coverage in 2012, but he possesses the ball-hawking ability and blitzing ability to be a standout player in that aspect. If Amerson stays a cornerback, though, I have him at No. 7 at the position.
8. Will Davis, Utah State
Will Davis has the balance, physicality, size and speed to be a strong press corner in the pros, but the general consensus is that he needs to work on his instincts and show more discipline. That can be coached up, though.
9. Jamar Taylor, Boise State
Jamar Taylor could rise above Will Davis before the draft process is through (some believe he already has). He's a more complete corner, with strong ability in man and press coverage, and he can be disruptive on the ball.
10. Robert Alford, Southeastern Louisiana
In what could be a strong class for cornerbacks, some are viewing Robert Alford as a potential diamond-in-the-rough. He moves well for his size and he's shown the ball-hawking ability to be an impact player.
Safety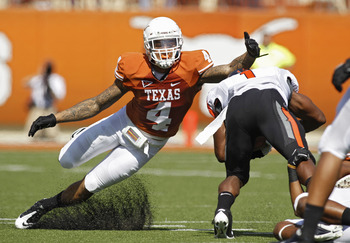 Erich Schlegel/Getty Images
1. Kenny Vaccaro, Texas
Many experts believe Kenny Vaccaro is the best safety in the 2013 class, and I tend to agree. He's a do-it-all player, displaying the athleticism, tackling ability and coverage skills to be a menace all over the field.
2. Eric Reid, LSU
Eric Reid possesses the size, athleticism, toughness and tackling ability to be an impact player in the NFL, but he needs to be more consistent with his discipline. Sometimes he's too aggressive and overruns plays.
3. Matt Elam, Florida
There are some legitimate concerns about Matt Elam's ability in deep coverage, but he has so many plus qualities (aggressiveness, range, tackling ability) that he may still be grabbed in the first round.
4. D.J. Swearinger, South Carolina
D.J. Swearinger plays well at the line of scrimmage, trails receivers with conviction and possesses the tackling ability to be a starter in the NFL. He's jumped ahead of Phillip Thomas in my mind.
5. Phillip Thomas, Fresno State
After missing the 2011 campaign with a broken leg, Phillip Thomas exploded in 2012 for Fresno State, exhibiting the range, change-of-direction speed and ball-hawking ability to make an impact at the next level.
6. Tony Jefferson, Oklahoma
Tony Jefferson exhibited enough range, hitting ability and leadership qualities at Oklahoma to see his named called in the early rounds of the draft. He's a kid with great character, as well.
7. Bacarri Rambo, Georgia
Bacarri Rambo has the range, ball-hawking ability and tackling skills to be a strong player in the pros.
8. Zeke Motta, Notre Dame
Zeke Motta works better as a strong safety than a free safety. He doesn't possess the range to fly all over the field, but inside the box he plays like a linebacker, exploding into ball carriers and closing out running lanes.
9. Robert Lester, Alabama
Robert Lester has the size, burst and ball skills to be an impact player in the NFL, but he needs to work on his consistency, physicality and tackling ability to be taken seriously. You can't ignore Alabama products' success at the next level, though.
10. T.J. McDonald, USC
The book on T.J. McDonald is that he's explosive and well-rounded enough to be a game-changer...if he stays disciplined. That's a big "if" these days, as McDonald didn't show much during his senior season at USC or during Senior Bowl week.
Follow me on Twitter. Let's talk about the 2013 NFL draft.
Keep Reading