Showcasing Dallas Cowboys' Biggest Strengths and Draft Needs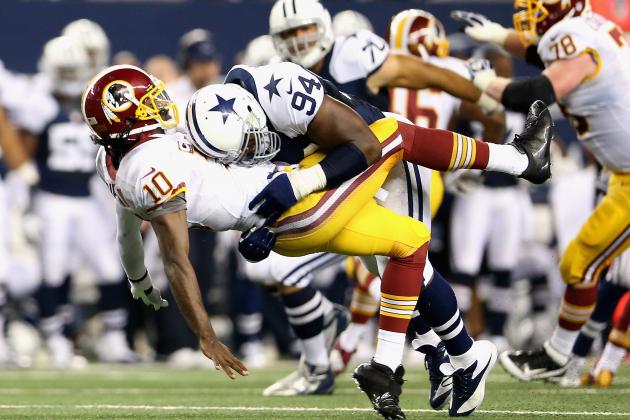 Ronald Martinez/Getty Images

It was a tough year for the Dallas Cowboys.
As is the case nearly every year for America's team, expectations were high entering the 2012 season. Anything short of a playoff season and a potential Super Bowl run wasn't going to be enough, and in an NFC East division that experienced a lot of changes in the offseason, the Cowboys looked poised to come out at the top of the division.
A lot changed during the season, though.
Injuries, questionable coaching decisions and an overall sense of underachievement created turmoil, resulting in an 8-8 season and a campaign that ended just short of the playoffs.
The 2012 season wasn't all bad, and the Cowboys are not a bad football team. Six of Dallas' eight losses were by a touchdown or less—a big reason frustration seemed to boil over by the end of the year.
Victories over Philadelphia, Cincinnati and Pittsburgh late in the season created a sense of excitement, but it all came crashing down with an overtime loss to New Orleans in Week 16 and a crushing 28-18 loss to Washington, which would have secured a playoff berth for the Cowboys had they won.
This offseason promises changes. There won't be a shakeup at quarterback as some fans may wish to be the case, but Dallas' roster will look a lot different by Week 1 of the 2013 season.
The Cowboys have already replaced Rob Ryan with legendary defensive coordinator Monte Kiffin—a move that will require some personnel and schematic adjustments. Still, Kiffin has been the mastermind behind some of the best defenses in the NFL, and he'll set his sights on recreating those results in Dallas.
Dallas needs to make the most of this offseason, and free agency and the draft will dictate a lot of those changes.
We'll take a look ahead at some of Dallas' biggest strengths, areas of need and potential draft candidates and break down what the Cowboys must do in the coming months to return to dominance in the NFL.
Begin Slideshow

»
Dallas' offense begins and ends with Tony Romo.
Romo can look very good at times, but he can also look completely lost. His season statistics were pretty good, but when taking a closer look, Romo was as much part of the problem as he was part of the solution.
In Dallas' wins, Romo threw for 13 touchdowns and just three interceptions. In Dallas' losses, he threw 15 touchdowns and 16 interceptions. Still, he completed 65.6 percent of his passes on the year and threw for 4,903 yards.
Dallas is unlikely to replace Romo at any point this year, and that's probably the best choice. The Cowboys have a lot of pieces in place to make a run in 2013, and a complete overhaul starting at the quarterback position would only derail a team with a chance to drastically improve its roster this offseason.
Romo needs better protection from his offensive line. Dallas should look to address that need in free agency and the draft—especially on the interior of the line, where opponents constantly brought A-Gap pressure, forcing Romo from the pocket.
If all else goes well this offseason, Romo stands a better chance of rebounding next season and leading his team to the playoffs, but the emphasis will be on what Dallas can put around and in front of him.
The Cowboys may consider adding a developmental quarterback in later rounds of the draft, but with a quality backup in Kyle Orton on the roster, the position isn't an area of concern this offseason.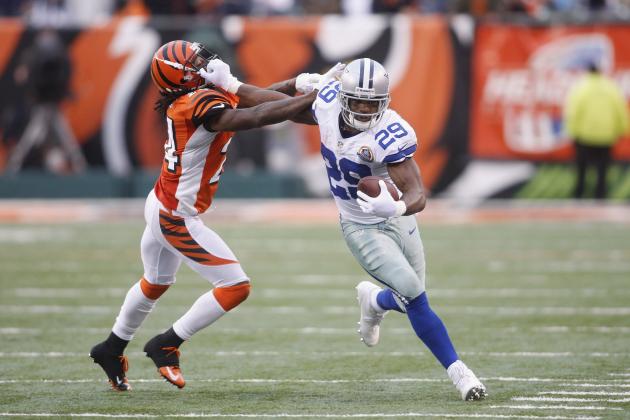 John Grieshop/Getty Images

The backfield is an area where Dallas simply must get better.
The Cowboys finished the season ranked No. 31 in rushing offense. They averaged 79.1 rushing yards per game, due in large part to poor offensive line play and injuries to their top two running backs.
DeMarco Murray is a terrific young back, and his bruising running style wears down opposing defenses. But that running style is a large part of the reason he missed six games, and if he is to stay healthy, Dallas has to improve on its offensive line.
Felix Jones is a free agent this offseason, and it is the belief of SportsDayDFW.com beat writer David Moore that the Cowboys "just won't re-sign him." Jones never lived up to his potential in Dallas, and his departure isn't a total loss for the Cowboys, but they will still need to find a capable backup at some point this offseason.
Rookie Lance Dunbar could potentially be the lightning to Murray's thunder, though he saw limited action in 2012. Phillip Tanner also saw limited touches in relief of Murray and Jones, and whether Tanner is in Dallas' plans for 2013 remains to be seen.
What this means for the Cowboys is a need for an infusion of young talent in the backfield. They probably don't have running back very high on their wish list in the draft, but adding a player like Oregon's Kenjon Barner or Pittsburgh's Ray Graham in the middle rounds (should they be available) certainly wouldn't be a bad idea.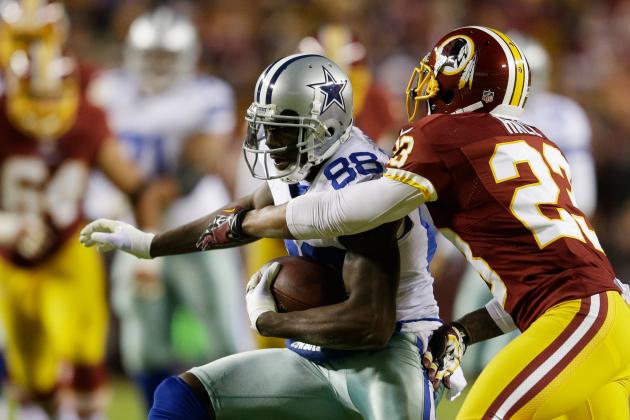 Rob Carr/Getty Images

With the late-season emergence of Dez Bryant as one of the top targets in the league, Dallas faces some difficult decisions involving Miles Austin. The Cowboys have to shake some salary to stay under the cap, and David Moore of SportsDayDFW.com believes it's likely the Cowboys will try to renegotiate Austin's deal.
Austin dealt with a lot of injury problems in 2012, and keeping him on the roster is a big risk at his current salary for 2013 of $6.7 million (via Rotoworld). Dallas doesn't have another legitimate No. 2 receiver though, and it can't afford to lose him without a serviceable replacement.
Kevin Ogletree, Dwayne Harris and Cole Beasley all showed some potential in 2012. None is likely to be a No. 2 option next season, though, so taking care of Austin's contract issues should be a priority. If for whatever reason the Cowboys can't keep Austin around, wide receiver may be a day-two priority in the draft.
One area of very little concern for Dallas is at the tight end position.
Jason Witten led the team in receptions with 110 in 2012. He tallied 1,039 yards and three touchdowns, and remains one of the most consistent and reliable tight ends in the NFL. Dallas has plenty of needs to address this offseason, but tight end is not one of them.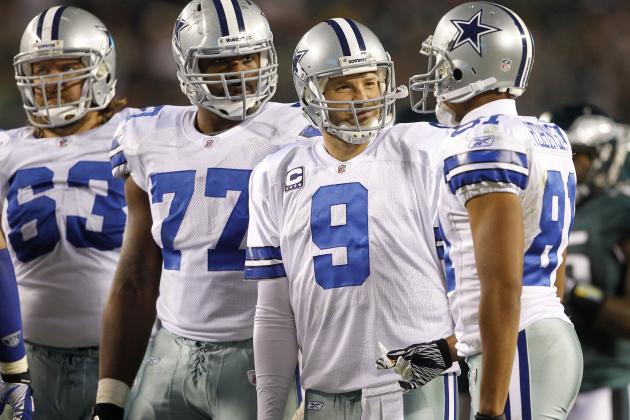 Rich Schultz/Getty Images

This is where it starts to get a little dicey for the Cowboys.
According to FootballOutsiders.com, Dallas' offensive line ranked No. 22 in adjusted line yards on running plays—a measure of the effectiveness of offensive line play. Those problems start on the interior of the line.
Left tackle Tyron Smith is really the only player Dallas should consider set for next season. According to FootballOutsiders.com rankings, Dallas was last in the league in rushing yards produced on plays run behind the right tackle, and an upgrade at that position should be considered a serious need.
While the tackles are often criticized when a quarterback is faced with a lot of pressure from the opposing pass rush, interior linemen play a big role in pass protection too. Romo was faced with a lot of A-Gap pressure from opposing defenses in 2012, and nothing disrupts the flow of a play more than penetration up the middle.
Dallas' offensive line needs an overhaul, and there are a lot of quality prospects the Cowboys could consider in the draft. Chance Warmack, Barrett Jones, D.J. Fluker and Jonathan Cooper could all be viable candidates in the first round, and would instantly upgrade an offensive line that needs a lot of improvement.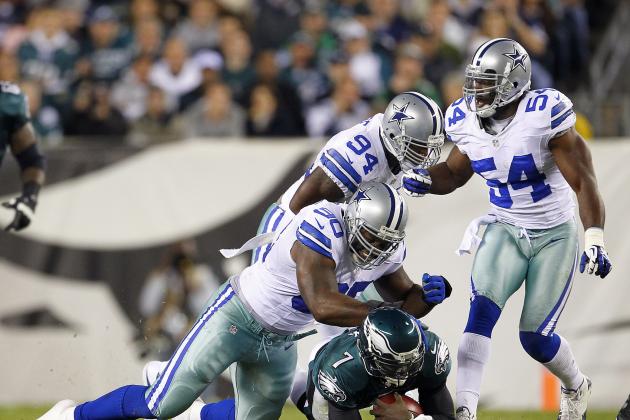 Rich Schultz/Getty Images

Kiffin's Tampa-2 will certainly come into play when discussing Dallas' defensive needs this offseason. The Cowboys will be switching to a 4-3 front that will require big personnel changes.
DeMarcus Ware will probably slide down to weak-side defensive end in Kiffin's scheme—a position at which he will no doubt thrive considering his talent as a pass-rusher. Jay Ratliff, Jason Hatcher and Sean Lissemore all have the potential to fit into a defensive tackle role, but the one-gap requirements of a 4-3 will take some time to adjust to.
Anthony Spencer would fit fairly well at strong-side defensive end, but he may not be back next year. He will be a free agent this offseason, and Dallas can't afford to pay him very much to bring him back.
These potential changes leave many questions that need to be addressed this offseason. Finding a strong-side defensive end and another big body to play 1-technique defensive tackle should be priorities in the draft.
Luckily for the Cowboys, this year's draft class is loaded with defensive-line talent. Sheldon Richardson and Johnathan Hankins would both be terrific fits at defensive tackle, and defensive ends Sam Montgomery and Margus Hunt may also be available when the Cowboys pick at No. 18.
The transition to a 4-3 front shouldn't be especially hard for Dallas. The Cowboys have some terrific pieces in place, and they can make a big stride toward a seamless transition with some smart draft picks in April.
Ronald Martinez/Getty Images

Sean Lee and Bruce Carter will find a home in Kiffin's scheme, but finding a strong-side linebacker should be a priority this offseason.
Lee is a heady and highly productive player who will fit nicely at middle linebacker in a Tampa-2 scheme. He has good cover skills and is terrific in pursuit, and he'll be asked to do a lot as a focal point of the defense. Lee has the ability, and his transition to the new scheme should be seamless.
Carter is a near-perfect fit at weak-side linebacker. He's athletic, quick and can cover a lot of ground in coverage. With Carter and Lee already in place, Dallas has two-thirds of its linebacking corps in place for 2013.
Alex Albright or Kyle Wilber may get a chance to play strong-side linebacker next year, but neither had much of an impact in 2012.
Kiffin may want a new piece for his puzzle this offseason, so don't be surprised if Dallas looks at adding another linebacker in the first few rounds of the draft.
Grant Halverson/Getty Images

Cornerbacks get a lot of the credit for shutting down opponents' passing games, but the safety position is more an area of need this offseason for the Cowboys.
Brandon Carr and Morris Claiborne are terrific building blocks for Dallas' pass defense, and both should make a quick transition to the new defensive scheme. The Tampa-2 requires a lot of press coverage at the line and cornerbacks capable of making plays in short zone coverage. The new scheme will take pressure off Carr and Claiborne, and both should experience quite a bit of success next year.
Because of the two-deep responsibilities in Tampa-2 coverage and the opportunity for safeties to make big plays in the scheme, the Cowboys may also look to target a play-making safety in the draft this year.
Barry Church should remain in a starting role, but Gerald Sensabaugh will be 30 years old next season, and he's not as dynamic a playmaker as Dallas probably wants in a free safety.
Given the new scheme and current personnel, Dallas' secondary should thrive in 2013, but it will need a few fresh faces to improve a unit that intercepted just seven passes a season ago.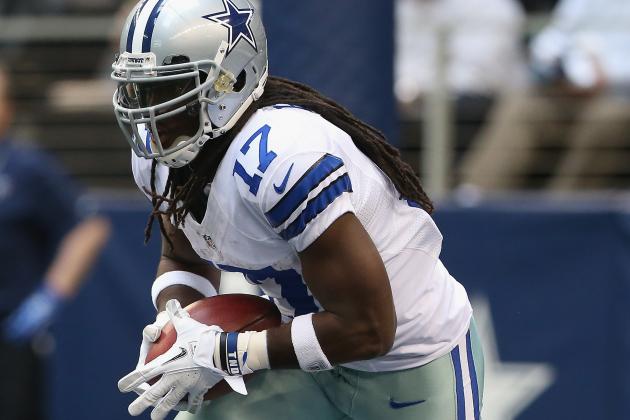 Ronald Martinez/Getty Images

Kicker Dan Bailey had an excellent year for the Cowboys, connecting on 29-of-31 field goals, including 10 from 40 yards or longer (long of 51). At age 24, Bailey has a lot of upside, and the position isn't an area of any concern going forward.
Punter Brian Moorman will be 37 when the season starts, and he averaged just 44.8 yards per punt in 2012 (No. 23 in NFL). It might be time for Dallas to consider replacing Moorman, but it certainly isn't a top priority. The Cowboys may choose to see what options are available in free agency, though.
Dwayne Harris was the brightest point of Dallas' special teams play last season. He averaged 28.9 yards on eight kickoff returns in 2012, including a 51-yarder. He also returned 15 punts and helped Dallas to an eventual overtime victory over the Steelers in Week 15 with a 39-yard punt return late in the fourth quarter.
Dallas may look to make some changes at punter, but the Cowboys' special teams units were fairly solid in 2012, and won't be an area that needs addressed too thoroughly this offseason.